Camera Test: Nikon D4 DSLR
Nikon's pro-level speed shooter just keeps getting better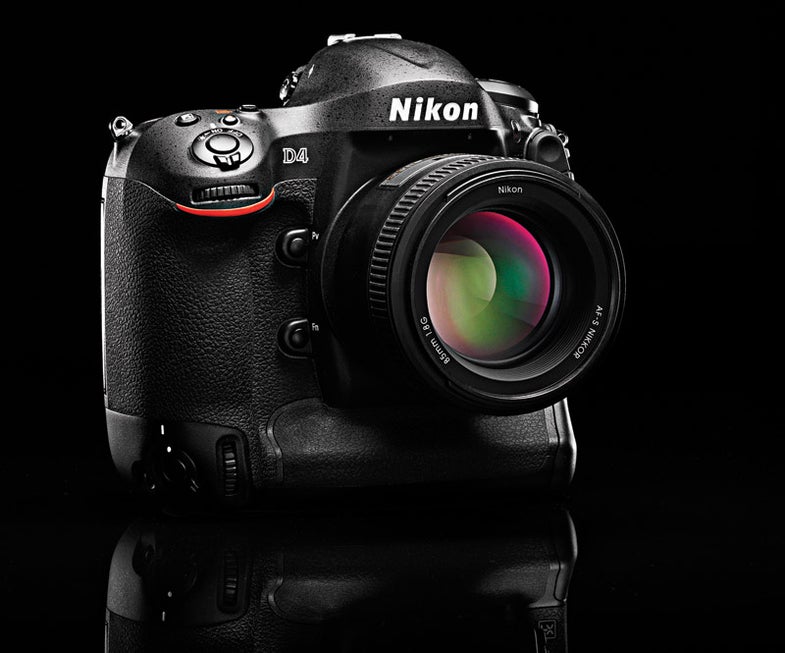 We may earn revenue from the products available on this page and participate in affiliate programs. Learn more ›
it's been more than three years since Nikon set the D3s loose on the world. In that time, we've used one as a test body for numerous lens tests and have captured countless images that left us wondering what Nikon could do next with this line of cameras.
Nikon's response, the D4 ($6,000, street, body only), refines the D3s's still image capabilities while adding state-of-the-art video capture with options to satisfy both casual and professional videographers. The sensitivity range has been
expanded by 1 stop at both the top and bottom of the scale, matching the versatility offered by Canon's 18.1MP EOS-1D X ($6,799, street, body only). Both cameras have full-frame sensors and represent the sturdiest workhorses of the photo world. If you shoot in the most extreme conditions, you'll likely use either the Nikon D4, its competitor, or one of their predecessors.
How did this new Nikon tank fare in our tests? Read on.
In the Test Lab
With 4.1MP more than the D3s, the 16.2MP D4 showed just enough resolution to earn it an Excellent rating in overall image quality. Moreover, while keeping noise to a Low or better rating, it held enough resolution to maintain that image quality rating from its lowest sensitivity setting of ISO 50 up through ISO 800. To compare, the D3s earned an Extremely High rating from its base of ISO 100 through 800, while Canon's older EOS-1D Mark IV scored Extremely High from ISO 50 through 1600.
Resolution is the main factor in our image quality ratings, though the difference between the D4 and 1D Mark IV is not that large: They fall on either side of our threshold of 2500 lines for an Excellent rating. The D4 captured 2530 lines per picture height at ISO 50 and didn't drop below it until ISO 1600; the 1D Mark IV fell just barely short of an Excellent rating with 2490 lines at ISO 50. Meanwhile, Nikon's D3s managed to resolve 2330 lines at ISO 100. (To its credit, that's quite a good score, considering that it has only a 12.1MP sensor.)
We were impressed to see that the D4 held enough resolution to keep an Extremely High rating all the way up to ISO 12,800, where it churned out 2360 lines. From there, resolution drops precipitously to 2200 lines at ISO 25,600, to 2070 lines at ISO 51,200, to 2000 lines at ISO 102,400, and 1810 lines at ISO 204,800. But considering that many compact cameras can't deliver more than 1800 lines at all, this level of performance is mighty fine indeed.
The D4 easily earned an Excellent rating for color accuracy. In our test, it showed an average Delta E of 7.0­—well under our cutoff of 8.0 for top honors. This is no surprise, as most interchangeable-lens cameras we test earn Excellent scores here. Indeed, the D3s scored an even better 6.2, while the Canon 1D Mark IV scored a 6.6.
We can't assume an Excellent rating all the time, though—Fujifilm's X-Pro1 (see page 82), with its very new approach to color filter arrays, scored 9.3. Keep in mind that most films had average Delta Es of more than 10, and many reversal films would score 13 or higher in this test. In digital, where you can choose a color palette based on your vision for a photo, the ability to reproduce colors accurately merely provides you a better starting point, even when you don't necessarily want a perfectly true representation of color.
Noise results show that the D4 isn't as clean an imager as the D3s was at the lowest ISOs. But it remains in acceptable territory for one extra stop at the high end, making ISO 6400 more usable than ever for this class of Nikon shooters. All shared sensitivities higher than ISO 400 showed less noise than the D3s. But ISO 204,800 (Hi4 in Nikon's lingo) is still quite noisy, with one of the highest noise scores we've seen in quite some time. Of course, we did not expect images at this high an ISO to be very clean, and if it's the difference between getting a shot or not, we're happy to see that it is an option.
CLICK TO VIEW THE FULL NIKON D4 TEST RESULTS
In the Field
Like all cameras in this class, the D4 is built to withstand abuse. Its magnesium-alloy body is weather-sealed and riddled with buttons so that all essential settings can be changed quickly. Some of those buttons, such as the ones for zooming in or out during playback, have been moved around, so veteran Nikonians should make an effort to acquaint themselves with the camera's layout before using the D4 for a critical shoot.
The body also has a couple of firsts for Nikon. One is the XQD card slot—the first in any camera. This fledgling memory card format is poised to succeed the CompactFlash card (the D4 has a CF slot, too). Currently available only from Sony, the XQD cards we used performed flawlessly in our field tests. We became enamored of their rugged feel and their satisfying click when inserted into the camera or Sony's MRW-E80 XQD reader ($45, street).
But if you use dual slots, prepare to spend big. Street prices are still high for XQD cards ($130 for 16GB, or $230 for 32GB), and very large-capacity cards don't exist yet. As this changes over time—if the card format finds its way into more camera bodies—we look forward to more XQD.
The D4's other new feature, an Ethernet port, will be of more importance to photographers who tether to a computer. Since Ethernet is a standard format, it also opens the door for third-party accessories that may not have been otherwise possible.
The D4's new 51-point autofocus system proved very quick and sure in both our lab and field tests, focusing in less than a second all the way down to moonlit darkness of –1 EV. At –2 EV, it focused in an impressive 1.1 sec. That's a little slower than the D3s, but still quite fast. Furthermore, Nikon's 3D focus tracking performed like a champ, keeping up well with the camera's 10-frame-per-second burst rate. If your shooting situation lets you lock exposure and focus, the camera can capture 11 frames per second.
The D4's most notable upgrades are for video: This is the first DSLR to allow an uncompressed video feed. You do this by setting the camera's HDMI output to leave out the usual overlaid info. We were unable to obtain a video recording device for our test, but live footage viewed on an HDTV looked wonderful. Plus, video footage captured to memory cards in the compressed formats looked as good as any we've seen from a DSLR yet.
The camera also offers a headphone-out for monitoring audio, along with audio-level controls. And, although cinematic 24-fps diehards won't care, for those who prefer a more videocentric spec, the D4 can capture at 30 fps as well.
CLICK TO VIEW THE FULL NIKON D4 TEST RESULTS
Bottom Line
Whenever a new piece of top-level gear comes along, there's a rush by many pros (and more than a few amateurs) to get it right away. While the D4 does outshine its predecessor in many ways, we would not call it an essential upgrade for still shooters who already have a D3s. If more resolving power or the 1-stop improvement in noise control mean a lot to you, then it could make sense to upgrade from your D3s. But, if the D3s's ultra-clean low-ISO images matter more to you, then it might not make sense to move to the D4.
Videographers, however, should definitely consider the D4. Besides the uncompressed output and all the audio extras, the camera's noise control should allow for appreciably more versatile shooting with video.
Shooters who split time between stills and video might have a harder time figuring out whether to upgrade. We think that the versatility of the video options should be enough to warrant the step up. But, if you need more reason, the video features and the advances in the still-image quality combine to make the D4 practically irresistable.
In any case, the D4 proves that as amazing as cameras have become, they can—and will—get better still.
Specifications
Imaging: 16.2MP effective, full-frame (FX format) CMOS sensor captures images at 4928×3280 pixels with 14 bits/color in RAW mode.
Storage: CompactFlash and XQD. Stores TIFF, JPEG, NEF RAW, or RAW + JPEG files. Video: Records up to 1920×1080 pixels at 30 or 24 fps in MPEG-4 H.264 format; built-in monaural microphone; stereo microphone input; continuous AF available; uncompressed video output through HDMI; 20-min. max. clip size at highest quality.
Burst rate: Full-sized JPEGs (Fine mode), up to 170 shots at 10 fps; RAW, up to 69 shots at 10 fps (14-bit uncompressed); TIFF, up to 55 shots at 10 fps.
AF system: TTL phase-detection with 51 illuminated focus points (15 cross-type sensitive to f/5.6, single center sensitive to f/8); single-shot, continuous, 3D Focus tracking; tested sensitivity down to EV –2 (at ISO 100, f/1.4); AF points can be grouped and selected by area.
Live view: Full-time contrast detection, or single-shot phase-detection AF with mirror interrupting view momentarily. Shutter speeds: 1/8000 to 30 sec, plus B (1/3-EV increments); shutter life rated to 400,000 cycles; flash sync to 1/250 second.
Metering: TTL metering using 91,000-pixel RGB sensor; Matrix (evaluative), centerweighted (75% weight given to 4.5% circle in center of frame), and spot (approx. 1.5% of finder at center); range, –1 to 20 EV (at ISO 100).
ISO range: ISO 100–12800 (in 1- or 1/3-EV steps), expandable to ISO 50–204,800.
Viewfinder: Fixed eye-level pentaprism.
LCD: Fixed 3.2-in. TFT with 921,000-dot resolution, five-step brightness adjustment.
Output: Hi-Speed USB 2.0, mini-HDMI video, and stereo headphone minijack.
Battery: Rechargeable EN-EL18 Li-ion; CIPA rating, 2,600 shots with optical viewfinder.
Size/weight: 6.3×6.2×3.6 in., 2.7 lb with a card and battery.
Viewfinder accuracy: 100% (Excellent); Magnification, 0.70X (Very Good).
Street price: $6,000, body only
Info: www.nikonusa.com
CLICK TO VIEW THE FULL NIKON D4 TEST RESULTS