New Gear: Nikon D600 Full-Frame DSLR
It's not as burly as the D800 or the D4, but it costs just $2,100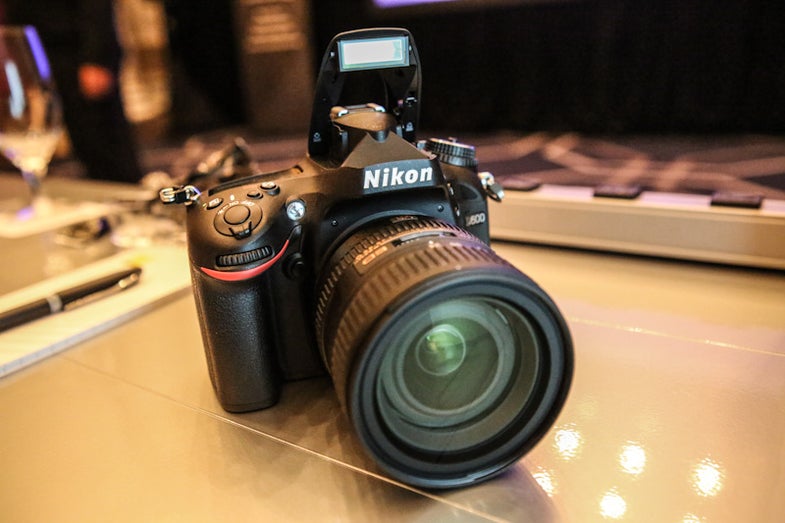 We may earn revenue from the products available on this page and participate in affiliate programs. Learn more ›
Ever since the first full-frame DSLRs, photographers have been clamoring for less expensive bodies with those big, wonderful sensors. Nikon has heard these cries and answered with the new 24.3MP D600, which will sell for $2,100, body only, or $2,700 as a kit with the AF-S NIKKOR 24-85mm f/3.5-4.5G ED VR lens. Sporting what they call an FX format (aka full-frame 35mm) CMOS sensor, with a suspiciously similar pixel count to the one in Sony's recently announced A99, the D600 offers an alternative to the 36.3MP behemoth that is the D800.
With fewer pixels, we wouldn't be surprised if the D600 shows less noise than the D800 does across their shared sensitivity range of ISO 100-6400 (expandable to ISO 50-25,600). Another plus, the D600 can capture 5.5 frames per second compared to the D800's 4fps bursts. We don't know how many shots per burst the D600 can take, so it's hard to tell the whole story on this one, but at 5.5 fps, its creeping into the low end of the sports camera category. Metering is handled by a new 2,016-pixel RGB sensor, while a new 39-point AF system handles the focusing. As has become typical for Nikon, the two work together for 3D focus tracking. The D600's Scene Recognition isn't at the same level as the D4's and D800's Advanced Scene Recognition, though Nikon can't currently quantify exactly how. The higher-end cameras do have more robust 91,000-pixel metering sensors, which allows them to see subjects in more detail and facilitates better tracking.
The D600, like the D800 and D4, can output an uncompressed video stream through its HDMI port. Video recording tops out at 1920×1080 and 30fps and continues to be recorded (when not streaming uncompressed) in the same H.264 format that other Nikon DSLRs have used up until now. Given that tariffs in Europe haven't changed, the maximum recording time you can get with the D600 is 29 minutes and 59 seconds. In the camera's top quality level of 24Mbps though, Nikon says that the maximum clip length is 20 minutes. As of press time, we weren't able to find out any reason why. There is a stereo microphone input in case the built-in mono mic isn't enough for you, and for serious videographers it won't be. It also falls a bit short of Sony's A99, which can crank out 1080p footage at a silky 60 fps.
The fixed screen on the back of the D600 is 3.2 inches in size and has 921,000 dots comprising its images. That's one of the largest screens on any DSLRs right now. Flash shooters who need fast sync speeds should note that the D600's X-sync is 1/ 200 sec. compared to the D800's 1/250 sec. Not a huge difference, but worth noting. And speaking of flash, theD600's built-in pop-up flash sports a guide number of 39 (in feet, at ISO 100).
The pentaprism finder in the D600 offers 100% coverage and a fairly standard magnification of 0.7x. The D600 uses an EN-EL15 Lithium-ion battery that Nikon says will provide enough juice for up to 900 shots per the CIPA standard.
In addition to the D600, Nikon announced the WU-1b wireless adapter ($60, estimated street), which adds Wi-Fi capability so you can transfer images to a smart phone or tablet, or use that smart device to control the camera. They also announced the MB-D14 battery grip ($322, estimated street) to accompany the D600.
Since connectivity in DSLRs is so hip at the moment, Nikon also announced the UT-1 adapter that will add Ethernet capability to the D800 or D7000. When used in conjunctionwith the WT-5a wireless transmitter, the UT-1 also adds wireless capabilities. The UT-1 will sell in a kit with the WT-5a for $1,300, or alone for $470, when it hits stores in late October.
Someone over at Nikon must've also been worried that the Nikon 1 system would get jealous of all of this action the DSLRs were getting, so they also announced the 1 Nikkor 18.5mm f/1.8 lens. A small, lightweight lens that is a 50mm equivalent in that system, this will be the fastest glass available for the Nikon 1 cameras when it hits stores in November for $190.
The D600 and its accessories will be in stores in the next couple of weeks. Check out our sample image gallery here.