Hands-On: Sony A99 Full-Frame Camera
There's a new flagship in the Sony Alpha fleet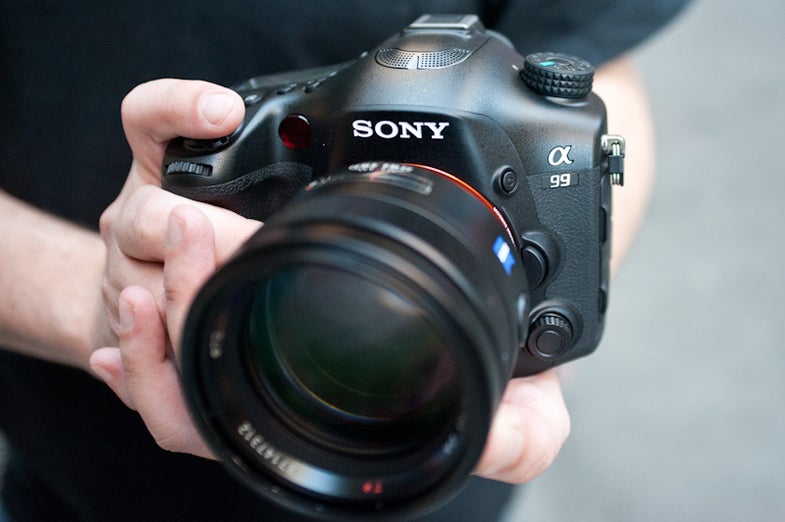 We may earn revenue from the products available on this page and participate in affiliate programs. Learn more ›
Sony shooters have long been asking for a full-frame version of their translucent mirror cameras and now it's here in the form of the A99. The new flagship Alpha camera has a 24.3-megapixel full-frame sensor, which sounds very similar to the one found in the new RX1 super-advanced-compact. It also has the newest version of the BIONZ processing engine and a matching 100-25,600 native ISO range. It does crank up the maximum burst rate, though, to 6 fps at full-res or 10 fps in a lower-resolution tele-zoom mode.
The A99 has gotten a serious upgrade in the AF department, employing a 19-point main system as well as a 102-point focal plane phase detection AF sensor at the focal plane for dual-AF. It offers a few advanced AF features that pros will be keen on, too, like the ability to select the range of the AF, so it won't focus on things that are too close or too far away. It even works continuously during video.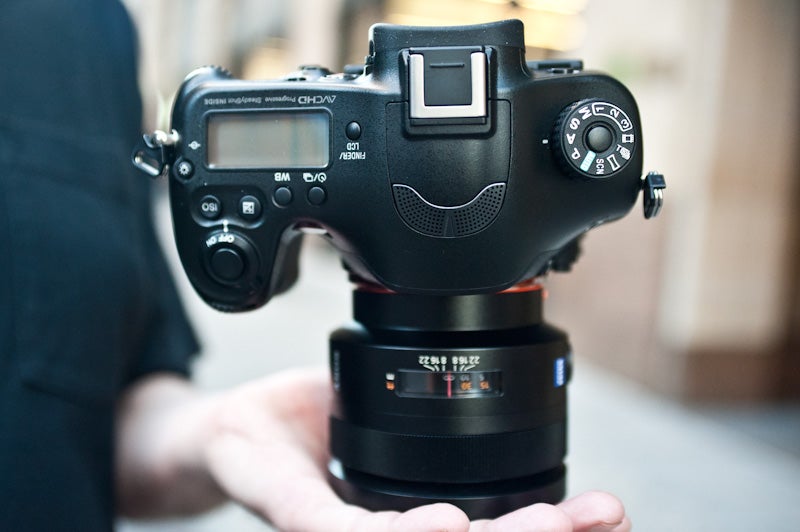 The finder is an XGA OLED Tru-Finder, which covers 100% of the frame. It even adjusts if you slap an APS-C specific lens on that doesn't cover the whole sensor. On the traditional display side is a 1,229k-dot LCD with built-in white pixels to increase brightness and a hinge for swiveling.
The body itself has also gotten some updates, especially in the grip area. Despite its robust guts, Sony claims it's actually the lightest full-frame interchangeable-lens camera around. The case is made from magnesium alloy and the whole thing is weather sealed to increase durability. The shutter is rated to 200,000 actuations.
Predictably, the A99 also has a serious suite of video capture functions aimed toward high-end DSLR cinematographers. it does 1080p footage at the common 24p for the cinematic look, but it also does the coveted 60p, which makes action sequences look wonderfully smooth. As previously mentioned, it has full-time AF with tracking. There's even a silent multi-control dial on the front of the camera to adjust settings during a shot. It has a built-in headphone jack (which was once a luxury on HDSLRs) and an optional XLR adapter kit for attaching pro-grade microphones.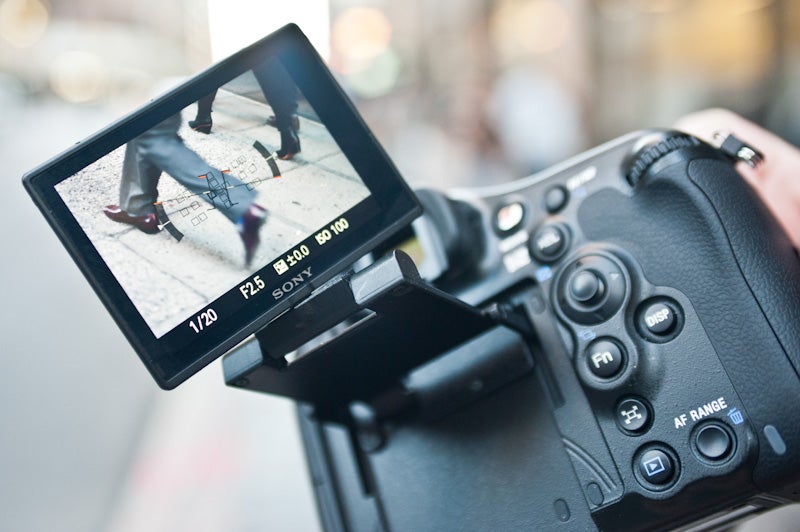 The body will be available in October for $2,800, which makes it cheaper than both the Nikon D800 and the Canon 5D Mark III.
In addition to the body, Sony has also announced a slew of accessories meant to be used with its new flagship camera.The VG-C99AM Vertical Grip ups the total battery capacity to three and adds vertical control buttons to the camera. It will cost a fairly hefty $380.
The new HVL-F60M flash has a built-in LED for illuminating video, as well as a traditional strobe head. It comes with a bounce adapter and color filters, as well as a price tag of $550.
Ultimately, it looks like Sony has a lot of faith in their new top dog and we can't wait to see how it performs. We were big fans of the A77, so we go into the A99 with fairly high hopes. But, only the test bench can tell if it lives up to the spec sheet.