2012 Camera of the Year: Canon EOS 5D Mark III
With ground-breaking low-light performance and Hollywood-esque video flair, the Mark III grabs our coveted Camera of the Year award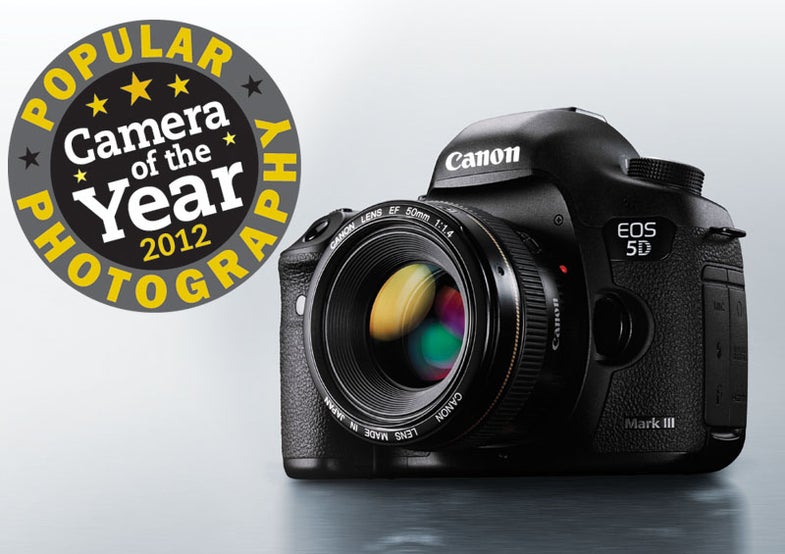 We may earn revenue from the products available on this page and participate in affiliate programs. Learn more ›
2012 proved a truly great year for cameras. In the wake of 2011's devastating tsunami in Japan and flooding in Thailand, camera manufacturers released nearly two years' worth of terrific models in 2012, all within a span of eight months.
But our Camera of the Year choice came down to just three real finalists—the Canon EOS 5D Mark III, the Nikon D800, and the Sony Alpha 99. Significantly, these are all full-frame DSLR models. And the three share many other characteristics: They possess video capability far advanced from what we saw even a year ago, are backed up by massive lens and accessory systems, and, as expected, put up breathtaking image-quality numbers in the Popular Photography Test Lab. So this Year of the Full Framer might also be called the Revenge of the Legacy 35mm DSLR.
As a result, the decision by our panel of editors was one of the toughest in recent memory. But in the end, we came down squarely on the "refinement" side of our criteria.
Our testing had a lot to do with it. Canon's 22.3MP EOS 5D Mark III gained just 1.2MP over its predecessor, the still-current Mark II, but that was sufficient for overall Excellent image quality: resolution at 2750 lines per picture height, color accuracy at a Delta E of 6.9, and stellar noise suppression. To be sure, its resolution was not quite a home run among the finalists: The Sony A99 squeaked past it incrementally, and the Nikon D800 beat it by a country mile. But we felt strongly that the Canon produced the best balance across all imaging factors, with Low or better noise up to ISO 12,800, and still acceptable noise at ISO 25,600. And consider that at ISO 51,200, noise crept just barely into our Unacceptable range, which translates into a moderately grainy image that can be perfectly usable for applications such as photojournalism. (Those of us who remember souping Kodak T-Max P3200 in rocket fuel to get gritty-grainy black-and-white at ISO 6400 are seriously amazed.)
Beyond that, Canon improved everything about the 5D in building the new Mark III: There's faster and more sensitive autofocus, a more logical control layout, addition of a Quick Menu, faster burst speeds (6 fps, up from 3.9 fps), dual card slots rather than a single, better ergonomics. Plus, a recently announced firmware update will allow the Mark III to feed uncompressed HD video to a recording device—breaking Nikon DSLRs' monopoly on this advanced capability.
Yes, the 5D Mark III should have a pop-up flash. For those of you who still sneer at our insistence on this "amateur" feature, we can only say, "wireless TTL flash control." Maybe Canon will see fit to add at least a built-in wireless trigger in the Mark III½.
Assessing the Runners-Up

The Nikon D800 is firm evidence that the megapixel wars are far from over: Its 36.3MP sensor challenges some medium-format digital rigs' resolution.
If the 5D Mark III represents a triumph of refinement, the Nikon D800 is something like an engine swap of a smooth V6 for a snorting, supercharged V8. While not nitro-burning, the D800's 36.3MP sensor burns photographic rubber with a tested resolution of 3510 lines—the best result we've gotten yet from a DSLR. To put that in some perspective, that's triple the pixel count of the Nikon D700 (which stays in the line), and nearly double the linear resolution.
As our lab and field tests showed, though, this comes with some compromises. Noise is Low or better only to ISO 800, and Unacceptable at ISO 12,800. Humongous resolution begets humongous file sizes—some of the RAWs from the D800 were 65 megabytes, so think high-capacity memory cards, and a bunch of them. Burst rates top out at 4 fps, with a serious limit—16 frames—to the maximum RAW burst.
But if you're a photographer who craves resolution, the beautifully made, ergonomically fine D800 may be your ticket. We've already heard from a studio shooter who is mothballing his medium-format rig and Phase One back for a D800, for which he has existing lenses. Studio shooters, after all, don't need high ISOs.
The watchword for the Sony A99 is innovation. This 24.3MP marvel wowed us with new technology in autofocusing, movie recording, high-speed shooting, and more. This model is the first full-frame DSLR to use Sony's transmissive-mirror technology, by which a stationary mirror diverts some light to metering and AF modules while an electronic viewfinder provides a direct feed from the sensor. One advantage to this is speed shooting—6 fps with metering and autofocus on all frames.
The A99 also adds phase-detection sensors to the imaging chip itself, allowing fast tracking AF in live view and video recording. Other innovations, borrowed from video camcorders: the user-adjustable focus-range limiter and focus peaking in manual mode, which highlights detail when it comes into focus. On the actual video front, the Multi-Interface Shoe atop the camera accepts accessories such as a pro-grade microphone kit with separate stereo-in jacks rather than a dinky single miniplug.

The Sony Alpha 99
The A99 puts up Excellent image quality numbers, bettering the Canon 5D's resolution by some 75 lines. Noise performance wasn't as good, though, and we might note that Nikon's new D600 produces higher resolution using a Sony sensor of the same size.
We see the A99 as building on, rather than pioneering, transmissive-mirror technology—that distinction belongs to the Sony Alpha 55, our 2010 Camera of the Year. We also felt that, since our readers are primarily still shooters, the advanced video capability of the A99 is not as compelling a factor. You may no doubt wonder about the absence of 2012's two new supercameras, the Canon EOS-1D X and the Nikon D4. While these top-of-the-line DSLRs are awesome in their burst rates and tank-toughness, they are not so awesome in imaging—both barely cracked the threshold for an Excellent resolution rating. So their refinement is, in a word, incremental.
With Canon's EOS 5D Mark III, Nikon's D800, and Sony's Alpha 99, though, these three manufacturers have in effect created a new class of supercamera—one more within the reach of the rest of us. And that's pretty super.
Honorable Mentions

The Fujifilm X-Pro 1
Two other models received serious consideration for Camera of the Year. Both are adventurous takes on the interchangeable-lens compact (ILC) concept, and both are derivative of classic film-camera styles.
Photographers with a certain historical perspective might mistake them for an M-series Leica rangefinder or an Olympus OM-series SLR. But the Fujifilm X-Pro1 (the neo-rangefinder) and the Olympus OM-D E-M5 (the retro faux-SLR) are great examples of what imaginative engineers and designers can do with today's digital technology in cameras that are neither rangefinders nor SLRs.
We loved the Fujifilm X-Pro1 for its concise control layout, fine handling, and classic looks. The camera has several technological innovations, like the hybrid optical/electronic viewfinder. And it breaks new ground with its 16.3MP X-Trans sensor, which uses a more sophisticated pixel array than the traditional Bayer pattern and foregoes a low-pass filter. Our review was mixed: It produced very sharp images—resolving an average of 2400 lines— but the resolution varied widely depending on the direction of measurement.

The Olympus OM-D EM-5
The Olympus OM-D also proved a heartthrob. It has an easy-to-understood control layout, good ergonomics, a very fine-grained EVF, and a handsome exterior. Performance matched the style: The OM-D put up Excellent image quality from its 16.1MP Four Thirds sensor, the sensor-shift image stabilization averaged 3 stops of extra handholding leeway, and, with some compromises, the camera shoots JPEGs at 9 fps. The lens line for Micro Four Thirds continues to grow, with new glass coming regularly from Olympus, Panasonic, and the independent lensmakers.
We suspect that the handsome OM-D will lure some away from bigger, heavier gear.
But as much as a refinement as the OM-D is, it breaks no new ground in the technology. In the end, 2012 was the year of the full-framer, and the Canon EOS 5D Mark III was the full-framer to beat. And nobody beat it.
Click here to see the rest of our picks for the best photo gear of the year in the 2012 Pop Awards