New Gear: Panasonic LUMIX DMC-GF5 Interchangeable-Lens Compact Camera
An updated sensor, better video and a photography teaching mode are among the updates to Panasonic's entry-level ILC line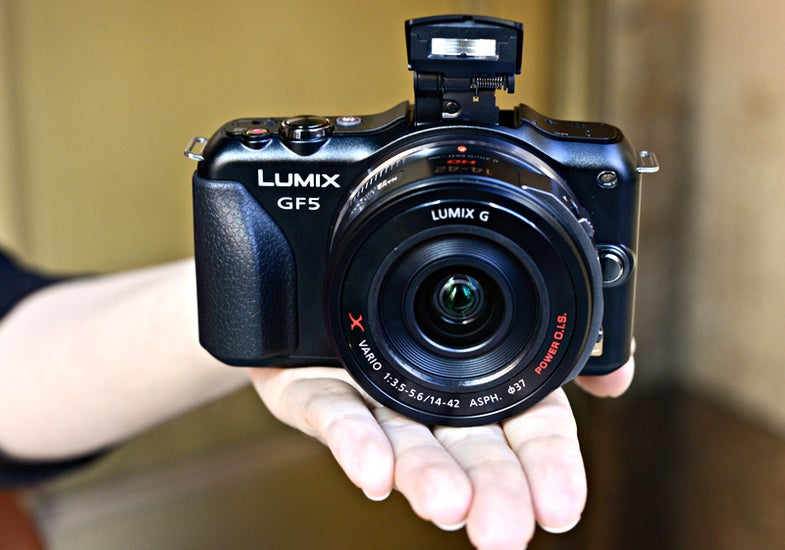 We may earn revenue from the products available on this page and participate in affiliate programs. Learn more ›
Panasonic's Lumix GF-series cameras have had an interesting life. The GF3 (there's no GF4 because the word "four" sounds like the Chinese word for "death" and is considered to be bad luck) was a much different camera than its predecessors and brought the line furrther into entry-level territory. Now, the GF5 will live alongside the GF3 in Panasonic's product line, bringing with it a few fairly updates.
Perhaps the most notable difference between the GF5 and the older GF3 is the redesigned user interface. It's simpler and easier to use, allowing for quicker access to various shooting modes. It also has a few bells and whistles like the ability to change the camera's background image.
You navigate the new menu system with a 3-inch, 920,000 dot touch screen display. It does all the things we've come to expect from a touch screen camera, including touch to focus and tap to fire the shutter.
Video recording has gotten a bump, bringing the maximum resolution to 1920 x 1080 at 60i. The GF3 tops out at 720p. Burst rate has also gotten a tiny bump from 3.8 fps to, well, 4 fps.
Both the 12.1-megapixel LIve MOS sensor and Venus processing engine have been revamped, which boosts the maximum ISO to 12,800, though it's an expansion setting and not a native number. There's a strong concentration on noise reduction, employing both 3D Noise Reduction and Multi-process Noise Reduction.
The Creative Control modes have been augmented to include more filters, but the Scene Guide feature actually sounds pretty interesting. It comes with a selection of 23 sample pictures shot by pros. Users can pick the one that's most similar to their current shooting situations and the camera will actually tell him or her what settings are required to achieve a similar photo. It's actually a cool little learning tool, which we're always in favor of.
Ultimately, the GF5 is pretty similar to the GF3 that came before it. When it starts shipping later this year, it will cost $100 more at $599 with the standard 14-42mm zoom lens. If you want to jump to the power zoom lens, the price will be $749. That puts it in an interesting spot where it will be competing with advanced compact cameras like Canon's G1 X and the Fujifilm X10. Plus, you can currently get the more powerful Panasonic GX1 for under $700 with the standard zoom lens, which is likely a better option for shooters who aren't concerned with filters or scene guides.