Camera Test: Panasonic Lumix DMC-GF3 ILC
Panasonic's smallest Micro Four Thirds model yet delivers delicious images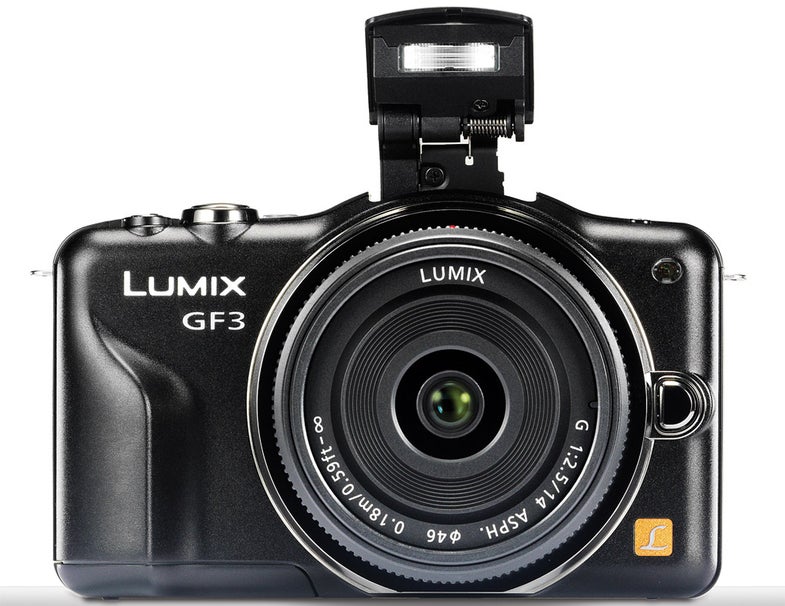 We may earn revenue from the products available on this page and participate in affiliate programs. Learn more ›
When it was announced, Panasonic's Lumix DMC-GF3 was billed as the smallest Interchangeable Lens Compact (ILC) on the market. Of course, Pentax swooped in with its Q model and took that title away, and Sony's new NEX-5N is about 8mm shorter than this Panasonic. Bragging rights aside, the GF3 is aimed squarely at casual shooters looking for the image quality of a large-sensor camera. As such, the GF3 foregoes both a hot-shoe and an accessory port in pursuit of cost cutting and size reduction. But, as you'll see, the GF3 doesn't scrimp on performance.
In the Test Lab
Although the 12.1MP GF3 doesn't boast the 16MP sensors of Panasonic's G3 or GH2, it still turned in impressive results in our lab tests. Its resolution measured 2270 lines per picture height at its lowest sensitivity of ISO 160. That's just enough to earn it an Extremely High rating. Plus, though noise becomes heavy, it holds almost all of that resolving power even up to its highest sensitivity, ISO 6400.
Color accuracy easily earned an Excellent rating with an average Delta E of 6.4 for 8-bit TIFF files converted from RAW files using the SilkyPix Developer Studio 3.1 SE software that ships with the camera.
Since that software's default settings don't vary the amount of noise reduction applied as ISO increases, as usual for Panasonics, our official test results show Unacceptable noise levels from ISO 800 on up. While keeping noise reduction low preserves detail at higher ISOs, we think it's best to give users a starting point that balances low noise and detail by applying progressively more noise reduction as ISO ascends. As is always true, judicious application of noise reduction beyond the defaults will bring noise measurements down. We found that we were able to reduce noise to acceptable levels through ISO 1600 while maintaining lots of detail.
If you're shooting JPEGs, then the camera's processing takes over and noise reduction is handled by it. In the same round of lab tests, this time on highest-quality JPEGs, noise remained at acceptable levels up to ISO 3200, though resolution fell to 2085 lines at ISO 6400, where noise still had an Unacceptable rating.
In the Field
The first thing you'll notice about the GF3 are its curves. Straying from the block-like design of the GF2, the stylishly little GF3 could be called downright sexy. Given its lack of a hot-shoe and accessory port, this camera carves out a new space in Panasonic's approach to ILCs. More advanced shooters looking for a rangerfi nder-style body should take note that Panasonic says it will keep the GF2 in its line. More casual shooters who like framing images on the LCD instead of using a viewfi nder will likely be fine with the GF3.
There are very few buttons on the GF3, so most settings must be made through the 3-inch touchscreen. Since there's no mode dial, you have to select even your shooting mode through the menus or touchscreen. If you don't change your shooting mode often, this might not be a problem for you, but we found it irksome.
Still, we very much like Panasonic's touchscreen interface for the G series. Even if you haven't taken to touchscreens in general, you should try the GF3 before you make up your mind. The system is very intuitive and can be extensively customized. The Quick Menu lets you access up to 10 settings that you can choose from a list of 24. You can customize the menu at any time by tapping the touch key below the menu, then dragging and dropping the 10 you want into the order you want.
These are supplemented by the four directions on the scroll wheel/navigation pad used to move through the menus when not using the touchscreen. We had no trouble confi guring the camera or changing settings during our fi eld tests. When selecting an AF point, the touchscreen really shines. All you do is tap the screen where you want your AF point, and it's there. The scroll wheel changes the size of the point if you're in single-area AF mode, and face detection did a great job of finding faces even as they moved through the frame.
In tracking mode, the camera can identify an object and track it by recognizing its shape and color. This worked well in many instances, but sometimes moved around a little bit on the object, especially if it's a complex shape, such as a curvy plastic soda bottle, which provided an added challenge to the camera by being nearly clear in certain places.
The GF3 autofocuses extremely fast in bright light and slows some in dimmer illumination. If the light becomes very dim, the camera automatically chooses to enlarge the focusing area to try to find some contrast wherever it can. This can be bothersome, but we suppose it's better to get a shot that might not be focused where you want it, rather than no shot at all.
This is yet another example of how higher-end DSLRs, with their phase-detection AF systems, are still relevant even as ILCs continue to hog the spotlight.
The Bottom Line
For the casual shooters that Panasonic is targeting with this camera, the GF3 is a solid choice. With its kit lens, it fits in a small bag or a jacket pocket, and is more powerful than most fixedlens compacts.
Olympus continues to offer the most serious competition to Panasonic and we're eager to see how the Pen E-PL3 and E-PM1 will stack up. The E-P3, given its higher price tag and more advanced target buyers, can't really be compared directly with the GF3. The Olympus E-PL2, which can still be found at some retailers, matches the GF3's performance in many ways, but is larger and doesn't focus quite as fast.
In short, the GF3 offers plenty of bang for the buck and is pretty much the camera to beat in this class.
Specifications:
IMAGING: 12.1MP effective, Four Thirds-sized LiveMOS sensor captures images at 4000×3000 pixels with 12 bits/color in RAW mode.
STORAGE: SD, SDHC, SDXC. Stores JPEG, RW2 RAW, RAW + JPEG, and MPO (with optional 3D lens) files.
VIDEO: Up to 1920x1080i (60 fps), or 1280x720p (60 fps), AVCHD or up to 1280x720p (30 fps) Motion JPEG; built-in mono mic, no mic input; contrast detection AF with continuous AF in video mode.
BURST RATE: Full-sized JPEGs (Fine mode): 3.8 fps up to card capacity. RAW (12-bit): 3.8 fps up to 7 shots.
AF SYSTEM: TTL contrast detection with 23 focus areas. Single-shot and continuous with tracking, and face detection.
SHUTTER SPEEDS: 1/4000 to 60 sec (1/3-EV increments). Shutter life not rated.
METERING: TTL metering using 144-zone multi-pattern with Intelligent Multiple (evaluative), centerweighted, and spotmetering; 0–18 EV (at ISO 100, f/2).
ISO RANGE: ISO 160–6400 (in 1/3- or 1-EV increments).
FLASH: Built-in pop-up with TTL autoflash, GN 21 (ISO 160, feet), covers 14mm. Flash sync to 1/160 sec.
LCD: 3-in. TFT touchscreen with 460,000-dot resolution.
OUTPUT: Hi-Speed USB 2.0, mini HDMI video, composite video.
BATTERY: Rechargeable DMW-BLE 9PP Li-ion, CIPA rating 320 shots with 14–42mm kit lens, 340 shots with 14mm kit lens.
SIZE/WEIGHT: 4.2×2.6×1.3 in., 0.6 lb with card and battery.
STREET PRICE: $500, body only; $600 with 14–42mm f/3.5–5.6 lens; $700 with 14mm f/2.5 lens.
FOR INFO: www.panasonic.com