My Book Live Personal Cloud Drive
Thanks to Western Digital's My Book Live drive and WD 2Go Pro app, this whole cloud business is getting easier all the time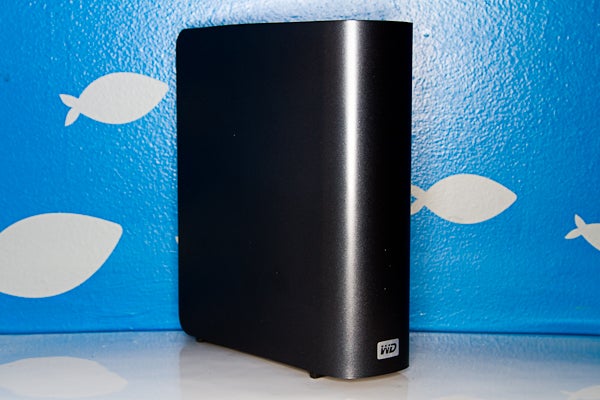 We may earn revenue from the products available on this page and participate in affiliate programs. Learn more ›
One of the big selling points of cloud storage is simplicity, but with so many different options available, just getting started with remote data storage is enough to make you want to pull your hair out. Western Digital was hoping to simplify things a bit by creating a "personal cloud" with their new WD 2Go Pro app and their My Book Live hard drive. Did they do it? Yeah, they kinda did.
The My Book Live has been around for a while now, but it's an essential part of this whole "personal cloud" scenario, so this review covers the drive as well as the apps. The rounded front and single indicator light should look very familiar to anyone having used WD stuff in the past. It's the back, however, that looks a little different. There's no USB or FireWire port, but rather a single Ethernet jack.
Setup
Attaching the two cords the My Book Live requires was simple, as always, but that's usually where network storage gets tricky. I was a bit surprised, however, when setting up the necessary computer utilities took less than a minute. Stick in the CD, run the wizard and I was ready to cram files into the folder. Painless.

Performance
From there, it was time to upload some data. I picked a 3.77 GB folder full of RAW image files shot on a Canon 7D. It took 5:51 to upload the folder to the My Book Live from my MacBook Pro, which is plugged directly into the router. Downloading the folder back to my hard drive took 5:34.
If you're used to directly attached hard drives, those times might seem kind of slow and that's for good reason. The same folder took 1:45 to upload to a drive attached via USB 2.0 and just 59-seconds to transfer over FireWire 800. But, speed isn't the strong point of the ethernet connection.
The My Book showed up immediately in Finder and, because it's attached to the network, it was able to read and write files from both my Windows machine and my Mac without a hitch. Then there's all of the remote access options.
WD 2Go Pro App
The newest addition to the WD app arsenal is WD 2Go Pro. It costs $2.99 in the app store, where you can also get the free, non-pro version. Setting it up through the wizard is shockingly easy. Open the dashboard on your computer and click "generate code." Install the app on your phone and then type in the code. Once that's done, you can remotely browse the files on the drive, including videos, music and, most importantly, photos. The interface is extremely straight forward and simple.
For the $3 pro upgrade, they add the ability to sync folders from your drive to your mobile device, "clip" remote files for offline viewing on your phone and lock files with a passcode.
While the navigation is nice, you can't swipe through a folder of pictures. Once you open the folder view, you're given a list of photos and you have to open them one by one unless you know which one you're looking for. It also doesn't support RAW files. We couldn't realistically expect them to, but unless you have JPG versions of your photos for viewing, the app might not be all that useful for you from a photo sharing perspective. Of course, if you're shooting RAW + JPG Small, you're all set.
WD Photos App
**

**
The photo-specific app has been available for a while now, but it does do a better job than the do-all app when it comes to image browsing. It resizes the images to make them manageable on your phone, so don't expect high-res zooming. Still, it's pretty nice if you just want to show off photos that you don't have stored on your internal drive.
Again, there's no Raw support (which is to be expected), but navigating through images is much easier in the photo app than it is in the 2Go Pro app. Once you're in a folder full of images, you can swipe through them as if they were on your phone's local memory. It's snappy.
Bringing up the menu on a photo gives you options like emailing it, assigning it to a contact, adding to your local photo collection, making a slideshow or uploading directly to Facebook so you can start collecting "likes." It's pretty seamless.
You will notice, however, that images you email are relatively small. That's because the Photos app resizes the images for display on your phone. If you want the full-res images, you'll have to use the 2Go Pro's clip function. Because Photos needs to generate these previews, there's also a bit of a lag in the time between the photos being uploaded to the drive and the app recognizing them.
Will a service like Adobe Carousel give you a lot more options when it comes to viewing and editing? Of course, but that service also comes with a subscription fee.
Remote Access Via Computer
While the mobile device access is nice, the web access is even better. Once you've logged into the remote access portal, the drive mounts just like you had attached it with a cord. There's no awkward FTP-like interface to mess with. Transfer speeds obviously vary wildly depending on your connection, but I didn't experience any odd disconnection issues characteristics of other solutions.
Back Up
If you're looking for automatic backup, the My Book Live has it. For Mac users, it plays nice with Time Machine and it uses a Microsoft-specific program for Windows users. While it seems to work fine in both situations, the lack of speed makes it slightly less than ideal. The option of a USB connection would've made it more versatile, but also would've cut down on the whole "two cable simplicity" factor that makes this a successful product.
While on the subject of USB ports, it would've been nice to see the addition of an incoming port for expanding the internal storage or even just for charging portable devices.
Verdict
The ability to get at your data from afar is becoming more important all the time and WD is doing a great job with their Live platform splitting the difference between local storage and true cloud drive functionality. While the lack of RAW support prevents it from competing with services like Adobe's Carousel, I can't really count that as a negative since the two are clearly aimed at different demographics.
The drive is available in 1, 2, and 3TB configurations and while I tested the 1TB version, the 3TB model seems like the best value. The wireless functionality typically adds about $50 to the price, but Amazon has the 3TB version for under $200 at the moment, making it the best overall value.
Western Digital has been adamant about their commitment to the Live platform, which means that the apps will likely only get better. And for a one-time investment of $3 (plus the cost of the drive, of course) it's nice added value that factors into your growing storage budget.