New Gear: Sony Alpha NEX-3 and NEX-5 cameras
APS-C sensors in pint-sized bodies means serious competition for the micro four thirds shooters.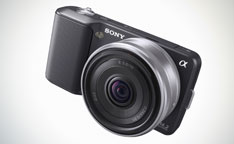 We may earn revenue from the products available on this page and participate in affiliate programs. Learn more ›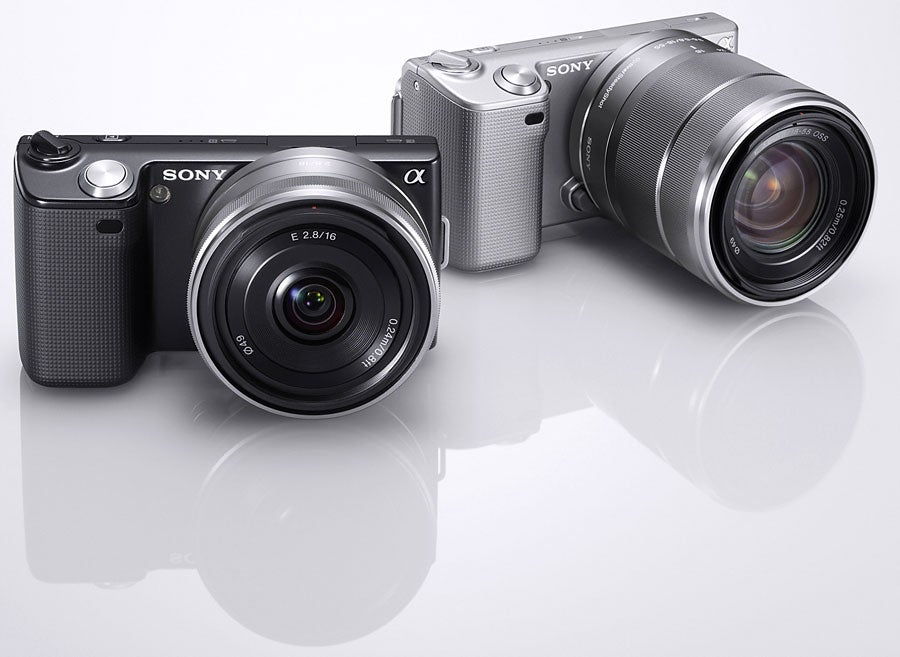 Just a few months ago at PMA, Sony made it clear that the next extension of its Alpha brand would come in the form of an HD-video-shooting interchangeable lens compact. Now, those prototypes have become full-blown cameras in the form of the new NEX-3 and NEX-5, which will be hitting shelves in July. Both come packing the same new 14.2-megapixel Exmor APS HD CMOS sensor, which is almost 60% bigger (23.4mm x 15.6mm) than what you'll find inside a micro four thirds body. Both can capture HD video and stereo audio via the built-in microphone, but the NEX-3 tops out at 720p, while the NEX-5 can crab 1080i video in AVCHD format. Despite the extra sensor real estate, both bodies are impressively compact. The NEX-5, which has a magnesium alloy body, weighs just 10.1-ounces (with battery and media) and the NEX-3 checks in at 10.5-ounces. Compare that to the 11.1-ounce Olympus E-P2 and the 10.1-ounce Panasonic Lumix GF1.
CLICK HERE FOR A GALLERY OF SAMPLE IMAGES FROM THE NEX-5
To accompany its new pint-sized bodies, Sony has introduced three new E-mount lenses: The 16mm (35mm equivalent: 24mm) f/2.8 ($250), the 18-55mm (35mm equivalent: 27-83mm) f/3.5-5.6 OSS ($300) and the 18-200mm 35mm equivalent (27-300mm) f/3.5-6.3 (fall, $800). The compact barrels are made from brushed aluminum and have steel mounts. They also boast ultra-quiet AF motors, enabling continuous autofocus during HD video capture. If you're not satisfied with three lens options (and you have a little extra room in your bag), the optional LA-EA1 Mount Adapter allows both NEX cameras to use the full range of Alpha lenses, plus a "huge range" of other legacy A-mount lenses if you don't need AF. It's worth noting that there's no internal image stablization on the NEX bodies, so you'll have to opt for the 18-55mm lens if you want to enjoy the Optical Steady Shot functionality.
In keeping with the compact part of its lineage, both the NEX-3 and NEX-5 have a redesigned and simplified interface, as well as a handful of Sony's specialty shooting modes like Hand-Held Twilight, Auto HDR and Anti-Motion Blur. Units will ship with the standard Sweep Panorama feature that they offer in other compacts, but a coming firmware update will allow both of the NEX cameras to capture 3D Sweep Panoramas, which can be played back on compatible 3D HDTVs.
Both models sport an impressive 3-inch TFT TruBlack LCD displays with 921,600 pixels and 100-percent Live View coverage. The screen can be angled approximatley 80-degrees upward and 45 degrees downward to allow for shooting at unique angles.
While the bodies lack a built-in flash, a clip-on flash, which attaches via the smart accessory terminal is provided in the box. If you want the FDA-SV1 Optical Viewfinder or the ECM-SST1 Stereo Microphone, you'll have to buy them sparately. There will be two different kits available at launch, including the NEX-5A ($650) and NEX-3A ($550), which come bundled with the 16mm prime. The NEX-5K ($700) and NEX-3K ($600) come with the 18-55mm zoom.
CLICK THE IMAGE BELOW FOR AN EXCLUSIVE GALLERY OF SAMPLE IMAGES FROM THE NEX-5
Read on for the full specs.
---
CAMERAS
Sensor: 14.2-megapixel Exmor APS HD CMOS (23.4mm x 15.6mm)
Lens crop factor: 1.5x
Anti-dust: Charge protection coating on Low-Pass Filter and electromagnetic vibration mechanism
Image processor: BIONZ
Media Types: Memory Stick PRO Duo/Pro-HG Duo/PRO-HG HX Duo media SD, SDHC and SDXC memory card
Image Modes: JPEG (Standard, Fine), RAW, RAW+JPEG
Video format: NEX-5 AVCHD / MP4 (MPEG-4 AVC (H.264)) – NEX-3 MP4 (MPEG-4 AVC (H.264)) only.
AF system: Contrast
Focus points: 25
AF modes: Single-shot AF, Continuous AF, Direct Manual Focus, Manual Focus
Focus sensitivity: 0 EV to 20 EV (at ISO100 conversion with F2.8 lens)
Sweep Panorama: Maximum Wide 23MP (12,416 x 1,856), 226° (16mm focal), 201° (18mm focal)
Face detection: Off, Auto, Child Priority, Adult Priority
Smile shutter: Off, Slight, Normal, Big
Metering: 49 Segment metering from CMOS image sensor
Metering mode: Multi-segment, Center-weighted, Spot
Exposure settings: iAUTO, Program Auto (P), Aperture priority (A), Shutter priority (S), Manual (M)
ISO: Auto, 200 to 12800
Color temperature: 2500 – 9900 k with 19-step Magenta / Green compensation
Shutter type: Electronically-controlled, vertical-traverse, focal-plane type
Drive modes: Single-shot, Continuous, Speed Priority, Self-timer, Continuous Self-timer, Bracketing; Remote Commander
Shooting speed: Continuous (2.3fps) Speed Priority (7fps)
Flash sync: 1/160 second
Burst buffer: JPEG (unlimited to card capacity), RAW (8 shots), RAW+JPEG (5 shots)
Flash metering system: Pre-flash TTL
Flash modes: Autoflash, Fill-flash, Rear sync., Slow sync., Red-eye reduction
Recycle time: Approx. 4 sec
HDMI port: TypeC mini
Connectivity: USB 2.0
NEX-3 dimensions: Appx 4-5/8 × 2-1/2 × 1-3/8″ (117.2×62.6×33.4mm) (W/H/D); 1″ (25.4mm) excl grip and lens mount
NEX-3 weight: Approx. 8.4 oz (239g) (excl battery & media) Approx. 10.5 oz (297g) (w/battery & media)
NEX-5 dimensions: Appx 4-3/8 × 2-3/8 × 1-9/16″ (110.8×58.8×38.2mm) (W/H/D); 15/16″ (24.2mm) excl grip & lens mount
NEX-5 weight: Approx. 8.1 oz (229g) (excl battery & media) Approx. 10.1 oz (287g) (w/battery & media)
Battery: InfoLitium NP-FW50,7.2V with approximately 330 shots per charge
16mm F/2.8 LENS
Groups and elements: 5 groups, 5 elements (1 aspheric surface)
Angle of view: 83°
Aperture: 7 blades (Circular aperture)
Aperture range: f/2.8-f/22
Maximum maginification: 0.073x (APS-C)
Miniumum focus distance: 9.4″ (0.24m)
Dimensions: 2-7/16 x 7/8″ (62×22.5mm)
Weight: 2.5 oz (70g)
Filter diameter: 49mm
18-55mm f/3.5-5.6 OSS LENS
Groups and elements: 9 groups, 11 elements (4 aspheric surfaces)
Angle of view: 76° – 29°
Aperture: 7 blades (Circular aperture)
Maximum magnification: 0.3x (APS-C)
Minimum focus distance: 9.8″ (0.25m)
Filter diameter: 49mm
Dimensions: 2-7/16 x 2-3/8″ (62x60mm)
Weight: 6.9 oz (194g)
Image stablization: Optical SteadyShot (max 4-step)