Camera Test: Olympus PEN E-P2
Refinements to Micro Four Thirds show a system worth investing in.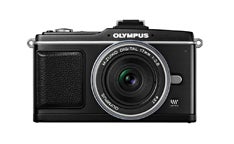 We may earn revenue from the products available on this page and participate in affiliate programs. Learn more ›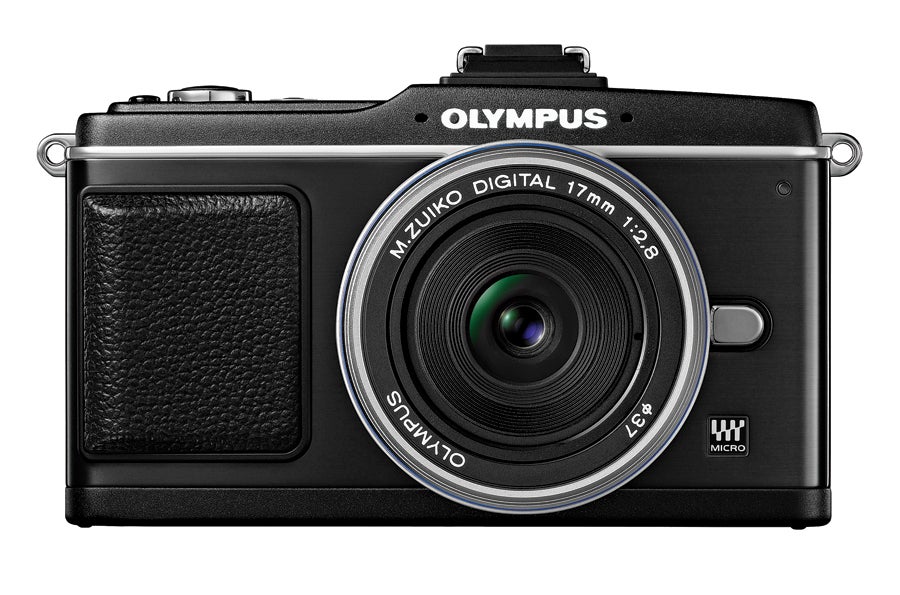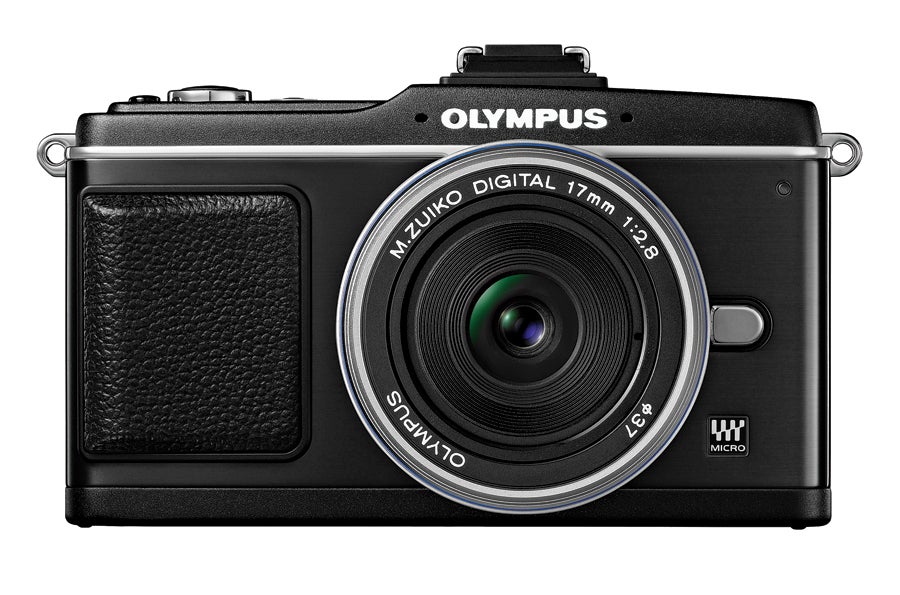 Camera Test: Olympus PEN E-P2
The first time you take the lens off the new Olympus Pen E-P2 ($1,100, street, with 14–42mm f/3.5–5.6 or 17mm f/2.8 M.Zuiko Digital lens and VF-2 electronic viewfinder), people around you may stare in disbelief. After all, it's not much larger than a compact camera, but you can swap out the optics, just as on a DSLR.
But does the wow factor extend to its performance? Our tests say yes.
In the Pop Photo Lab and in the field, the E-P2 showed improvements in imaging and autofocus performance over its recent predecessor, the Pen E-P1, the first (and still current) Micro Four Thirds camera from Olympus. Plus, it adds a very convenient accessory electronic viewfinder (EVF) for steady eye-level viewing.
In our resolution tests, the E-P2 actually showed a very slight drop compared with the E-P1, to 2200 lines from 2215— although 15 lines is insignificant at this level of resolution.
On our other two major imaging criteria, the E-P2 bested the excellent performance of the E-P1. It turned in a Delta E score of 6.4 in color accuracy against the 6.9 of the E-P1, lower numbers being better on this measure. And our noise tests—another lower-is better contest—showed a similar trend: The E-P2 produced lower noise than the earlier camera at every ISO.
While these differences may seem minor, it's noteworthy that Olympus is paying close attention to product refinement. Also, on the basis of color accuracy and noise control alone, the E-P2 would have earned an Excellent rating for image quality—the resolution number is what knocked it down two levels to Very High.
For comparison, Panasonic's Lumix DMC-GF1 ($900, street, with 14–45mm f/3.5–5.6 lens) earned an Extremely High image quality ranking due to resolution a notch better—2300 lines. But the E-P2 beat the Panasonic's noise performance at every ISO above ISO 100 that they share. Plus, the E-P2 has a top sensitivity of ISO 6400, versus 3200 on the GF1.
In use, the E-P2 could be taken for a clone of the E-P1 except for color—black instead of silver or white. The control layout is carried over exactly from the E-P1—which means that its dials and buttons are as small and crowded. The body offers reasonably good ergonomics for such a small camera, however, and all the controls can be operated with the right hand alone.
Although we cannot run our lab tests on the kind of AF system Micro Four Thirds cameras use, we did try it extensively in the field: Focusing speed remains slower than that of DSLRs, but we noticed that the E-P2 was slightly faster in most conditions than the E-P1. Panasonic's GF1 has them both beat, but it too lags behind DSLRs.
Accessories Matter
The most important addition the E-P2 makes to the Olympus Pen line is its accessory port. On the back of the camera just below the hot-shoe, the port lets you add accessories that communicate with the camera body.
Chief among these is the VF-2 electronic viewfinder, which is included in the kit. It provides a 100% accurate view of the scene and has the same 1.15X magnification factor as the flagship Olympus DSLR, the E-3. It also can tilt up to any angle up to 90 degrees to make low-angle or close-up shooting easier. The built-in diopter can be adjusted by turning a rubber-coated ring around the eyepiece. Eye relief is quite good; eyeglass wearers could see the entire screen without scrunching or shifting.
At 144,000 dots, the EVF provides a sharp, fine-grained image, and the image redraws seamlessly even during a fast pan. But, like most EVFs, the VF-2 falls way short if you actually try to shoot during that pan. It blanks out (much longer than a DSLR would) while capturing each image, so it's nearly impossible to continue panning along with a subject after a shot.
The E-P2's new AF tracking mode will help keep your subject in focus as you pan, but if you're tracking, say, a soccer player and she turns at the moment of exposure, you might miss it. Of course, with a burst rate of 3 frames per second— downright pokey by current standards—the E-P2 is not exactly ideal for sports shooting.
Make Moving Pictures
You may be better off taking video of that soccer game, as the E-P2 can capture 1280x720p, AVI Motion JPEG video at 30 fps for up to 7 minutes. Sound is stereo, thanks to a pair of builtin microphones that straddle the Olympus logo above the lens. If you want to use an external stereo mic, the optional SEMA-1 ($90, street) adds a stereo minijack input, thanks again to the accessory port.
In our field tests, the E-P2's footage matched that of most mid-level HD camcorders currently available. The continuous AF also works when recording video, although it might not be able to keep up with a particularly fast-moving subject.
But we're pleased that you can get such high-quality video and still-image quality, with the versatility of interchangeable lenses, in such a small body
The Bottom Line
The second Micro Four Thirds model from Olympus is a step forward in the company's efforts to serve the market for this new format. The accessory port lets it compete more effectively with Panasonic's DMC-GF1, as does its sleek metal body, which gives it a classy look that the GF1 doesn't have.
It's too bad the E-P2 lacks the Panasonic's built-in flash. You can purchase the accessory shoe-mount FL-14 flash ($140, street), but you can't use both this and the EVF simultaneously, which is a big drawback in situations where you need to use both of them.
But the flip side to this competition is that the Micro Four Thirds lenses Panasonic plans to deliver in the future will only help make this Olympus more attractive. With the lenses in Oly's current lineup and those to come later this year, the Micro Four Thirds system starts to look like a genuine system and not a boutique novelty.
Anyone looking for a jacketpocket sized camera that delivers image quality on par with a DSLR, should consider the Olympus Pen E-P2.
Specifications
Imaging: 12.3MP effective, Four Thirds sized Live MOS sensor captures images at 4032×3024 pixels with 12 bits/color in RAW.
Storage: SD and SDHC. Stores JPEG, ORF RAW, and RAW + JPEG files.
Video: Up to 1280×720 30-fps AVI Motion JPEG; built-in stereo mic with optional mic input; continuous AF.
Burst Rate: Full-sized JPEGs (Normal mode), up to 12 at 3 fps. RAW, up to 10 shots at 3 fps (12 bit).
AF System: TTL contrast detection with 11 focus areas. Single-shot and continuous.
Shutter Speeds: 1/4000 to 2 sec, plus B (1/3-, 1/2-, or 1-EV increments).
Metering: TTL metering using 324-area multipattern evaluative, centerweighted, and spotmetering (approx. 1% of LCD screen). EV 0–18 (at ISO 100).
ISO Range: ISO 100–6400 (in 1/3- or 1-EV increments).
Flash: No built-in flash. Flash sync to 1/180 sec. Dedicated Olympus E-system hot-shoe.
LCD: 3-inch TFT with 230,000-dot resolution.
Output: Hi-Speed USB 2.0, mini HDMI video, composite video.
Battery: Rechargeable PS-BLS-1 Li-ion, 1150 MAH. CIPA rating, 300 shots.
Size/Weight: 4.7×2.8×1.4 in., 0.9 lb with card and battery (without lens).
Street Price: $1,100 with 14–42mm f/3.5–5.6 or 17mm f/2.8 M.Zuiko Digital lens and VF-2 electronic viewfinder.
For Info: olympusamerica.com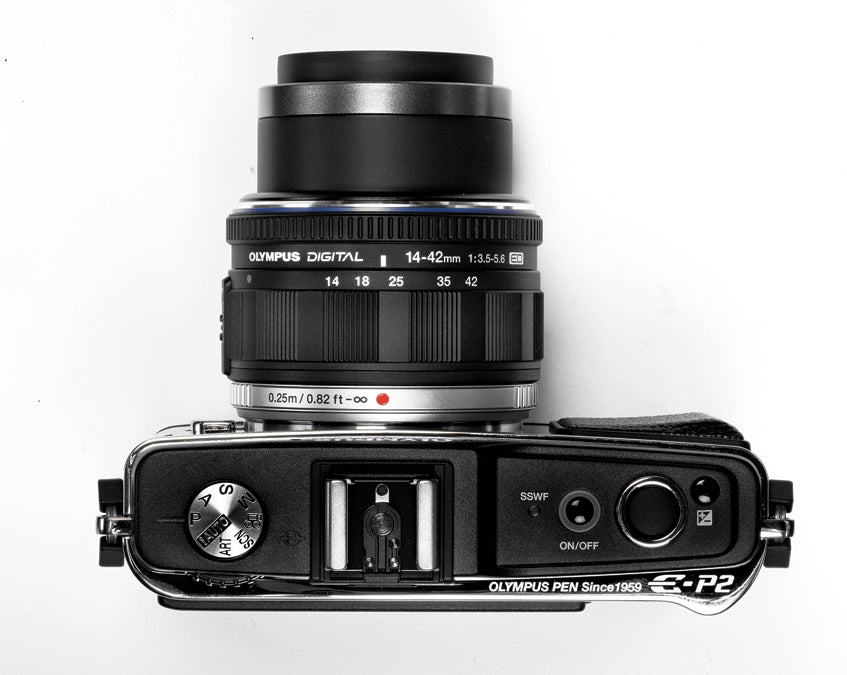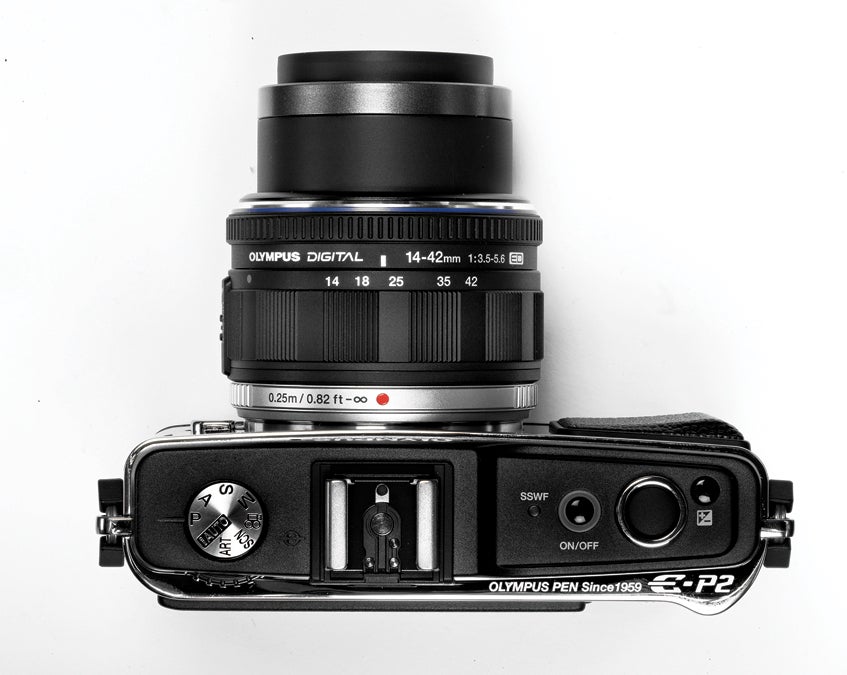 Olympus PEN E-P2 top view