Camera Test: Panasonic Lumix DMC-GF1
The latest Micro Four Thirds camera has the fastest AF of any predecessor.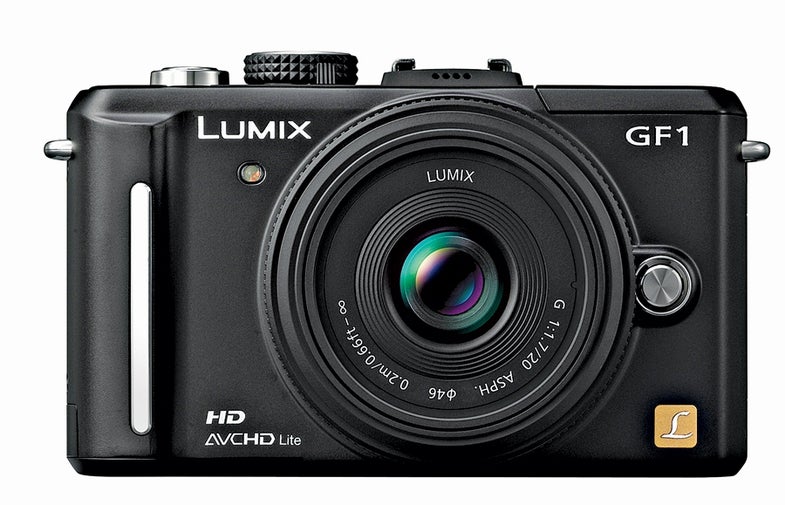 We may earn revenue from the products available on this page and participate in affiliate programs. Learn more ›
With any new technology, it takes time to work out the kinks. And while the flurry of coverage-and humanity's ever-shrinking attention span-might make it seem as though Micro Four Thirds has been around awhile, it's still quite new. Panasonic's Lumix DMC-GF1 is only the fourth camera we've seen in this new format. It does a lot of things right, but its images are also noisier than its predecessors.
Of course, Micro Four Thirds cameras are in large part aimed at shooters who are less persnickety about noise than are advanced DSLR users. The main draw is their portability and greater functionality compared with compacts. And this Panasonic scores on both counts.
The GF1's body (without a lens) measures only 4.7×2.8×1.4 inches and weighs just over half a pound-about half the weight of the Canon EOS Rebel XS, for instance. Even with the 20mm f/1.7 kit lens, the GF1 is still less than 1 pound, while the 14-45mm f/3.5-5.6 kit zoom brings it up to 1.2 pounds.
And the GF1 autofocuses faster than most compact cameras. Plus, you can switch lenses.
There aren't many dedicated lenses to choose from yet, but since both Panasonic and Olympus are making Micro Four Thirds gear, new optics may come quicker than you'd expect.
In the meantime, your glass options are commendable. For example, the 20mm kit lens offers a pleasingly large maximum aperture to allow limited depth of field and low-light capture that's hard to accomplish with most compacts.
And you can expand the system's flexibility with lens adapters. Both Panasonic and Olympus make ones that enable regular Four Thirds lenses to be placed on Micro Four Thirds bodies, allowing you to use autofocus and control aperture from the camera body.
We even mounted a Pentax 28mm f/3.5 Auto-Takumar lens on this Panasonic, using one of Novofiex's Micro Four Thirds adapters. These let you mount any lens on the GF1-just turn on the Shoot Without Lens option in the advanced menu and you're all set. Of course, you'll have to focus manually and change the aperture with the ring on the lens.
Given how different the GF1 looks compared with Panasonic's earlier Micro Four Thirds models, it's tempting to wonder how much the design was influenced by the more svelte Olympus E-P1-and how much the new E-P2 was influenced in turn by the GF1. (The answer to both is probably "Not much," since all of these models have come out in such rapid succession.)
But while the GF1 has less flair, it does have a built-in flash-score one for practicality over beauty. You shouldn't expect a whole lot of light from this small pop-up, though.
The guide number is 20 (ISO 100, feet). Using the 14-45mm lens at 14mm (at f/3.5 and with ISO on auto), you can expect the GF1's flash to provide about the same range as a good compact- a little more than 11 feet. Compare that with the GN 36 flash in Panasonic's earlier GH1 ($1,500, street, with 14-140mm f/4-5.8 lens), which gives you a range of about 20 feet.
The GF1 records video, but it gives you more options than compacts generally do, and its Four Thirds-sized 12.1MP Live MOS sensor delivers higherquality clips. This sensor, while still much smaller than the type on a full-frame DSLR, is large enough to let you limit depth of field while shooting video- impossible even with a reasonably priced HD camcorder.
The GF1 doesn't let you record at 1920×1080-pixel resolution the way the GH1 does, but the high-def 1280×720 footage we shot was quite good, with accurate-looking colors and no major image flaws to speak of.
File formats? You have a choice of Motion JPEG (better for extracting still frames) and AVCHD Lite, which compresses more heavily for smaller fl les and can be played back through the SD-card slot in Panasonic HDTVs and other devices that play the AVCHD format.
Handling And Controls
Holding the GF1, it can be hard to remember that it's not a regular compact. But dig into the controls and you'll know you're holding a powerful instrument.
The Quick Menu, which you access via a dedicated button on the back, lets you scroll through most major settings as they're displayed across the top of the same 3-inch 460,000-dot LCD you use to frame your images.
About the only major setting you can't change through the Quick Menu is the drive mode, controlled by a four-way switch next to the shutter button.
As with Panasonic's G1 and GH1 cameras, the command wheel on the back can be pressed to swap between aperture and shutter speed in manual mode, or exposure compensation and aperture or shutter speed in the aperture- or shutterpriority shooting modes.
If you don't like framing your shots in the LCD, Panasonic offers the optional DMW-LVF1 electronic viewfinder ($200, street) that mounts in the hot-shoe. It's a better solution than the accessory finder for the Olympus E-P1. Without a data port near its hot-shoe, the E-P1 offers only a static optical finder for use with the 17mm lens, while this EVF gives you an accurately framed view with any lens you put on the camera.
Lab And Field Testing
In our tests in the Pop Photo Lab, the GF1 outresolved the E-P1 and essentially tied it in color accuracy, but yielded more noise at higher ISOs. The GF1 just barely stayed out of Unacceptable range at ISO 800, while the E-P1 scored better than that at ISO 1600. And the GF1 tops out at ISO 3200, while the E-P1 extends up to ISO 6400. Both are quite noisy at their respective top sensitivities, but the GF1, more so.
Due to the way Micro Four Thirds cameras achieve autofocus, we cannot test their AF speed in our lab, only in the field. But, the GF1 focuses noticeably faster than the E-P1 and was able to focus in dimmer conditions in our field testing than the E-P1 could.
Noise issues aside, the GF1 was a pleasure to use and small enough to fit in a small messenger bag or backpack instead of a large camera bag. With the 20mm lens attached, it might flt in a midsized purse.
So if a DSLR is too big, and you want better image quality and higher-end controls than you can get in a compact, the Panasonic GF1 may be for you.
But up against the Olympus E-P1, it's tough to declare a winner. If you don't mind the E-P1's sluggish focus, you'll get less noise, plus sensor-shift image stabilization (Panasonic puts it in the lens). If you don't mind cranking up noise reduction and sacriflcing some of its higher resolving power, the GF1 will provide a more seamless shooting experience.
Specifications
Imaging: 12.1MP effective, live MOS Four Thirds sensor captures images at 4000×3000 pixels with 12 bits/color in RAW mode. Storage: SD/SDHC cards. Stores JPEG, RAW, RAW + JPEG.
Burst Rate: Full-sized JPEGs (extra Fine mode), up to card capacity at 3 fps; RAW, up to 7 shots at 3 fps.
AF System: TTL contrast detection with 23 focus areas and adjustable size single-area focusing. Face detection, single-shot, and continuous AF.
Shutter Speeds: 1/4000 to 60 sec plus B (1/3-EV increments).
Metering: TTL metering with 144-zone intelligent Multiple (a.k.a., evaluative), centerweighted, and spotmetering. EV 0-18 (at ISO 100).
ISO Range: ISO 100-3200 (in 1/3-, 1/2-, or 1-EV increments).
Video: records up to 1280×720 pixels at up to 60 fps in AVCHD lite format or up to 30 fps in Motion JPEG format; built-in mono microphone; stereo minijack input.
Flash: Built-in pop-up flash GN 20 (in feet at ISO 100). Supports TTL autoflash with Panasonic lumix flashes; X-sync at 1/160 sec.
LCD: Fixed 3-in. TFT screen with 460,000-dot resolution.
Output: Hi-Speed USB 2.0, HDMI (mini-type) video, NTSC/PAL composite. PictBridge compatible.
Battery: rechargeable DMWBlB13E Li-ion; CIPA rating, 350 shots.
Size/weight: 4.7×2.8×1.4 in., 0.65 lb with card and battery.
Street Price: $900 with Lumix G Vario 14-45mm f/3.5-5.6 Mega O.I.S. lens or with Lumix G 20mm f/1.7 lens.
For info:www.panasonic.com