Camera Test: Olympus E-3
Hot Shot: Firepower? It's loaded.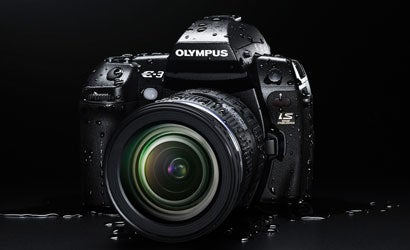 We may earn revenue from the products available on this page and participate in affiliate programs. Learn more ›
First impressions matter, especially for photographers seeking a picture-taking partner. But sometimes it takes a real effort to figure out if a DSLR is the perfect match for you. For instance, when Olympus introduced us to its new 10.1MP E-3 ($1,700, street, body only), it seemed like love at first sight (see Hands On, December 2007). Yet we needed time (and Lab tests of a production model…how romantic!) to confirm our first impressions.
Are we still enamoured? Even more so. This new Olympus flagship DSLR proves that the Four Thirds system has a bona fide place in the pro and advanced-amateur photographer's kit.
Continuing the innovation begun with the E-1, its predecessor, the E-3 incorporates such features as the Supersonic Wave Filter dust reduction system, as well as staples of its sub-$1,000 DSLR line, such as live view with autofocus and sensor-based image stabilization with live confirmation.
Olympus replaced the E-1's sluggish AF with a super-fast, 11-point biaxial AF system. It improved the viewfinder, burst rate, and durability of the body and shutter. Plus, it threw in a swiveling 2.5-inch LCD and pop-up flash with wireless external flash control.
Performance? The E-3 did incredibly well in the Pop Photo Lab's image quality tests, challenging (though not outperforming) the 12.3MP Nikon D300 ($1,800, body only), tested in this issue. It earned a similar Excellent image quality rating all the way up to ISO 3200 when shooting in RAW mode.
Despite the E-3's stellar RAW performance, fine-quality JPEGs ran into trouble with noise, especially at high ISOs. Surprisingly, noise levels on JPEGs shot at ISO 100 were similar to those we measured in RAW files shot at ISO 1600 (1.7, a Low noise rating); but by ISO 1600 JPEGs showed Unacceptable noise.
The solution for E-3 users is clear: In low light, shoot RAW.
RIP-ROARING AF
No matter what the lighting conditions, sports, action, and portrait photographers will be drawn to the speed and power of the E-3's autofocus. Olympus claims that this AF system, which has a new TTL phase-difference engine with 11-point full-twin cross sensors, is the fastest on any DSLR.
The company qualifies this claim, stating that it tested the E-3 against other available DSLRs (at a time when neither the Nikon D300 nor the Canon EOS 40D was available) using a lens similar in range and aperture to its new Zuiko 12-60mm f/2.8-4 ED SWD (Supersonic Wave Drive) lens. Olympus also notes that the new AF system reaches its top performance with only two other new Zuiko SWD lenses.
Why the caveat? In our autofocus tests, we generally use the DSLR maker's 50mm f/1.4 (or the nearest equivalent), often the brightest, most affordable lens. It helps keep the speed of the lens out of the DSLR's AF-speed equation, since in most cases, complex zooms focus more slowly than lenses with fixed focal lengths. But Olympus doesn't yet have a 50mm f/1.4 in its Zuiko lineup.
So for our AF tests we used the 12-60mm SWD lens at light levels from EV 12 to EV 1, then switched to the Panasonic Leica 25mm f/1.4 (a Four Thirds system compatible lens) to test the E-3 in extremely low light below EV 1. (We tested the Zuiko separately, as well; our report follows.)
We discovered that in very bright light (EV 12 to 8), the E-3 was a speed demon at 0.3 sec — a fraction of a second behind the leader in that brightness range, the Sony Alpha 700 (0.24 sec), and nearly identical to the Nikon D300 and Canon EOS 40D. In normal light (EV 6 to 4), the E-3 squeaked ahead of the D300 and fell behind the Sony, while holding its own against the Canon. In low light (EV 3 to EV 0), it slowed the way the Sony did and trailed the Canon and D300.
That's a fine showing for a DSLR with a zoom lens, all the more impressive given that Olympus DSLRs used to be in last place in AF speed tests. We can't help but wonder if the E-3's AF speed will improve further if and when Olympus introduces a fixed 25- or 50mm f/1.4 SWD lens.
To continue our AF tests in extremely low light (EV 0 and below), we switched to the Leica 25mm f/1.4, since it achieved faster AF speed than the dimmer 12-60mm f/2.8-4 lens. But by EV -1 the E-3's AF speed dropped to extremely slow, and it couldn't focus at all at EV -2, where the low-light AF leader, the Nikon D300, still locked in at less than 1 sec.
LIVE ADVANTAGE
While the E-3 isn't as sensitive as either the Canon EOS 40D or Nikon D300 in extremely dim lighting conditions, it packs an extra feature that should thrill low-light shooters — a built-in, sensor-based image stabilization system. For Canon, Nikon, and Panasonic DSLRs, which all rely on lens-based IS systems, you'll need to pay more for each stabilized lens you buy.
Olympus claims up to 5 stops of handholding advantage with the E-3's IS system (the highest claim for IS from any manufacturer). But our tests made at 100mm and 200mm settings with a Zuiko 50-200mm f/2 lens (a 100-400mm equivalent, given the camera's 2X lens factor) showed a 2.5- to 3-stop advantage, similar in range to that of the Sony A700's sensor-based IS system and slightly better than what we found in the consumer-level Olympus Evolt E-510 DSLR.
The E-3 can also brag about its ability to show the stabilization effect in real time through the swiveling 2.5-inch LCD monitor when the live view mode is on. This lets you hold this camera down low, at waist level, or up high while composing through the live-view LCD.
Such a maneuver would be difficult even with the Nikon D300's larger and sharper 3-inch LCD, and not at all possible on the Sony A700's 3-inch LCD, which doesn't provide live view. And while the Panasonic DMC-L10 DSLR sports an LCD of similar size and resolution that also swivels and provides live view, the Panasonic lacks a sensor-based IS system, relying instead on the expensive, stabilized Leica kit lens that's sold with it. So the live view advantage goes to the E-3, with its built-in IS and swiveling LCD.
However, the 3-inch LCDs on the Nikon D300 and Sony A700 have an advantage in playback due to their higher resolution and larger sizes. Plus the D300 offers both phase- and contrast-detection AF, as well as
a high-def video output jack for live view on an HDTV. But neither of these rivals provides the safety of the Olympus — the LCD can be rotated inward to protect it from bangs and scratches.
We think that most advanced DSLR shooters will rarely use live view and are more interested in the optical viewfinder. Olympus has steadily improved the viewfinder experience since the tunnel-vision E-1, and the E-3 has an Excellent (tested) viewfinder. One quibble: The data display is now along the bottom edge of the viewfinder, as in most other DSLRs, not along the right side, where Olympus used to place it. But to see all the numbers clearly you may need to reposition your eye, causing vignetting at the top of the viewfinder image.
FAST AND TOUGH
Other notable improvements to the E-3 include its faster burst speed of 5 frames per second, compared with the E-1's 2 fps. Shooting Fine-quality JPEGs, we were able to capture 37 frames at 5 fps, and 17 in RAW mode (using a Lexar 300x UDMA CF card). Again, not the speed or capacity of the Nikon D300 in burst mode (up to 100 JPEGs at 6 fps), but competitive and fast enough for most photographers.
Olympus also beefed up the gasketing and weatherproofing on the magnesium-alloy camera body, which may be the most rugged in its class.
In field tests, we found most of the controls on the E-3 positioned where we would expect, except for the ISO button just behind the shutter. More than once, our trigger finger accidentally activated this button. It would make more sense to switch its position with the exposure compensation button.
The E-3 is the first Olympus DSLR with a pop-up flash that's capable of wireless control of an external flash — specifically, the new Olympus FL-50R ($430, street). That puts it ahead of the Canon EOS 40D, but the wireless flash controls and capabilities of both the Nikon D300 and the Sony A700 are more advanced than the E-3's.
Still, priced at $100 less than the D300 body, the E-3 might be the better bargain for some photographers. Its built-in image stabilization will save money when adding lenses down the road. Its 2X lens factor and extremely fast AF system are a boon to nature and sports shooters who like to travel light (and who can appreciate the value of Olympus's highly rated Zuiko lenses). And its articulating 2.5-inch LCD with live view and AF will appeal to macro photographers and street shooters trying to get a better view.
Any photographer will fall for the E-3's amazing image quality in RAW mode (even at high ISOs), sophisticated yet easy-to-master controls, and body built to handle pro challenges without concern for the safety of its LCD.
Olympus, this looks like true love.
Imaging: 10.1MP effective Live MOS sensor captures images at 3648×2736 pixels with up to 12 bits/color in RAW.
Storage: Dual slots for CompactFlash Type I/II (including UDMA) and xD-Picture cards. Stores JPEG, RAW, RAW + JPEG.
Burst rate: Fine-quality JPEGs: 5 fps up to 37 shots. RAW: 5 fps (tested) up to 17 shots.
AF system: TTL phase-difference detection system with 11 points full-twin cross AF sensors. Single-shot and continuous AF with focus tracking. Sensitive down to EV -1 (at ISO 100, f/1.4).
Shutter speeds: 1/8000 to 60 sec plus B (1/3-EV increments). 150,000 cycle rating.
Metering: 49-zone TTL metering with Digital ESP, centerweighted, and spotmetering (approximately 2.0% of viewfinder). EV 1-20 (at ISO 100).
ISO range: ISO 100-3200 (1/3 or 1-EV increments).
Flash: TTL auto pop-up flash, GN 43 (ISO 100, feet). Flash sync to 1/250 sec. Provides wireless control of optional Olympus FL 50R flash. Dedicated Olympus hot-shoe. Viewfinder: Fixed eye-level pentaprism.
LCD: Swiveling 2.5-in. TFT with 230,000-pixel resolution and Live View mode.
Output: Hi-Speed USB 2.0, NTSC/PAL video, and remote cable connector.
Battery: Rechargeable BLM-1 Li-ion, CIPA rating, 610 shots, 50% with flash.
Size/weight: 5.6×4.6×2.9 in., 1.8 lb without card and battery.
Street price: $1,700, body only.
For info:www.olympusamerica.com.
VIEWFINDER TEST
Accuracy: 98% (Excellent)
Magnification: 1.15X (Excellent)
COMPETITIVE SET
• Sony Alpha 700 ($1,400 street, body only): With its larger 3:2 aspect ratio and 12.2MP CMOS sensor, the A700 captures slightly higher detail than the E-3, but color is not as accurate nor is noise as low at ISOs above 1600. The A700's AF system squeaks past the E-3's in very bright light (using a 50mm f/1.4 lens). Both cameras have image stabilization systems that gain up to 3 stops' advantage. The E-3 body is built tougher than the A700 and also sports a swiveling LCD monitor with a live view mode. The A700's larger, sharper, 3-inch LCD has a fixed position and no live view.
• Nikon D300 ($1,800, street, body only) Priced slightly higher, the D300 outperforms the E-3 in several categories, notably its faster AF speed in very low light and its maximum burst rate of 6 fps (versus 5 for the E-3.) The D300 has a fixed-position, higher-quality, 3-inch LCD that also allows live view — with two types of AF. We'd give the E-3 a slightly higher rating for body strength, but the D300 has easy-to-master controls and a refined dial and button arrangement. Its external flash controls and AF tracking are more advanced. And JPEGs from the D300 look better at high ISO settings.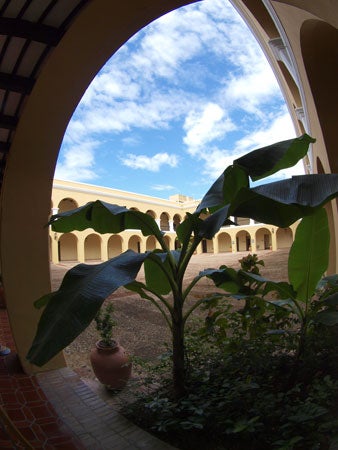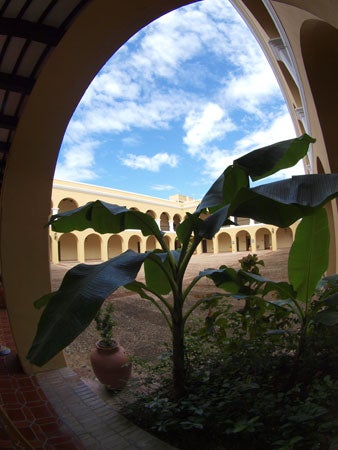 Olympus-E-3-Field-Report-The-courtyard-of-San-Jua
Olympus E-3 Field ReportThe courtyard of San Juan's museum of art. The tree in the foreground is in shade…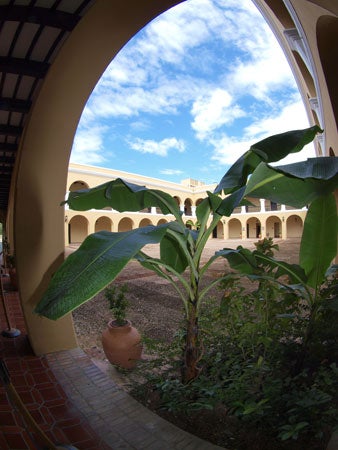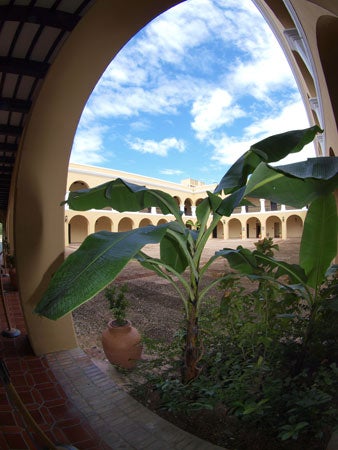 Olympus-E-3-Field-Report-With-the-Olympus-FL-5
Olympus E-3 Field Report…With the Olympus FL-50R wireless flash dialed down in power and held off to the left side, the tree brightens up.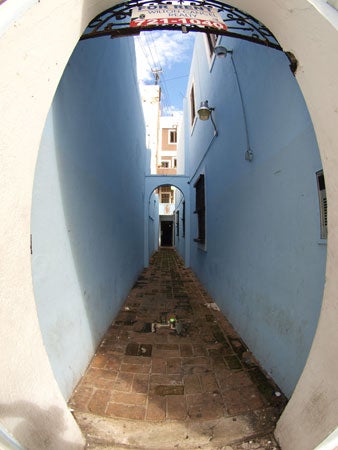 Olympus-E-3-Field-Report-An-alley-in-Old-San-Juan
Olympus E-3 Field ReportAn alley in Old San Juan, Puerto Rico, at 8mm.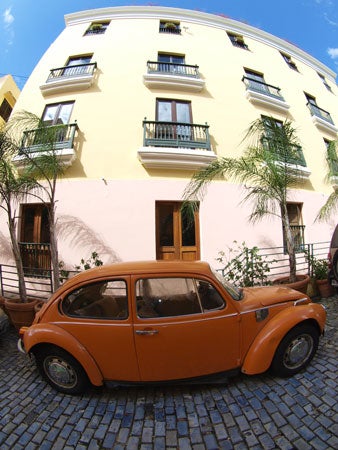 Olympus-E-3-Field-Report-This-Volkswagen-was-in-s
Olympus E-3 Field ReportThis Volkswagen was in shadow, but the Olympus FL-50R wireless flash, placed on the ground, helped pop up the color.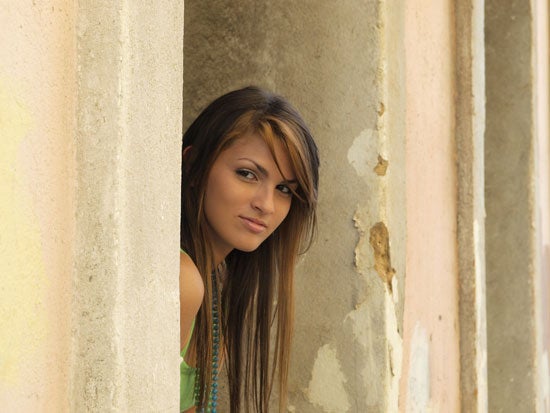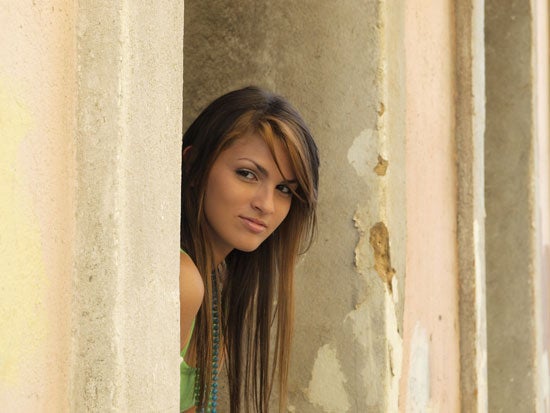 Olympus-E-3-Field-Report-A-portrait-in-a-doorway
Olympus E-3 Field ReportA portrait in a doorway of Old San Juan.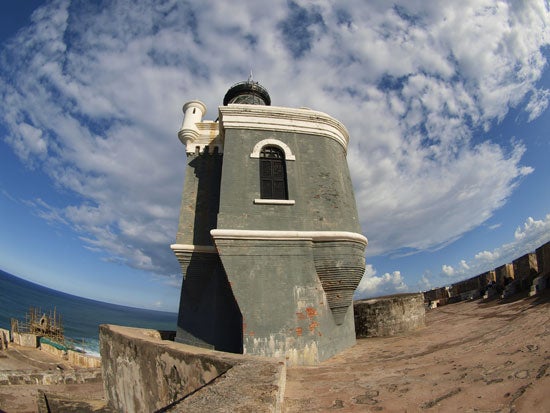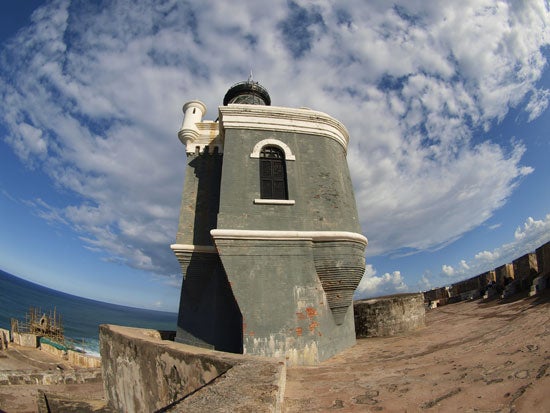 Olympus-E-3-Field-Report-The-lighthouse-at-El-Mor
Olympus E-3 Field ReportThe lighthouse at El Morro, one of the forts that watch the coast around San Juan, Puerto Rico. Shot in Vivid color with Olympus E-3 and 8mm f/3.5 Zuiko fisheye.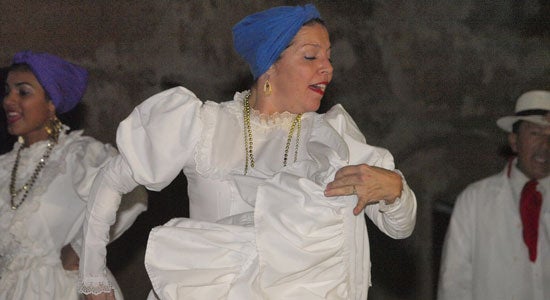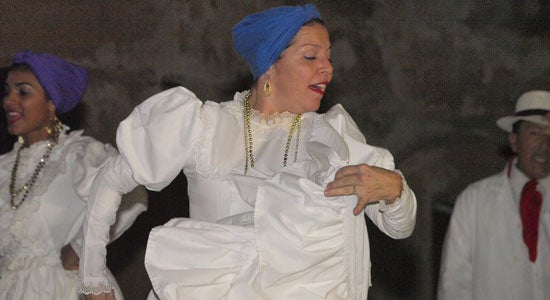 Olympus-E-3-Field-Report-ISO-1000-plus-captures-d
Olympus E-3 Field ReportISO 1000-plus captures dancers at an evening performance in San Juan's San Cristobal.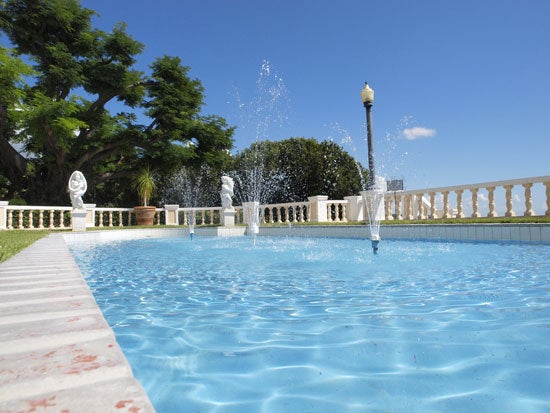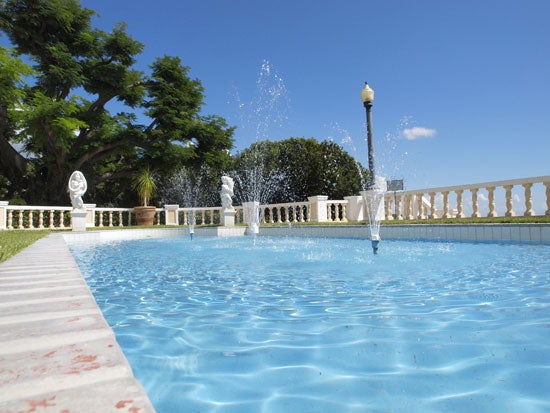 Olympus-E-3-Field-Report-The-Olympus-E-3-s-live-v
Olympus E-3 Field ReportThe Olympus E-3's live view and swiveling/rotating LCD to the rescue. Just the camera — not the photographer — had to go to water-level for this photo at Castillon Serralles in Ponce, Puerto Rico.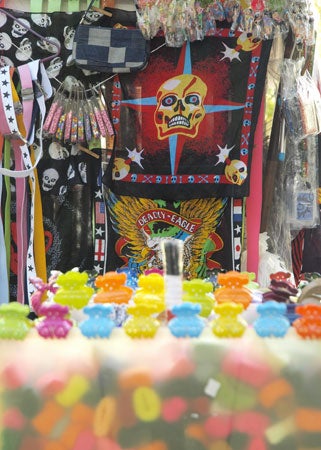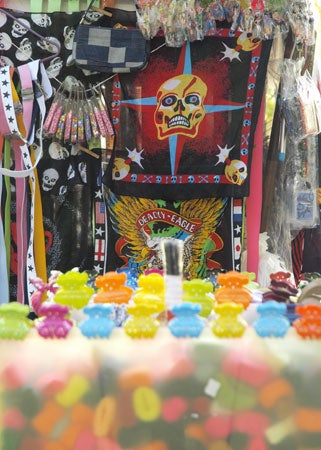 Olympus-E-3-Field-Report-A-street-vendor-s-wares
Olympus E-3 Field ReportA street vendor's wares get a shortened foreground and shallow depth of field with the E-3's Zuiko zoom at 60mm and f/4.5.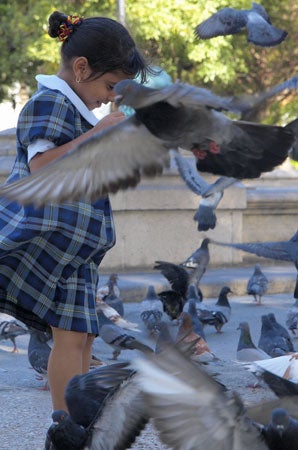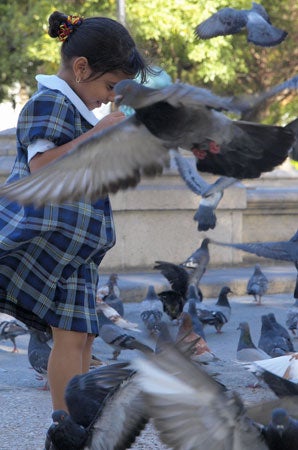 Olympus-E-3-Field-Report-A-little-girl-a-flock-o
Olympus E-3 Field ReportA little girl, a flock of pigeons, and a super-fast autofocus system in Ponce, Puerto Rico.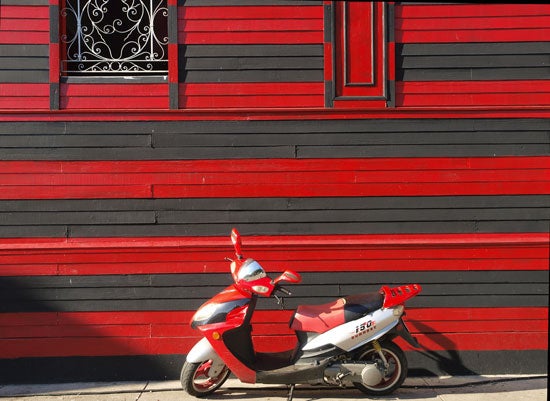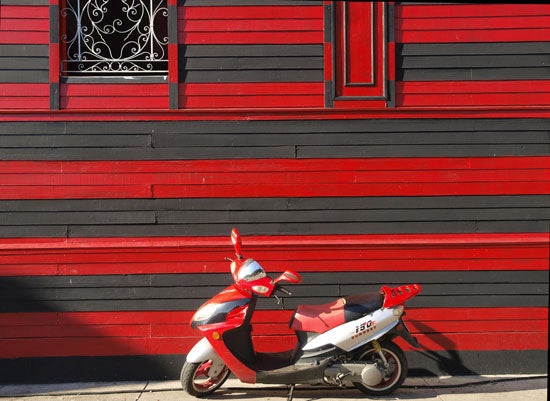 Olympus-E-3-Field-Report-An-appropriately-hued-sc
Olympus E-3 Field ReportAn appropriately hued scooter alongside the famous firehouse of Ponce, Puerto Rico. Shot in the Olympus E-3's Vivid color setting.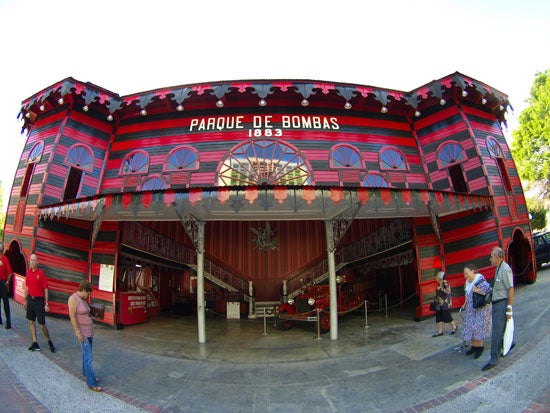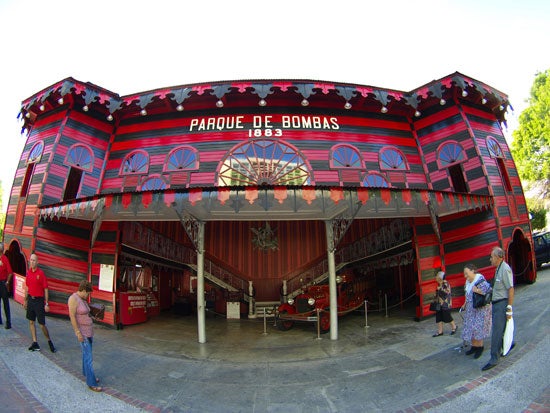 Olympus-E-3-Field-Report-Ponce-Puerto-Rico-s-mos
Olympus E-3 Field ReportPonce, Puerto Rico's most famous landmark is its old firehouse. Guess the city's colors. This was taken with an 8mm f/3.5 Zuiko on the Olympus E-3.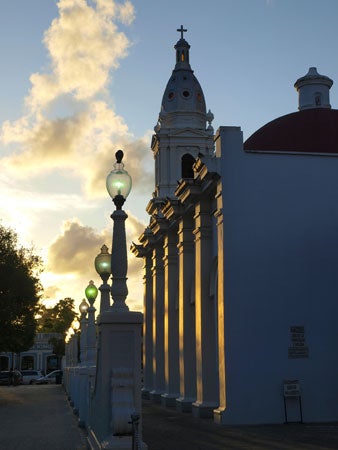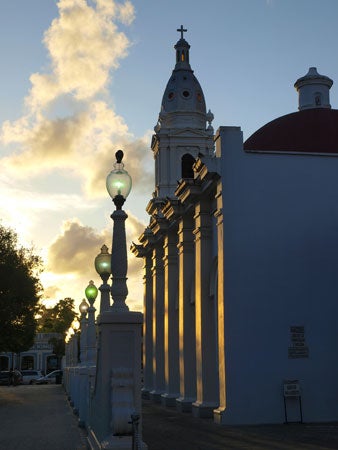 Olympus-E-3-Field-Report-Sunset-at-Ponce-Puerto
Olympus E-3 Field ReportSunset at Ponce, Puerto Rico's Cathedral de Guadalupe.