Camera Test: Canon EOS Rebel T2i
The best stills and videos in its class make the new top Rebel the sub-$1,000 camera to beat.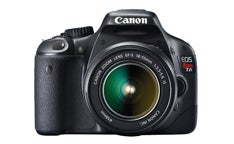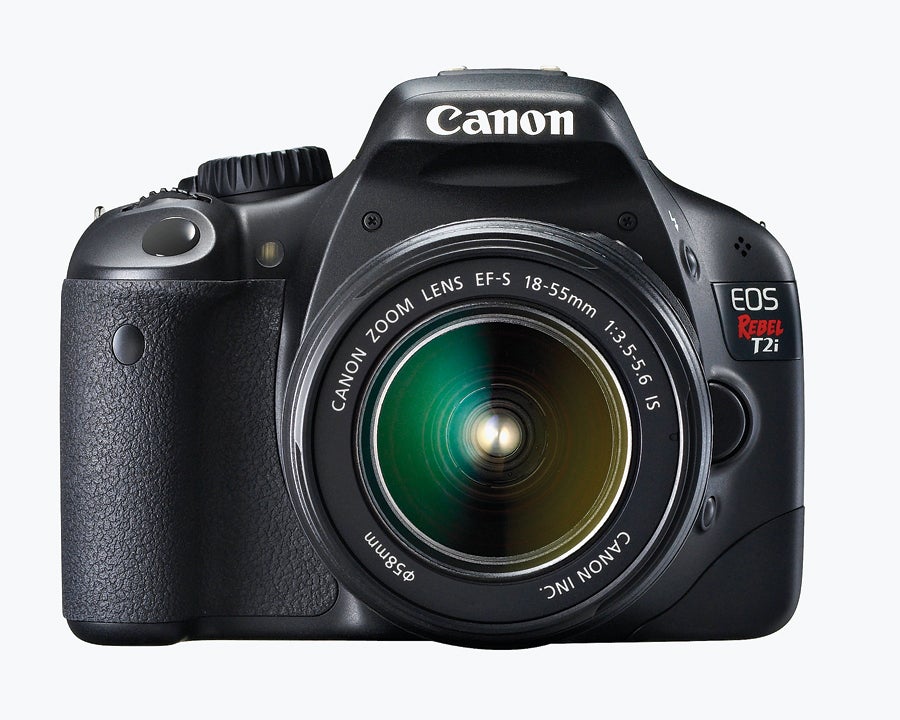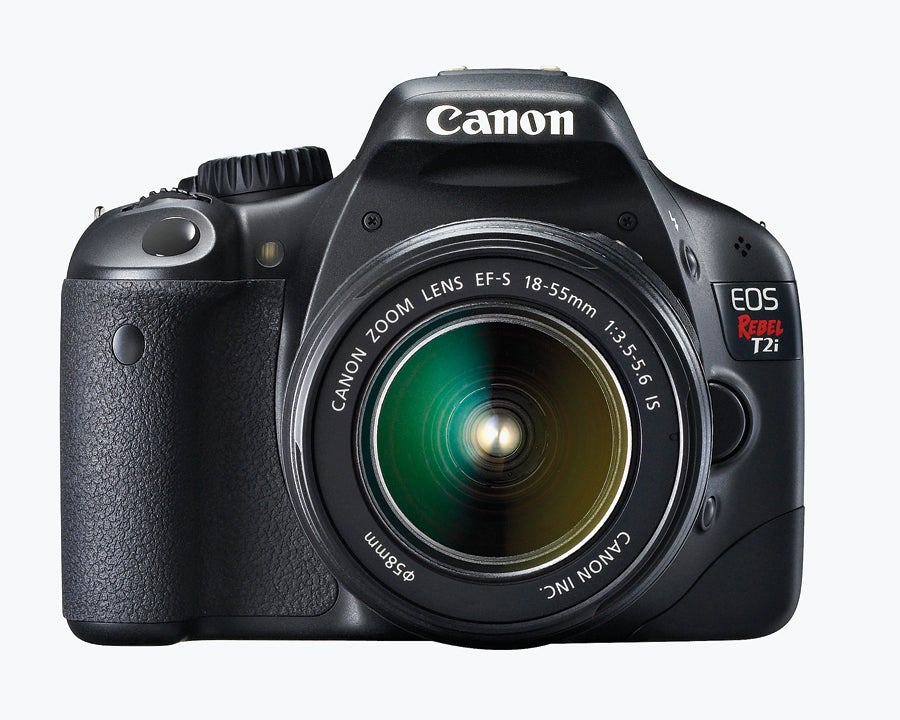 Canon EOS Rebel T2i
Just six months after Canon wowed us with the video capability of its EOS 7D, along comes the EOS Rebel T2i—with the same movie-making prowess at less than half the price. And this 18MP DSLR ($800, street, body only; $900 with 18–55mm f/3.5–5.6 EF IS lens) also delivers the highest still image quality we've seen at this price level.
Indeed, the T2i, the new top model of the three current Rebels, provides the most imaging power and best video footage of any sub-$1,000 camera available. In the Pop Photo Lab, the Rebel T2i proved to be the first camera in its class to earn an Excellent image-quality rating under our current standards (which we raised more than a year ago ), doing so from ISO 100 all the way through ISO 800. The achievement rests on the strength of a resolution score of 2555 lines—just enough to edge into the top rating for this criterion. It handily beat all its competitors: the Pentax K-7 (2350 lines), Nikon D90 (2315 lines), and Sony Alpha 550 (2285 lines).
Color accuracy also earned the T2i an Excellent rating with an average Delta E of 6.7 from 8-bit TIFFs converted from the Canon's 14-bit RAW files—again, the best of the bunch.
In our noise tests, this Rebel ran about middle in a pack of excellent performers. While it kept noise to a Low or better rating up through ISO 800, the top-performing Nikon D90 did so through ISO 3200. And though the T2i suppressed noise better than the Sony A550 did at lower ISOs, the Sony pulled ahead at higher ISOs.
Specifically, the Canon noised up into Unacceptable territory at ISO 3200, whereas the Nikon just touched the Unacceptable level at ISO 6400, its top sensitivity. The Sony beat them both at ISO 6400 with a Moderate noise rating. At ISO 12,800, which only the Canon and Sony reach, both scored Unacceptable, but the Canon produced considerably more noise.
However, if low-light performance seems like a weak point for the Canon, autofocus speed tells a different story. In the brightest light, the Rebel T2i autofocused speedily, but the Nikon and Sony were speedier still. Yet from a moderately bright EV 4 down to EV –2, the dimmest level in our test, the Rebel focused faster than any of its rivals. Just achieving focus in this near-moonlit darkness impressed us— neither the Pentax K-7 nor the Sony A550 managed it.
Controls and Video
The T2i's body design is similar to that of its predecessor, the T1i, which drops down to second place in the Rebel line. (The Rebel XS takes the third slot as the line's entry-level bargain.)
Buttons for exposure compensation, playback, and the new Quick Menu are now flushmounted, but their placement remains nearly identical, with the dedicated video/live view button moving up near the viewfinder and the Quick Menu taking its former place next to the four-way control pad.
While the new flush-mount buttons look nice, it's not easy to tell them apart by touch— we'd have liked it better if Canon provided some tactile differentiation, even a little dimple on one of the buttons.
The T2i can capture up to 34 Large/Fine JPEGs or 6 RAW images at 3.7 frames per second—while that would be impressive for a basic entrylevel camera, it's still behind its rivals in this price range: the Nikon D90, Pentax K-7, and Sony A550. Here, the Pentax is the champ at 5.2 fps.
Operationally, video recording and live-view shooting are basically the same as on the Rebel T1i: The shared button lets you enter live view mode when the T2i is in one of the still-shooting modes, and, with the mode dial turned to the video icon, turns video recording on and off.
The T2i's contrast-detection AF in live view and video modes is noticeably faster than it was in its predecessor, though it's still impractical to use while shooting video— not only is it not fast enough, there's also no option for continuous AF during video.
And while the ultrasonic AF motor is super-quiet, it still makes noise in the audio track if you trigger AF in movie mode. So we were glad to discover that you can disable AF in movie mode, so you won't accidentally change focus or sully your audio.
An option Canon calls Quick Mode AF will fi ip the mirror back down, use the regular phasedetection AF system to focus on a selected focus point, and then flip the mirror back up. So, while we preferred to disable AF during video capture, Quick Mode proved a great way to focus on a subject before starting to record a clip or to switch points of focus between clips.
We stuck to manual focus when changing focus while shooting a clip, but if your lens has a scratchy focusing ring, you'll probably hear it in the audio. You can minimize this problem by using an external microphone through the stereo minijack input rather than the built-in mono mic.
Like the EOS 7D, the T2i lets you select shutter speed, aperture, and ISO in movie mode. You can also fully automate these decisions. In terms of pixel count and frame rate, the T2i offers the widest selection available from any DSLR today.
Video quality remains on a par with what you can expect from most mid-level HD camcorders.
Bottom Line
Overall, the Rebel T2i feels like a higher-end camera than its placement in Canon's line indicates. It beats the competition with its video capabilities, resolving power, and low-light AF speed, while remaining competitive in noise control.
If there's one area this new Rebel trails a bit, it's in burst shooting. But at this price level, faster AF in low light is likely to prove a more meaningful spec for most photographers.
Put plainly, the Rebel T2i offers the best imaging power and quality for its price. If you're not already invested in a certain lens line, the Rebel T2i makes a great case for choosing Canon. If you've already got some Canon EF- or EF-S glass, it's a no-brainer.
Specifications
Imaging: 18MP effective, APS-C sized CMOS sensor captures images at 5184×3456 pixels with 14 bits/color in RAW mode.
Storage: SD/SDHC/SDXC stores JPEG, CR2 RAW, and RAW + JPEG files.
Burst Rate: Full-sized JPEGs (Fine Mode), up to 34 shots at 3.7 fps; RAW, up to 6 shots at 3.7 fps.
AF System: TTL phase detection with 9 illuminated focus points (1 center cross-type); single shot, continuous with Predictive AI Servo tracking. Tested sensitivity down to EV –2 (at ISO 100, f/1.4).
Live View: Contrast-detection AF.
Shutter Speeds: 1/4000 to 30 sec (1/3- or 1/2-eV increments); not rated.
Metering: 63-zone TTL metering, evaluative, centerweighted, partial (approx. 9% of Viewfinder) and spot (approx. 4% of viewfinder), EV 1–20 (at ISO 100).
Video: Records at 1920X1080 at 30/25/24 fps; 1280X720 at 60/50 fps; 640X480 at 60/50 fps in MPeg-4 H.264 MOV format; built-in mono microphone; stereo minijack input.
ISO Range: normal, ISO 100–6400; expanded ISO 12,800.
Flash: Built-in pop-up with E-TTL II autoflash and wireless triggering of optional flash units, GN 43 (ISO 100, feet); flash sync to 1/200 sec; dedicated Canon hot-shoe.
Viewfinder: Fixed eye-level penta-mirror.
LCD: 3-in. TFT with 1.04 million-dot resolution.
Output: Hi-speed USB 2.0, mini HDMI video, composite video.
Battery: Rechargeable LP-E8 Li-ion, CIPA rating 440 shots.
Size/Weight: 5.1X3.8X3.0 in., 1.2 lb with SD card and battery.
Street Price: $800, body only; $900, with 18–55mm f/3.5–5.6 Canon EF IS lens.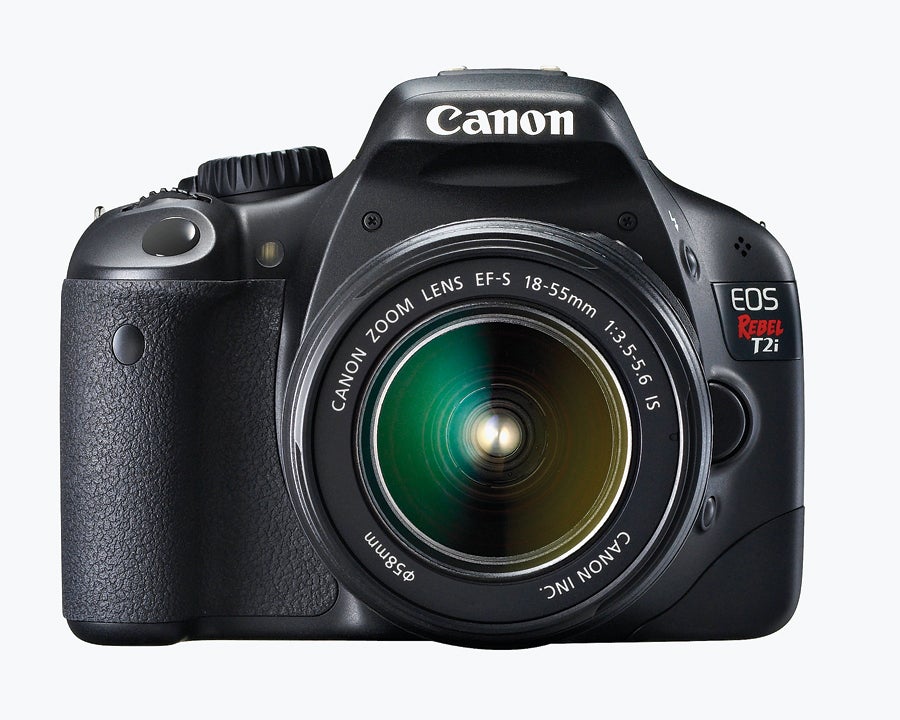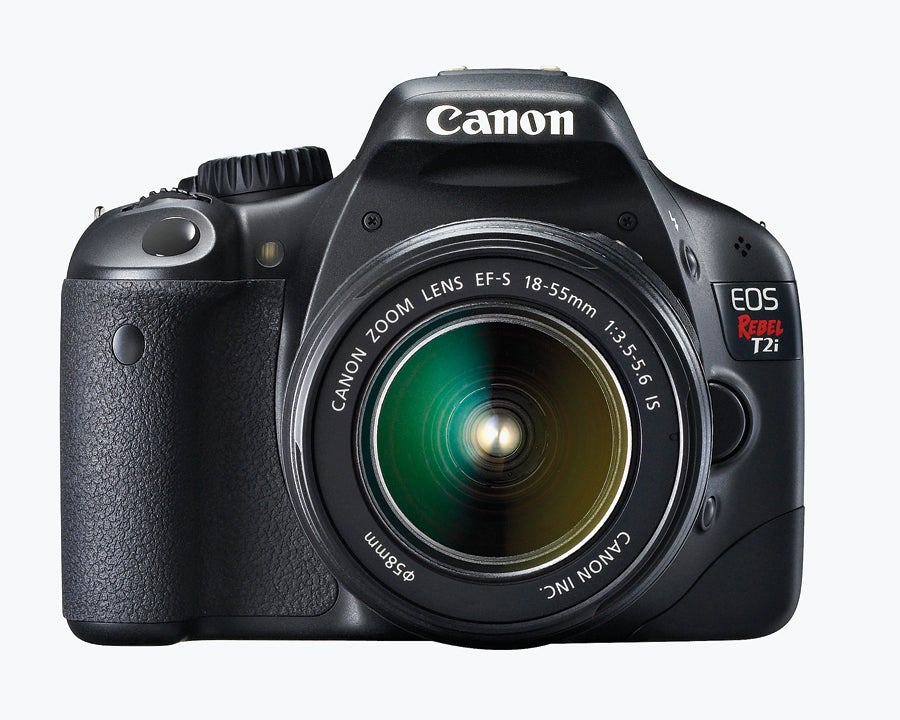 Canon EOS Rebel T2i