Best place to buy a printer in 2023
Buying a printer can be surprisingly tricky if you want to make sure you're getting the best.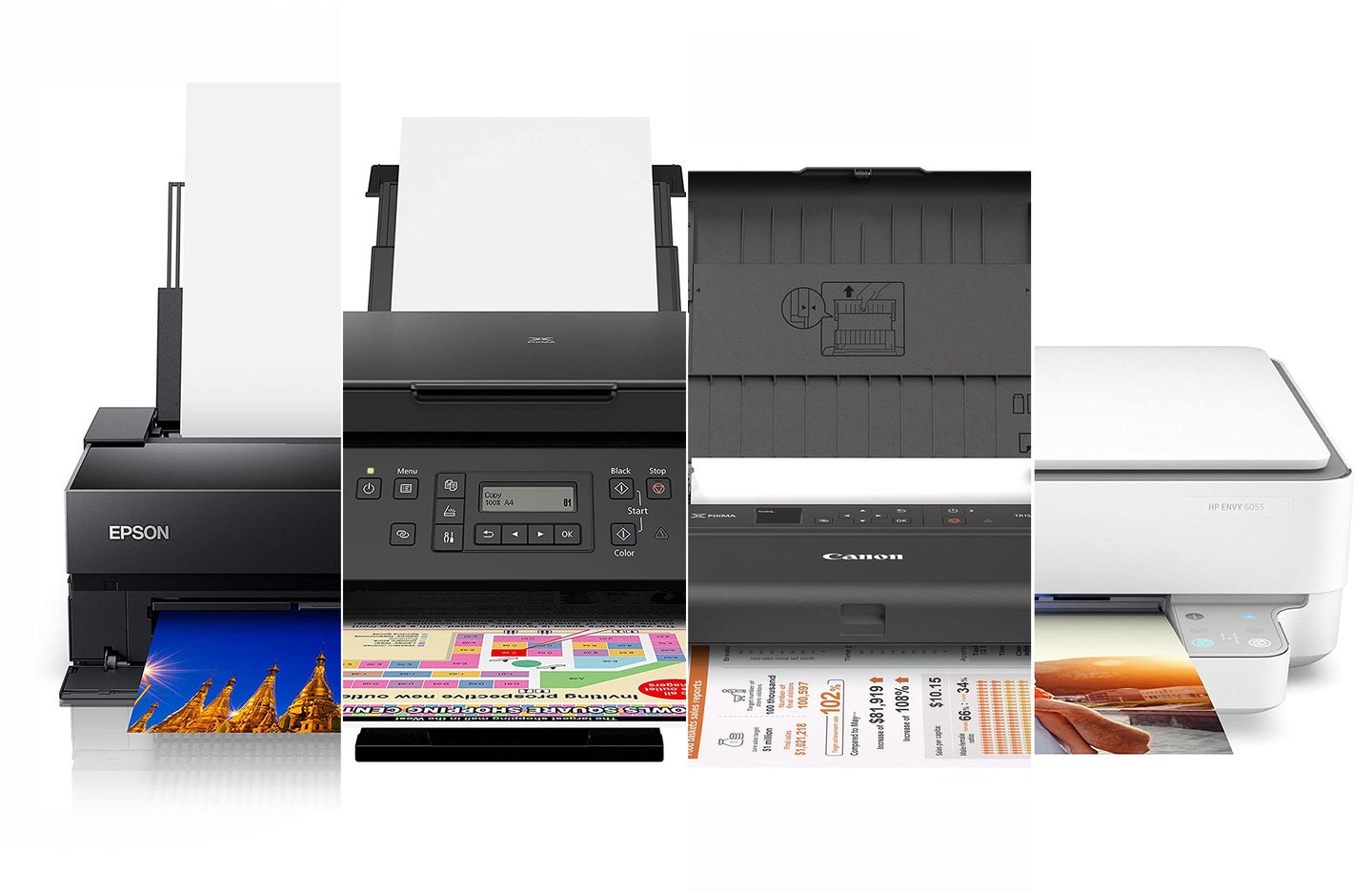 We may earn revenue from the products available on this page and participate in affiliate programs. Learn more ›
We have a love-hate relationship with printers. Sometimes they churn out beautiful, tangible versions of our photographs that we can share with friends and hang on our walls. Sometimes they jam when you're trying to print an important tax form and it takes every bit of self-control not to punt it out the window. Either way, printers are still a necessary piece of equipment for photographers and business owners. And while there are lots of places to buy pretty much anything right now, the place at which you make your purchase really matters. Buy the wrong thing from the wrong retailer, and you could be left without your money or a way to get ink onto paper. We've broken down some of the complexities to create this list of the best places to buy a printer.
Why bother searching for the best place to buy a printer?
With most things, you can just head over to Amazon or whatever online retailer you find with the cheapest price, but printers make things a little more complicated. It can really pay off to spend time finding the best place to buy a printer.
First, some retailers will stock older models that have been hanging around in their warehouses for a while. That may not be a big deal with some gadgets, but printers require ink cartridges and manufacturers don't always continue support for older models. That could take first-party ink cartridges off the table and send you into the unpredictable third-party makers. 
Some retailers also occasionally purchase printers meant for sale outside the U.S., which can affect your ability to get repairs done under warranty or even return a defective printer. You may have heard about this practice under the name "gray market," as it happens a lot with cameras, too. 
When it comes to ink, counterfeiting is a considerable problem. For better or worse, printer manufacturers often put tech inside their print cartridges to validate that they're authentic. It's a way for the company to box out third-party sellers, but it's also a method through which they can prevent bad carts from bricking entire printers. Get a bad cartridge from a shady seller and it may not work, or it could destroy your device completely. It's rare, but it happens. 
Go directly to the manufacturer
Unlike some other gadgets, printer manufacturers often sell products directly to consumers through their web stores. If you're buying a photography-specific printer, then you're very likely buying either a Canon or an Epson and both companies sell directly to the public through their websites. On the other hand, if you're looking for a high-volume sublimation printer for making smaller prints in a hurry, you're likely considering a company like DNP, which will require you to go to a third-party seller. 
You can usually think of shopping from a manufacturer like getting your car serviced at the dealership. It's rarely the cheapest way to get it, but it's the easiest to deal with if something goes wrong and you need to involve your warranty. 
Office supply stores
Even if you're buying a printer primarily to make fine art prints, the big office supply stores like Staples can be the best place to buy a printer. If you're looking for office printers or even laser models, then this is where you'll find the largest selection. 
The retail stores often won't carry more elaborate photo-specific printers in stores, but you can get them through the websites. If you're going through a lot of ink, some also offer regular subscriptions or auto-ordering programs that earn you a discount on your refills in exchange for your loyalty. 
Staples has a replenishment program in which you can register your printer and it will automatically place an order for a refill whenever it's getting low so you don't have to suffer any downtime while you wait for it to ship. 
When it comes to recycling, Staples will also give you 2% back in rewards when you get a new cartridge and recycle the old one. That's not huge savings, but fine art cartridges can get very pricey, so every little bit helps. Office Depot offers a similar program for recycling toner and ink cartridges. 
Adorama and B&H
If you're trying to get more photography-specific with your purchasing, then the big camera stores may be a better option. They often carry the printers in-store so you can go check them out if you happen to be in the area. They also tend to carry more high-end supplies, like fine art paper that's beyond the scope of what a big box store might carry. 
If you're looking for the best prices, these can be some of the best options. They often participate in manufacturer rebate events, which can be hundreds of dollars off during specific sales. 
These photography stores also often bundle printers with cameras, so if you're buying a new body and you're also hoping to get a new printer, you might be able to get them both together and qualify for a specific sale or rebate. 
It's worth paying attention to the return policies here. Typically, once you've run ink through a printer, you own it forever and can't return it. It makes sense since the store couldn't sell it as new, but it also raises the stakes a bit when it comes to making that purchase.
Amazon
Of course, Amazon will sell you just about anything and that includes printers. While Amazon is a totally fine place from which to buy a printer, there are a few steps you should take before you finalize your cart. First, you want to make sure that you're buying from the actual company and not a reseller who could be giving you gray market or even counterfeit gear. It happens a lot more than many people think, so it's worth some extra care. 
You should also make sure that you're actually getting a good price on the product that it says is on sale. Amazon will often show a discounted price compared to a retail price, but that doesn't always reflect reality. Installing the Keepa price tracking plugin for Chrome can give you a look at how much the product has cost over the past few months so you know if the current price is actually a deal.
Buying refurbished or used
We love recommending used gear here at PopPhoto. When it comes to most cameras and lenses, older, refurbished, or used equipment can save a ton of money and keep e-waste out of landfills. With printers, however, it's trickier. There are lots of ways to mess up a printer. Leave ink in the tubes too long and it can dry out and damage them. If the heads get damaged, everything you print will look bad. The penalty for error is high, so we recommend buying something new from a reputable seller. 
If you are going to buy on the secondary market from sites like eBay, look for models that haven't been used before. If you're going to buy something that's really expensive like a large-format professional printer, make sure to do your research about what kind of ink or toner it takes and how much it costs to replace them. Even if you get a screaming deal on a wide-format printer, it won't be fun to spend literally thousands of dollars on new cartridges and maintenance just to get it working correctly. 
Also, remember that a malfunctioning printer doesn't just ruin the device, it also nukes any paper or substrate you're using to test it. Printers can quickly become a huge money suck if you're not careful. 
What about buying third-party ink?
Ink is expensive. I personally use an Epson P-600 and replacing the full set of inks costs north of $300 when buying them from a reputable reseller. That's enough to send a person running toward the knock-offs.
That's where you can get into trouble. It's now legal for third-party sellers to refill print cartridges, but the quality can be inconsistent. Consumer Reports found that the majority of users who opt for third-party cartridges had a totally fine experience, but one-third had consistency and performance issues. 
Epson and Canon both offer super tank printers with large ink bottles that drastically reduce the overall cost of the ink over time. They still cost a lot up front, so be prepared to spend some money out of the gate before you start seeing any savings. Those large tanks do come in handy, though, since they're less likely to run out mid-print and waste a sheet of pricey photo paper. 
How to recycle your old ink cartridges and printers
Like so many other objects at the moment, ink cartridges are plastic and we should do whatever we can to keep them out of landfills where they will languish for thousands of years. Worse yet, the harmful chemicals in the leftover ink can seep into the ground. 
Most cartridges can endure up to six refills before they need recycling, but not just anyone can stick more colored liquid in there. 
Canon will recycle your old cartridges for free if you drop them off at a FedEx center. Epson will also recycle your cartridges if you mail them to the company. 
The big box stores like Staples and Office Depot have recycling programs, as mentioned above. Best Buy will take your ink and toner cartridges for free, which is a departure from its usual approach to e-waste recycling which requires you to pay. 
Make sure you buy the best printer for you
Before you go out looking for the best place to buy a printer, make sure you get the right one for your needs. Here are some of our buying guides to help you choose the right model.