| | | | | | |
| --- | --- | --- | --- | --- | --- |
| Best for Polaroid fans | | Kodak Mini 3 Retro 3x3-Inch Portable Photo Printer | | SEE IT | Small printer for slightly larger prints. |
| Best for teens | | Canon IVY Mini Photo Printer for Smartphones | | SEE IT | Quick and fun sticker-maker. |
| Best for travelers | | HP Sprocket Select Portable 2.3x3.4-Inch Instant Photo Printer | | SEE IT | A step up from previous versions. |
We may earn revenue from the products available on this page and participate in affiliate programs. Learn more ›
Updated Jul 17, 2023 1:04 PM
A small portable printer gives digital photos the tactile feel and unique look of tangible photographs. They're also a lot of fun. The best portable printers can make any spontaneous moment a permanent memory. Use the mini portable printer at parties to turn yourself into a human photobooth. Or print photos out in the field and on vacation to make artful keepsakes. A mini portable printer can be used to help catalog and index scenes on the go, share important photos with clients, or make temporary ID badges for conferences. For business or just for fun, these pocket printers are a versatile tool anyone with a smartphone needs. Instead of taking digital photos that will be deleted or forgotten in a few hours, stand out and make an impact with photos printed on real paper and give your photography a true personal touch. 
The best portable printers: Reviews & Recommendations
To pick the best portable printer, start with a size in mind. How big do you want the prints: tiny stickers or pictures big enough to frame? Then make sure the body of the portable printer is a comfortable size. Find extra options and features that can be a lot of fun. But most importantly, look for a printer that's easy to use and dependable.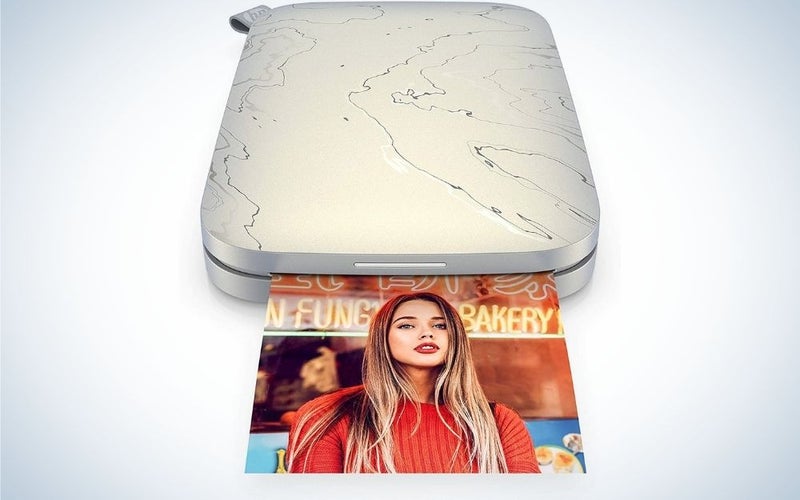 HP stands out as one of the best names in the portable printer game. The Select model is an upgrade from the HP Sprocket, Second Edition. The biggest difference is the Select model prints bigger photos: 2.3×3.4 inches. The images look great with bright colors. The Bluetooth printer is simple to use, with an intuitive app. While a bit too wide for some pockets, the slim printer fits easily in bags and front pouches of backpacks. It's a fantastic tool for hotel rooms and airports.
This Bluetooth printer transforms your iPhone into a Polaroid camera. The Kodak Mini 3 Retro offers up great-looking 3×3-inch prints in the grand tradition of the iconic instant camera of the 1980s. The handy app is easy to manage. The paper/ink cartridge is affordable and can be installed quickly. The photos are treated with Kodak's lamination process, so the prints should hold up against the test of time. And this Polaroid printer (approximately  6 inches by 5 inches) actually fits in your pocket.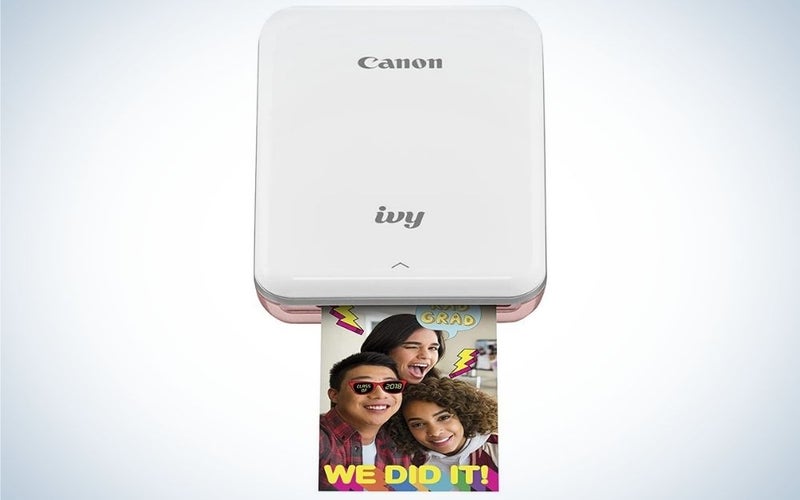 The tiny 2×3-inch prints of the Canon IVY photo printer look crisp and colorful with a 314×400-dpi resolution. The adhesive paper is great for decorating rooms, lockers, and notebooks. The stickers are tear-proof and water-resistant, so they can take a beating from rough and rowdy crowds. The printer and app are intuitive, so even if you've never printed photos before you'll be up and running in a matter of minutes. Cannon's ZINK photo paper costs about $25 for a pack of 50. It's a great little printer if you want fun stickers that are easy to make.  
If you want large prints, you'll need a big printer and the Kodak Dock Plus pushes the limit of what can be considered portable. The block measures in at 13.3 by 8.82 by 5.17 inches. It leans more toward the size of a shoebox than a pocket printer. But the images speak for themselves. It prints beautiful 4×6-inch images you can frame and put on your desk. The dock and included iOS lighting connector make this a great iPhone portable printer. And at just over 3 pounds, it's not too heavy to bring along on vacation. This is the best "portable" printer for big pics.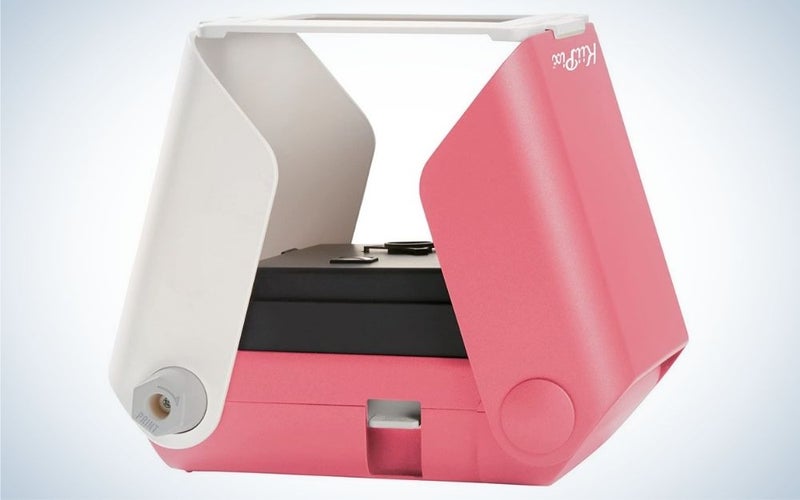 First the good news, this portable photo printer is less than $35. And it can, indeed, print photos from your smartphone. The bad news: This is not an electric printer. You place the phone over the film paper and crank your images into existence. It's certainly a novel idea. But we all know this is more of a toy than a legit photo printer. However, it's fun to crank out your own prints. While you give up resolution due to the rudimentary developing system, arts and crafts lovers can experiment with exposures to create incredible works of art. It's not for everyone, but those with a creative spark will have a good time using this budget-priced printer.
Things to consider when shopping for the best portable printers for photos
The best small portable printer must be easy to use and easy to transport. The market is flooded with a variety of mini printers, so it's important to weed out poorly designed printers that simply won't work for your needs. Take a close look at your options, think about how you'll use the pocket printer, and discover the best way to bring digital photos into the real world. 
A portable photo printer must be portable
One key selling point of these mini photo printers is your ability to slip them into a pocket or bag and go wherever you go. But the term "portable" can mean different things to different people. A deep cargo pocket will have no trouble holding a printer the size of a soup can, but for those with small pockets, or no pockets, "portable" gadgets must be as small and as thin as possible. 
A so-called portable printer may be a thick 5-inch brick. That's not exactly ideal for lugging around on safari or to a party. Read the size stats carefully; a husky, 12-inch printer can look tiny and transportable in a deceptive product pic. 
At the other end of the size spectrum, sometimes smaller printers can be too small. These mini printers spit out teeny-tiny photos on tiny photo paper. Small, 1-inch pics can be fun, and with adhesive-backed photo paper, they are the perfect size for stickers. But if you want a 4×6-inch photo, you'll need a printer large enough to handle the job. Many popular portable printers create prints 2×3 inches.
How will you send photos to the portable printer?
You've taken some great pics and want to print them. Now what? Today's handheld photo printers have three basic options for receiving photos: Cord, WiFi, or Bluetooth. And many do all three. Of the three, WiFi-only printers are at a disadvantage. If you want to print photos in the middle of nowhere, or if you don't have access to the nearest WiFi signal, you'll need a Bluetooth printer or a connecting cable.
Bluetooth is the most convenient option. And when in doubt, find a printer that connects via cable or dock. It can be a hassle to carry around a cord, but that cord can also be a lifeline. 
Your portable printer may connect to your device via a free app. Most of these apps are user-friendly but don't expect professional photo-editing options. Keep in mind, some portable printers only work with smartphones. They're not designed for desktop or laptop printing. 
Pick the right printer paper
A pocket printer is useless without high-quality photo paper. Portable photo printers use small paper, typically printing out photos that measure 2×3 inches. Name-brand printers are designed to work with their own branded photo paper and 50 sheets of paper may cost $25. 
Factor in the cost of photo paper before you decide on a portable printer. You don't want to get sticker-shocked after you use up the included trial sheets of paper. The price of paper will also make you choose your photos carefully. While it's easy to snap 1,000 pictures of a dog with a digital camera, when it comes time to print your work, you'll need to make a tough decision. The cost of paper adds up quickly, which can be an issue if this printer is a gift for a kid who doesn't yet understand moderation.  
What is inkless ink and augmented reality?
Some of the best portable printers use magic and sorcery to create colorful images. Or maybe it's high-tech thermal transfer paper and augmented reality apps. Inkless printers use heat to "burn" the image onto the chemical paper. The upside: No need to change ink or dye cartridges. The downside: The images may fade faster if not stored properly.
You'll also encounter augmented reality features. These printers add a bit of visual wonder to photos, making the images come to life when viewed through the printer's phone app. This feature can be fun, but the novelty wears off quickly. If the printer has it, you may use it once or twice and the kids may get a kick out of it. If the printer lacks augmented reality, it shouldn't be a deal-breaker. 
How much should you spend on a portable printer?
Unlike other gadgets and camera accessories, portable printer prices all hover around the same ballpark, between $50 and $100. On the lower end, you're giving up some functionality and durability. Cheaper printers can also be finicky to set up and the image quality may suffer. Higher-priced photo printers are backed by trusted brand names and the quality is easy to see and feel. These $100 mini printers are user-friendly and offer up stunning images…for a portable printer. Once you leave the $100 to $150 price range, buyer beware. These printers could be full-blown desktop printers trying to hide their real size, or they're just a straight-up rip-off. 
Related: Looking for a printer for home or office? Here are professional photo printers for every budget.
FAQs
Q: Do portable printers use ink?
Not all portable printers use ink. Many use thermal transfer paper to bring photos to life. Thermal paper, as the name implies, reacts to heat. The printer zaps the chemical paper to release the desired color. The result is a vivid, colorful photo print that requires no ink at all. ZINK paper is the most popular type of zero ink photo paper and can be used in a variety of brand name portable printers. But it only works if the printer is designed for zero-ink printing. And always check the size requirements of your printer before buying paper. Inkless prints look good, but may not last. If you want the inkless photos to stand up against the test of time, take good care of them and keep them at the optimal temperature and away from direct sunlight. And while these printers avoid the hassle of ink or dye cartridges, the paper can be more expensive. 
Q: How often should you replace your portable printer? 
The average printer should last between three to five years. But that's only if you take care of the mini printer. These are tiny, delicate pieces of photography equipment and should be treated as such. While portable printers are hearty enough to withstand normal travel and use, if you plan on taking the printer mountain climbing or into the mosh pit, don't expect it to last. If you notice the print quality is lacking, if you see lines and fragments in the image, or if it simply stops working, then it's time for an upgrade. Luckily, portable printers are reasonably priced. If you get three years out of a $100 printer, that's only $35 a year. Not too steep for a portable print shop. 
Q: Where to use a portable photo printer?
Use the portable photo printer anywhere! That's the main feature of these pocket printers. Taking photos with friends at a party or on vacation is a great way to use the printer. But they can also be used to take passport photo I.D.s or other types of photo badges if your camera's resolution is high enough. Print images for easy file labeling and to identify the contents in storage boxes. Use them to make impromptu family trees at big family gatherings. Or practice your print photography skills by experimenting with light setups and color filters. The best portable photo printers are, above all else, fun and convenient. If you're looking for a creative outlet, or just want to remember that time you saw that guy with the thing, a portable printer generates real-world memories. 
The final word on the best portable printers
Stop filling up memory cards and cloud storage with photos and start filling up your wall. The best portable printers are a must-have for those stuck in the digital age and want to break out into the real world. They can also be convenient tools for artists and organizers. When shopping for the ideal mini printer, think about the size of both the actual printer and the photo paper it eats. From there, look for a printer that fits your budget as well as your pocket. And explore the fun features like augmented reality. The best portable photo printers must be simple to transport, easy to use, and entertaining. 
Why trust us
PopPhoto has a long history of delivering the opinions of some of the sharpest and most prolific camera dorks the world has to offer. Since 1937, we've been reviewing cameras, providing wisdom from well-known photographers, and generally just nerding out about all that goes into making great pictures. Our current crop of writers and editors have decades of professional photography and camera writing experience among them. Collectively, we've probably shot with just about every camera and lens combo you can imagine—as well as some obscure stuff you may not even know about. Remember the Casio Tryx folding camera? PopPhoto does.
We also get that buying a camera is a big decision, which is why we're dedicated to helping folks choose the right one (or, in our case "ones") for their needs. Case in point: Handing over top dollar for an expensive rig may leave you unsatisfied if it doesn't fit your preferred shooting style. Sure, a $6,000 sports-oriented DSLR can capture landscapes, but do you really need to do it at 30 frames-per-second? No, you don't.