| | | | | | |
| --- | --- | --- | --- | --- | --- |
| Best ink tank | | Epson EcoTank ET-2800 | | SEE IT | If you're looking to save money over the life of a printer, an all-in-one with ink tanks is you best bet. And this Epson is one of the cheapest to buy. |
| Best laser | | Brother HLL2395DW | | SEE IT | If you only need your printer to produce black-and-white pages of text, this all-in-one laser model is ideal. |
| Best portable | | Canon Selphy CP1300 | | SEE IT | If you're only looking for a printer that produces 4 x 6 digital prints, this small, portable, dye-sublimation Canon printer does an excellent job. |
Updated Apr 18, 2022 7:41 PM
We may earn revenue from the products available on this page and participate in affiliate programs. Learn more ›
Finding a cheap printer for your needs isn't always an easy task. For starters, you might need it for tasks that another person might not find all that important. Even among photographers, use cases can vary widely. Some photogs want to run prints for proofs, while others may just need to print black-and-white documents such as contracts. While cheap printers may not have the same bells and whistles as more expensive versions, the best cheap printers will check the boxes to meet your printing needs.
Things to consider before buying a cheap printer
Should you choose a cheap laser or inkjet printer?
The first decision you'll need to make is what type of printer you want to buy: A laser or inkjet. Most consumers tend to choose an inkjet, which, as the name suggests, uses ink (or ink droplets) to produce a page of text, a photograph, a graphic, etc. Inkjets excel at doing a variety of tasks well. They also tend to outshine lasers when printing different types of photographs, such as borderless photos and printing on various types of paper. However, inkjets may not be the best option if you are printing a high volume because the ink is expensive, and the build quality isn't always as high as what you'll find with laser printers.
On the other hand, laser printers, which use a powder form of ink, called toner, operate using a much different process. These machines are generally better-built printers that can withstand printing out hundreds and hundreds of pages. However, laser models tend to do best when only printing text, so laser may not be the best choice if you are looking for a printer for photo purposes.
Ink cost
While you can find inexpensive printers, ink prices may result in your cheap printer not being so affordable once in use. Be sure to look at the ink costs for the printer you are considering to determine if it will fit your budget needs down the line.
All-in-one or single function?
Another factor you'll want to consider is when your home or office needs an all-in-one printer (or AIO) or a single-function printer. As the name indicates, AIO models print a variety of jobs while also being able to scan, copy, and fax. Single-function printers stick to one job—printing. If you want to buy a high-quality photo printer, a single-function printer may meet your needs better.
Color or Monochrome?
This decision is really for those deciding to buy a laser printer since there are very few black-and-white-only inkjet printers. If you only intend on producing monochrome pages of text, then a monochrome laser printer might be your best option and might save you a lot of money.
Other important features of a cheap printer
Be sure to carefully consider what features are important to you when buying the best cheap printer. That's because the most affordable models tend to have the fewest features. Here are some extras you may want to have on the model you want to purchase:
Connectivity: Almost all printers connect via USB, but many can also connect to your home network (if you have one) via WiFi, as well as through a wired Ethernet line, or even Bluetooth and smartphone app connectivity.
Ink cartridge or ink tank? Ink cartridges hold significantly less ink than models with ink tanks, which can, in some cases, hold enough ink to use for more than two years. The high-volume tanks can help you save quite a bit on ink. These newer ink-tank inkjets waste far less ink than the cartridge versions, saving you money on your printing needs.
An automatic document feeder (ADF): What's nice about this automated feature, which can save you lots of time at your printer, is that you place the pages of your document into the feeder that you need to scan or copy, and the printer does the rest.  
How many ink cartridges or tanks? And can you still print when one is empty? Printers vary in the number of ink cartridges or tanks they use. Some have only two, black and color. Others, like pricey photo printers, might use nine or ten. Be sure to check the following: If one ink cartridge runs out of ink, are you still able to print?
Controls: Some controls appear on many models. Some features, like a touch screen LCD, are generally found on step-up and premium models. And some, like memory-card slots or USB media slots, are located on fewer and fewer each year.
Here are our picks for the best cheap printers in 2023: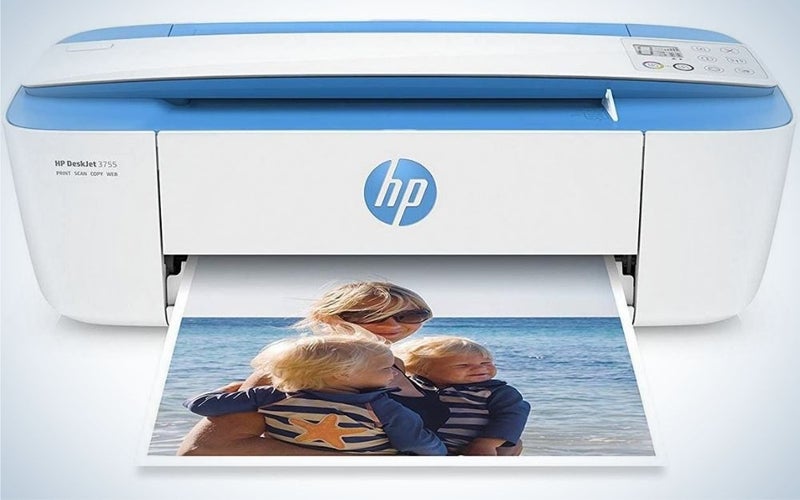 Why It Made The Cut: This basic model offers a refreshingly simple process with no frills or extras to clutter things up.
Key Features
Weight: 5.13 lbs.
Product dimensions: 6.97 x 15.86 x 5.55 inches
Maximum print speed (black and white): 19 pages per minute
Type: All-in-one inkjet printer
Pros:
Inexpensive to buy and to run
Easy to use
Still prints when color ink cartridge is empty
Wireless
Cons:
Offers fewer features than other models
Isn't as fast as other models
If you're on a tight budget or don't have a lot of space in your office, this printer is both compact and inexpensive. It's also relatively cheap to run and can complete a variety of tasks. HP claims it can print about eight black-and-white text pages per minute or up to 5.5 color pages, which is decent. It will also continue to print if the color cartridge runs out, so if you just need to print out pages, it can do that even without a color cartridge.
It does an excellent job at printing wirelessly—it can print using Apple AirPrint technology. It's also compatible with the HP Smart mobile app.
Why It Made The Cut: This budget-priced all-in-one Canon inkjet printer may not have a touchscreen LCD or offer separate ink cartridges, but it does a solid job across many office tasks.
Key Features
Weight: 11.90 lbs.
Product dimensions: 12 x 17.7 x 6 inches
Maximum print speed (black and white): 9.9 pages per minute
Type: All-in-one inkjet printer
Pros:
Easy to use
Offers duplex printers for printing documents on both sides
Scans documents quickly and easily
Wireless
Cons:
No touchscreen LCD
Doesn't offer separate color ink cartridges
If you're a photographer but can't afford an expensive single-function printer, you might consider buying this inexpensive all-in-one. It's quite easy to use and intuitive. In addition, it offers features found on pricier models, such as an auto-duplex printing feature to print on both sides of the document without you feeding the paper back through. It also has a flatbed scanner, which some budget models lack. In fact, it scans documents quickly, which can be helpful in both home and office settings. It's also straightforward to set up.
If you live in an apartment or don't have a lot of extra space, this printer may also fit the bill since it's compact and can fit into many small offices or home settings. It's wireless, too, so you can print from just about anywhere in your home. You can also download Canon's PRINT mobile app, which makes printing from mobile devices easy—you can print and scan photos and documents directly from iPads or iPhones via AirPrint or from Android devices via Mopria and Google Cloud Print.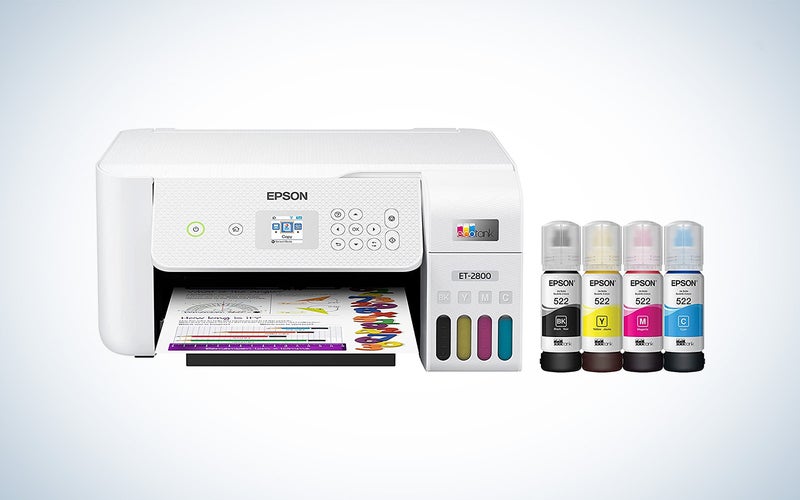 Why It Made The Cut: If you're looking to save money over the life of a printer, an all-in-one with ink tanks is your best bet. And this Epson is one of the cheapest to buy.
Key Features
Weight: 11.97 lbs.
Product dimensions: 22.8 x 14.8 x 10 inches
Maximum print speed (black and white): 10 pages per minute
Type: All-in-one inkjet printer with ink tanks
Pros:
Inexpensive for an AIO with ink tanks
Has a small display screen
Ink tanks cut down on ink costs on a printer
Wireless
Cons:
No automatic document feeder
Lacks auto-duplexing capability
No memory-card slots.
Like all ink-tank models, this Epson EcoTank wireless all-in-one provides easy-to-fill, supersized ink tanks, which Epson says will give you ink for up to 2 years. The printer uses four different colored inks: black, cyan, magenta, and yellow.
Since it's a budget model, it lacks some important features of other models—for instance, there's no ADF or auto-duplexing, and it also doesn't allow you to connect via an Ethernet cord. And it lacks memory-card slots. On the other hand, it does have a small display screen. What's nice is that its ink-tank design saves you money and produces less waste since you're not always buying ink cartridges. Finally, since it's an all-in-one, you can also copy and scan, in addition to printing.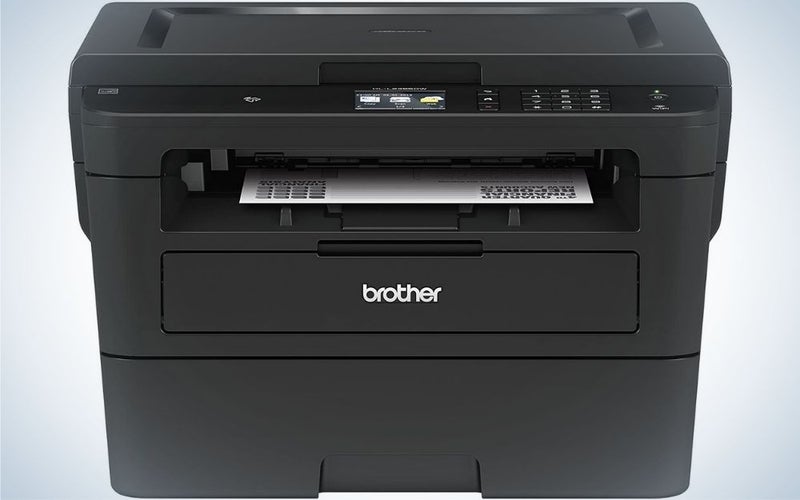 Why It Made The Cut: If you only need your printer to produce black-and-white pages of text, this all-in-one laser model is ideal.
Key Features
Weight: 22.7 pounds
Product dimensions: 15.7 x 16.1 x 10.7 inches
Maximum print speed (black and white): 36 pages per minute
Type: All-in-one monochrome laser printer
Pros:
Low printing costs
Has 2.7-inch LCD display
Inexpensive for a laser printer
Great for printing from mobile devices
Large 250-sheet print tray
Cons:
This Brother monochrome laser printer has a large, 250-sheet paper capacity tray, which is great for printing out long documents or multiple copies of a single document. It can handle both letter and legal-sized paper. It claims it can print out 36 pages per minute. Plus, it has a flatbed scanning bed for quick copying and scanning. You can connect to it via a USB cable, your WiFi network, or an Ethernet cable.
It's great for printing from mobile devices since it's compatible with several apps and WiFi printing technologies, including Apple AirPrint, Google Cloud Print 2.0, Brother iPrint and Scan, Mopria, and Cortado Workplace. It also lets you print from and scan to popular Cloud services from its 2.7-inch color touchscreen display, including Dropbox, Google Drive, Evernote, OneNote, etc.
Why It Made The Cut: If you're only looking for a printer that produces 4 x 6 digital prints, this small, portable, dye-sublimation Canon printer does an excellent job.
Key Features
Weight: 1.90 lbs.
Product dimensions: 5.4 x 7.1 x 2.5 inches  
Maximum print speed (black and white): 1 page per minute        
Type: Compact dye-sublimation photo printer
Pros:
3.2-inch touchscreen display
Easy to use
Small, compact and lightweight
Wireless
Cons:
Limited to only printing photos
Prints only 4 x 6-inch size photos
According to Canon, photos dry very quickly on this Canon Selphy printer, and they'll last for decades. If you use Canon's Print app, you can print wirelessly from your smartphone or tablet. It can print photos as large as 4 x 6 inches but in other formats and sizes, such as stickers and 2.1 x 2.1-inch squares. It also includes fun modes, like its photo-booth mode, which lets you print out two strips of four images each on 4 x 6-inch photo paper, which you can cut in half for photo strips.
For printing directly from your SD card or photos stored on a USB flash drive, you can use the tilting 3.2″ LCD touchscreen display to help make your selections. You can also buy an extra battery pack (which costs extra) if you want to operate the printer when you're not near a power source.
FAQs
Q: What type of printer is cheapest to run?
To figure out which printer is the cheapest to run, you have to consider various factors, including the sale price, what type of ink cartridges or ink tanks it has, and what you intend to use it for. Generally, monochrome laser printers are the most inexpensive to run. However, if you're printing a variety of color and monochromatic text projects, all-in-one ink-tank inkjet printers tend to save you money since they can store a lot of ink that will last for many months.
Q: What is a monochrome printer?
Monochrome printers are printers that only print in black-and-white instead of color. These types of printers are often laser printers, although occasionally, you'll be able to find a monochrome inkjet printer.
Q: Are there other ways to save money when printing at home?
If you're looking for ways to save more money when printing at home, consider trying some of the following tips: First, try getting more text on each page you want to print. You can do this by reducing the font size or making the margins narrower. Also, if you're not printing the final draft, look for a setting on your printer called draft mode, which generally prints out text that isn't as dark or smooth and uses less ink as a result. Also, only use your best paper stock for the completed project. Otherwise, just use plain paper, so you don't spend a lot by wasting more expensive paper stock.
Methodology
We chose current models from some of the major brands that produce all-in-ones, single-function, and laser printers for our ratings of the best cheap printers. We researched and selected the models that included the broadest spectrum of features and capabilities, which met the needs of most users, and which models and printer types were most affordable.
We also looked at printers that were compatible with both Windows and Mac (the most current operating systems for both) and other connectivity technologies, including USB, wireless, Bluetooth, and more.
A final word on the best cheap printers
Although you might not have a problem printing pages of text or even graphics that aren't perfect, you'll be less tolerant of a printer that produces sub-par photos. Here are a few tips to help you get better results when printing photos on any inkjet printer:
Be sure you photograph at the highest resolution setting.
Learn how to print your photos at the best resolution setting for the size of paper you want to print on (and be sure to heed any resolution warnings).
Choose high-quality photo paper for your final photographic prints.
Avoid using third-party inks.