| | | | | | |
| --- | --- | --- | --- | --- | --- |
| Best for photos | | Epson SureColor P900 | | Check Price | High-quality output makes this suitable to pro work. |
| Best under $100 | | Canon Pixma MG3620 | | Check Price | A well-rounded model at a solid price. |
| Best small | | HP Envy 6055 | | Check Price | It won't take up your entire desk with its footprint. |
The best home printer for you really depends on the kind of output you expect from it. Pro photographers have very different printing needs than casual shutterbugs. Pros might need to print lots of photographs, at many different sizes, perhaps even large fine-art prints. Additionally, you might need to use your printer to produce smaller prints for self-promotional work that you'll mail out to your clients. That means you'll want to be sure your printer produces decent photo prints and is very versatile.
Not all printers print out pages quickly. Some that produce stunning photographs might be very slow to print your average Word document. Moreover, you might also require that your new printer print on both sides of a document or one that produces stellar graphics for presentations or reports. And since you're always looking to save money, you might want to consider investing in a printer that doesn't use ink cartridges at all, but instead has an ink tank for each color, which can store more than a year's worth of ink for each color.
As you The good news is that if you're looking to buy the best home printer for your needs, you can use this guide to assist you in making the very best choice.
What to consider when choosing the best home printer for your needs
When you're looking to find the best home printer for your needs, think about specific tasks.
You might need it for a variety of jobs, including printing out many pages of text (both black-and-white and color) as well as photos. Plus, you might need one that gives you the ability to scan and copy pages. All-in-one inkjets do a great job at a variety of tasks.
But say you only need a printer to crank out pages of black-and-white text. You might want to buy a black-and-white laser printer. Or say you want to produce really larger sized photos—you can find a few single-function models that can produce stunning 17 x 22 fine-art quality photographs, but they're slow if you need to print simple text.
Of course, you'll want to consider how much you'll want to spend. In most cases, you'll find that many printers range between $100 and $500. However, select models with unique or cutting-edge features may cost you more. Additionally, you'll want to look at how many in cartridges your printer uses and how much they cost, since buying ink cartridges can cost you over the lifespan of your printer.
Here are some key points to consider before making your decision on buy the best home printer for your needs:
Determine the type of printer you need: laser or inkjet
When looking to buy a printer, determine the type of printer you need—laser or inkjet. The most popular printers are all-in-one inkjet printers, which can print text, photos and graphics. Laser printers, which print in black-and-white or color, have a higher sticker price, but depending on how you need to use them, you can save you money since they use a toner cartridge that lasts a long time. If you just print black-and-white documents, a monochrome laser printer might be more cost effective since they generally produce documents with excellent print quality and do so very quickly.
Do you need an all-in-one or single-function printer?
After selecting an inkjet or laser printer, decide if you want to buy an all-in-one (AIO) or a single-function printer. AIOs are the most popular type of printer on the market. They print documents and photos, but also let you scan, copy and in some cases fax documents or photos. But if you only need to print, consider a single-function printer. Also, a few single-function printer models are designed for printing higher quality photos in larger sizes.
Additional specialized features to consider: Ink tanks, connectivity, and more
Next, choose the features that are important to your workflow—whether it's a home or office setting, or both. Here's a few to consider:
Ink tanks: A few years ago, Epson introduced the first EcoTank inkjet printers, which didn't use ink cartridges. Instead, these EcoTank models let you refill ink tanks with ink, which lasted far longer, oftentimes more than a year. Many in the printing industry believe these types of printers will save you money in the long run. Other brands also include this feature, including Canon.
Ink Cartridge Subscription Plans: In response to the introduction of new ink tank printer models, printer manufacturers, like HP, have introduced ink cartridge subscription plans, which will monitor your ink use and send you a new cartridge as the ink levels in your printer run low.
Connectivity: Almost all printers can connect with a laptop or desktop via a USB cable. But nearly all new printers print via wireless features, letting you use your home wireless network or allowing you to print directly, via technologies like wireless PictBridge.
Printing large-sized photo: Most printer manufacturers produce a select group of single-function inkjet printers, which are considered pro-level photo printers. These pricey models provide you with many options for printing out very high quality photos at large sizes.
Additional features to keep in mind: There are many other features to consider, including features like a auto-duplexer (which lets you print or scan on both sides of a document), an SD memory-card slot, a flatbed scanner, the ability to print borderless photos, to name just a few.
Why It Made The Cut: Although there are many all-in-one printers available, not all are easy to set up or easy to use. But the Canon TR8620 is our top choice for the best home printer since it does many different tasks very well.
Key Features
Weight: 17.4 lbs.
Product Dimensions: 17.3 x 13.8 x 7.5 inches
Type: All-in-one inkjet printer
Pros:
Intuitive feature set
Very versatile
Easy to use
Quick set up
Easy to print from mobile devices
Cons:
May use more ink than other models on maintenance
Can cost more due to ink use
What sets the Canon TR8620 all-in-one printer apart from most all-in-one printers is that it can perform many different tasks and does them all quite well—from printing documents or photos, to scanning and copying. We liked that it also connects via USB, Wi-Fi or Ethernet, which gives you lots of options for connectivity.
We also like that it has several useful automated features, such as an auto-duplex feature that lets you print on both sides of your document and a 20-sheet auto document feeder (ADF), which makes it easy to scan, copy or fax multi-page documents.
It also has a 4.3-inch touchscreen LCD, which lets you easily access the functions you need to print, copy or scan. It's also where you'll access the printer's maintenance screen or other settings. If you want to print directly from an SD memory card, it has a card slot for that, which is a feature fewer all-in-ones include these days. Best of all, this Canon printer is very easy to set up, whether you're connecting via a wired or wireless connection, and it's easy to use. It's wireless features also allow you to connect via your mobile device, so you can quickly print via your smartphone or tablet.
Why It Made The Cut Although it's a basic, budget-priced all-in-one inkjet printer, the Canon Pixma MG3620 offers lots of value for the money as the best home printer under $100.
Key Features
Weight: 11.90 lbs.
Product Dimensions: 12 x 17.7 x 6 inches
Type: All-in-one inkjet printer
Pros:
Easy to use
Offers duplex printers for printing documents on both sides
Scans documents quickly and easily
Wireless
Cons:
No touchscreen LCD
Doesn't offer separate color ink cartridges
If you're looking for an inexpensive all-in-one printer that's also easy to use and quite intuitive, consider this Canon Pixma budget printer. It offers many useful features found on pricier models, like the Canon Pixma TR8620, such as an auto-duplex printing features, to print on both side of the document. It also has a flatbed scanner, which some budget models lack. In fact, it scans documents quickly, which can be useful in both home and office settings. It's also very easy to set up.
The footprint of the printer unit itself is compact, so it can fit into many office or home settings. It's wireless, too, so you can print from just about anywhere in your home. You can also download Canon's PRINT mobile app, that makes printing from mobile devices easy—you can print and scan photos and documents directly from iPads or iPhones via AirPrint or from Android devices via Mopria and Google Cloud print.
Why It Made The Cut: It's not an ink tank all-in-one with the most features. But it's also not the priciest. However, it's the best home printer with cheap ink with enough ink for nearly two years' worth of printing, which will save you money on replacement cartridges.
Key Features
Weight: 16.1 lbs.
Product Dimensions: 13.7 x 14.8 x 9.1 inches
Type: All-in-one inkjet printer with refillable ink tanks
Pros:
Versatile
Its ink tank-design can save you money on ink
Easy to use
Simple set-up
Cons:
Expensive sticker price for printer unit
If there's one consumer tech product people continually complain about it's the price of printer ink. And for good reason: Studies have found that printer ink can be one of the most expensive liquids on the planet, which has made many consumers unhappy. But printer companies have attempted to woo consumers back into their good graces by developing a new type of printer—one that doesn't use any printer cartridges, but instead, has an ink reservoir for each color of ink.
Epson, the first manufacturer to introduce this kind of ink tank printer, with its EcoTank line of home printers, offers many additional features on the EcoTank ET-3760 than just ink tanks. For instance, it has a 2.4 inch color display and can hold 150 sheets of paper. Plus it has an auto document feeder. It can connect via ethernet or wirelessly, and even lets you print via voice commands though Amazon Alexa.
Why It Made The Cut: This pro-grade single-function printer produces stunning prints, whether you're printing high-quality, large-sized black-and-white or color fine-art photographs.
Key Features
Weight: 35.3 lbs.
Product Dimensions: 24.2 x 14.5 x 7.8 inches
Type: Single-function inkjet printer
Pros:
Produces excellent quality color prints
Print as large as 17 x 22-inch prints
10-color archival pigment ink cartridges last a long time and won't fade
4.3-inch customizable touchscreen
Wireless connectivity
Cons:
Very expensive sticker price
Pricey ink cartridges
The P900 is the larger of Epson's two models in its current line of SureColor single-function printers—although it's actually 30 percent smaller than its predecessor. (The other current SureColor model is the P700.) The P900 is more than double what you'd pay for most inkjet printers, but it's pricey for a purpose: This printer is able to produce some of the best professional-level looking photographs and fine-art prints making it our choice for the best printer for photos. Moreover, it can print out very large sized photographs: The SureColor P900 can produce photographs as large as 17 by 22 inches. And if you buy the additional print roll adapter, you can create banners as large as 17 x 129 inches.
What allows this printer to produce such high quality is that it's based on a 10-color archival pigment ink, which has an expanded color gamut. This 10-color palette also offers you many different options to customize your workflow to accurately reproduce your fine-art image or to convert your work into stunning black-and-white works for art. The printer also comes with a 4.3-inch touchscreen LCD, which even lets you configure the settings for each print (letting you avoid the need to always access the printer via apps or software).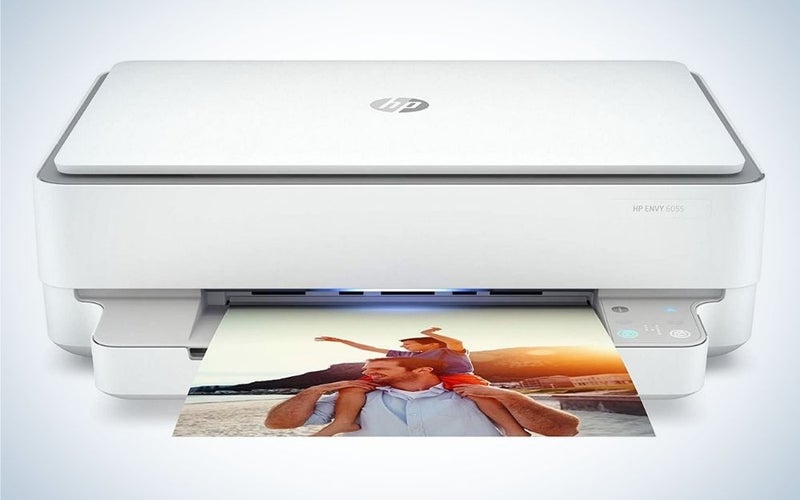 Why It Made The Cut: It's a very capable all-in-one that has a small and compact footprint. So, it can fit almost anywhere in the home or in a small office.
Key Features
Weight: 11.50 lbs.
Product Dimensions: 20.14 x 17.03 x 5.2 inches
Type: All-in-one inkjet printer
Pros:
Inexpensive
Includes auto duplexer, for printing on both sides of the document
Small and compact
Can produce borderless prints
Wireless
Cons:
Won't print if color ink cartridge runs out
Lack an LCD screen
What makes this the best small home printer is its small footprint that lets you place it just about anywhere you need to in your home, but because it's wireless, it will print from just about anywhere in your home, as well. All you need to do is hook it up to your home wireless network and then download HP's Smart mobile app to your computer and mobile devices.
It has other useful features, too. For instance, it comes with an auto duplexer, for printing on both sides of the document, and it has a flatbed scanner, too. It's easy to set up and simple to use. It's also convenient since HP has an ink service called, HP Instant Ink, which lets you select a printing plan (plans start at $0.99). Here's how it works: Once you're signed up, HP ships the ink cartridges to you. When ink levels on your printer are low, HP automatically ships you a new cartridge. You can also cancel at anytime.
FAQs
Q: What's the difference between an inkjet printer and a laser printer?
Each type of printer uses a different process to produce a document, print or graphic. Here's a quick overview of how each printing technology works. 

Not surprisingly, inkjet printers use ink, which is stored in ink cartridges that are sprayed through hundreds of small nozzles, producing thousands of ink droplets, which are heated and then sprayed out onto the paper as it passes through the printer unit.

Laser printers use a different process, which is more complex than inkjets, to produce a document or graphic. Instead of squirting droplets of ink, laser printers use static electricity to attach, heat and then fuse toner, a powdered form of ink, onto a sheet of paper.
Q: What's the most economical type of printer?
It depends on how you define the word, "economical." That's because it's related to how you'll actually use your home printer. For instance, if you're using your home printer for many different tasks, including printing photos and documents as well as scanning and copying, then an all-in-one inkjet might be very economical for the way you need to print and the projects you're working on. However, if you only print black-and-white text, then perhaps a monochrome laser printer could save you money.
Q: How are inkjet printers with an ink tank, like Epson's EcoTank printers, different from normal inkjet printers?
The biggest difference between an inkjet printer that uses cartridges and a model that stores ink in an ink tank is that cartridges hold far less ink than printers that use ink tanks. So, an all-in-one inkjet printer with ink tanks can dramatically reduce how much you spend on ink. 
Methodology
For our best home printer ratings, we researched and selected current models from most major brands that produce all-in-ones, single-function prints, and laser printers. We also researched and selected models that included the broadest spectrum or features and capabilities, and which met the needs of most users.
Additionally, we looked at printers that were compatible with both Windows and Mac computers (ensuring that the printers were compatible with the most current operating systems for both), as well as other connectivity technologies, including USB, wireless, Bluetooth and more.
A final word on shopping for the best home printers
Although it can be a challenge to find the best home printer for your needs, this guide can help you select the correct model. What's more is that because there is fierce competition in the home printing market, particularly at the consumer level, you'll find that today's home printers are more versatile, include more features and have better overall quality than past models. There are also a wider array of printers to choose from, whether you're looking for an all-in-one, a single-function printer, a laser model or an inkjet printer.