| | | | | | |
| --- | --- | --- | --- | --- | --- |
| Best lightweight | | SLIK Sprint PRO III Travel Tripod w/SBH-100 Ball Head | | SEE IT | This SLIK tripod is lightweight and travel friendly. |
| Best for video | | NEEWER 2-in-1 Aluminum Alloy Camera Tripod | | SEE IT | The fluid head and high max load capacity make this ideal for videographers. |
| Best for phones | | UBeesize Tripod S, Premium Flexible Phone Tripod | | SEE IT | The bendy legs allow you to put it anywhere. |
We may earn revenue from the products available on this page and participate in affiliate programs. Learn more ›
Updated Apr 11, 2023 11:19 AM
Budget tripods can help you capture tack-sharp images and crisp videos without spending too much money. But tripods aren't all built the same, and you need to get one that gives you more bang for your buck, is easy to use, and still provides plenty of stability. Finding a good one in a market filled with thousands can be very tricky. The good news is that once you know what to look for, you'll be able to find an affordable option that fits your needs well. The best budget tripods provide plenty of stability and features without costing an arm and a leg.
How we picked the best budget tripods
To prepare this roundup of the best budget tripods, we compared the best products from different manufacturers. We examined their build quality, ease of use, compatibility with different cameras, maximum weight ratings, and suitability for indoor and outdoor use. Finally, we also read buyer reviews on major e-commerce sites and reliable review sites to give a fair verdict.
The best budget tripods: Reviews & recommendations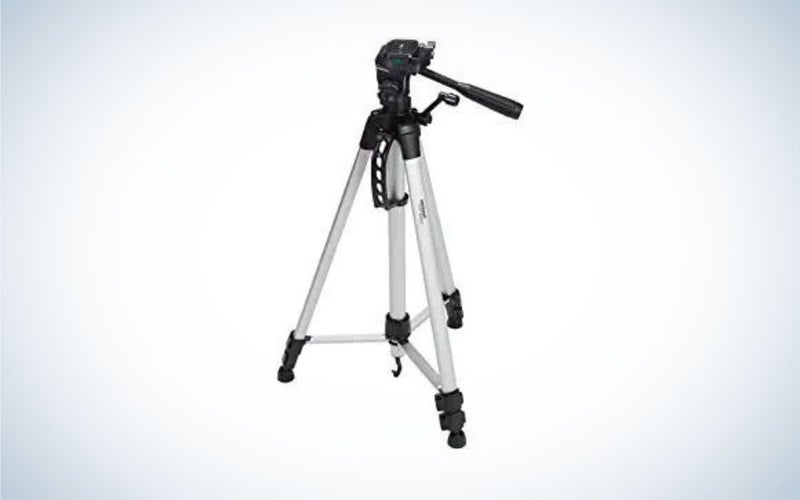 Specs
Collapsed height: 23.8 inches
Extended height: 62.2 inches
Weight: 2.72 pounds
Maximum load: 4.4 pounds
Materials: Aluminum
Leg sections: 3
Pros
Very affordable
Lightweight
Quick-release plate
Easily adjustable legs and center post
Beginner-friendly
Cons
Build quality may not hold up over time
Barebone features
The AmazonBasics 60-inch Lightweight Tripod is perfect for beginners and hobbyist photographers. It's one of the best mid-weight tripods on the market and has many useful features at a low price. With a simple and unassuming design, it focuses more on functionality than style. Silver-brushed aluminum makes it sturdy and durable while cross-bracings keep it steady. 
It has a pan and tilt head that allows for smooth tilting and swiveling. This style of head does limit the direction of movement but is nice and stable and allows you to be more precise. Two bubble view levels show how straight the tripod is. Align them to the center to ensure the tripod head sits perpendicular to the ground. And there is a hook on the center column to easily hang weight from to improve its sturdiness.
This budget tripod works well with most cameras as long as they aren't too heavy. However, its plastic head isn't very sturdy and won't last long if you're a busy photographer. Also, the barebone features may put you off if you like feature-packed tripods.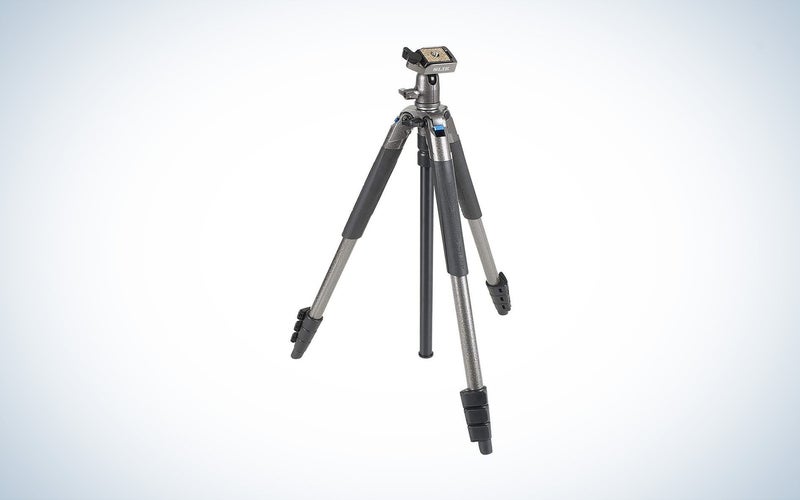 Specs
Collapsed height: 18.5 inches
Extended height: 62.9 inches
Weight: 2.2 pounds
Maximum load: 4.4 pounds
Material: Aluminum
Leg sections: 4
Pros
Lightweight and compact design
Can be set up as low as 6.2 inches
Flip lock legs allow for quick adjustments
Affordable price
Cons
A little wobbly when fully extended
An ideal budget tripod is one that doesn't require lots of sacrifices, and that's the case with this SLIK Sprint PRO III Travel Tripod. It features a compact and lightweight aluminum design, even weighing less than more expensive carbon fiber tripods. It comes with a ball head, which is ideal for a range of situations. And you can even pan when the ball head is locked in place by unlocking the center column.
The SLIK tripod uses four-section legs with flip locks. The flip locks allow you to quickly and easily adjust individual sections to fine-tune your tripod height and placement. The center column uses a two-section design that is reversible, giving you more flexibility with camera height. It can be extended to as high as 62.9 inches but can also get as low as 6.2 inches.
The only real downside to the SLIK Sprint PRO III is the level of stability it offers. When the legs are extended, it is a bit wobbly. That will be more pronounced if you have heavy gear on it. You'll want to stick well wonder the maximum load suggestion of 4.4 pounds as a result.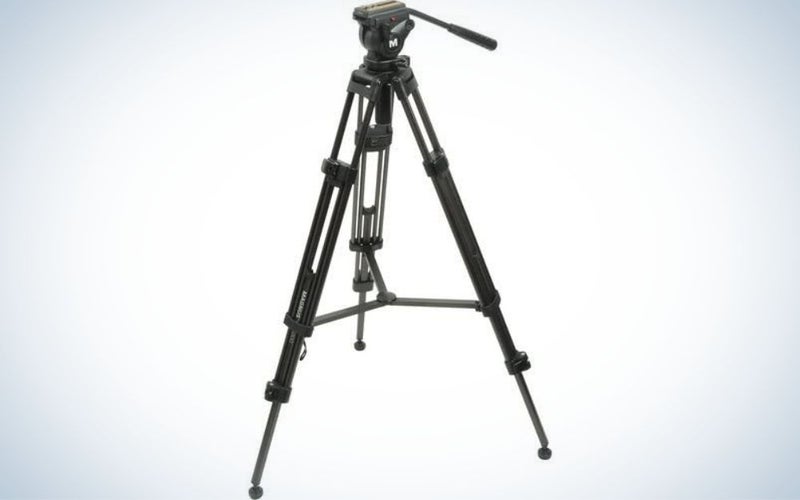 Specs
Collapsed height: 12.6 inches
Extended height: 52.8 inches
Weight: 2.5 pounds
Maximum load: 13.2 pounds
Material: Aluminum
Leg sections: 5
Pros
Independent pan lock on ball head
Compact and lightweight
Ideal for photo or video
Can handle heavier DSLR cameras
Cons
Manfrotto is well-known for its quality tripods, and the Element Traveller Small tripod is no exception. Weighing only 2.5 pounds and collapsing down to 12.6 inches, it's relatively compact and lightweight. And despite that, it can still hold up to 13.2 pounds. That makes it ideal for even burly DSLR cameras like the Nikon D6, which weighs 2.79 pounds without a lens attached. You'll still be able to attach a large telephoto and trust that the tripod will be sturdy.
Manfrotto's Element Traveller can extend up to 52.8 inches. It also offers a minimum working height of 14.2 inches, so you can get shots low to the ground as well. The legs utilize rubber-coated twist locks, which provide a slim profile and make it easy to set up quickly. The center column uses a two-section design, providing more flexibility with height adjustment.
Leg positions of the Element Traveller can be adjusted independently using the spring-loaded lock. This helps with getting a level and stable tripod position, even on uneven terrain. The ball head rotates smoothly and offers an independent pan lock for panning shots. And the base features degree markings, so you can get consistent panning results. It's on the pricey end for budget tripods, but it's one of the cheapest options you'll find that offers this level of load capacity and stability.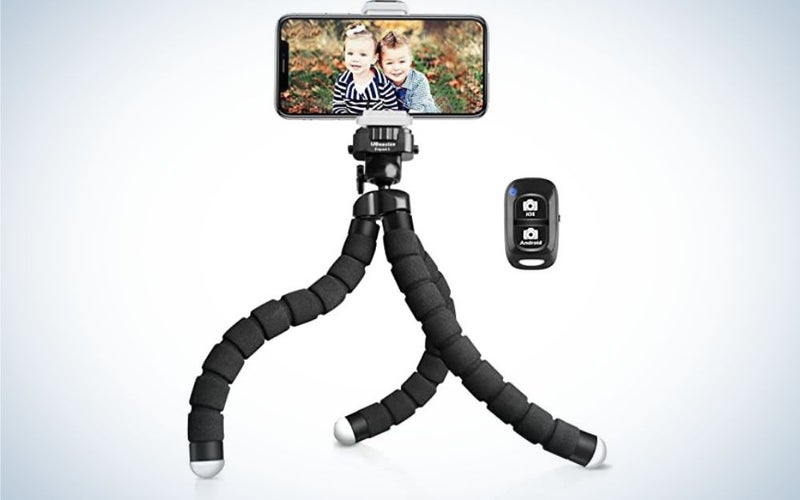 Specs
Collapsed height: 7.87 inches 
Extended height: 7.87 inches 
Weight: 0.4 pounds
Maximum load: 2.2 pounds
Materials: Metal and rubber
Leg sections: 1
Pros
Compact and portable
Features high-grade metal ball joints for better weight support
Octopus-style legs give it excellent versatility 
Comes with a wireless remote
Cons
Too short for professional shooting
Low-quality phone holder
Many things make this phone tripod so popular. For starters, its body comprises metal balls with rubber reinforcements for durability. It's also sturdy enough to handle heavy outdoor usage and boasts near-infinite adaptability. It can function as a mini tripod, a selfie stick, or ergonomic handheld support. Use it for table-top shoots or wrap its legs around railings, tree branches, or whatever can keep it stable. And the non-slip feet ensure the tripod remains stable on every surface.
Weighing a meager 0.4 pounds, it's one of the best tripods under $50. You can fold its legs easily and put it in your backpack. It comes with a wireless remote control that lets you control a mounted phone from 30 feet away. Choose the selfie mode when taking selfies, vlogging, or shooting hands-free videos and images. 
The phone tripod has a universal phone mount adapter that works with many Android and iOS smartphones. It also comes with a standard adapter screw thread that makes it compatible with digital cameras like mirrorless cameras, GoPros, and small DSLRs. But it can only hold a maximum weight of 2.2 pounds. Its height and size make it unsuitable for professional shooting, but if you want something for taking photos with your phone, this is a great choice. Plus, you can't beat the price of this budget tripod.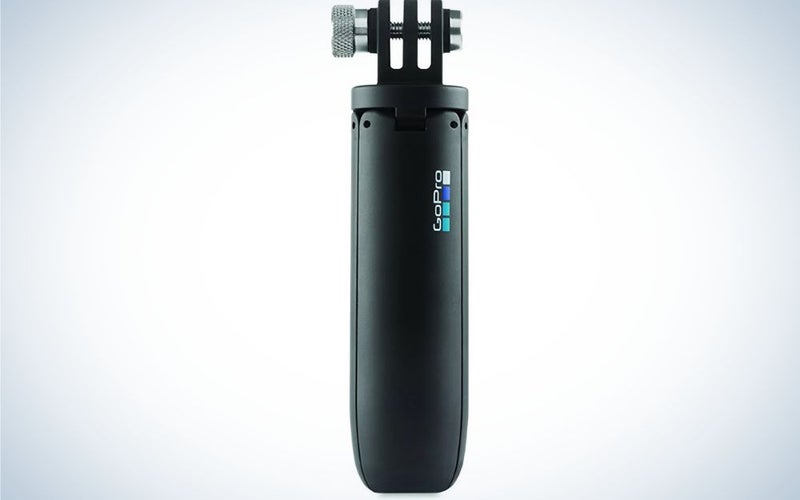 Specs
Collapsed height: 4.6 inches 
Extended height: 8.9 inches 
Weight: 0.14 pounds
Maximum load: Not provided
Materials: ABS
Leg sections: 1
Pros
Very compact
Dual purpose selfie stick and tripod
Compatible with any GoPro
Sturdily built for durability
Cons
Doesn't provide much height
The handle could use texturing for better grip
Love taking photos or shooting videos on the go but hate the bulkiness of full-size tripods and cameras? The GoPro Shorty Mini Extension Pole Tripod is for you. It's compact, sturdy, and portable, fitting nicely in your pocket or backpack. And setup is straightforward, so you can quickly put it to use. 
You can extend the tripod to its maximum height of 8.9 inches to capture group photos and selfies or collapse its legs and use it as a selfie stick. The legs remain stable on flat surfaces, allowing you to take steady shots from different angles.
Shorty is compatible with all GoPro cameras, including older models. If you love capturing your experiences at the height of the action but want some different types of shots, this will come in handy. It's worth mentioning that it's quite short, so don't expect drastically different angles with this. Also, its handle is smooth plastic with no texture, making it a bit slick in wet situations. But you can add some grip tape to help.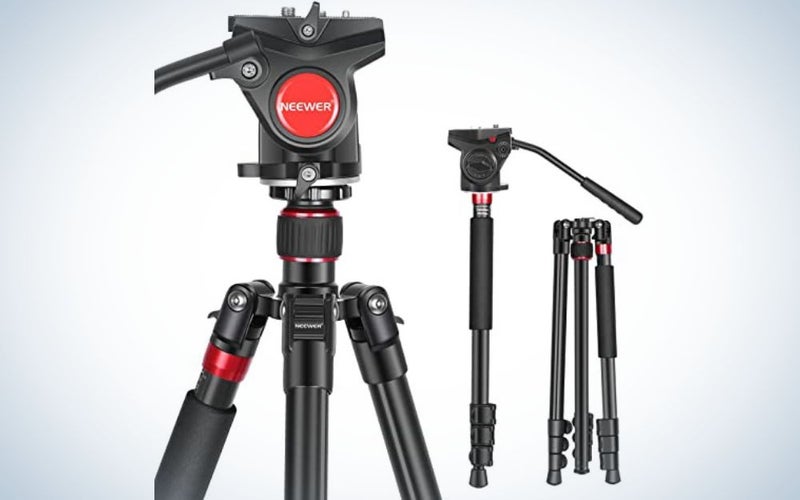 Specs
Collapsed height: 23.2 inches 
Extended height: 70.9 centimeters
Weight: 2.2 pounds
Maximum load: 26.5 pounds 
Materials: Aluminum
Leg sections: 4
Pros
High load capacity
Flip locks allow for quick and easy leg adjustments
Extra-smooth fluid head for quick tilts and pans
Easy to set up
Cons
No resistance adjustments on the head
The secret to creating crisp videos is having the right tripod. A good tripod allows for smooth pans and tilts and is easy to set up and pack away—like the Neewer 2-in-1 Aluminum Alloy Camera Tripod. It's built for the avid videographer and is easy to use. Mounting and unmounting a camera is simple, thanks to the quick release plate. And a bubble level helps you keep the composition level, even on uneven ground. 
What makes this tripod ideal for video is the fluid head. Fluid heads are a type of pan and tilt head and, as the name implies, allow you to pan horizontally and tilt up and down. It limits the direction of movement to those two directions, unlike a ball head, which keeps your videos more stable. And, as you might guess, fluid heads allow for smooth movements for more professional-looking videos. 
This particular head has a 360-degree panning base. The head comes with ¼-⅜-inch screw adapters that make it compatible with most camera sliders and tripods. Plus, in monopod mode, it can work as a walking stick or support your videography gear. And the lip locks let you adjust and secure the legs in seconds. 
The NEEWER 2-in-1 tripod is one of the best budget tripods under $150 and only weighs 2.2 pounds. Plus, it folds down to a height of 23 inches. As a result, it ranks high on our list of the best tripods to travel with.
Things to consider before buying the best budget tripods
Choosing a budget tripod can be an overwhelming experience because so many different variables come into play: How light should it be? How stable should it be? What's the best material? How much should I spend? How much weight should it support? Here's what you should look at before buying a new tripod.
Construction material
A tripod's material influences its price, durability, weight, and mobility. Most tripods are made with either aluminum or carbon fiber. While both materials are highly durable, carbon fiber is lighter, stronger, and corrosion-free. However, it's costlier than aluminum; you won't find a budget tripod made with it. Aluminum tripods are sturdy enough to handle most photography needs and are available at a very reasonable price.
Tripod size and height
The size and height of a tripod determine how well it works for your needs. If you're a landscape photographer, you need a compact and lightweight tripod that you can easily carry around. But portability won't be a concern if you primarily shoot in studios. You can get a bulkier, heavier tripod if that is the case. 
Certain types of photography require different tripod heights. Real estate photographers, for example, will want something tall for getting exterior shots. However, a lot of extension isn't as crucial for traditional portrait photography. On the flip side, having a tripod that can get low to the ground may be critical for landscape photographers, so you'll also want to check how low the tripod can go as well.
Load capacity
Load capacity is sometimes referred to as weight rating and means the maximum weight a tripod can hold safely. The best budget tripods on the market have different weight ratings; there's no universal standard. But, to ensure sturdiness, your tripod's load capacity should be at least three times the maximum weight of the heaviest equipment you'll mount on it.
Tripod legs
A tripod's legs affect its stability and sturdiness. Depending on the tripod's maximum height, it might have legs with three to five sections. The rule of thumb is that the fewer the leg sections, the better the stability. A tripod with three leg sections should provide enough stability for most cameras. 
In terms of construction, tripod legs are either tubular or non-tubular. All carbon-fiber legs are tubular and are secured by a threaded twist-lock system, while aluminum tripods have a flip-lock system.
Tripod head
The tripod head is perhaps the most important part of the tripod system. It controls the camera's movements and securely holds your camera equipment. There are many types of tripod heads you can choose from, including fluid heads, pistol grip heads, gimbal heads, ball heads, and pan and tilt heads. The pan-tilt head is the most common and is typically built into budget tripods. 
Different head styles are ideal for different genres of photography, with some better for video work, so be sure to check the type of head that a tripod has and that it is compatible with what you will be using it for. Also, when buying a tripod, make sure the head can support the same amount of weight as the legs. Otherwise, it will likely sag down if your camera setup is too heavy.
FAQs
Q: Which budget tripod is best for beginners?
According to our research, the Manfrotto Compact Action Aluminum 5-Section Tripod is the best budget tripod for beginners. It's compact, durable, lightweight, and easy to use. In addition, it's packed with great features like a photo-to-video mode switch, a quick-release mechanism, and an easy-to-control tripod head.
Q: What's the cheapest tripod?
The cheapest tripod on our list is the Amazon Basics 60-inch Lightweight Tripod. It offers great value and is ideal for those looking for a cheap but functional tripod. We highly recommend it for beginners and hobbyist photographers.
Q: Are cheap tripods any good?
Some cheap tripods are good, and some aren't. Before buying a tripod, identify your photography needs and take time to look for a tripod that meets them. Some budget tripods have a plastic plate that screws on the base of cameras, while others have more durable plates. It's also important to check the quick-release system. Tripods with a better quick-release system cost more but allow for faster setup.
Q: Do expensive tripods make a difference?
Yes, expensive tripods make a significant difference. Most high-end tripods are reliable and feature more advanced heads that let you position the camera however you want. They also have a more durable quick release plate, not a plastic one. But perhaps the most important thing is that expensive tripods are much sturdier. Of course, it's possible to get a budget tripod that works, but if you plan on sticking with photography, it is worth investing in a more expensive tripod.
Q: What is a good price for a tripod?
A good price for a tripod depends on your budget and specific needs. For instance, $20 is a good price for a phone tripod like the UBeesize Tripod. However, you'll need more than $100 for a sturdy video tripod like the Neewer Camera Tripod.
Q: Will a budget tripod fit all cameras?
No, a budget tripod can't fit all cameras. Most budget tripods have lower maximum load capacity and will not be able to support the weight of heavy cameras. Instead, they are best suited for smaller, entry-level cameras. That said, cameras are mostly standardized with a 1/4-inch female thread on the bottom, meaning most tripod mounts and quick release plates will work with any camera.
Final thoughts on the best budget tripods
The best budget tripod will enhance your photography and videography skills. But you need to find a balance between saving money and getting a quality tripod. Also, ensure the tripod can safely support your camera's weight.
Why trust us
PopPhoto has a long history of delivering the opinions of some of the sharpest and most prolific camera dorks the world has to offer. Since 1937, we've been reviewing cameras, providing wisdom from well-known photographers, and generally just nerding out about all that goes into making great pictures. Our current crop of writers and editors have decades of professional photography and camera writing experience among them. Collectively, we've probably shot with just about every camera and lens combo you can imagine—as well as some obscure stuff you may not even know about. Remember the Casio Tryx folding camera? PopPhoto does.
We also get that buying a camera is a big decision, which is why we're dedicated to helping folks choose the right one (or, in our case "ones") for their needs. Case in point: Handing over top dollar for an expensive rig may leave you unsatisfied if it doesn't fit your preferred shooting style. Sure, a $6,000 sports-oriented DSLR can capture landscapes, but do you really need to do it at 30 frames-per-second? No, you don't.