| | | | | | |
| --- | --- | --- | --- | --- | --- |
| Best overall | | Peak Design Travel Tripod | | SEE IT | This compact pick is easy to pack up and carry, so you can take stunning (and still) photos from any adventure. |
| Best aluminum | | Manfrotto Befree Advanced | | SEE IT | The aluminum frame and M-locking design on this tripod make it both lightweight and durable enough to hold heavier cameras. |
| Best on a budget | | Mefoto Roadtrip S | | SEE IT | This pick has a variety of adjustable capacities at a budget-friendly price. |
We may earn revenue from the products available on this page and participate in affiliate programs. Learn more ›
Updated Dec 27, 2022 9:59 AM
Tripod makers have it rough. The bigger and heavier you make a tripod, the more stable it'll be—and stability is the whole point. But if you want photographers to actually take your tripod with them on location, you have to make it lightweight and compact enough to carry around. This contradiction is most pronounced when you're trying to find the best travel tripod. These tripods have to be even smaller, lighter, and more versatile than your standard set of sticks and ball-head. They have to be small enough that you can easily strap one to the side of a backpack, rugged enough to withstand being banged around in luggage, fast enough to be set up in seconds, versatile enough to let you shoot from multiple angles, and sturdy enough to keep a full-frame camera and lens stable on a busy street or windy cliff face.
Fortunately, there are plenty of great options for every skill level and budget. You just have to know what to look for. 
How we picked the best travel tripods
The editors and writers at Popular Photography have decades of photography experience in nearly every genre and have covered just about every major camera and tripod brand on the market. When looking at travel tripods, we looked at the essential components of a tripod that get brought along on trips. Weight and folded length were critical factors, as travel tripods must be easily packed and carried. The weight capacity was also significant, as the tripod should be sturdy enough to hold most major cameras. Lastly, we factored in the extended height, minimum height, and other miscellaneous features.
Best travel tripods: Reviews & Recommendations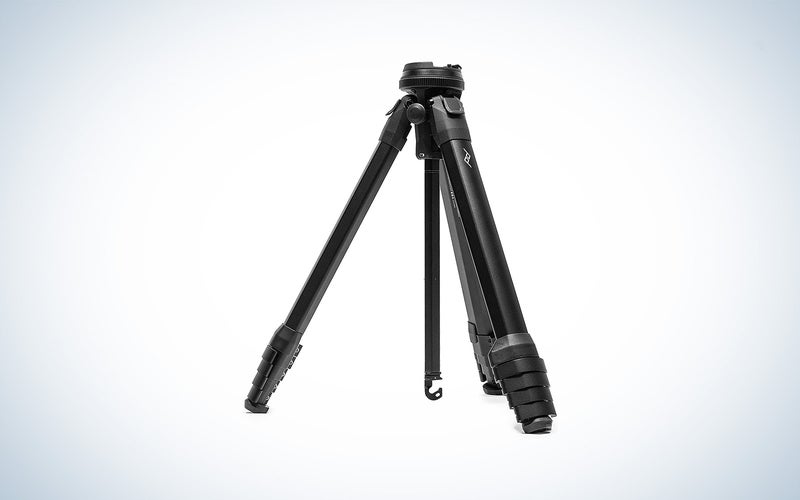 Why it made the cut: The Peak Design Travel Tripod has a novel design that allows it to be compact enough to fit in a water bottle pocket on a backpack yet still expand to 5 feet in height. Available as either aluminum or carbon fiber, this lightweight option is sturdy and travel-ready.
Key features
Material: Aluminum or carbon fiber
Tripod weight: 3.4 pounds
Weight capacity: 20 pounds
Extended height: 60 inches
Folded height: 15.2 inches
Pros
Very compact
Available as aluminum or carbon fiber
Built-in mobile phone mount
Comes with a padded, weatherproof case
Cons
The Peak Design Travel Tripod boasts a fresh design that reimagines just how small a travel tripod can be. Thanks to its one-of-a-kind leg design, this camera stand folds down to the diameter of a water bottle, allowing you to pack it in a standard water bottle pocket on a backpack. In addition, the unique, low-profile ball-head mechanism lets you adjust your camera angle with a single hand. It may take some getting used to, but it is a nice feature.
The Peak Design Travel Tripod is available in carbon fiber or aluminum. You should pick the carbon fiber version if you want to save weight and the aluminum version if you want to save money.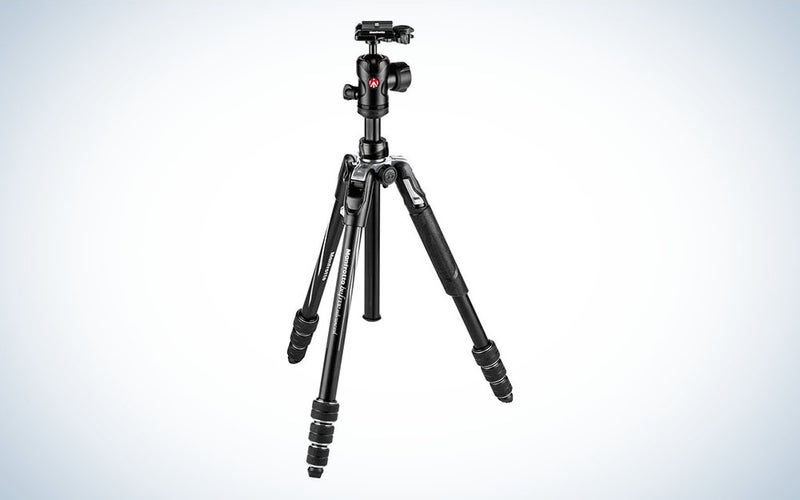 Why it made the cut: Manfrotto's Befree Advanced travel tripod is a 3.5 pound aluminum option that is sturdy enough to hold heavy gear. And at only 15.2 inches when folded, it can fit in most luggage.
Key features
Material: Aluminum
Tripod weight: 3.5 pounds
Weight capacity: 19.8 pounds
Extended height: 59.45 inches
Folded height: 15.75 inches
Pros
Lightweight aluminum build
Can handle full-frame gear with heavy lenses
Quality ball-head
Cons
Manfrotto's Befree tripods are popular among travel photographers, and it's easy to see why. The aluminum version weighs in at just 3.4 pounds, with a folded length of 15.2 inches. In addition, it has a weight capacity of 19.8 pounds, making it capable of holding full-frame cameras with heavy lenses. As a result, it has a great balance of price to performance for an aluminum travel tripod. 
But it's not just about size and weight. The Befree Advanced has twist-style M-lock leg locks that make setting up the tripod a breeze. The included ball head is surprisingly solid, and the leg angle selector offers more options than some competitors at and above this price point.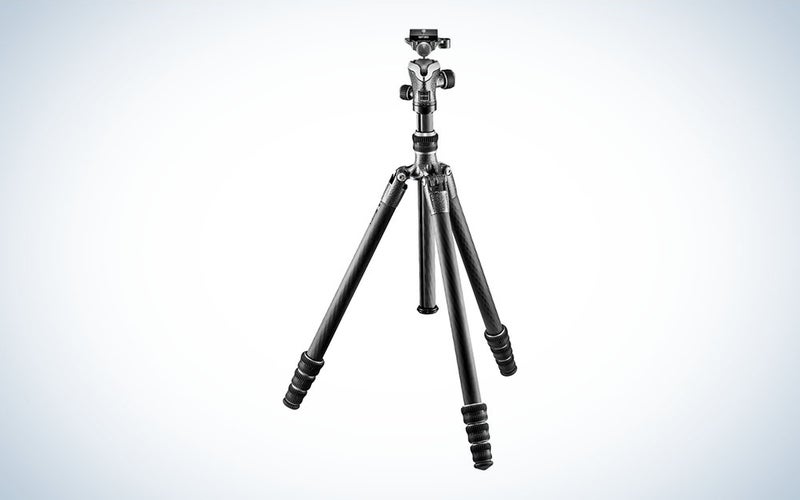 Why it made the cut: The Gitzo Traveler Series 1 is an excellent carbon fiber tripod. At 3.3 pounds, it isn't the lightest one on the list. But it can handle the heaviest load, making it a great option for those wanting something sturdy.
Key features
Material: carbon fiber
Tripod weight: Tripod: 2.34 pounds, Head: 0.9 pounds
Weight capacity: 22 pounds
Extended height: 60.24 inches
Folded height: 16.73 inches
Pros
Excellent build quality
Compatible with lenses up to 200mm
Quality ball head
Cons
The Gitzo Traveler Series 1 is the go-to professional tripod for photographers who demand uncompromising build quality. At 3.3lbs and a folded length of 16.73 inches, it's not the smallest or lightest carbon fiber travel tripod you can buy. But it offers a weight capacity of 22lbs, making it a sturdy choice. In addition, it has a max height of 60.24 inches and can go as low as 8.66 inches, making it useful for low-angle or macro shots and high-angle ones. 
This kit comes with the Gitzo Series 1 Traveler Center Ball Head, which is the slimmest Gitzo head. It has an independent pan lock and an incredibly smooth rotating ball head. This head is also compatible with plates from other brands as long as the dimensions are similar, which could be helpful when traveling.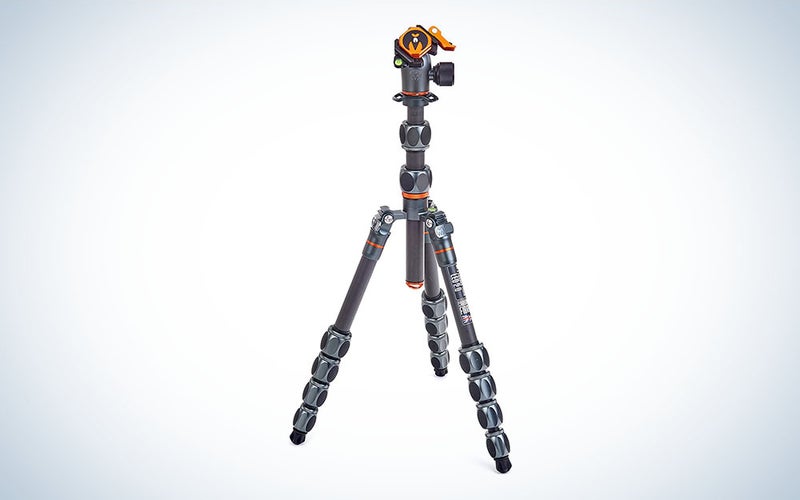 Why it made the cut: The 3 Legged Thing Leo 2.0 has the highest weight capacity you can find at 66 pounds. And yet, it still packs down to around the same size as other compact travel tripods.
Key features
Material: Carbon fiber
Tripod weight: 3.35 pounds, 4.08 pounds with head
Weight capacity: 66 pounds
Extended height: 57.7 inches
Folded height: 14.7 inches
Pros
Excellent weight capacity
Folds down small
Legs detach to become monopods or booms
Cons
With a maximum weight capacity of 66lbs, the 3 Legged Thing Leo 2.0 is about the sturdiest travel tripod you can buy, and yet it still folds down to under 15-inches and tips the scales at just 4.1lbs. The large weight capacity means you can use it with larger mirrorless or DSLR cameras or even medium format setups.
The Leo is also unique in its versatility. Each leg is detachable, allowing you to use them as monopods or booms. They also feature a 3-position angle lock and boast twist locks for quick and easy setup. And, if you buy separate footwear, it can be used as a tabletop tripod with the legs removed as well. These features make it one of the most versatile, heavy-duty travel tripods money can buy.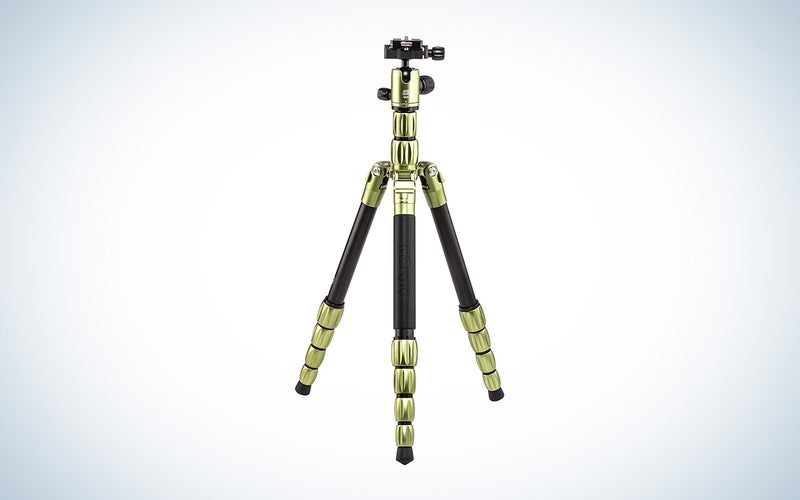 Why it made the cut: The MeFOTO Roadtrip S is a very affordable travel tripod for beginner photographers while still having plenty of good features. It weighs only 2.5 pounds, packs down to 13.2 inches, and can even convert to a monopod.
Key features
Material: Aluminum
Tripod weight: 3.65 pounds
Weight capacity: 17.6 pounds
Extended height: 59.4 inches
Folded height: 13.98 inches
Pros
Budget-friendly
Swappable head
Converts into a monopod
Cons
Weight capacity is fairly low
MeFOTO's BackPacker, RoadTripper, and GlobeTrotter tripods are travel-friendly favorites that regularly make roundups like this. The aluminum version of the Roadtripper S weighs in at just 3.65 pounds and still boasts a respectable weight capacity of 17.6 pounds. 
The Roadtripper S also has some nice features for a tripod at this price. For example, it has a scale on the center column for lining up panoramic shots right, a separate lock for its pan axis, and can convert into a monopod. It's not the most capable on the list, but it's a great entry-level travel tripod for beginners.
Features to consider when shopping for the best travel tripods
The main difference between a regular tripod and a travel tripod is size and weight. While regular tripods—especially high-end video tripods—are often large and heavy in order to offer as much stability and weight capacity as possible, travel tripods have to balance these core features with the need for portability. The best travel tripod is the one that offers the most rigid and stable construction in a package that folds up small and weighs no more than a large DSLR. 
To do this, lightweight tripod makers rely heavily on materials like aluminum (good) and carbon fiber (better), creative designs with thinner legs that fold 180° over the ball head, telescoping legs with as many as 5 sections, and smart extras like sandbag hooks for adding weight while you shoot, reversible center columns, and built-in bubble levels. 
The goal is to create a tripod that delivers the best of all worlds: something compact enough that it will fit comfortably in a carry-on bag, light enough that it won't bog you down on a long hike, and yet stable enough that it's actually worth bringing along. Here are the key features you should consider when shopping for the best travel tripod, and a few of our top picks.
Size and weight of a travel tripod
As we've already mentioned several times at this point, the first and most important features to consider when shopping for a travel tripod are size and weight. The best travel tripod overall will be lightweight, with a respectable weight capacity, an ingenious design that allows it to fold up really small, and a carbon fiber construction for the best possible strength-to-weight ratio.
In terms of raw numbers: a compact travel tripod should weigh no more than 4lbs, it should be able to hold at least 15lbs, and it should fold up to less than 16-inches long for easy packing. Once these boxes are checked, everything else is a bonus. Smaller folded diameter, vari-angle legs, reversible center column, a well-designed ball-head, and easy-to-deploy legs are the secondary features that separate the "good" travel tripods from the "great" ones.
Skill level and budget
Another important consideration is your own skill and interest level. While it's always tempting to purchase the best-of-the-best camera gear right away, there's no need for a beginner travel photographer to drop $500+ on a high-end carbon fiber tripod with all the bells and whistles—no matter what the ads try to tell (or sell) you. 
If you're just starting out, look for important core features (lightweight construction, compact foldable design, reasonable weight capacity, and solid build quality) in an affordable aluminum model that will offer you everything you need and won't cost you a bundle. If you can afford to spend a little more than the budget options, but don't want to get carried away with Gear Acquisition Syndrome (also known as G.A.S.), a great entry-level tripod is the way to go.
Aluminum vs. carbon fiber tripod
One of the most important decisions you'll need to make when looking for the best travel tripod is whether to go with aluminum or carbon fiber. 
A carbon fiber tripod is the premium choice. Weight for weight it's both stronger and more rigid than aluminum, which translates into tripods that are both lighter and sturdier. As a result, it's also a lot more expensive. Aluminum may be heavier and a little more flexible, but it's a lot cheaper and plenty of photographers rely on it day-in and day-out. Plus, the added weight helps keep your shots stable when you don't have any way to weigh the tripod down.
Fortunately, many of the most popular travel tripods from the most recognizable brands are available in both aluminum and carbon fiber variants. You get to decide what's more important: a lighter tripod, or a heavier wallet?
Weight capacity
Most travel tripods can handle a maximum load of about 22lbs, with many of the lightest options cutting that number down even further in order to save weight. Fortunately, that's plenty for most mirrorless cameras or DSLRs with a regular lens attached. However, if you plan to tote around a huge DSLR and lens combo, or maybe even shoot medium format, you'll want to find a tripod that can handle a lot more weight without flinching. 
Keep in mind that there will be a trade-off here, usually in terms of tripod weight. The higher the weight capacity, the thicker and sturdier the lens and ball head will need to be, and the heavier the tripod itself is likely to become. Only you can decide if that's a worthwhile compromise.
FAQs
Q: Does it matter what tripod you use?
Absolutely it does! Extremely cheap tripods don't deliver the same stability or features that you get from higher-quality options like the ones listed above. 

At the very least, a good-quality travel tripod will ensure you can keep your ISO down and capture longer exposures without camera shake, even in windy or otherwise challenging conditions. But beyond this, most high-quality tripods offer multiple leg angles, reversible columns, bubble levels, a huge range of height settings, and much much more. Features like this open up a world of photographic possibilities.
Q: What is the strongest yet lightest tripod material?
Carbon fiber is the strongest and lightest material used in tripods. Weight for weight, carbon fiber is anywhere from 2x to 5x more rigid and up to 10x stronger depending on the type and orientation of the fiber used. This is obviously a huge plus for photographers who want to travel light without sacrificing tensile strength, but remember: the lighter the tripod, the less stable it will be. So keep an eye out for a carbon fiber travel tripod with weight hooks so that you can hang your bag on your tripod while you shoot and add back any lost stability.
Q: How much does a good tripod cost?
Materials, size, weight, and weight capacity are all going to factor into the final price of a good travel tripod, which makes an "average" hard to pin down. Generally speaking, aluminum travel tripods will be cheaper, starting at around $100 for a good-quality tripod, although you can find them for less. Carbon fiber models will be more expensive, starting around $150, with most options coming in above the $200 mark. If you want a high-quality, lightweight, carbon fiber tripod that folds up small and features great weight capacity at the same time, expect to spend $200 or more.
Final thoughts on the best travel tripods
The list above is not a comprehensive overview of all the best travel tripods on the market. With so many great brands like Gitzo, Benro, Manfrotto, 3 Legged Thing, MeFOTO, and Peak Design putting out solid products, there's no shortage of great options. That said, we've found the Peak Design Travel Tripod to be the best overall option. It has a unique design that allows it to fold down smaller than any other option in the same class. However, it can still hold a good amount of weight, making it sturdy enough to use with heavier cameras or on windy days. The added touch of a built-in phone mount and the included padded carrying case are nice additions as well.