| | | | | | |
| --- | --- | --- | --- | --- | --- |
| Best for travel | | Best Tripod for travel | | SEE IT | A great all-around solution for any video or photo need. |
| Best for vlogging | | Sumcoo 53" Extendable Aluminum Tripod | | SEE IT | This full-sized support system offers a variety of heights. |
| Best pocket tripod | | Peak Design Mobile Tripod | | SEE IT | It's roughly the size of a credit card, making it easy to keep in your pocket. |
Updated Apr 20, 2023 6:03 PM
We may earn revenue from the products available on this page and participate in affiliate programs. Learn more ›
Phone tripods allow shooters to get stabilized, professional-looking video content without the trouble of tired arms. Shooting smartphone video with a tripod also means you don't have to worry about your finger covering the lens or the microphone while you are filming. They are an excellent tool for streamers, vloggers, TikTok creators, and even those just taking video calls. They come in a variety of sizes, and some feature the ability to attach external microphones or lights for an added level of professional content creation. When it comes to creating stabilized video content with your smartphone, these are some of the best phone tripods. 
How we picked the best phone tripods 
When selecting our picks for this article, we considered materials the product was made out of, versatility of use, and price. Although there are plenty of low-cost phone tripods on the market, if you are looking for something that will last a long time, your best bet is to purchase something made of metal rather than plastic. The PopPhoto writers and staff have decades of experience putting every type of camera on just about any tripod. 
When looking at each product's versatility, we considered how the best phone tripods would be used. A mid-cost full-sized phone tripod is better suited for taking group photos outside, while a compact flexible-leg tripod is a better option for shooters on the go. If you are trying to record a lot of video content with your smartphone, having a tripod that allows you to attach additional accessories is ideal. 
The best phone tripods: Reviews & recommendations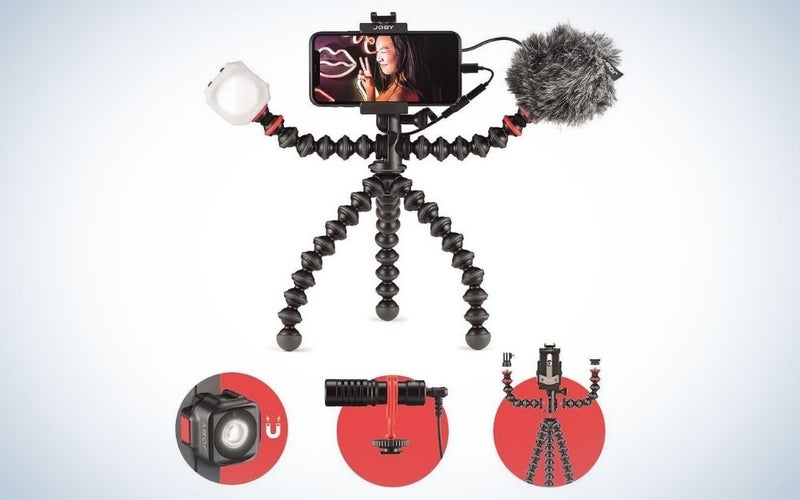 Why it made the cut: Joby's GorillaPod has been setting the standard for compact, flexible tripods for a long time, and its phone tripod is no different. This particular model allows users to attach an external microphone and light for a seamless vlogging experience. 
Specs
Weight: 1.9 pounds
Flexible legs
Compatible with cameras and phones
Pros
Customizable configuration while shooting
Sturdy build from a trusted brand
Flexible legs make it easy to use the tripod anywhere
All-in-one tool, lights and external mic included
Cons
High price point 
Some assembly required 
Every Joby GorillaPod has unique flexible legs that can be wrapped around virtually any surface for stable shooting—making it an extremely versatile tool for content creators. The wrap-around legs work just as well as traditional tripod legs or as a comfortable hand grip. 
This version was designed with vloggers in mind and in addition to holding your phone, comes with an external mic for crisp audio and an LED light that can be controlled through your phone to keep you looking your best on camera. It's lightweight and compact, making it a great tool for shooters who are always on the go.
Although this all-in-one rig is substantially more expensive than other phone tripods on the market, and does require some assembly when you pull it out of the box, it's coming from a trusted tripod brand and has a much sturdier build than anything else you will find for stabilizing your phone. If your smartphone is your primary camera for content creation, you can't go wrong with the best phone tripod for travel, the Joby GorillaPod.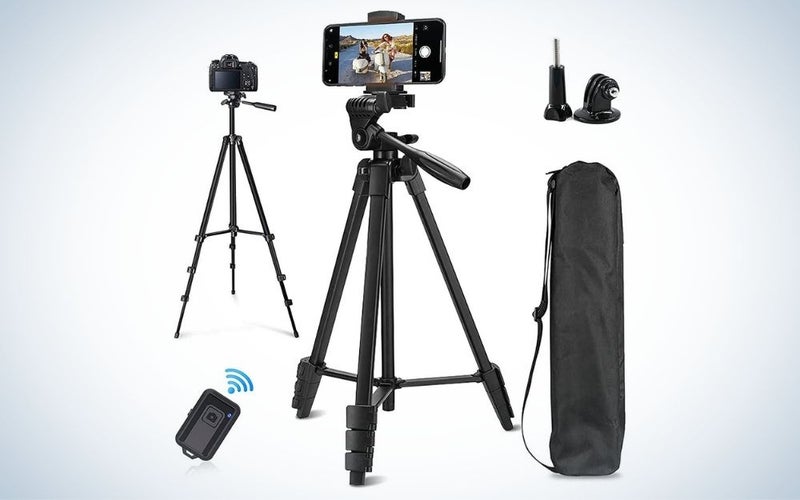 Why it made the cut: This full-sized tripod is a low-cost, lightweight full-sized option for stabilizing your smartphone when shooting photos or videos. The three-way pan head and adjustable phone holder make it compatible with a wide variety of smartphones. 
Specs
Extends up to 53" height
Lightweight aluminum build
Controllable with Bluetooth remote for selfies or video recording
Pros
Extendable height from 16"-53 inches
Bluetooth capabilities from 33 feet away 
Very affordable price point 
Cons
Not the sturdiest phone tripod 
Carrying bag feels cheaply made
Sumcoo's full-sized smartphone tripod is made of lightweight aluminum, is compatible with a wide variety of smartphone sizes and can extend up to 53" in height. This is an extremely basic smartphone tripod, but it covers the bases and you can't beat the inexpensive price point. This is why it's our pick for the best phone tripods for vlogging. 
It has a 360 degree 3-way pan head and you can adjust your phone to shoot horizontally or vertically. The quick-release plate makes it easy to pop your phone in and out of the phone holder. The Bluetooth-enabled remote shutter allows you to control your phone from up to 33 feet away. Although it doesn't have the sturdiest build, and the nylon carrying bag feels cheaply made, if you are looking for a basic way to stabilize your smartphone this is a great choice. It's light enough and folds down small enough that you can carry it around in collapsed mode if you want to shoot on the move.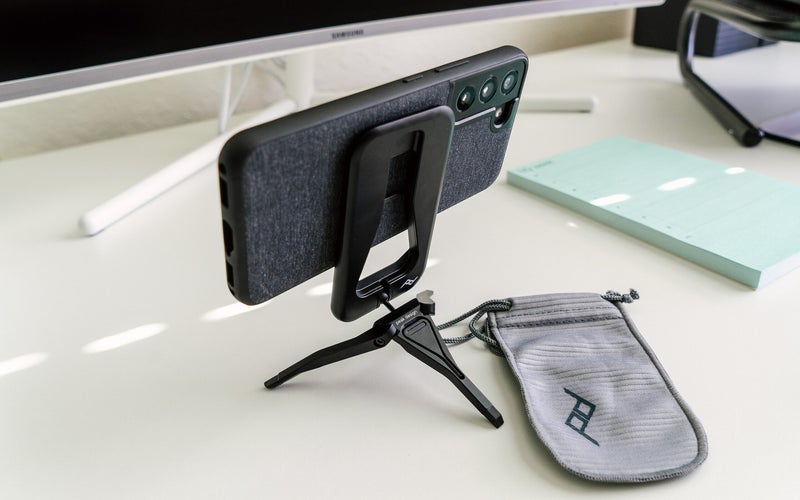 Why it made the cut: This pocket-sized phone tripod magnetically attaches to your phone and is only slightly larger than a credit card, making it easy to slide into your pocket even with the tripod attached.
Specs
3.8 x 2.2 inches
Magnetic attachment
Machined/anodized aluminum build 
Pros
Extremely compact
Durable, metal construction
Comes with a pin for adjusting ballhead tension
Fast and easy to set up
Cons
Requires the Peak Design phone case or Magsafe phones and cases
Pricey
If you want a phone tripod that you can easily keep in your pocket, it doesn't get much better than the Peak Design Mobile Tripod. When folded down, the tripod is roughly the size of a few credit cards stacked together. It's incredibly slim and low profile, so you can even keep it on your phone when you're not using it and still slide it into your pocket. It's made of machined and anodized aluminum, so will withstand whatever you throw at it. And the feet feature grippy silicone so that they don't slide and also dampen vibrations.
Because of the magnetic attachment, you can easily switch between landscape and portrait orientation. There's not much height to it, and you'll need a somewhat level surface, but the micro ballhead can help ensure you have level shots. And it comes with a magnetically embedded tool to adjust the ballhead tension if you need to.
The main downside with the Peak Design phone tripod is that you'll either need the Peak Design phone case or a Magsafe phone or case. That's because the tripod uses Peak Design's SlimLink magnetic attachment technology to attach the tripod to your phone. It makes setup incredibly fast, though. And, if you go with a Peak Design case, you can also use the wide range of accessories that are designed for that.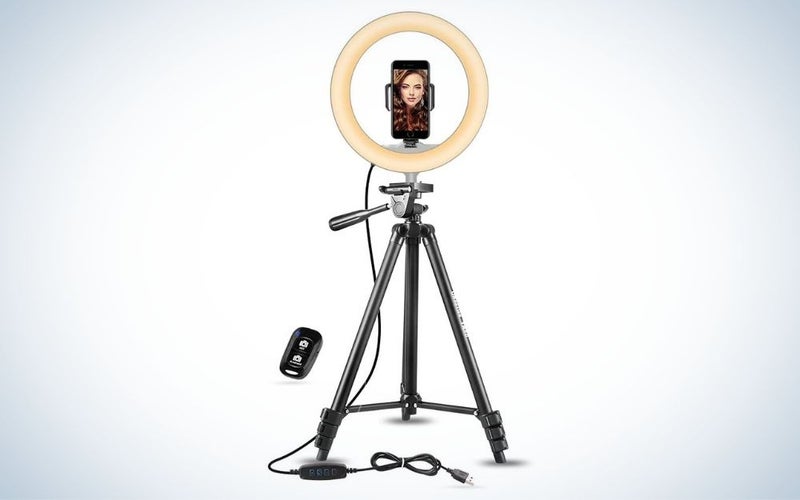 Why it made the cut: This ring light and tripod combo is an extremely convenient tool for streamers, makeup influencers, or any other content creator who wants to look their best on-camera without the hassle of additional lighting equipment. 
Specs
Dimmable ring light 
Smartphone attaches in middle of ring light 
Extendable height up to 50"
Pros
All-in-one tool for lighting and stabilizing video 
Three light colors and 10 levels of brightness
Phone can be placed in the middle of ring light for beautiful shadow-free shoots
Wireless remote control allows touch-free operation
Cons
Not the most stable tripod
Not great for groups
This is one of the best phone tripods with a ring light for streamers, make-up artists, or any Youtuber who doesn't want to fuss over lighting while creating content. This all-in-one ring light and tripod combo allows you to attach your phone in the middle of the ring light for beautiful shadow-free footage. 
The LED ring light features three different colors: warm, cool white, and daylight, and each setting can be adjusted between 10 levels of brightness. The phone tripod is extendable between 15 inches and  50 inches making it a great tool for tabletop use while seated, or while standing. The 10-inch diameter on the ring light makes this option most suitable for lighting a single person, rather than a group, but if you are solo this ring light and tripod combo will help you look your best on camera or on video calls.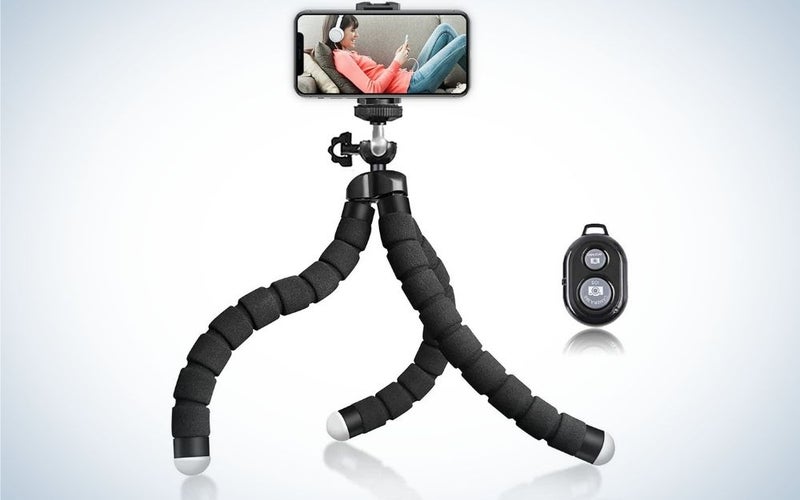 Why it made the cut: This compact phone tripod is one of the least expensive ones that can be found online. It's flexible legs allow you to use it on a tabletop or wrap it around surfaces and can be controlled with a Bluetooth remote. 
Specs
Inexpensive 
Lightweight, only weighs 8.4 ounces
Compact 8.85-inch height
Pros
Extremely cheap
Bluetooth capabilities from 30 feet away 
Flexible legs make it easy to use anywhere
Cons
Made of plastic
Works best with smaller smartphones
If your budget is tight, you really can't beat this compact, lightweight phone tripod. As with any budget product though, if you are saving big, you are probably going to sacrifice things such as product materials and build quality. Although this inexpensive phone tripod is made of plastic and is best suited for smaller, lightweight phones. The flexible legs make it a bit more versatile than other low-cost phone tripods. 
If you are shooting with the newest, most expensive iPhone or Android, it probably makes sense to stick with a higher-priced product, but if your phone is of a slightly older generation (and weight) this compact, inexpensive phone tripod will provide decent stability while shooting. This is the best budget phone tripod for novice shooters.
Things to consider before buying the best phone tripods
Before buying a smartphone tripod you should consider your budget and what you will primarily be shooting. 
Features
If you are looking for something inexpensive to stabilize your phone for shooting videos at home or taking video calls, a low-cost compact phone tripod will probably be plenty. If you are interested in creating YouTube videos, vlogging or streaming live a more advanced phone tripod that has the option to attach external microphones or lights will be a better match for you. 
Size
If you are planning to use the phone tripod to shoot TikTok videos or other content where you will be replacing original audio with something pre-recorded, a full-sized tripod that allows you to capture full-body shots is the way to go. Full-sized tripods can go over six feet in height, while tabletop tripods can stand just a few inches tall.
Shooting conditions
Consider whether you will be shooting indoors or outside—something that is made of cheap plastic materials will fare better in an indoor setting than it will outdoors. Ultimately the price of smartphone tripods tends to go up based on the materials that they are built out of. A tripod that has metal components will last a lot longer than one made of plastic, but will also cost more. 
FAQs
Q: Which is the best mobile tripod?
The best mobile tripod depends a lot on what you plan to be shooting and where. If you are looking to vlog and take your phone outside of the home or office, a high-end tripod like Joby's GorrilaPod may be your best bet. If most of the content that you are planning to film will be done from the comfort of your desk, a lower-cost desktop tripod should be plenty. 

Q: Are phone tripods worth it?
A phone tripod will make it a lot easier to create stable footage and also allows you to go hands-free. If you are looking to film a lot of content with your smartphone, a reliable tripod is one of the best tools you can invest in. 

Q: When should you shoot with a tripod?
Anytime you want stabilized, hands-free video footage with a smartphone, a tripod is your best bet. Shooting with a phone tripod also means you don't have to worry about your finger covering the lens of your smartphone or the speakers. Ultimately using a tripod will give any footage shot with a smartphone a more professional feeling. 
Final thoughts on the best phone tripods
While there are plenty of low-cost phone tripod options available online, if you are looking for something that is going to last, it's worth spending a bit more money. Joby's GorillaPod may be more expensive than some of the other phone tripods on this list, but it's a well-known brand with a long history of making reliable tripods for full-sized cameras, and that's why it's our best overall product. We also love that the all-in-one kit features an external microphone and a little light—which means any video content captured with your phone will have an added level of professional quality. 
Why trust us
PopPhoto has a long history of delivering the opinions of some of the sharpest and most prolific camera dorks the world has to offer. Since 1937, we've been reviewing cameras, providing wisdom from well-known photographers, and generally just nerding out about all that goes into making great pictures. Our current crop of writers and editors have decades of professional photography and camera writing experience among them. Collectively, we've probably shot with just about every camera and lens combo you can imagine—as well as some obscure stuff you may not even know about. Remember the Casio Tryx folding camera? PopPhoto does.
We also get that buying a camera is a big decision, which is why we're dedicated to helping folks choose the right one (or, in our case "ones") for their needs. Case in point: Handing over top dollar for an expensive rig may leave you unsatisfied if it doesn't fit your preferred shooting style. Sure, a $6,000 sports-oriented DSLR can capture landscapes, but do you really need to do it at 30 frames-per-second? No, you don't.