Fujifilm Camera and Lens Factory Tour
See how Fujifilm crafts some of its X-series lenses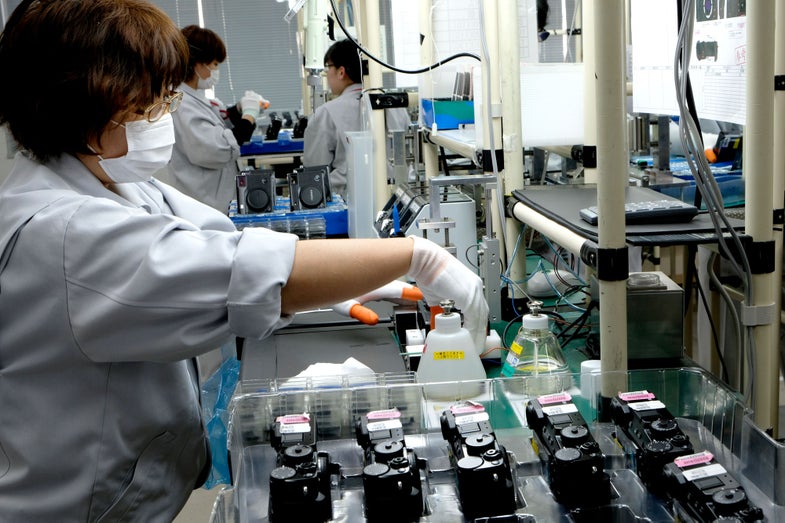 We may earn revenue from the products available on this page and participate in affiliate programs. Learn more ›


















Covered head-to-toe in lint-free fabric, from the double-layered hood to the surgical mask to the padded booties, how could I resist using a Fujifilm camera to take a selfie? Along with about two dozen other visitors, I was about to enter the "clean room" at Fujifilm Optics Co., Ltd.'s Taiwa Factory north of Sendai, Japan. We'd be able to photograph (with some restrictions) and take notes on special dust-free paper—after passing through a chamber lined with air nozzles to blow off any motes that might cling to our gear.
No wonder my hosts took such precautions. Inside we observed two production lines as workers in outfits identical to ours assembled, inspected, and fine-tuned hundreds of new Fujinon XF100–400mm f/4.5–5.6 R LM OIS WR and XF35mm f/2 R WR Fujifilm camera lenses. If you hate getting grit on your lens, imagine how upset you'd be to discover some inside it!
Although Fujifilm makes its glass elements elsewhere, this pristine room is where they get cemented together into groups, coated, and combined with the mechanical and electronic parts that make them work. These two models, like all WR lenses, also get weather sealing. Each lens undergoes inspections and tests, ensuring that quality issues are addressed on the spot. (Alas, testing was the one thing we were not allowed to photograph—I would have loved to have shown it to our own lens tester and lab manager, Julia Silber.)

The process combines a lot of painstaking handwork with some automation. Each image-stabilized 100–400mm zoom takes about 220 minutes to finish. Putting together each 35mm prime takes about 80 minutes. The factory chief told us that most complex part of Fujifilm's camera lens manufacturing process is the quality assurance testing, especially resolution. Dust inspection, for instance, is now done with highly accurate, automated machinery, and the factory's instruments can detect a micron-level of displacement in the glass.
In another part of the Taiwa factory, we saw hand assembly lines for Fujifilm cameras, including the X-T1 and new X-Pro2 cameras. The top section of the X-T1 alone has 200 tiny parts. As for the X-Pro2, the plant makes about 800 per day.
For photographers, the proof of quality is in the shooting. All of the photos in this gallery are JPEGs taken with the X-Pro2 Fujifilm camera and Fujinon XF18–55mm f/2.8–4 R LM OIS lens, though we reduced the resolution for speedier viewing on your browser. Keep an eye out for our full lab and field test of the X-Pro2 in the coming weeks.