First impressions of the Loupedeck Creative Tool
Here is what we think of this super compact editing console so far.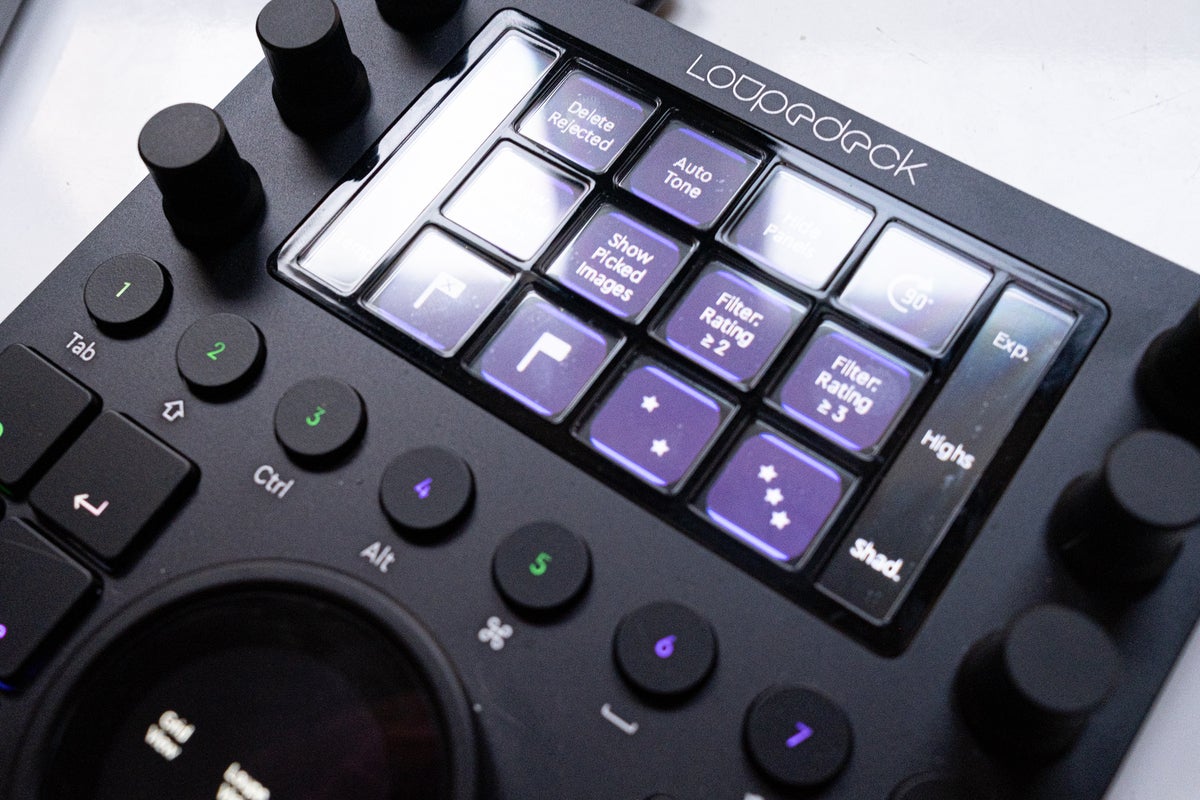 We may earn revenue from the products available on this page and participate in affiliate programs. Learn more ›
This past fall, Loupedeck announced a brand new editing console that was smaller, lighter and more versatile to editors across the fields of photography, videography, and even music. The Loupedeck Creative Tool is a plug-and-play editing console with touch interfaces and tactile knobs and keys that works for editing with Final Cut Pro X, Photoshop, Premiere, Lightroom Classic, Illustrator, and Abelton Live making it a helpful tool for creators who dabble in a variety of mediums.
We haven't been able to try the new device with all of its compatible software, we have spent the last few weeks using it to edit in Lightroom Classic. Here's what we think of it so far.
Feel
The Loupedeck Creative Tool is significantly smaller than the Loupedeck Plus that came before it. It has an aluminum cover (an upgrade from plastic), backlit LED touch interfaces and the familiar knobs and dials. It only weighs 0.8 lbs and measures 6.3 x 5.9 x 1.2 inches—making it a great option for editing on site or at home when desk space is at a minimum. The small size also makes it a whole lot more portable than earlier versions of the Loupedeck. This is something that a photographer on the go could reasonably toss in their bag alongside their laptop and camera.
It has a removable, woven USB 3 cable and buttons that are color coded to correspond with the various functions that the control. The knobs and buttons on the Loupedeck Creative Tool have a good, sturdy feel to them—it definitely seems to have a more robust build quality than earlier Loupedeck products.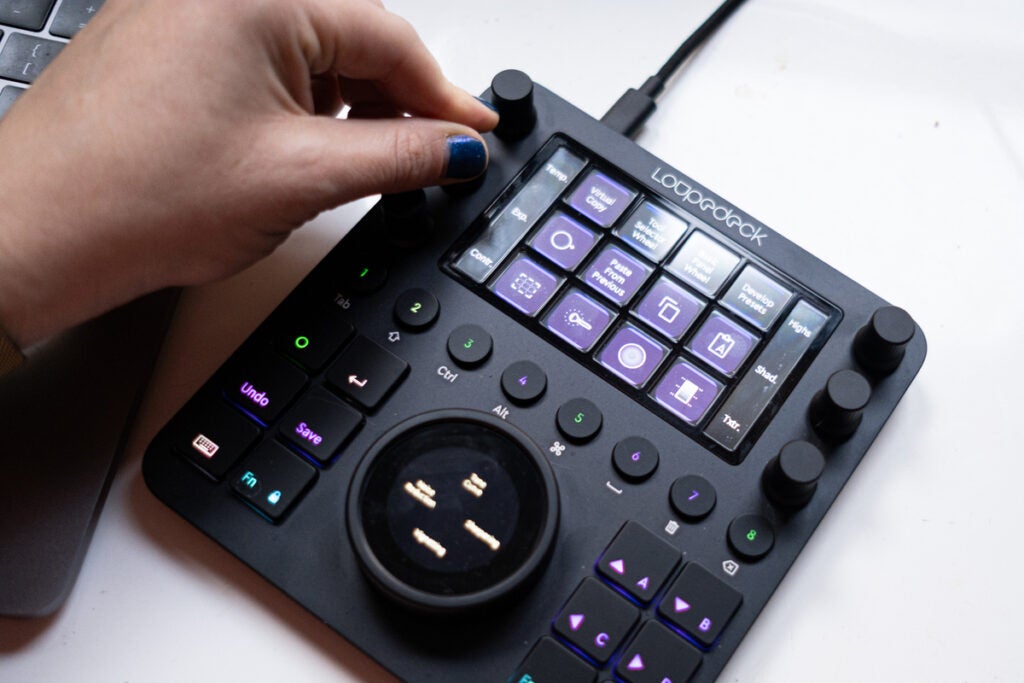 Performance
Setup is simple. Plug in the USB cable, download the software, and restart Lightroom. In some cases you may have to update the permissions on your computer so that Loupedeck will work. Once Loupedeck is plugged in and the program is launched (in our case Lightroom Classic) the Loupedeck will automatically register which program you are using.
The console's default setup follows the workflow that most photographers tend to follow. Pushing the 1 button takes you to the Lightroom library, the knobs allows you to change the thumbnail size and zoom into your images, while various elements of the touch screen allow you to rate and flag the images. The large main dial allows you to quickly scroll through everything in your library. Hitting the 2 button takes you into Develop mode. Her the knobs control things like Temperature, Exposure, Contrast and Highlights, Shadows and Texture—essentially mimicking the way that the sliders are organized in Lightroom. You can swipe the touchscreen to roll through additional adjustments that the knobs can control. Pressing down on the knobs will reset the adjustments back to their original state. The functionality of the large wheel changes as you cycle through various workspaces. The console can also control operations like cropping, spot removal, and the brush tools.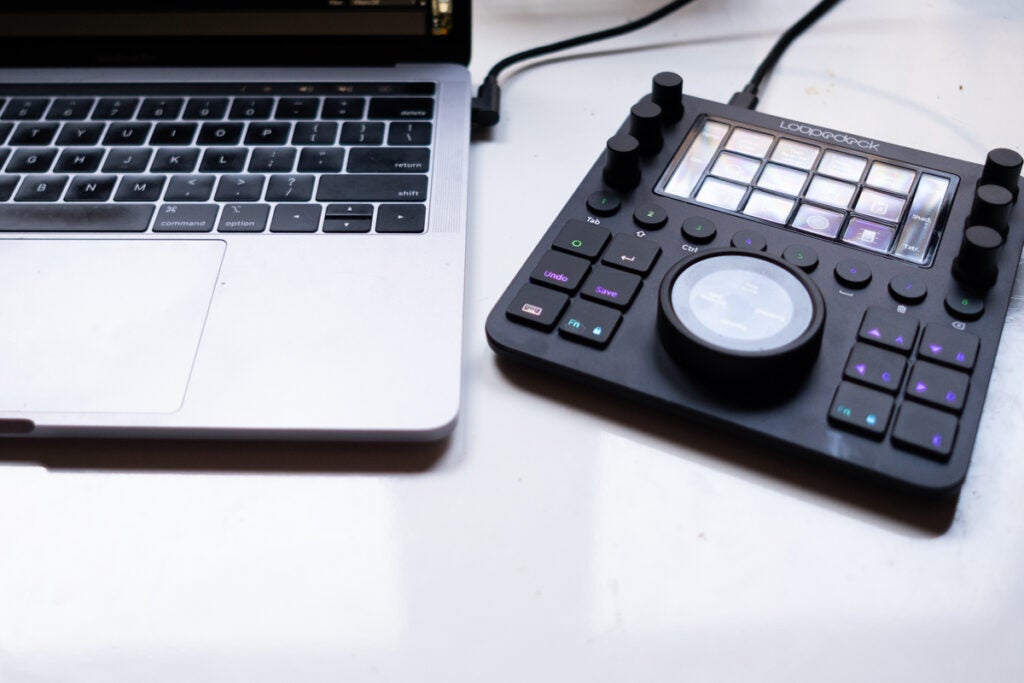 The knobs and buttons on the Loupedeck Creative Tool are very responsive when working in Lightroom. Adjustments were as accurate as they are when moving the sliders with a trackpad or mouse—especially when you are dealing with adjustments like exposure or contrast. Using the Loupedeck Creative Tool to crop or apply graduated filters is a little less intuitive though.
Inside the Loupedeck control panel, which can be accessed from the Loupedeck Creative Tool, you have the option to customize elements of the console for easier access. You do this by simply dragging and dropping.
Although we've only been using the Loupedeck Creative Tool for a few weeks and have yet to dive into its full capability, we're really impressed by what it can do far. The smaller size and fast response time make this a significantly better tool than Loupedeck's earlier models. Check this out if you are looking for some relief from the repetitive stress that you may be causing yourself by using a mouse and keyboard. Your wrists will thank you.