Loupedeck+ is a customizable editing console designed to work with Lightroom
Spending some hands on time with the new Loupedeck+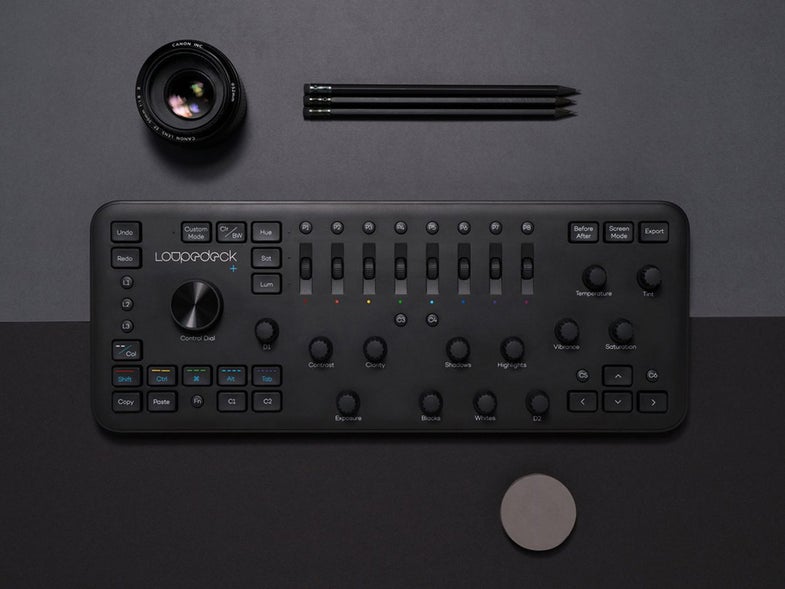 We may earn revenue from the products available on this page and participate in affiliate programs. Learn more ›
I spend a lot of hours a week staring at Lightroom catalogs. Like most photographers, I'm pretty set in my ways when it comes to my editing workflow. I swear that my most-used keyboard shortcuts are burned into the muscle memory of my fingers. The Loupedeck+ is a customizable editing console designed to change the way that many photographers interact with their Lightroom catalogs. It aims to speed up editing, as well as add a tactile element to the process beyond mouse clicks and keyboard shortcuts. Initially launched through a 2016 Indiegogo Campaign, the Loupedeck+ is an updated version of the original model. The design has changed very little, with a few key differences. The Loupedeck+ is compatible with Skylum Aurora HDR and has beta integration with Phase One's workflow software, Capture One. There are more customizable dials and buttons and the company claims that the software is more stable. The new Loupedeck+ is available now for $229.
Although I'm pretty stuck in my workflow ways, occasionally I find myself working behind the scenes at high-profile events where editing speed is key—clients want precisely edited images ready for social promotion moments after the picture was snapped. I was interested to see if Loupedeck+ would be able to increase my productivity inside Lightroom.
Feel
The new Loupedeck+ is made of black plastic, is about the size of a standard office keyboard—although it's quite a bit larger than an apple keyboard—and features a variety of keys, knobs and dials dedicated to some of the most frequently used adjustments made in Lightroom CC.
Across the top of the Loupedeck+ you will find a set of dials to control color management for 8 individual channels, buttons on the side allow you to toggle between color and b&w, and additional buttons to make fine adjustments to Hue, Saturation, and Luminosity. Temperature, Tint, Vibrance and Saturation receive individual knobs.
Below that you will find individual knobs for adjusting Lighting settings. Contrast, Clarity, Exposure, Shadows, Highlights, Black and Whites each have dedicated controls built in.
There are also a number of knobs and buttons that can be customized with Lightroom presets or functions.
Undo, Redo, Copy and Paste all have dedicated buttons, as do your rating options, a set of arrows on the bottom right side of the console also get the dedicated button treatment.
A massive control button sits at the top of the console and allows you to toggle between Library and Develop mode, crop mode and allows you to rotate the image.
The layout of controls on the Loupedeck+ are intuitive, although on more than one occasion I found myself hunting for the Exposure knob.
Performance
Using the Loupedeck+ requires a software download, restarting Lightroom and a connection via USB. During the initial setup process my computer seemed to have trouble realizing that Loupedeck+ was connected, but eventually, Lightroom CC noticed the hardware.
I spent a few weeks editing different work with the Loupedeck+—live show coverage in a well lit venue, live show coverage in a poorly lit venue, an outdoor event and a set of portraits with consistent lighting. Although the Loupedeck+ seemed promising at first, the effectiveness varies depending on the type of edit you're applying.
It worked well with groups of images with consistent lighting. I could take an image and dial in the settings and then using the copy and paste keys apply those settings to other images in the set—making fine adjustments as needed. For image sets that included wildly different lighting scenarios? Not so good. A big part of this comes down to the responsiveness of the various buttons and dials on the Loupedeck+.
The control dial and color adjusting knobs have the most tactile feel when editing. They are sturdy under your fingers and click as you move them, which I found to be a nice indication of the changes that were being made. They also seem to be the most responsive. The knobs for adjusting lighting settings and color settings don't feel as substantial though. They are quite loose under your fingers and there seems to be an inconsistency between how much you have to dial them to see a difference in your picture: desaturating an image takes a ton of knob turning, while the Clarity knob seemed far too sensitive. The keyboard buttons on the Loupedeck+ are nicely sized, but I found myself really mashing them to get a response.
This was most apparent with the arrow keys: they simply couldn't keep up with my fingers and there was a noticeable lag time. While using the Loupedeck I often found myself using the knobs to adjust colors and exposures, but sticking to my keyboard to rate and toggle through an image set.
It made my editing more efficient in some cases, but the amount of time that I spent waiting for the Loupedeck+ to play catch up in others, negated any of that speed.
Who should buy it?
At $229 the Loupedeck+ certainly isn't the cheapest editing gadget on the market, nor does it seem very portable, so it obviously isn't for everyone. Photographers who work in high volume and have to do so fast probably won't find this to be the most helpful workflow tool.
However if you're dealing with a minimal take of images, shot in very consistent lighting (like headshots under studio lighting) the Loupedeck+ has the potential to shave some time off the hours you spend staring at Lightroom.