Sports Photography Master Ezra Shaw On Shooting The Olympics
Capturing the Olympics can be almost as intense as competing in them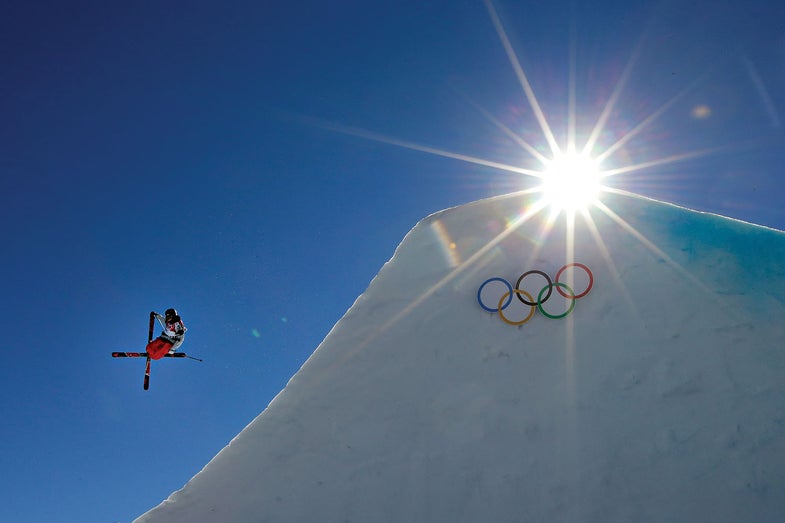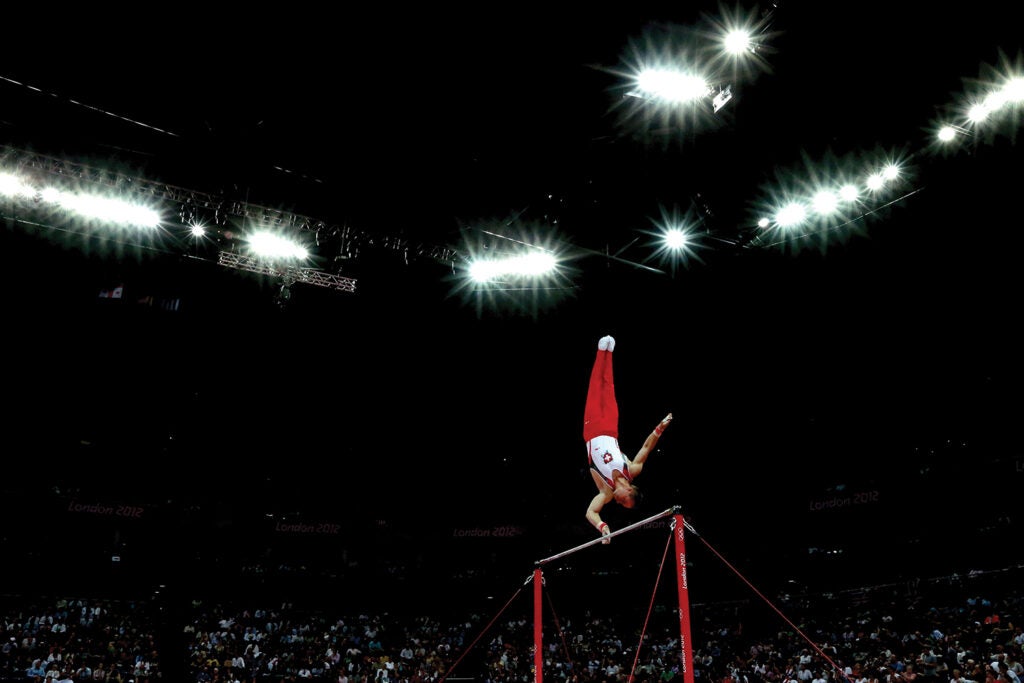 Olympics Day 5 – Gymnastics – Artistic
Shaw captured Claudio Capelli of Switzerland on the horizontal bar at the 2012 Olympic Games in London with a Canon EOS-1D X and EF 16–35mm f/2.8L II lens, exposing for 1/320 sec at f/18, ISO 8000.
From the America's Cup to the Super Bowl, Getty Images Sports Photographer Ezra Shaw has covered the world's biggest sports. But he considers the Olympic Games to be the most challenging of all. "There are so many kinds of events to prepare for," says Shaw, who has worked with Getty Images for 18 years. "And the more you know the sport, the better your pictures will be. You'll anticipate better and get in the right position—because you never quite know when the magic moment is going to happen."
Shaw uses pre-event scouting trips to size up venues. For the 2016 Olympics in Rio de Janeiro—his ninth time shooting the Olympic Games—he will arrive in the host city a week early. "What's great with a large organization," Shaw says, "is that they give us plenty of time to get familiar with the venues where we'll be working."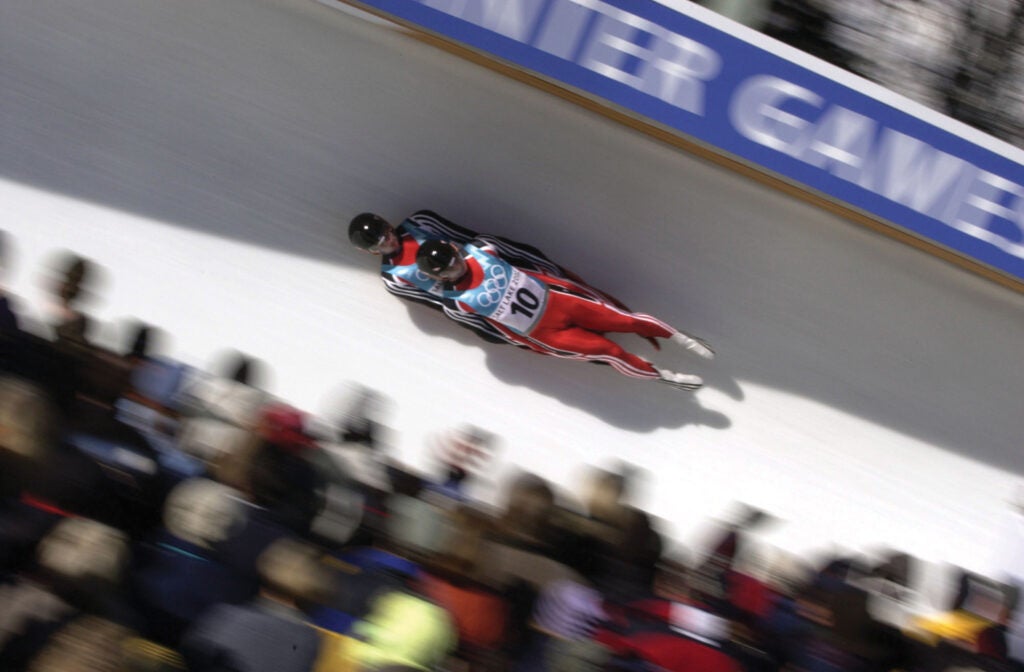 OLY M Doubles Luge X
Andreas Linger and Wolfgang Linger of Austria at the 2002 Salt Lake City Winter Games. Nikon D1H and 80–200mm f/2.8 Nikkor lens; 1/160 sec at f/22, ISO 200.
He notes that the Getty Images team of photographers and editors at the Olympics includes more than 100 people. "I'm sure they could have saved lots of money if we went in there a few days later, but they know that extra time being down there to let us get familiar with the venues, and the workflow, is going to pay off in the long run."
The time allows photographers to meet with venue managers and scope out angles, backdrops, and even ethernet arrangements. "All great," Shaw says, "because you're rushed once the games begin."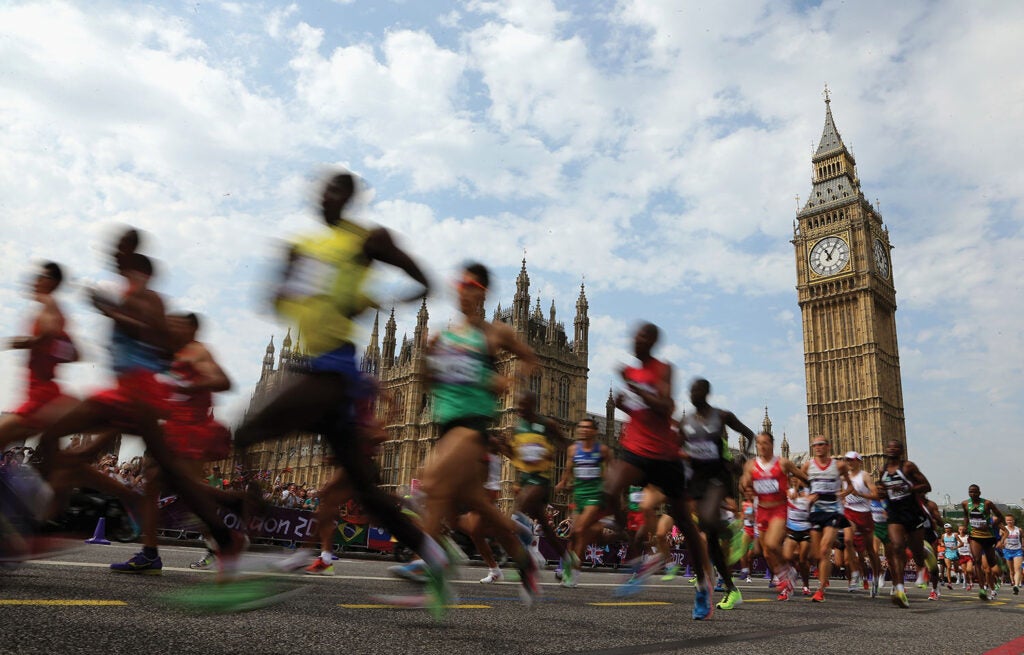 Olympics Day 16 – Athletics
Marathoners pass London's Palace of Westminster in 2012. Canon EOS-1D and EF 24–105mm f/4L IS; 1/40 sec at f/22, ISO 100.
The Mind's Eye
Much of Shaw's early work involves pre-planning composition ideas. "I'm often looking for a particular picture and then, while watching the athletes, hoping they fall into the picture I have in mind," he explains. Much of this involves backdrops. "I find busy backgrounds very distracting," Shaw says. "I prefer to have a nice clean background, without a lot of signs or people. You try to find those elements that complete the picture and make the athletes pop out."
A case in point: Shaw's graphic shot of a ski jumper at the Sochi Olympics towards the bottom of this page. "I was lying down on the ground," Shaw recalls. "If I had stood up a few feet, you would have seen a chairlift in the background there, and you would have seen the lines for the lift going up behind the scene. Only by lying on the ground was I able to get that completely blue, clean sky."
For a brief time, he noted the low sunburst patterns that appeared at the top right quadrant of the frame as he waited for skiers to jump. "There were only a few racers that went by during that time of day where I was able to get the sun exactly positioned that way, but nobody else made that cross of their feet like that, and that's what made the picture. Plus the fact that he was wearing red pants."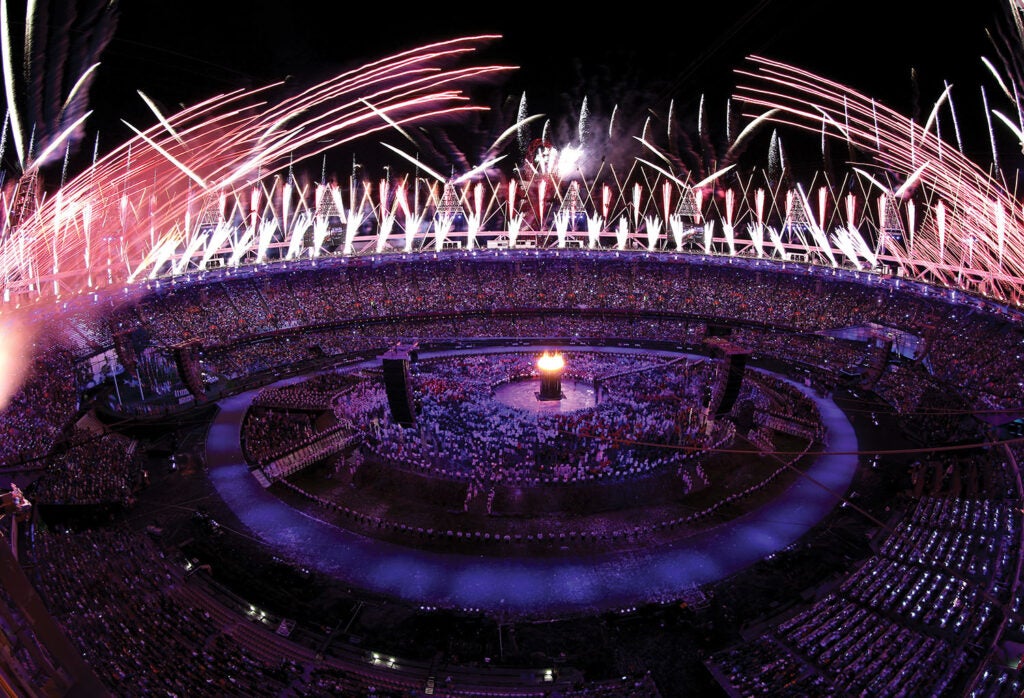 2012 Olympic Games – Opening Ceremony
Opening Ceremony of the 2012 London games. EOS-1D X and EF 8–15mm f/4L fisheye; 1 sec at f/11, ISO 125.
Within such a preconceived setting, Shaw says, a rapid-fire approach may be in order. "I wish I could say I was one of the purists who wait for the perfect moment," he says. "Back when you shot rolls of film and you had 36 exposures, you definitely shot a lot less. But now, the cameras encourage you to shoot more—it's a little bit ridiculous. I just got the new Canon EOS-1D X Mark II for this Olympics trip, and the motor drive is even faster 14 frames per second. So I try to be patient and wait for the right moments, but at the same time I try not to miss anything."
To that end, Shaw usually carries two or three camera bodies, mostly so he has lens options at the ready. "That way you don't have to switch out," he says. "I'll shoot with a telephoto for main action, and then have a wide-angle around my neck, and maybe a 70–200 on the shoulder." His go-to Canon EF lenses include 400mm f/2.8L IS II, 24–70mm f/2.8L II, and 70–200mm f/2.8L IS II. "For something like the Olympics, I take a 200–400mm f/4L IS as well. That's a great lens if you don't know where you're going be throughout the day, because it lets you zoom in and zoom out. But I don't find that the pictures pop out as much. I think the athletes pop out a bit more with a 400mm."
These tools help him navigate the multi-ring circus of the Olympiad. "You have all these amazing events and emotion and athleticism condensed into two weeks," Shaw says. "You've got to be ready because there is going to be a gold-medal event that first day. On day one you might get your best picture—or it might come on day 14. So there's lots of preparing and lots of patience. There are so many great photographers there and you see all the amazing work, which adds to the pressure. You just have to avoid getting frustrated and know your moments will come."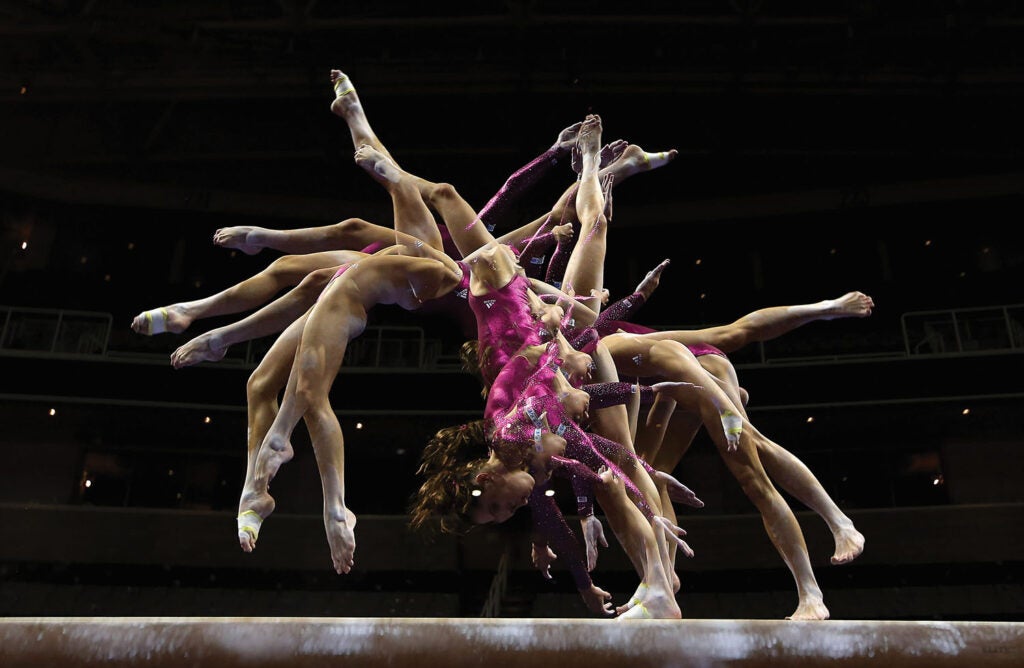 2012 U.S. Olympic Gymnastics Team Trials – Day 4
In-camera multi-exposure shot of McKayla Maroney practicing at the 2012 U.S. Olympic Gymnastics Team Trials in San Jose, CA. EOS-1D X and EF 16–35mm f/2.8L II lens; 1/2000 sec at f/4, ISO 3200.
Above the Fray
The competition is evident in Shaw's shot depicting swimmer Michael Phelps wading through a sea of photographers after winning his eighth gold medal in Beijing. "It was great to be up above for that one," says Shaw, who was assigned to shoot from the catwalk during the event, the 4×100 relay. "Michael Phelps was the biggest story there, and I was lucky enough to have been at most of his races, so I knew what to expect."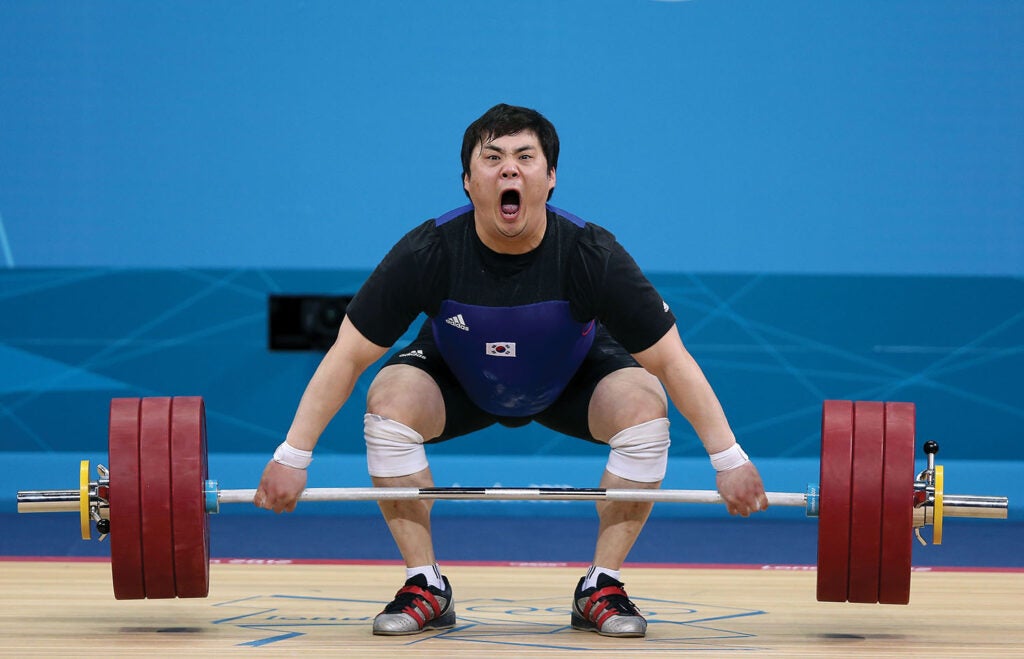 Olympics Day 10 – Weightlifting
Korean weightlifter Whaseung Kim at the 2012 London games. Canon EOS 1D X and EF 400mm f/2.8L IS II; 1/1600 sec at f/3.2, ISO 2500.
Shaw anticipated Phelps's victory lap, complete with a visit to greet his mother and sister. "For safety reasons, the rules were that you're only allowed to have one camera and one lens when you're up in the catwalk. For most of the day I had been using a 500mm lens, shooting tight action." When the event was over, Shaw decided to try a wider-angle lens for more atmosphere. "I raced over to the edge of the catwalk where I had my kit, switched to my 70–200, then went back to right above where his mother and his sister were sitting, which was near one of the main photo positions at the pool deck. And he walked through all the photographers to give his mom a hug. Good thing I grabbed the looser lens, because if I still had that 500mm, I probably would have got a headshot of him and his mom. I would have missed the atmosphere."
More typically for overhead shots, Shaw visits the catwalk beforehand to install a remote camera, which he triggers with a PocketWizard MultiMAX transceiver. "Again, you compose the shot, preconceive the idea," he says. "I usually trigger the remote camera every time I take a picture with the camera I'm holding in my hand. It will give you a lot of frames that are no good, but that way I'm not missing any overhead shots. What looks good down below might not work from above, and vice versa. It's always great when you get a remote picture that works, but you don't want to rely on it too heavily."
Final Cross – Mens Snowboard
Snowboard cross gold medalist Seth Wescott at the 2006 Turin games. EOS-1D Mark II and EF 70–200mm f/2.8; 1/1000 sec at f/4.5, ISO 200.
Instant Karma
At the Olympics, all of Shaw's images are instantly wired to the Getty editing team, which frees him up to keep shooting. "The technology is incredible," Shaw says. "Our tech guys will connect us with ethernet cords or wireless hotspots. Some of your photos will be online within a minute or two. You're sending images pretty much continuously. It's probably unfortunate for the editors—they're getting these frames that don't matter, and it makes their workload harder—but it's better to make a little bit more work than miss something."
This setup gives the Getty Images shooters a leg up on those who edit and transmit their own work. "We're able to get to more events throughout the day," Shaw says, "because when one event is over we can pack up our kits and move on to the next one and not worry about getting pictures out to the client."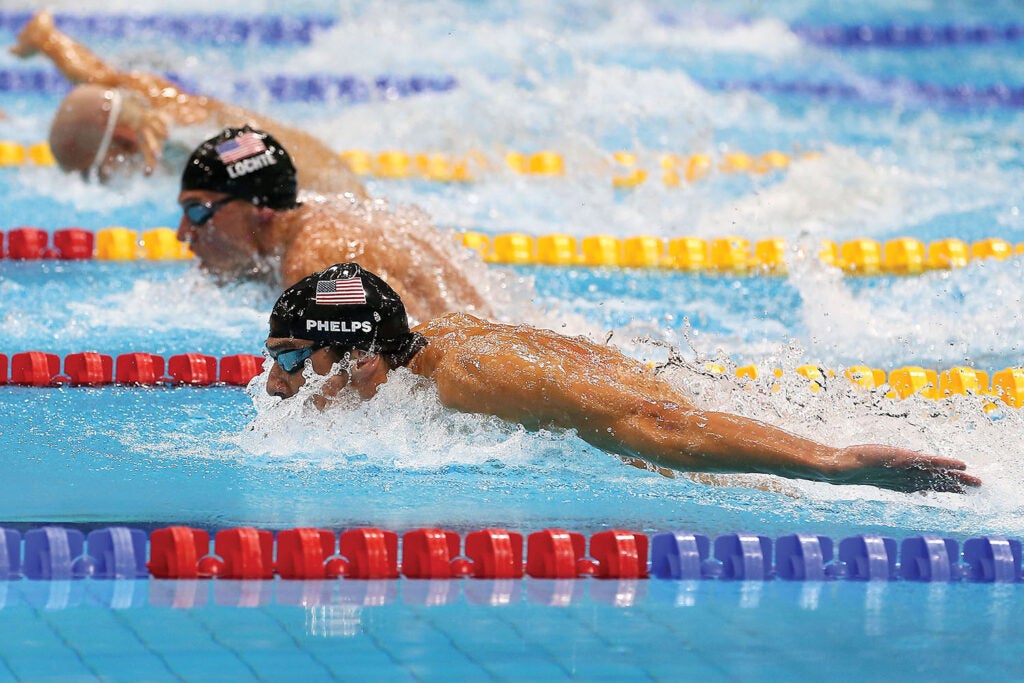 Olympics Day 6 – Swimming
Michael Phelps and Ryan Lochte race at the 2012 London games. Canon EOS-1D X and EF 70–200mm f/2.8L IS II; 1/2000 sec at f/3.5, ISO 2000.
The flipside, of course, is that the photographers surrender control of image selection. "Even if you have the best editor and the best photographer, you're going to have differences of opinions," Shaw says. "But overall, our editors know what they're looking for and they have tons of experience, So you do have confidence—you don't have to think, 'What are they gonna do? Will they crop it wrong?' They see the picture as a whole. And sometimes they find great shots that you might miss." Teamwork is vital. "We'll operate like a tag team: 'I'm gonna go for tight action today and you go for scenics, and tomorrow we'll rotate,'" he says. "You want some of both. The tight action is dramatic. But I try to incorporate local landmarks or the ambiance of the stadiums or venues, so long as they don't distract from the athletes."
One element Shaw often does choose to place in the frame is the Olympic logo. "That's one of the nice things about the Olympics: Their backgrounds often consist of the Olympic rings and not a Coca-Cola sign or a Visa sign," he says. "It's nice to have the Olympic rings behind them to place the picture. When you see that logo, you know right away where the picture was made."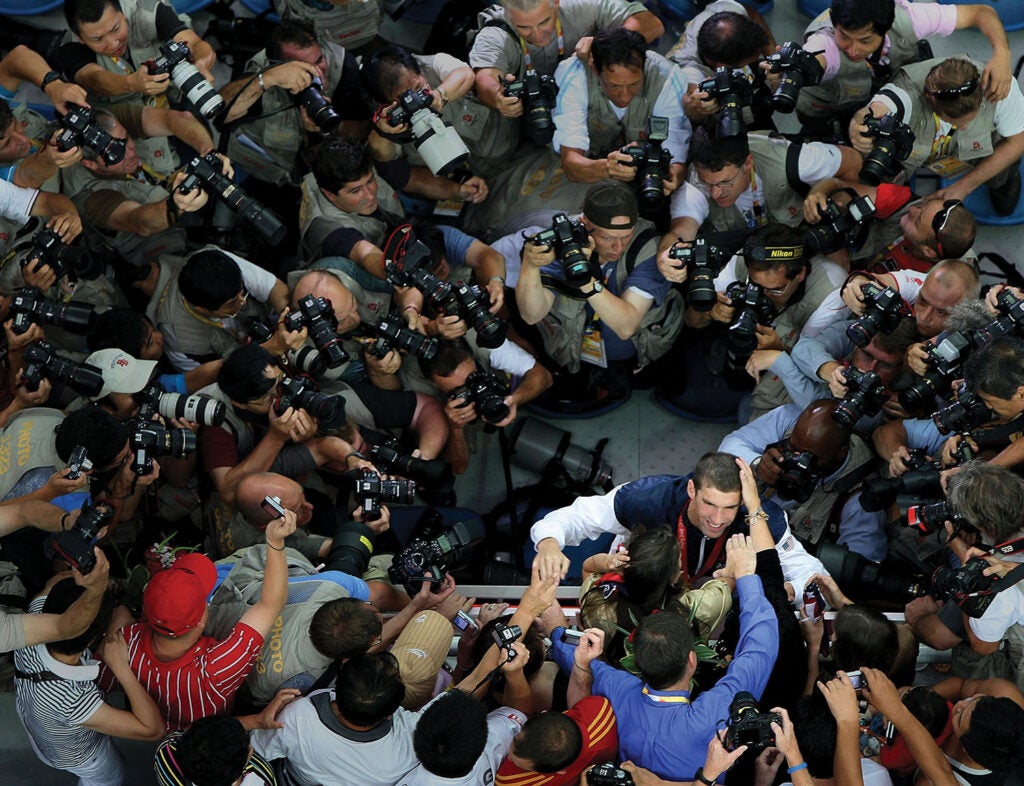 Olympics Day 9 – Swimming
Phelps greets his mom and sisters after winning his eighth gold medal at the 2008 Beijing games. EOS-1D Mark III and EF 70–200mm f/2.8; 1/250 sec at f/3.5, ISO 1000.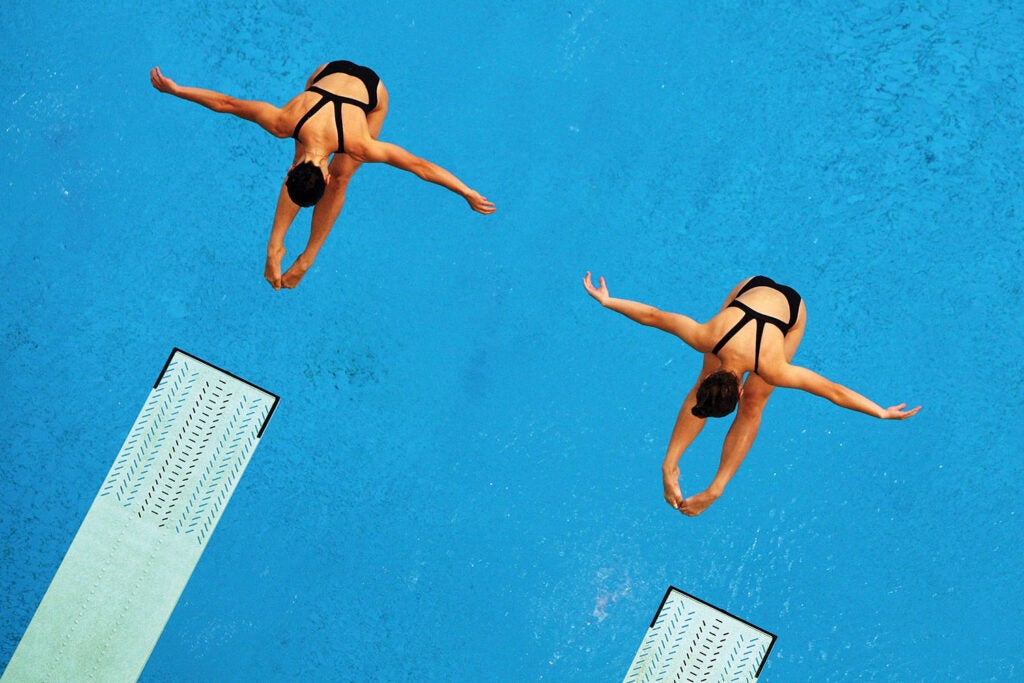 Olympics Day 2 – Diving
Julia Pakhalina and Anastasia Pozdnyak-ova at the Beijing games. Remotely fired EOS-1D Mark III and EF 70–200mm f/2.8L; 1/1250 sec at f/3.2, ISO 1000.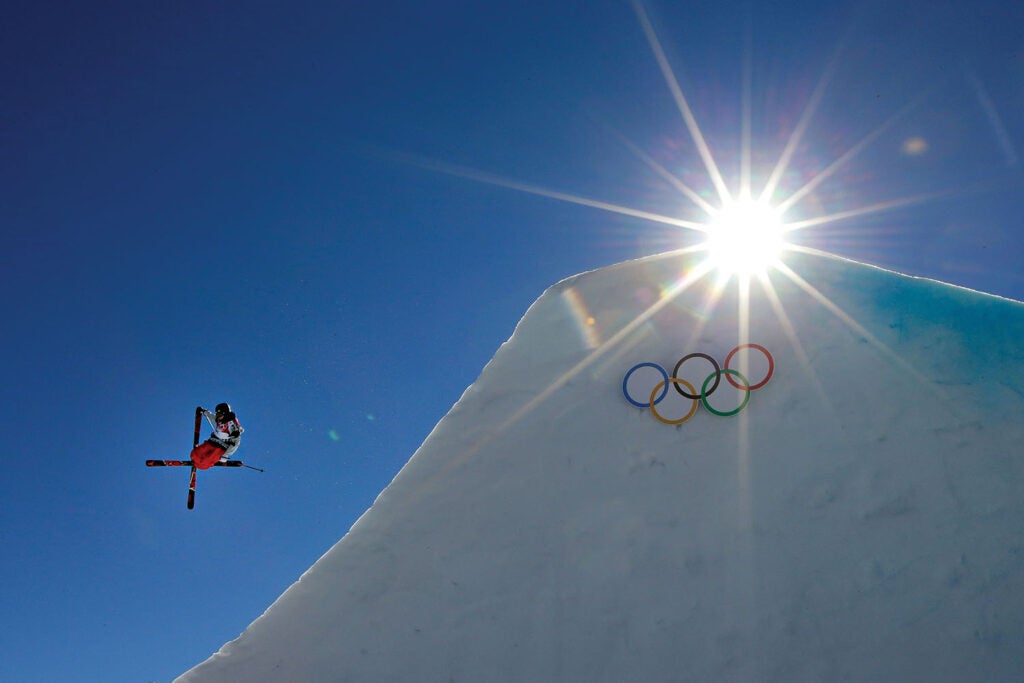 Freestyle Skiing – Winter Olympics Day 6
Gus Kenworthy of the U.S. competes in the Freestyle Skiing Men's Ski Slopestyle Finals at the 2014 Winter Olympics in Sochi, Russia. Canon EOS-1D X and EF 16–35mm f/2.8L II; 1/1600 sec at f/22, ISO 1600.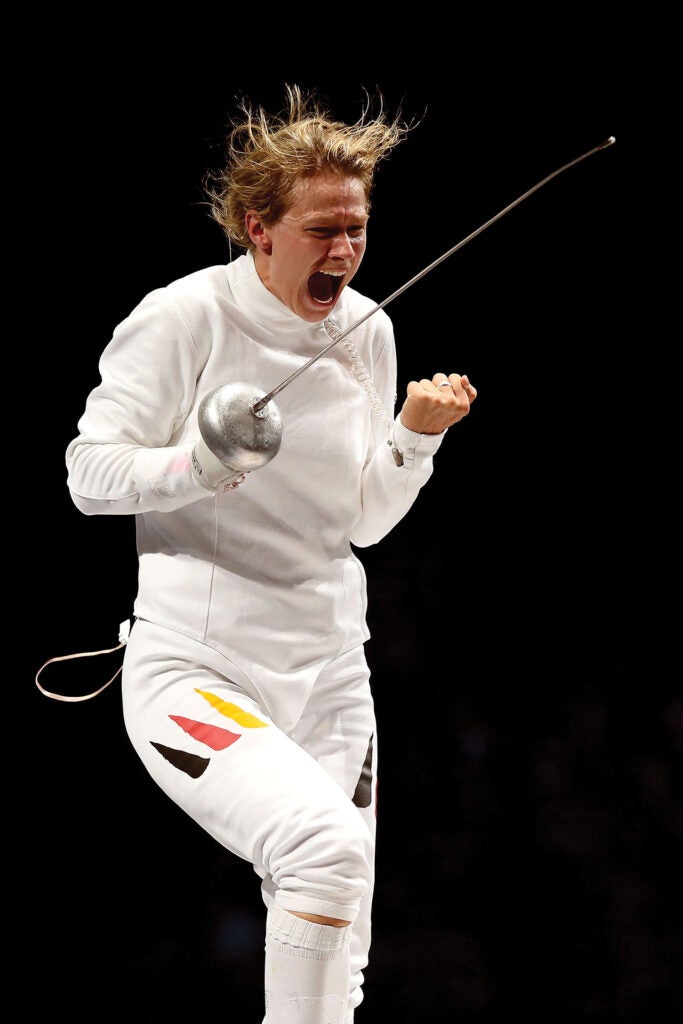 Olympics Day 3 – Fencing
Britta Heidemann of Germany in the women's fencing semifinals at the London games. 1D X with EF 400mm f/2.8L IS II; 1/2000 sec at f/3.5, 3200.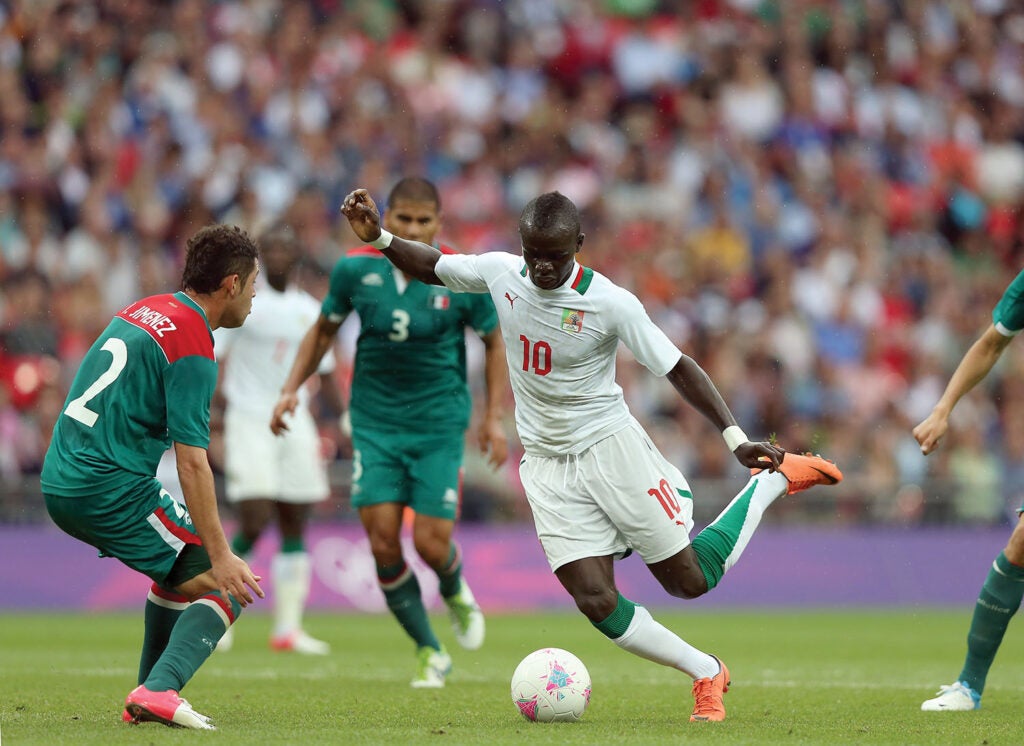 Olympics Day 8 – Men's Football Q/F – Match 26 – Mexico v Senegal
Sadio Mane of Senegal tries to get past Israel Jimenez of Mexico in soccer quarterfinals in London. Same camera and lens; 1/1250 sec at f/3.2, ISO 1250.