Pentax K-3 Mark III camera review: A solid DSLR in a mirrorless world
The Pentax K-3 Mark III DSLR has almost everything you could want out of an APS-C DSLR. It faces stiff mirrorless competition, though.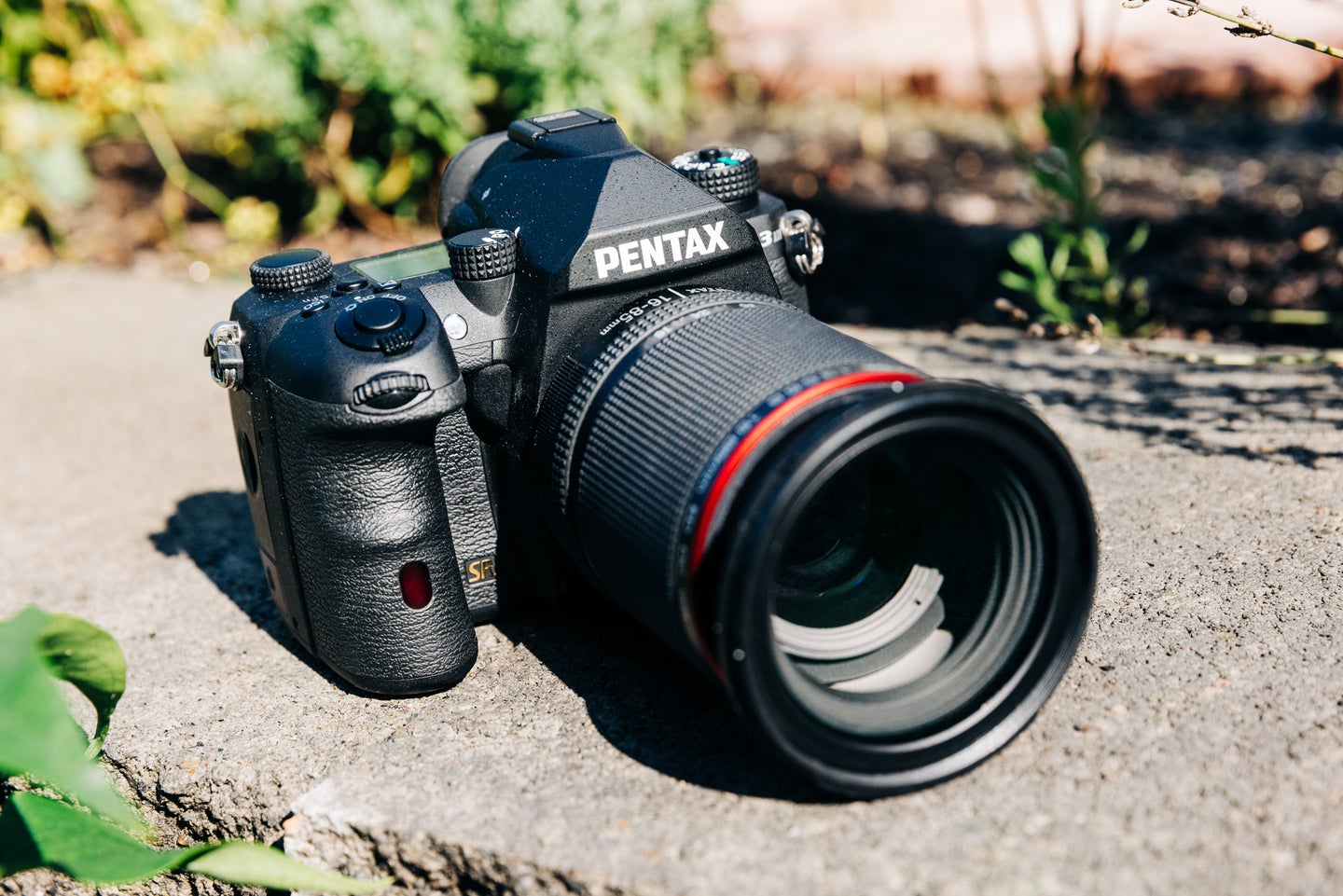 We may earn revenue from the products available on this page and participate in affiliate programs. Learn more ›
On the outside, the new Pentax K-3 Mark III DSLR looks extremely familiar. On the inside, however, this APS-C DSLR camera has undergone a total HGTV-grade makeover since its predecessor dropped roughly six years ago. With mirrorless cameras pulling away from DSLRs when it comes to popularity and hardware support, how does a new enthusiast-grade, mirror-toting camera measure up? Surprisingly well. 
What is the Pentax K-3 Mark III DSLR?
Pentax camera fans are a dedicated bunch. Pentax originally teased the K-3 Mark III's development literally years ago, but delays have pushed it up to this year. The line was once flush with different options representing granular market segments, but it has since shrunk, which puts a lot of the Pentax burden on this 1.8-pound camera body. 
The Pentax K-3 Mark III DSLR offers a 25.7-megapixel BSI sensor with 5-way stabilization. That feature is particularly notable here in the Pentax lineup because the lenses themselves don't offer optical IS. The shifting sensor does all the work in that regard. 
The AF system now covers more of the sensor than the Pentax K-3 Mark II did, and it's quite a bit faster to boot. The body offers Pentax's trademark weatherproofing and you can feel it when you pick it up. It's chunky and substantial. It feels good at the end of a long, heavy lens. 
Pentax K-3 Mark III DSLR layout and design
If you have been around cameras for a long time, you could probably recognize this as a Pentax DSLR without any of the branding. While the company has added plenty of new features, the layout should feel very familiar. 
The back of the camera has a five-button pad, as well as a nub for select AF points. It offers a familiar array of buttons, including conveniently placed AE- and AF-lock buttons. The 3.2-inch screen offers a solid 1.62-million dot resolution, but it doesn't tilt or rotate. The top of the camera includes a mode dial, a live view dial (which feels unnecessarily large for only offering three options, two control dials, and a lit display. 
Digging into the Autofocus system
If you're shooting on an old K-3 Mark II, the new AF system in the Mark III will feel like a revolution. The Mark III offers 101 selectable AF points spread across the frame. 
I tried the AF system with several lenses and it was speedy, responsive, and accurate. In short, it focuses where you point it. When DSLRs ruled the camera landscape, that was the highest praise an autofocus system can get. Now, however, it feels decidedly old school. Mirrorless cameras can lock onto a person's face or eye and track it with meticulous accuracy even when it's moving at high speeds. Keep your subject in the frame and the mirrorless camera will probably nail it. The Pentax will make you work a little more for it. 
Image stabilization
With its relatively small sensor, the Pentax K-3 Mark III DSLR offers impressive image stabilization. With a wide-angle lens, you can let your shutter speeds creep worryingly slow and still get a usable image. I don't have steady hands (thanks, nagging neck injury) but I managed a few sharp frames at 1/8th sec. and I imagine others could get even slower and still feel confident in their images. 
Image quality
The new 25.7-megapixel sensor inside the Pentax K-3 Mark III offers excellent image quality for its class. On paper, it can be a little tricky to get ahold of what it's trying to do. It boasts ISO speeds all the way up to 1.6 million, but even a high-end full-frame camera can't squeeze any reasonable image quality out of a setting that high. 
You can push the sensor harder than you might expect. While shooting at dusk, I could push all the way up around 6400 before things got too gnarly for my taste. You can even go higher if you plan to go to black-and-white where the noise can masquerade as grain. 
When it comes to overall image quality, I don't really have any complaints, but you also won't be blown away. Pentax has long held a reputation for solid reliability and that's exactly what this camera offers. 
Video capture
If you want the best performance out of the Pentax K-3 Mark III for shooting video, you'll want to stick to 1080p instead of jumping up to 4K. At 1080p, you can shoot 24, 30, or 60 fps using the whole width of the sensor. You can shoot 4K at 24 or 30 fps, but it crops into the sensor, which can be awkward depending on your lens selection. 
Overall video image quality is fairly standard. It offers pleasing colors and smooth footage, but video is clearly not the focus with this camera body. 
A DSLR in a mirrorless world
In the past year, the only DSLR I've spent any real time with is my Canon 1D X Mark II. I've used a ton of other cameras, but they have all been mirrorless. A lot has changed since the Pentax K-3 Mark II showed up back in 2015. 
Even looking at the K-3 Mark III's direct competition provides even more evidence of how much things have changed. Its closest real competition comes in the form of the Nikon D500, which debuted at CES back in 2016. 
In that comparison, the Pentax predictably wins on image quality and other features like memory card speeds. But, the Nikon still offers more total AF points (It has 153 to the Pentax's 101). The D500 also has a tilting screen, which really comes in handy in some situations. 
Who should buy the Pentax K-3 Mark III DSLR?
If you're a committed Pentax fan, then you're going to love this thing. It works seamlessly with all of your old lenses. The AF system is as good as anything Pentax has offered so far. The body is rugged, and the image quality is excellent well beyond the ISO range of the older model. 
If you're just looking to jump into the world of advanced cameras, however, the K-3 Mark III DSLR is a very hard sell. Modern mirrorless cameras offer features like face-detect focus tracking that the K-3 Mark III (or any DSLR) can touch. 
The K-3 Mark III is an even tougher sell because of its $2,000 price tag, which puts it in direct competition with really excellent cameras like the Sony A7 III and the even cheaper Fujifilm X-T4. 
I'm still glad the Pentax K-3 exists
Go scroll through the B&H reviews of the Pentax K-3 Mark III and you'll find at least two people who start their review with, "I've been shooting Pentax for forty years." Pentax cameras have some of the most dedicated photographer fans that you'll ever meet. And while so many camera lines and lens mounts have been relegated to the trash heap (or Facebook Marketplace), I give Pentax a lot of credit for keeping its DSLRs alive. 
It's not just lip service for fans, either. Pentax clearly put time and effort into making this a truly excellent camera. Picking it up may feel dated here in 2021, but it also feels old school. Choosing an AF points and deftly maneuvering your fingers across familiar controls is a really wonderful experience. 
If you're a hard-core Pentaxian, then this one is for you. And it's a good one.