| | | | | | |
| --- | --- | --- | --- | --- | --- |
| Best Travel Drone | | DJI Mini SE Drone | | Check Price | DJI's smallest drone doesn't require users to register with the FAA before flight—making it a great option for the aerial curious photographer or videographer. |
| Best Camera Strap | | PeakDesign Slide | | Check Price | An industry favorite, PeakDesign's Slide strap has a secure anchor system that makes it easy to move this strap between different gear setups. |
| Best Travel Tripod | | JOBY Gorilla Pod | | Check Price | Joby's GorillaPod has wrappable legs that make it easy to mount a light or camera to any surface—regardless of where your travels take you. |
Updated Jan 6, 2022 3:30 PM
Shopping for travel gifts for the traveling photographer has never felt more relevant. As travel restrictions have eased, photographers who crave new places to shoot feel reinvigorated.
Shopping for a travel-obsessed photographer this holiday season? There are plenty of gifts in this guide that we are sure will delight them—whether you are looking for a big-budget jaw-dropper (like a camera or a drone) or something with a more reasonable price point—we've got you covered. Read on to learn more about the gifts that we think the traveling photographer in your life will love.
Things to Consider Before Buying a Travel Gift for a Photographer
When shopping for a photographer who loves to travel the most important thing to consider is your budget. Camera gear tends to be expensive, and if you have the means to spend big this holiday season, that's great, but before you do so, it makes sense to do some research about what the photographer in your life might actually need.
Shopping for Enthusiasts
These days everyone has the opportunity to be a photographer. Almost everyone walks around with a highly-capable smartphone in their pocket, and if your friend or loved one has discovered the magic of photography through their phone, the holiday season might be a lovely time to help them upgrade their system. Same goes for anyone who is still shooting with an entry-level DSLR system. In the last few years mirrorless camera systems have gotten really good and come down a lot in price. A compact mirrorless camera like the Fujifilm X-E4 is an excellent starter mirrorless camera that any level of shooter can grow into. While a compact drone might be the perfect gift for a shooter with aerial aspirations.
Shopping for More Advanced Shooters
Does your loved one already have a decent camera set up for travel photography? A nice backpack for carrying their gear around or some premium accessories are sure to make them smile this holiday season. If you are shopping for a bag, consider the types of travel photography they love to capture. Someone who enjoys hiking in the mountains will need a different type of pack than an urban explorer. Is the photographer in your life someone who travels around with a lot of gear? A quality hard case might be just the thing for them.
Shopping on a Budget
If you are tight on money this year, fear not, there are plenty of useful gifts that the traveling photographer will love that won't break your budget. Consider a camera strap, an SD card, or even a lens pen for cleaning grime off of the front of their lenses.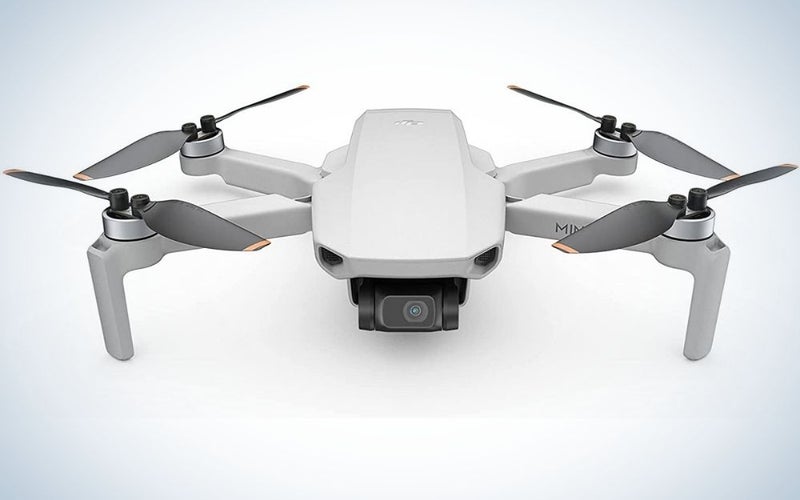 Why It Made The Cut: DJI's smallest drone doesn't require users to register with the FAA before flight—making it the best travel gift for the aerial curious photographer or videographer.
Specs
249 gram mini drone
2.7K camera
Up to 30 minutes of flight time
Pros
Lightweight enough that it doesn't require FAA registration
2.7K camera on a 3-axis gimbal
Up to 30 minutes of flight time.
Cons
No RAW image capture
No 4K video capability
The DJI Mini SE drone's biggest selling point is its extremely compact size. It only weighs 249 grams, meaning that users don't need to register the device with the FAA before they take flight. 
Despite its small size it has a 2.7K camera on a 3-axis gimbal for extremely stable footage and a max flight time of 30 minutes. Users can preview high-res footage from their smartphone. This is the best travel drone for first-time drone users, and because of its compact size, it's also easy to throw in a backpack and take a long on all of your travel adventures.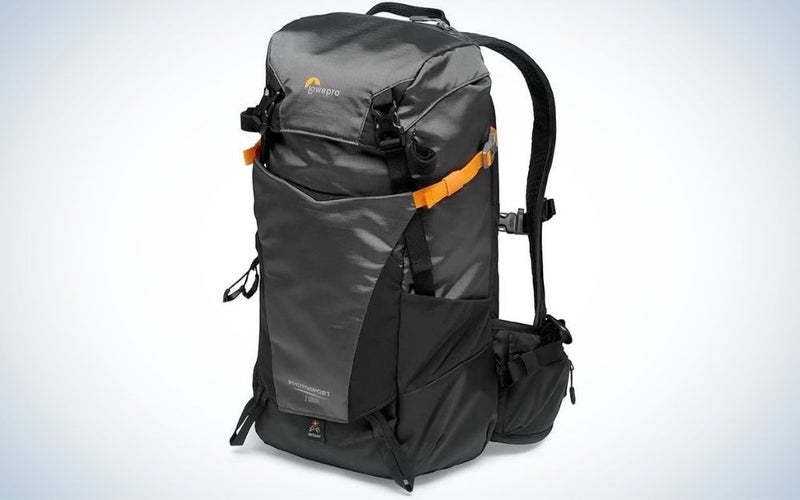 Why It Made The Cut: A lightweight, weather-resistant camera backpack designed for exploring the outdoors. This bag features a removable camera insert that is customizable to hold a variety of different types of gear.
Specs
Removable camera insert
Back and side access to camera gear
Can accommodate photo gear and hiking gear
Pros
Toploading compartment for hiking gear
Attachments for tripod and hiking poles
Customizable camera insert
Compatible with water reservoir
The LowePro PhotoSport backpack is our pick for the best travel gift for a photographer who loves to explore the great outdoors. This is the third iteration of the backpack designed with hikers and day trippers in mind. The top loading backpack features plenty of space for hiking gear and personal items in addition to the dedicated insert for camera equipment. Photographers can access gear through the back of the bag or through a side pocket. 
The bag is lightweight, is made of 75 percent recycled materials and features an ActiveZone harness system to help ensure that the weight of the pack is distributed evenly on your back.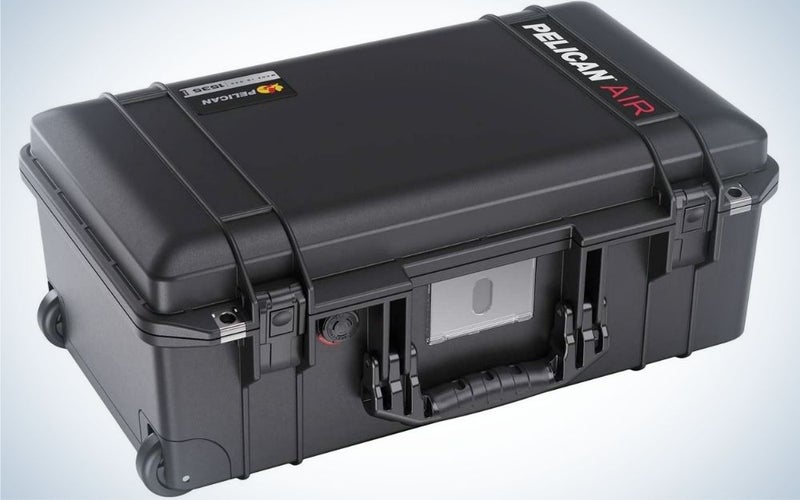 Why It Made The Cut: The Pelican Air 1535 hard case offers ultimate protection for your camera equipment while traveling.
Specs
Watertight, Crushproof and Dustproof
Padded with foam
Polyvinyl Chloride construction
Pros
Lockable TSA approved case
Trusted protection used by first responders, military and divers
40 percent lighter than other hard cases
Integrated wheels
Cons
No straps for carrying
If you are planning to travel with a bunch of camera gear and want the ultimate level of protection look no further than the Pelican Air case. 
The case is crushproof, dustproof and watertight, while being 40 percent lighter than traditional hard cases. The case comes with customizable foam to keep your gear safe and secure while in transit. It has integrated wheels so its easy to transport through airports or on public transit. Pelican is a trusted brand that has created hard cases for over 40 years and is used by first responders, military and divers to keep equipment secure making it the best travel gift for a photographer.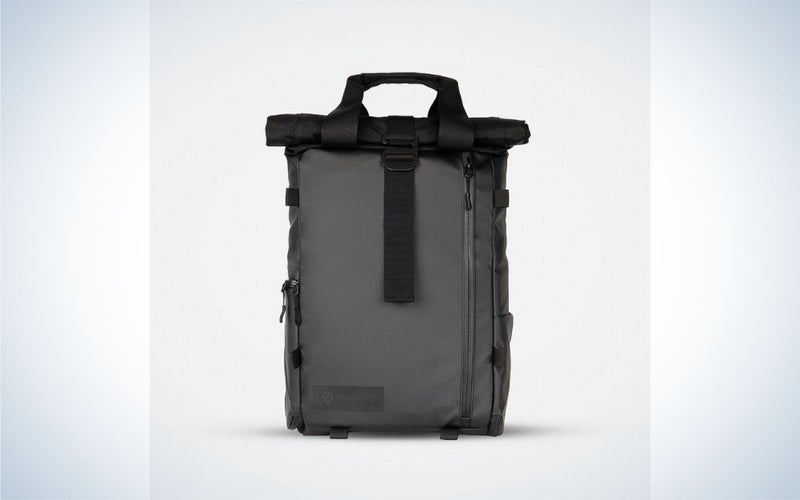 Why It Made The Cut: A comfortable carry-all bag that works nicely for mirrorless systems or a minimalistic full frame setup. A variety of pockets and a dedicated laptop sleeve make it easy to access your gear on the go.
Specs
11L – 16L capacity
Dedicated laptop sleeve
Built-in camera cube
Pros
Lightweight everyday camera backpack
Tons of pockets for organizing accessories and personal items
Waterproof exterior, no need for a rain fly
Cons
Holds minimal amounts of gear
The best camera backpack for everyday commuting or when traveling by plane. The original came in two sizes: 21L and 31L, but the newer Lite is specifically designed for a lower profile look and has a smaller 11-16L capacity. It has a built-in camera cube, a laptop sleeve, tons of pockets for personal items, and a roll top design that easily increases its carrying capacity. 
The backpack has three points of access: side pocket for quick camera access, a lay-flat clamshell opening (great for getting through security at airports) and the previously mentioned roll top. The PRVKE bag is made of durable water-resistant tarpaulin and nylon, so you don't have to worry about your bag of camera gear getting ruined if you get caught in some bad weather during your travels.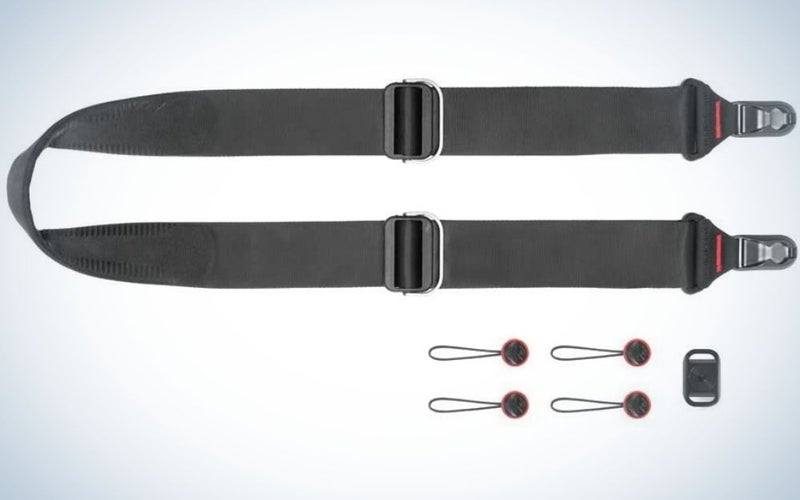 Why It Made The Cut: An industry favorite, PeakDesign's Slide strap has a secure anchor system that makes it easy to move this strap between different gear setups.
Specs
Padded Nylon Webbing
PeakDesign Anchor System
Dual Quick Adjusters
Pros
Attractive, understated look
Anchor system is easy to attach to a variety of camera bodies
Comfortable padded strap
Easy and quick to adjust
Cons
As the best camera strap, the PeakDesign Slide is an industry favorite. It's made of padded nylon webbing, has a minimalist design, and can be used as a sling, a neck strap, or a shoulder strap. PeakDesign's unique anchors and quick-pull handles make it incredibly fast to get this strap attached to your camera so you can start shooting. 
Our favorite part? Those handy anchors can be attached to any camera body so you can purchase an extra pack and move the strap between multiple camera bodies without much fuss.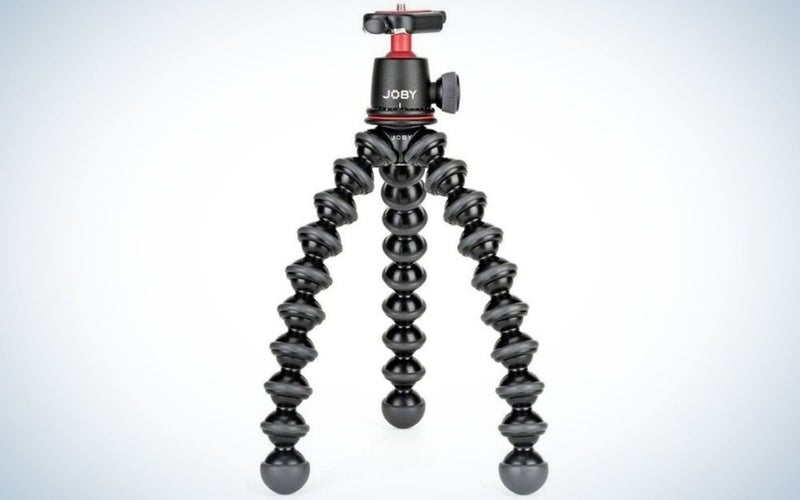 Why It Made The Cut: Joby's GorillaPod has wrappable legs that make it easy to mount a light or camera to any surface—regardless of where your travels take you.
Specs
Wrappable legs
2.36 x 2.56 x 12.01 inches tripod
360 degree pan head, 90 degree tilt
Pros
Extremely compact size
Unique legs can be wrapped around anything
Good for lights, mics or mirrorless cameras
Cons
Not suitable for full frame cameras
Joby's GorillaPod is one of the best tripods for travel and adventure. The tripod has a unique design with flexible legs that can be wrapped around nearly anything for stable shooting and interesting angles.
The tripod features a 360-degree panning bed, 90 degrees of tilt, and has a bubble level to keep your horizon lines straight while shooting. The GorillaPod is made of ABS plastic, aluminum, stainless steel, and TPE and only weighs 0.86lbs—making it easy to pack alongside your camera equipment on your next trip or the best travel gift for your favorite photographer.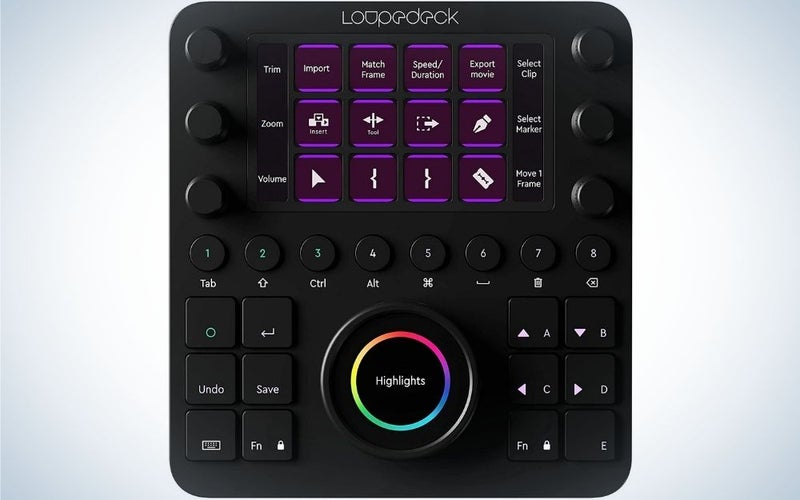 Why It Made The Cut: This customizable editing console works with a variety of photo editing software and can help prevent repetitive stress injuries caused by using a mouse or trackpad.
Specs
Customizable console
5.91 x 6.3 x 1.18 inches
Works with variety of editing programs
Pros
Works with a wide variety of creative software programs
Can be customized to fit your needs
Ergonomically friendly
Cons
Expensive
Comes with a learning curve
Having an excellent camera to capture your adventures while traveling is really only the first step. A lot of the magic of photography happens in the edit room. The Loupedeck Creative Tool is a customizable console aimed at improving your efficiency while editing. 
It can be used to edit photos, videos, and even audio; works with a number of Adobe programs; and even Capture One. Functions can be customized based on your specific workflow and it's a lot more ergonomically friendly than using a mouse or a trackpad for long periods of time. It has a relatively small footprint as well, making it easy to pack along on your adventures.
Why It Made The Cut: Sony's unique monolithic ribless SD cards are some of the most durable on the market, offering additional peace of mind when your photographing far from home.
Specs
Unique ribless, monolithic design
300 mb/s transfer speed, 299mb/s write speed
Dustproof and Waterproof
Pros
Waterproof, dustproof and 18 time stronger than standard SD card
Eliminates ribs and write-protection switch, which can break off in camera
300 mb/s transfer speed, 299 mb/s write speed
Excellent for 4K and burst shooting modes
Cons
Expensive compared to other memory cards
This is the world's first one-piece molded SD card—which makes the card more durable than traditional SD cards which feature tiny ribs that have been known to break off inside of cameras and wreak havoc on the precious files that are stored inside. They also happen to have an IPX8 waterproof rating, are dustproof and have fast enough read and write speeds that they can handle 4K video shooting and burst mode.
When you are making photographs far away from home having cards you can rely on becomes extremely important, and so far Sony's Tough cards haven't let us down. But make sure you are double backing up anyway, just in case. 
Final Thoughts
Finding the perfect gift for the travel-obsessed photographer should be a breeze. We hope this guide can give you some ideas about what different types of travelling photographers might appreciate this holiday season. A gift that helps them stay organized and working efficiently while they're on the road is a good choice in our eyes.
Methodology
We selected the products in this gift guide through a combination of features. It was important to include a wide variety of types of products such as cameras, bags, editing tools, as well as camera accessories like tripods, SD cards and camera straps.
We selected the items that are contained within this gift guide based on our personal experience using them, a mixture of price points and tools that traveling photographers have vouched for as being helpful when they are on the road.