| | | | | | |
| --- | --- | --- | --- | --- | --- |
| Best 85mm G Master lens | | Sony FE 85mm f/1.4 GM Lens | | Check Price | The classic focal length for portraits. |
| Best 135mm G Master lens | | Sony FE 135mm F1.8 G Master Telephoto Prime Lens | | Check Price | A sharp and fast telephoto lens. |
| Best budget prime lens | | Tamron 35mm f/2.8 Di III | | Check Price | A fast wide-angle ideal for street portraits. |
We may earn revenue from the products available on this page and participate in affiliate programs.
Updated Apr 18, 2022 10:29 PM
Portrait photography requires serious skill. You need to establish a relationship with your subject, choose the most flattering light, and nail that perfect eye focus. Choose the wrong lens, though, and none of that matters. If you're seeking the best Sony lens for portraits, it's easy to hone in on the G Master glass. It's undeniably beautiful, but it's also big and expensive. 
Third party lenses (lenses that are created by companies that aren't Sony) can help you save money, but they may not be able to utilize your Sony camera's image stabilization and autofocus capabilities in the same way that a lens made by Sony will. A little bit of research will go a long way in getting you the right camera gear for your style.
The best Sony lens will help elevate your portrait photography
When selecting a Sony lens for shooting portrait photos the first decision you'll make is between a fixed-focal length lens or a zoom lens. Fixed-focal length lenses (also known as prime lenses) typically offer wider apertures than zoom lenses, making them a great choice for shooting in low light. That feature also allows shooters to create portrait photographs that are extremely sharp on the subject with a lovely defocused background.
Prime lenses come in a variety of focal lengths, but the 85mm is the most classic portrait option. A lens with this focal length allows the photographer to be farther from their subject and capture a headshot style portrait or a full body portrait without adding distortion to the image. It's popular with portrait photographers because of its flattering perspective.
Some shooters prefer shorter lenses in the 50mm or 35mm range. These focal lengths are a great option for capturing environmental portrait photos because of their slightly wider field of view. Most portrait photographers avoid going any wider, as a wider angle portrait will start to add distortion to the features of your portrait sitter.
A zoom lens is a more versatile option for shooting portraits. A 24-70mm lens or a longer telephoto lens are both handy tools to have in your kit. These lenses can be particularly useful when shooting portraits at an event. A long telephoto lens will provide the same flattering perspective as an 85mm prime, while a shorter 24-70mm lens can make it easier to flip between portraits and event details without having to carry a second Sony camera body.
Things to consider when shopping for a Sony portrait lens
When selecting a portrait lens for your Sony camera the most important distinction to understand is that Sony makes two different styles of lens mount. A mount lenses fit on Sony's now-discontinued A-series DSLRs, but they will also work on mirrorless cameras with one of Sony's adapters. E-mount lenses have a shorter flange distance, so they fit on Mirrorless cameras like the A6500 and the A7 series. It's important to know that not all E-mount lenses work with every E-mount camera. Some are designed for smaller APS-C cameras, which means they don't create an image big enough to cover a full-frame sensor.
Sony makes three different categories of lens: G lens, G Master lens and ZEISS lenses. G Master lenses are designed to offer ultimate resolution and beautiful bokeh, while the ZEISS lenses offer ultimate resolution and contrast. The line of ZEISS lenses were designed in collaboration with iconic lens maker ZEISS. The G and G Master series were designed exclusively by Sony. G Master lenses are some of the most precise lenses you can shoot with, but they tend to be a lot more expensive than the G lenses that Sony makes.
If you want to take full advantage of your Sony camera's precise autofocus capabilities and image stabilization tech, it makes the most sense to stick with Sony branded lenses. In recent years though companies like Tamron and Sigma have started making lenses specifically designed for Sony E mount camera bodies. Picking up a lens from one of these third party makers can be a great way to save some money if you are just starting to build your camera collection.
An 85mm prime is generally regarded as the best lens for shooting portraits because of how it flatters your subjects. This Sony G Master lens was designed to offer ultimate resolution and beautiful bokeh. It has a fast maximum aperture of f/1.4, one XA element, three ED elements and a Nono AR coating, plus it's dust and moisture resistant. The 11 blade circular aperture found inside the lens will help you create portrait photos with tack sharp subjects and beautiful defocused backgrounds.
Think of the 135mm G Master lens as the older sibling of the 85mm G Master. Telephoto primes are great for shooting portraits because of the flattering perspective that flattens everything out. This G Master lens is known for its extraordinary sharpness and the 11 blade circular aperture will give you beautiful bokeh, especially if you are shooting wide open at f/1.8. The lens is made up of XA, Super ED and ED elements for high-resolution images edge to edge and has four XD linear motors so autofocus is speedy, quiet, and incredibly precise. The extra length makes it handy for things like wedding ceremonies where you can't get as close, or portraits in busy settings where you want to cut through distracting elements in the foreground.
Although telephoto primes are typically the gold standard for professional portrait shooters, a fast-aperture zoom is a versatile lens that is a great option for shooting portraits on the go. This 24-70mm has a constant aperture of f/2.8, a 9 blade circular aperture for beautiful bokeh and two aspherical elements to reduce aberration in images. The wider field of view makes this zoom lens an excellent choice for shooting portraits at events or on the street, but also a solid option for environmental portraits.
Best Budget Sony Zoom lens for portraits: 18-105mm F4 G OSS
If a Sony G Master lens is outside of your budget, consider checking out the G lenses. This 18-105mm lens has an F/4 aperture, which brings the price down by about a thousand dollars. For shooting portraits you will probably want to stick to using the lens at 50mm and above, but having that extra focal length range makes this a great versatile option. The lens has 7 aperture blades, a minimum focusing distance of 1.48 ft (wide) and 3.12 ft (tele). This is an excellent option if you are just getting started with photography.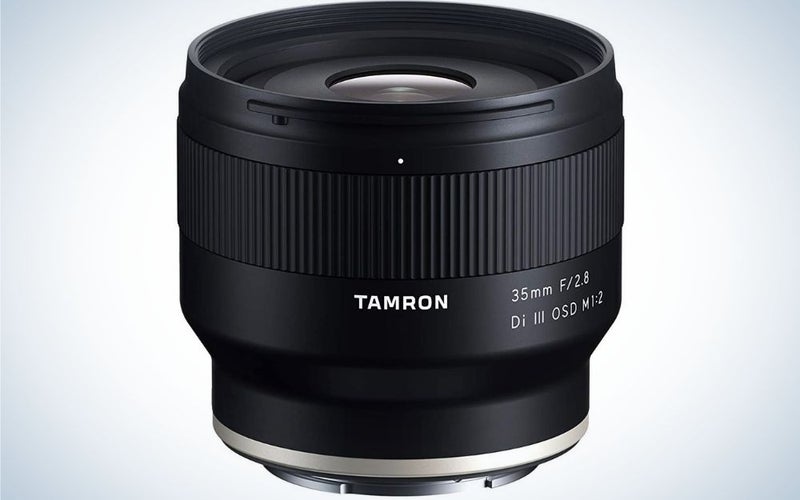 In recent years Tamron has been developing lenses specifically for Sony E mount cameras that leverage the unique tech that is found inside Sony cameras. Shooting portraits with a 35mm prime is an excellent tool for street portraits or environmental portraits—it's also a classic length favored by photojournalists. This f/2.8 lens has a close focusing distance of 5.9 inches, is made up of LD and GM lens elements to eliminate aberrations, and a dirt-resistant fluorine coating on the front element. It only weighs 7.4 ounces, so it won't weigh you down while you are shooting. It's also one of the cheapest lenses you can get for taking portraits on your Sony camera.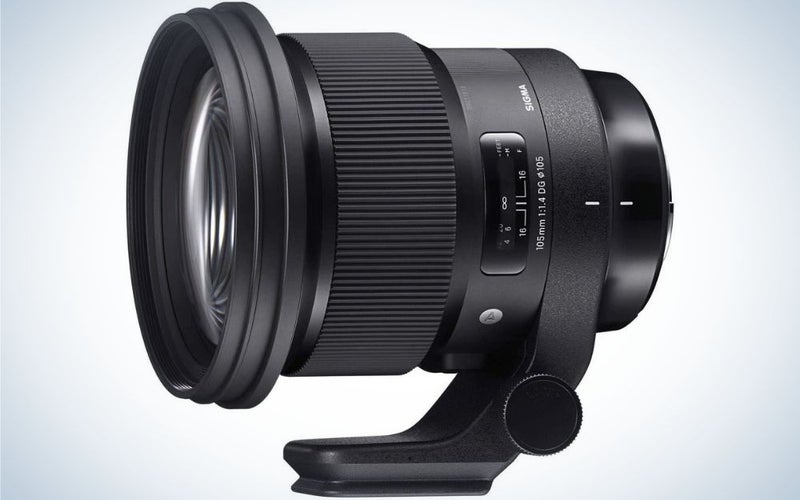 You don't typically see a super-wide f/1.4 aperture on a lens this long. The front element measures 105mm across, which makes this a huge chunk of glass. With all that bulk, however, you get a look that's unlike any other lens. Shoot wide open and it will create a super-narrow band of focus that can separate a subject off of a cluttered background. That wide aperture also lets in tons of light, which means it's great for low-light situations.
FAQs
Q: What Sony lens is the best for background blur?
Sony's line of G Master lenses were designed to create images with beautiful bokeh, also known as background blur. These lenses tend to be the most expensive for Sony cameras, but are an excellent option for portrait shooters looking for defocused backgrounds and tack sharp subjects. The new Sony GM 50mm f/1.2 opens super wide, so it's great for blur. The 85mm f/1.4 is also excellent.
Q: Do all Sony lenses fit all Sony cameras?
Sony makes two different styles of lens, the A mount lens and the E mount lens. A mount lenses can be used on E-mount bodies with an adapter. E-mount lenses can't be used on A mount bodies. Some E-mount lenses are meant for smaller APS-C sensors, so if you're buying for a full-frame camera, make sure you're getting the right glass. Look for Sony FE lenses if you want full-frame coverage.
Q: What is the difference between Sony lens E mount and FE?
E-mount lenses and FE lenses will both work with E mount cameras. The FE lenses are designed to work specifically with Sony's full-frame cameras, while E mount was designed for Sony's APS-C sensor cameras.  
Final thoughts about Sony portrait lenses
Fast aperture prime lenses and zoom lenses can both be excellent options when shooting flattering portraits with a Sony camera. Ultimately the right portrait lens is different for every shooter and you should consider your budget and what else you might be using it for when selecting the right lens for you. An 85mm or 135mm prime lens is an excellent option for shooting beautiful portraits with your Sony camera, but might not be as versatile as a zoom lens. If you are tight on money or just starting out consider a prime lens from a third party company like Tamron, or the less expensive Sony G lenses. If you've been shooting for a while and looking to splurge a fancy G Master prime lens is a great piece of glass to add to your collection.