| | | | | | |
| --- | --- | --- | --- | --- | --- |
| Best small desktop computer | | Apple M1 Mac mini | | SEE IT | The Mac mini is perfect for anyone looking for a small yet powerful desktop computer. |
| Best computer for video editing | | Apple 24-inch iMac | | SEE IT | This is the best all-in-one desktop computer for casual video editors and content creators. |
| Best budget desktop computer | | HP Slim Desktop | | SEE IT | The HP Slim Desktop is as budget-friendly as it gets, but that doesn't mean you'll be disappointed. |
We may earn revenue from the products available on this page and participate in affiliate programs. Learn more ›
Written By
Stephanie Barnes
Updated Apr 27, 2023 10:15 AM
Laptops and tablets have gotten more convenient and powerful over the years, but there are still plenty of great reasons to opt for a desktop computer instead. For one thing, in most cases, you're likely to get a better-performing desktop machine for a lot less than you'd pay for a laptop with the same specs. Taking the desktop computer route also gives you the option of going as big as you'd like with your monitor size—which is better when it comes to editing photos, videos, or even just enjoying your favorite series on Netflix.
Considering the many choices available today, purchasing the best desktop computer could start to feel overwhelming. Fortunately, we're here to make your selection process a little easier. Whether you're looking for a powerhouse gaming machine or an all-in-one productivity center, you're sure to find the best option to suit your needs.
The best desktop computers: Reviews & Recommendations
Apple's M1 Mac mini is tiny but powerful—and it will make a great addition to your setup, especially if you're tight on space. Despite its form, the mini can match or outperform many larger desktop towers with similar or even better specs.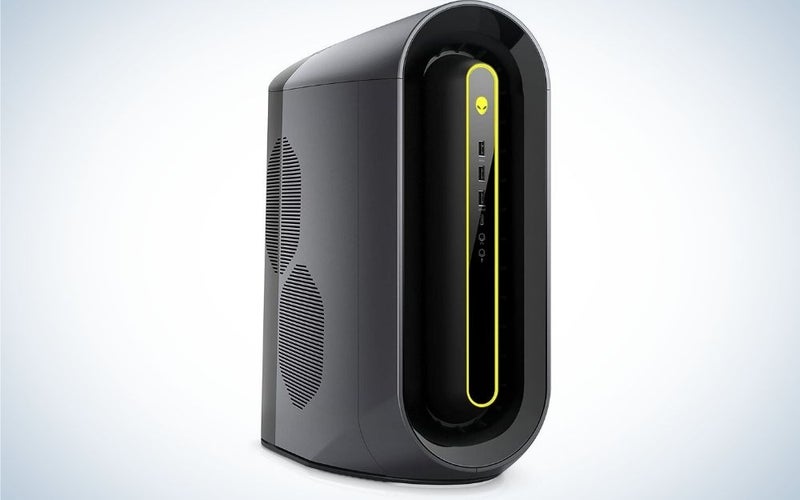 The Aurora Ryzen Edition R10 offers beefy specs, including a 16-core AMD Ryzen 7 3700X processor running at 3.6GHz and an AMD Radeon RX5700 with 8GB of dedicated video memory, along with a host of ports for all your devices. Plus, it comes at a price that's more affordable than most.
The 24-inch M1 iMac offers impressive performance in a gorgeous all-in-one, colorful form factor. The iMac will absolutely do a good job at handling video editing—even some intense video editing—but you could run into limitations in the future.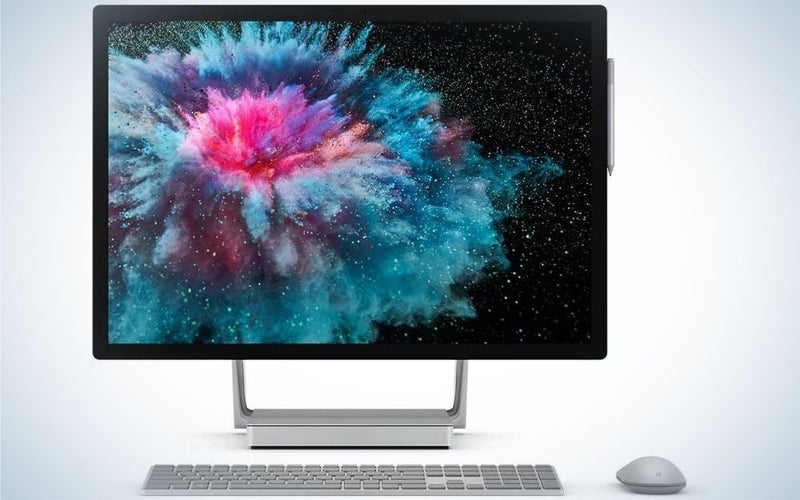 Microsoft's Surface Studio 2 makes editing photos and creating illustrations easier than ever with its swivel touchscreen display and included Microsoft Surface Pen. The all-in-one design makes for a solid addition to any workspace. Sure, the CPU could pack a bigger punch, but you may not end up noticing because it's still plenty snappy.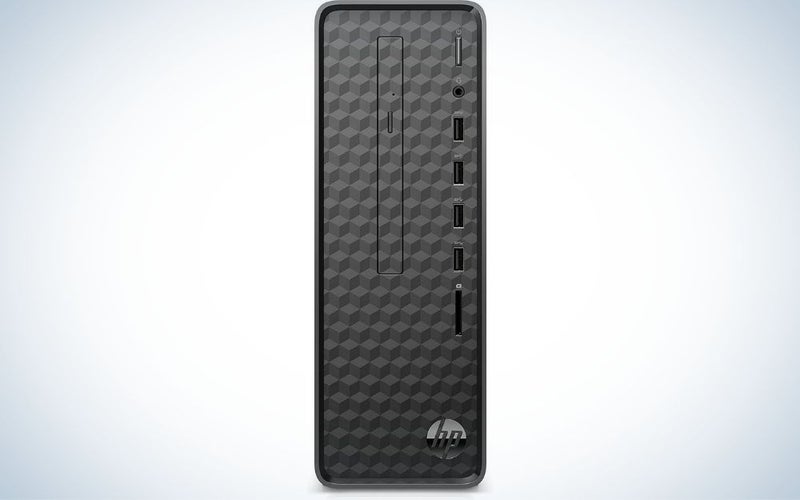 HP's Slim Desktop is one of the best budget desktop computers on the market  with its small and stylish design, and its entry-level specs. This machine could be great for the kids to use or as a family desktop that sits in the middle of your home. Either way, you'll have more than enough power to handle basic tasks. It will struggle with heavy programs like Adobe Lightroom or Photoshop, however, so it's better suited for lighter apps.
Things to consider when shopping for the best desktop computers
When it comes to finding the best desktop computer for your work or lifestyle, there are a few things to consider before pulling out your wallet. First of all, think about which operating system will work best for you. Many people choose to go with a Windows computer, but there are also folks who prefer Apple's macOS. 
After you've decided on your OS,  consider what you'll end up using the computer for most. Are you a gamer? If so, you'll want to purchase a desktop with a good graphics card to make sure you're getting the best gaming experience. Editing software like Adobe Lightroom can also use that GPU to help it run faster. 
You'll also want to make sure you have enough ports for all your peripherals and that your machine has a proper cooling system. Are you someone who edits a lot of photos or videos? In this case, you'll want to get the best processor you can afford and then consider bumping up your memory, aka RAM, if possible. As a photo or video editor, you'll no doubt be spending a lot of time staring at your screen, so make sure to choose a machine with a higher-resolution display.
Now, let's talk about design. Do you want a tower system, or do you prefer the look of an all-in-one design? Picking an all-in-one leaves you stuck with the provided screen while going with a tower gives you the freedom to choose your own. However, most all-in-ones do come with a pretty good screen, and adding a separate monitor of the same caliber may get expensive.  If you're tight on space, you may also opt for a mini machine.
Another thing to consider when choosing the best desktop computer is whether you'll want or need to upgrade in the future. One of the reasons many people choose a desktop is the ability to easily swap out and upgrade older parts, but this is only available on tower-style models. 
As for storage, it's recommended to get at least 512GB, so you'll have some room to keep your files or downloads. That said, you always purchase an external storage device. Storage is usually a good place to save a few dollars if you really don't need to keep a ton of files on your machine.
Now, let's check out some of the best desktop computers money can buy.
Are you tight on space? Consider going mini
Apple's Mac mini is by far one of the best small desktop computers available, and it'll be the perfect addition to your workstation if you're tight on space. The mini is sized at just 1.4 by 7.7 by 7.7 inches (3.6 by 19.7 by 19.7cm) and weighs around 2.6 pounds. Its size coupled with the fact that it's loaded with Apple's own eight-core M1 processor truly makes it a small—but mighty—machine. 
The mini will fit neatly on top of your desk or it can be mounted underneath, which leaves room for the monitor, keyboard, and mouse you'll need to purchase to go along with it. Meeting your day-to-day browsing, entertainment, and productivity needs will be a breeze for the mini but it also has the capability to run more processor-heavy tasks, including coding and video editing. Going with the M1-powered Mac mini also means you'll be able to run your usual Mac apps along with apps that were originally designed for the iPhone and iPad.
Looking for the best computer for your gaming set-up?
Whether you opt to build and customize your own or buy one off the shelf, you'll probably end up spending quite a bit if you want one of the best gaming desktop computers on the market. Once you've accepted that very real fact, you should take a look at Alienware's Aurora Ryzen Edition R10. 
Over the years, the Dell-owned Alienware has become renowned for its high-end gaming desktops and the Aurora Ryzen Edition R10 is no different. This tower runs Windows and comes with a 16-core AMD Ryzen 7 3700X processor running at 3.6GHz, 8GB RAM, and it offers plenty of storage with its 512GB SSD+1TB Hard Drive combo. On the graphics side of things, the Aurora R10 will bring you an AMD Radeon RX5700 with 8GB of dedicated video memory. The tower is also pretty customizable, so you'll be able to swap out different components in order to keep your machine running the latest and greatest games.
As mentioned, peripherals can make or break your gaming experience, but you won't have to worry about not being able to plug in your favorite accessory here. The Aurora R10 offers more ports than you'll likely need, including a total of 13 USB-A ports, two USB-C ports, three DisplayPorts, and a headphone jack.
Take your video content to the next level!
Over the years, Apple's computers have become super popular with creatives, including video editors, photographers, and anyone else looking to make great content. So, it should be no surprise that the recently released 24-inch M1 iMac comes in as one of the best all-in-one desktop computers for video editing right now.
Here's the breakdown: Picking up the iMac gets you Apple's 8-core M1 CPU, 7-core or 8-core M1 GPU, 8 or 16GB of RAM, and up to 2TB SSD—all housed in an incredibly slim design. The new chip makes the 24-inch iMac fast and efficient at handling a lot of power-hunger tasks, including video editing. It comes in seven colorways, making it one of the most eye-catching desktops available. All this power is paired with a gorgeous 24-inch Retina Display, boasting a striking 4.5K (4480 x 2520) resolution and 500-nit brightness.
There is a slight drawback with this recommendation, though. If you're someone who edits really huge, high-res video files then you may want to wait for the updated version of the 27-inch iMac. While the 24-inch iMac does an impressive job handling video editing tasks, it doesn't offer more than 16GB of RAM, which makes it less future-proof. This might not be an issue for you now, but as image and video resolutions get better (and bigger), you might need more power to get the job done. You could also consider the current 27-inch iMac with beefed up specs, but you do have to keep in mind that this machine still has an Intel chip instead of Apple's own silicon.
The 24-inch M1 iMac is a great computer for most folks looking to edit video and create content. However, if you are a "pro" user with an intense workload, consider waiting for the updated 27-inch model.
What about editing photos?
The Microsoft Surface Studio 2 is perfect for anyone who loves the look of an all-in-one desktop but prefers to edit their photos or videos in a Windows environment. One advantage over the 24-inch iMac is the Surface Studio 2's bigger 28-inch screen with a pixel display of 4500×3000, which offers more space to view and tweak photos to perfection. The screen can also be moved and adjusted from an upright vertical position or be laid flat, allowing you to mimic working on a tablet. This new position gives you total freedom to edit and work on your creative projects via the touchscreen or the included Microsoft Surface Pen.
This dream machine is powered by an Intel Core i7 Kaby Lake CPU alongside the NVIDIA GeForce GTX1080i, which both offer impressive results despite not being the latest and greatest. However, what the Studio 2 lacks in heavy-duty performance, it makes up for with its uniquely elegant design and gorgeous touchscreen, true-to-life color display.
The one major downside here is the hefty price tag, but if you can swing it you won't regret it.
Best budget desktop computer: What you get for under $400
While a fancy computer makes life simpler and easier, it can also require some serious investment. Luckily, there are some value models on the market that can handle the rigors of photo editing if you're willing to have a little patience. When looking for a budget solution, don't pay extra for a ton of built-in storage because you can often get cheap external storage for keeping your photo catalog. Lots of RAM will come in handy, but you can also upgrade that later most of the time. Processor and GPU, however, are harder to switch out.
FAQs
Q: What are the disadvantages of a desktop computer?
The main disadvantage of a desktop computer is the lack of portability. Sure, you can technically pack it up and move it from one room to another, but you'll have to disassemble then reassemble and make sure there's a functional power outlet nearby. And when it comes to long distance travel, things will only get more complicated with packing and proper protection.
Q: What should I look for when buying a new desktop computer?
What you end up looking for when buying a new desktop computer depends on what you want from your machine. But, in general, look for a form factor you love that fits into your space while offering solid processor speeds, enough RAM and storage, and an operating system that you're comfortable using.  It's also important to make sure all those details align with  your budget. .
Q: Do desktops last longer than laptops?
Yes, desktops do often end up lasting longer than laptops. But this has less to do with the quality of the components used and more to do with the fact that laptops are portable. This portability makes them more susceptible to accidental drops and spills. It's also a lot easier for a laptop to overheat, which can end up damaging internal components. Also, laptops aren't very repairable or upgradeable, which means if one component dies or goes woefully out of date, you may have to replace the whole machine instead of just part. 
A final word on choosing the best desktop computers
The fact is, many of the best desktop computers are expensive. But you truly do get what you pay for, and these machines are created to last  for many years to come. If you do decide to purchase one of these desktops, make sure the specs you're paying for are enough to suit your needs, especially if you're going with one of the less customizable models. 
Whether you're looking for the best video editing desktop computer or the best gaming computer, a good rule to thumb is to always buy the best processor you can afford at the moment and consider upgrading RAM yourself, if possible. If you can't add RAM later, then 16GB should be more than enough to meet your needs. When it comes to storage, a 512GB SSD is a good starting point if you have a lot of files.  However, you can always opt for an external storage device or even cloud storage to save a little cash.
Why trust us
PopPhoto has a long history of delivering the opinions of some of the sharpest and most prolific camera dorks the world has to offer. Since 1937, we've been reviewing cameras, providing wisdom from well-known photographers, and generally just nerding out about all that goes into making great pictures. Our current crop of writers and editors have decades of professional photography and camera writing experience among them. Collectively, we've probably shot with just about every camera and lens combo you can imagine—as well as some obscure stuff you may not even know about. Remember the Casio Tryx folding camera? PopPhoto does.
We also get that buying a camera is a big decision, which is why we're dedicated to helping folks choose the right one (or, in our case "ones") for their needs. Case in point: Handing over top dollar for an expensive rig may leave you unsatisfied if it doesn't fit your preferred shooting style. Sure, a $6,000 sports-oriented DSLR can capture landscapes, but do you really need to do it at 30 frames-per-second? No, you don't.