Updated Apr 9, 2022 11:39 AM
We may earn revenue from the products available on this page and participate in affiliate programs. Learn more ›
A solid 4K projector can provide a better-than-the-theater quality experience in just about any space you can imagine. Projectors take up less space than an extra-large television, with screens that can easily tuck away. And, you can bring them outside for fun backyard movie nights. Though they come at a high price, the best 4K projectors offer exceptional image quality and tons of useful features, making it easy to stream your favorite movies and shows and even play games.
Here are our picks for the best 4K projectors in 2023:
Things to consider when shopping for the best 4K projector
Finding the best projector for your situation can be tricky, given all the technical jargon used in projector marketing. We've outlined some of the more essential terms and specs to pay attention to below to simplify and demystify the process. 
Lumens
Lumens is one of the more important specs to pay attention to on projectors. Lumens refer to how much light a projector can put out or how bright and large the image will be. While your instinct may be that you need the most lumens possible for the highest quality, that isn't necessarily the case. 
Consider the environment in which you plan to watch your content. For example, if you have a dedicated theater room that can achieve full darkness, you won't need as many lumens. On the other hand, if you plan on watching movies where you will have some ambient light, natural or artificial, you'll want a brighter projector so the image doesn't get washed out. 
Unfortunately, different manufacturers measure lumens differently, so it can be hard to compare. To complicate things more, some will list lumens as ANSI lumens, which are considered more accurate due to the standardized requirements for measurement, but you can use that to help your decision. In general, if the lumens of two projectors are 1,000 and 2,000, you can assume the latter is, in fact, brighter. But, if the difference is between 1,800 and 2,000, there may not be any discernible difference, and you should consider other specs to make the decision. You may notice that ANSI brightness ratings are considerably lower than non-ANSI ratings, but they still may output the same brightness. 
Imaging chips
s to produce the image in projectors. There are three main choices for imaging chips: DLP, LCD, and LCoS. DLP (Digital Light Processing) chips are found in projectors across price points and offer average contrast and color. LCD (Liquid Crystal on Silicon) chips are also found across price points and provide better color though slightly worse contrast than DLP. Finally, LCoS chips are used in mid to higher-end models because they typically deliver better contrast and contrast, resulting in the best image quality.
Light source
There are three different options for light sources in projectors as well: Lasers, LEDs, and Ultra High Pressure (UHP) lamps. UHP lamps are basically high-powered light bulbs and produce the most light at the lowest cost. Unfortunately, they also create a lot of heat, requiring a fan to cool the unit. The need for a fan results in larger units, which may not be ideal for some people since it creates ambient heat and noise. And, the bulb will eventually burn out–though that will take years–with slightly degrading brightness each time you use it.
LEDs and lasers are the newer technology in projectors and are much more efficient. They last much longer than lamps–20,000 to 30,000 hours instead of the 2,000 to 3,000 hours of lamp projectors. They don't produce as much heat either, so you won't have as much added noise of a fan running. LEDs and lasers also start up instantly and don't need to warm up like lamp-based projectors. The downside is that LED and laser projectors are more expensive, so it is a trade-off.
Setup
The last thing to consider is the type of room you intend to use the projector in and how you want to set it up. If you have a small room, you will need to look at a short-throw projector, meaning it can generate a large image even when up close to the surface onto which it's projected. On the other hand, you will need a long-throw if you want the projector at the back of a large room. 
Some projectors need to sit on a surface, whereas mount to the ceiling. Also, some have built-in lens shifting to move the image up and down, the ability to zoom in or out, or keystone correction to create a perfectly rectangular image. Depending on how and where you have your projector set up, some of these features may be helpful. Because we're talking about high-end 4K projectors, you're likely to find almost all of these in every model on the list. 
Why it made the cut: The Optoma UHZ50 is an excellent all-around projector, great for movie nights or gaming with a 3,000 lumen brightness rating and an impressive 2,000,000:1 contrast ratio for pop.
Key features
Chip type: DLP
Lumens: 3,000 lumens
Dimensions: 13.3 x 4.8 x 10.4 inches
Pros
Quiet
Great colors
Easy to set up
High contrast ratio for rich blacks
Cons
Limited zoom and lens shift options
Though Optoma markets its UHZ50 as a gaming projector, it is an impressive all-arounder. It is a laser projector, meaning that it uses less power and produces less heat than lamp versions, so the sound doesn't have to compete with excessive fan noises. Its 3,000-lumen brightness rating makes it totally viable, even in rooms with ambient light. The 2,000,000:1 contrast ratio helps with this as well.
For gamers, the projector has Enhanced Gaming mode, which Optoma says has a low input lag of 16.7ms. It also has seven SDR picture modes to fine-tune your viewing experience. The colors of the UHZ50 are excellent, with accurate skin tones, and the 4K quality produces sharp, clear images. It's not cheap, but it's a tried-and-true option that can handle just about any content task you throw at it. If you're looking to replace your main TV, this is a great option.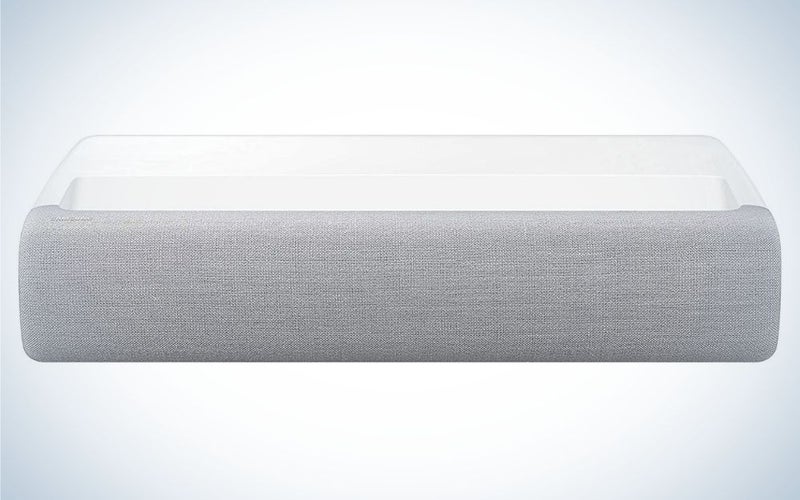 Why it made the cut: The Samsung Premiere is an attractive ultra-short-throw projector that can produce a large picture even when placed inches from a wall.
Key features
Chip type: DLP
Lumens: 2800 lumens
Dimensions: 21.7 x 5.0 x 14.4 inches (without feet)
Pros
Excellent built-in speakers
Ultra short-throw for small spaces
Sleek, attractive design
Built-in voice assistants
Cons
Samsung's Premier is a powerful, impressive projector in a sleek, attractive body. The glossy white design with gray fabric on the speakers and rounded corners will look at home in the most refined spaces. But the looks aren't the only impressive features. It boasts 2,800 lumens and a 2,000,000:1 contrast ratio. And it has an innovative triple laser design to improve colors. The image quality is excellent, with beautifully sharp 4K images.
Beyond image quality, the Premiere has possibly the best speakers you'll find built into a projector. The 40 watts of virtual 4.2-channel audio sound better than most TVs. The speaker uses Acoustic Beam technology to project the sound, filling a room nicely, especially during particularly bombastic action scenes. It also has a TV-style smart system with plenty of streaming apps right out of the box and voice control via Amazon Alexa and Samsung Bixby. It isn't a cheap projector but it is more affordable than buying a TV that would give you the same options.
Why it made the cut: Sony's VPL-VW325ES offers true 4K video with a resolution of 4,096×2,160 pixels and exceptional contrast for those wanting the very best image quality for their home theatre. 
Key features
Chip type: 3-Chip 0.74″ SXRD LCoS
Lumens: 1500 Lumen
Dimensions: 19.5 x 8.1 x 18.3 inches
Pros
Great image quality
Exceptional contrast
Extensive shift and zoom options
Cons
Pricey
Brightness could be better
If you want the highest quality projector for your home theater, and money is no object, the Sony VPL-VW325ES (catchy name, huh?) should be your top choice. It is one of the few true 4K projectors, meaning the native resolution is 4,096 x 2,160 pixels, and it doesn't rely on pixel-shifting technology like most 4K projectors. The result is a highly detailed, richly textured picture. It also has extensive shift and zoom options, so you can get the image aligned just right no matter where you have the projector setup.
Beyond the resolution, contrast is the other standout feature of this projector. It has three 4K SXRD liquid-crystal-on-silicon chips, which, according to reviewers, puts out more contrast than most other projectors–though Sony doesn't specify a contrast ratio. Images have more depth and look more realistic due to the added contrast. The brightness of the VPL-VW325ES isn't as high as other options, so you will want a light-controlled room for this option. There is also no built-in speaker, so you will need to invest in quality sound separately.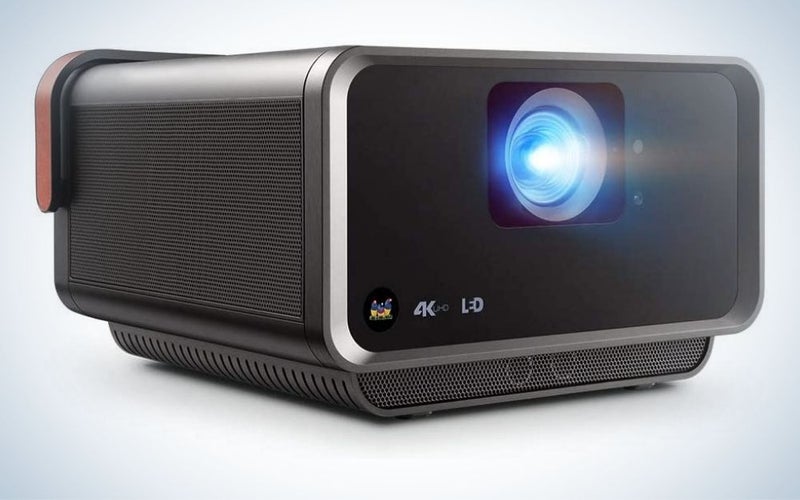 Why it made the cut: At nine pounds, the ViewSonic X10-4KE is a bit chunky to be highly portable, but the handle and built-in panel cover make it easier to take with you.
Key features
Chip type: DLP
Lumens: 2,400 lumens 
Dimensions: 6.5 x 10.3 x 10.7 inches
Pros
Great sound quality
Integrated streaming and smart home features
Built-in handle and panel to cover ports during transport
Cons
A little large for portable
Higher lag time isn't good for gaming
If you want to bring your projector to a friend's house or even just your backyard for movie night, the ViewSonic X10-4KE is a smaller, portable, short-throw projector that enables you to do so. Weighing nine pounds, it's no pico projector, but the handle and panel cover to protect the ports make it more transportable. Most portable projectors don't have 4K, so this is your best bet if you want high-quality and portability.
At 2,400 lumens the X10-4KE is bright enough to use with moderate ambient light. In addition, it has nice contrast and accurate colors, resulting in an overall quality image. However, it does have 76ms input lag, meaning it won't be ideal for gaming. It comes installed with Android OS, allowing you to download streaming apps and voice control via Alexa or Google Assistant. It is also beautifully designed and has two built-in Harman Kardon 8-watt speakers for quality sound, especially from such a small package.
Best on a budget and best for gamers: Optoma UHD38
Why it made the cut: The Optoma UHD38 is the best 4K projector you can get at this price. It's also ideal for gamers with its fast 240 Hz refresh rate.
Key features
Chip type: DLP
Lumens: 4,000 lumens
Dimensions: 4.65 x 12.4 x 10.63 inches
Pros
High refresh rate for little lag
Great contrast ratio and brightness
Affordable
Cons
Minimum throw distance is 6 feet
The Optoma UHD38 is an excellent all-around projector at a low price for 4K quality. The lamp light source produces 4,000 lumens, making it usable during the day without blackout curtains. The 1,000,000:1 contrast ratio translates into rich, contrasty images. It has two built-in 10W speakers for decent sound, though don't expect anything exceptional.
Besides being a great budget pick for streaming TV and movies, this is also the best choice for gamers. When playing a game that's natively 4K/60Hz, you get a 16ms response time, which, although it isn't groundbreaking, is faster than most TVs. However, if you lower the quality to 1080p/240Hz, the response time drops to 4.2ms. This is one of the fastest response times out there for a projector. The downside is that it is considered a long-throw projector with a minimum throw distance of  4 feet; you will need a decent-sized space for this one.
FAQs
Q: How much does a good 4K projector cost?
How much a good 4K projector costs depends on various factors. A few are available for around $1,500, but most will be closer to $2,500 or as high as $5,000.
Q: How important is ultra-short throw?
Ultra-short throw, or UST, is an important feature when you have a small space that doesn't allow for a projector to be five to six feet back from the screen. UST projectors will enable you to place the projector less than two feet from your wall or screen, in some cases as close as just a few inches. It is also ideal for situations where people or objects may pass in front of the projector, where they would typically obstruct the light.
Q: How many lumens should a projector have?
How many lumens a projector should have largely depends on your viewing conditions. If you can have a fully dark room for viewing, you could make do with as few as 1,500 lumens. But, if you have a room or situation with some ambient light, something around 2,500 to 3,000 lumens would be better to prevent the image from being washed out.
Methodology
The writers and editors at Pop Photo have decades of experience across the spectrum of photography and image-making and viewing. When choosing the best 4K projectors, we looked at essential specs such as brightness, contrast, and overall image quality. Refresh rate was also significant to allow for smooth playback. We also considered speaker quality and availability of features like steaming apps and voice control. Lastly, we tried to choose models from various brands that covered different price points and use types.
Final thoughts about the best 4K projector
4K projectors are an investment no matter which model you choose. But, the higher price gets you exceptional viewing quality for a truly immersive home theatre or gaming experience. The Optoma UHZ50 ticks some of the most important boxes with great brightness, contrast, and a fast refresh rate while being quiet during use and not being exorbitantly expensive.