| | | | | | |
| --- | --- | --- | --- | --- | --- |
| Best gaming projector | | Optoma UHD35 | | SEE IT | A fast refresh rate makes this ideal for gaming. |
| Best portable projector | | Anker Nebula Apollo | | SEE IT | A powerful yet tiny projector for when you're on the go. |
| Best budget projector | | Jinou Mini Projector | | SEE IT | It has great brightness at a very affordable price. |
We may earn revenue from the products available on this page and participate in affiliate programs. Learn more ›
Updated Apr 20, 2022 4:02 PM
Sometimes, you just want to see the big picture. And that's exactly what the best projectors allow you to do. By taking in data from a connected device, projectors use light and lenses to display an image that can be more than double the size of a big-screen TV, and just as vivid.  Whether you're creating the perfect home cinema, building a better boardroom, or hoping to enjoy movie night under the stars, we'll help you find the best projector for you. 
What to consider when shopping for the best projector
Gaming projectors can be different from home-theater models, which can be different from office projectors, which can be different from portable projectors. Light sources, processors, lenses and pixels all factor in—and can vary from one option to the next. But sorting through all of it can leave your brain feeling understandably fuzzy. Here's what you need to know to find the best projector for clear and stunning images, no matter where you want to view them.
How big of a picture are you hoping to display?
The big advantage of a projector is that it can give you a bigger picture than a TV for a smaller price. But the size of that picture is not as simple as buying a 60-inch-screen TV and getting a 60-inch picture. The dimensions of the image you get from a projector are determined by the throw ratio. The throw ratio is the width of the picture you'll see when you mount or sit the device a set distance from the screen. Generally speaking, the farther away you're able to set the projector from the screen, the bigger the image will be. For instance, a ratio of 1.5:1 would produce a 5-foot-wide image when the projector was 7.5 feet from the screen (5×1.5).
To produce a 10-foot-wide picture with the same projector, you'd need to place the device 15 feet from the screen (10×1.5). So if you're hoping for a big picture but you're planning to putting it in a small room, you should look for a short-throw projector that is capable of producing a larger image at closer distances. You can also find models with zoom lenses that allow you to change the image size without relocating the projector.
Will you be using your projector in a well-lit room?
If you're planning to set up your projector in a room with a lot of ambient light, you'd be wise to pay extra attention to brightness. The first step might be deciding whether you're looking for a digital light processing (DLP) or a liquid crystal display (LCD) projector. LCD tends to produce a brighter picture in brighter rooms, but DLP excels at creating a smoother picture with higher color contrast.
Next, consider the type of light source in your projector. Standard lamps are cheaper and brighter than LED lamps, but LED lamps last more than four times as long and provide better color control. Lasers, meanwhile, never need to be replaced, offer the brightest output, and offer better color contrast and a wider color range than standard lamps. Of course, laser projectors tend to cost more than other projectors.
How do you know how bright of a picture your projector will produce as a result of all this? The light output for color brightness and white brightness is measured in lumens. But brighter isn't always better. If you're in the market for a home-theater projector or a gaming projector that you'll mount in a room where you'll have full control over the lights, you should prize color contrast over brightness for a crisper picture that doesn't wash out as easily. The contrast ratio can help you find the right balance, measuring the difference between the lightest and darkest spots on the image. A projector with a high-contrast ratio produces images with more depth and clarity, while a lower contrast ratio works better at the office, where the projector may be used in a bright conference room, with ambient light dulling the picture.
Looking for clarity?
Well, a big part of that answer is resolution. Resolution measures the amount of pixels a projector is capable of showing in an image. The higher the resolution, the closer you can sit without the picture blurring. Projectors offer resolutions that range from 480p up to 4K. But to ensure you're getting the clearest picture, make sure the device can support the resolution of the video source you're linking it to. Most feature multiple input options, including USB, HDMI, and VGA. Also, look for a projector with the right aspect ratio for the kind of display you want. A 16×9-ratio gives you a wider screen (typically better for home movies), while a 4×3-ratio is closer to a square (typically better for office presentations).  
Does your high-octane gaming demand low lag time?
When you're about to beat the boss to move onto the next level or your team is racing up the court for a buzzer beater, you can't have a choppy picture. This is where the DLP versus LCD displays come back into play. DLP is better equipped to support a smooth picture in fast action, while LCD provides a more vivid depiction of graphs, data, and 3D pictures. Liquid crystal on silicone (LCoS) displays are available in more expensive projectors, offering the best of both worlds, with bright images, smooth scenes, and excellent color control.
Related: Improve your screenings with these 10 essential accessories for shooting video with your DSLR.
The best on the market
With their ability to display big pictures, projectors can turn your living room into a cinema, or your office's conference room into a lecture hall. Here are the options, whether you're in the market for a home-theater model, a gaming projector, or a portable option. 
Best home-theater projector: Epson 5050UB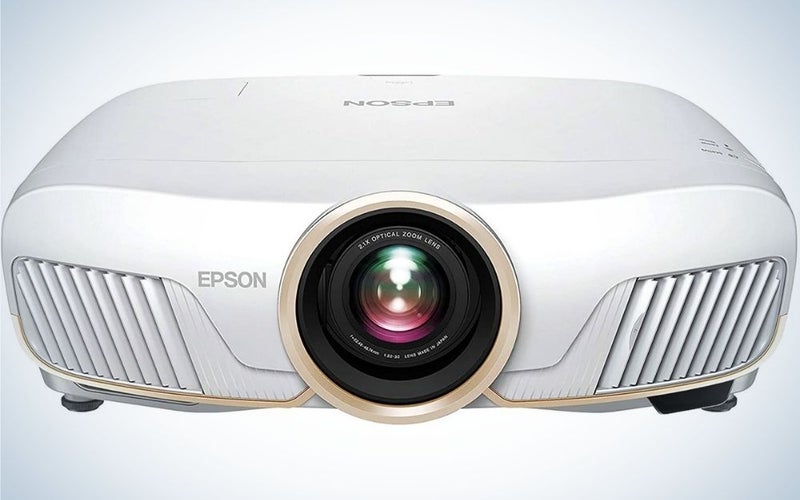 Displaying 2,600 lumens for color and white brightness, offering a contrast ratio of 1,000,000:1, and transmitting inputs with a 10-bit HDR processor and 12-bit digital imaging processor, the best home-theater projector delivers cinema-quality picture to your living room. The 4K resolution is vivid thanks to the pixel-shift processor that controls three HD LCD chips, taking in millions of pixels. That means you'll see all the details you expect to see—and some of the details the actors would prefer you not be able to see. With a variety of ports, this pick can connect to a variety of devices, ranging from a laptop and smartphone to a Roku and Blu-ray player. Retailing at about $3,000, this powerful home theater option is pricey, but you may never have to pay for a movie ticket again.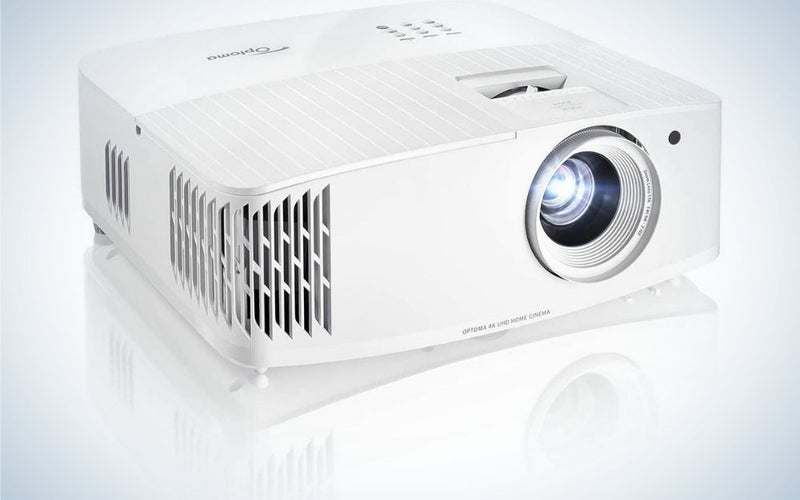 With a super-low input lag of 4.2ms at 1080p and a high refresh-rate of 240Hz, the Optoma UHD35 can optimize your gaming with a silky-smooth feed that won't skip a beat, even during heart-pumping action sequences. The DLP projector also excels as a home-theater projector, delivering 4K resolution that pops with 8.3 million screen pixels—four times the detail of full HD. The 3,600 lumens of brightness and a 1,000,000:1 contrast ratio create superb color contrast. But if you're gaming in the afternoon or watching the matinee game, you may be better off closing the curtains. The best gaming option is also HDR-, HLG-, and full 3D-compatible, and it features dual HDMI ports, so you can connect your console and your laptop simultaneously. 
Even in a bright conference room, your colleagues or clients should have no trouble viewing your presentation. This best office projector features 3,800 lumens of brightness and a 22,000:1 contrast ratio—significantly lower than a gaming projector. But this ViewSonic is also designed to be energy-efficient. The lamp can last up to 15,000 hours thanks, in part, to a SuperEco mode that dims any projected image by 70 percent when the device hasn't received an input signal for 20 minutes. That's ideal in an office setting, where a moment of neglect after a meeting could result in hours—or even an entire weekend—of wasted energy. The ViewSonic also offers five viewing modes, including presentation, photo, and movie modes, and it's compatible with Mac and Windows computers, as well as Google Chromecast.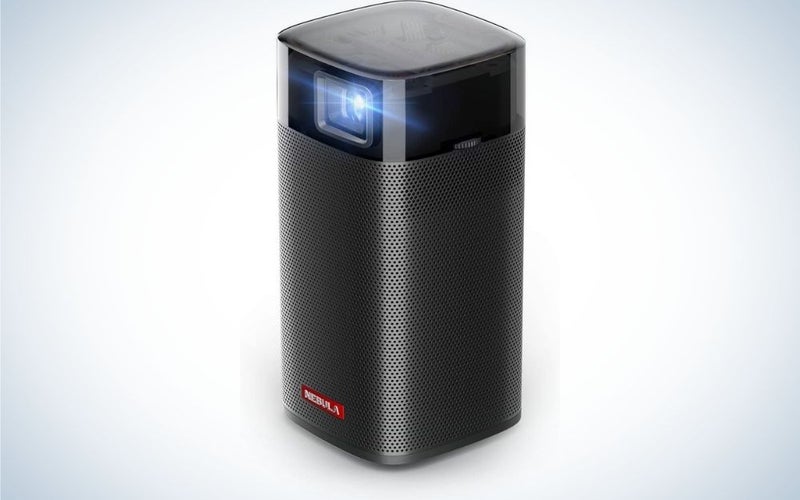 The best portable projector gives you the power to put on a show wherever you go, and Anker's Nebula Apollo does exactly that. The wireless model with 200 lumens of brightness can stream up to four hours of 854×480 resolution video on a 100-inch picture—perfect for an outdoor movie night or for watching the night game under the moonlight. The tripod-mountable DLP device also features a 6W speaker, taking care of the audio as well as the visuals. And it's designed to be user-friendly, with a touch-panel control on top, and a downloadable app that lets you direct the action from your smartphone.
Best budget projector: Jinou Mini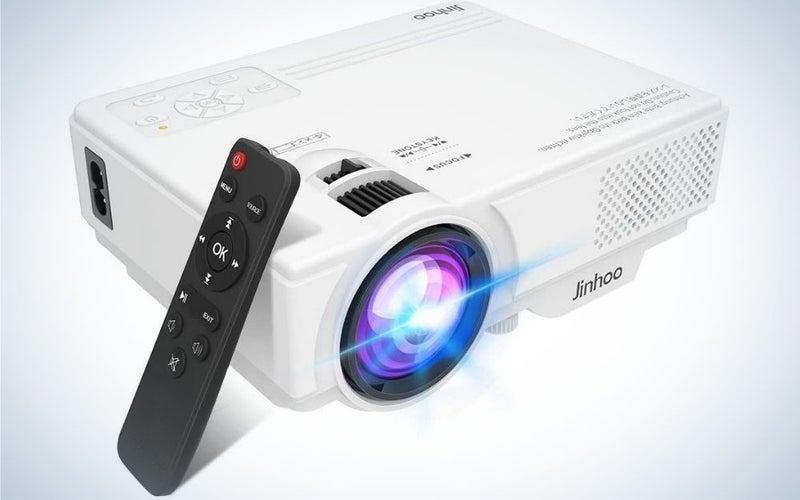 Reviewers say the LED projector, with a contrast ratio of 2,000:1, portrays a picture that's plenty clear and bright, and this budget projector is capable of showing a 1080p picture. And this economical pick is compatible with all kinds of devices, from laptops and TV sticks to video game consoles and smartphones.
FAQs
Q: Which brand is best for a projector?
It's hard to say definitively which brand is best for a projector, especially as several brands offer models for various uses. Epson, Sony, Optoma, and ViewSonic are among the leading manufacturers, but other makers pump out powerful projectors, as well. 
Q: Are projectors better than a TV?
Projectors are better than a TV if you're looking for a bigger screen at less cost. Though it's worth noting that a big picture from a projector may require a large room to position the device farther back from the screen. TVs can also provide a clearer picture in a bright room, include superior sound systems, and require less maintenance; their lamps burn out.
Q: Do projectors consume a lot of electricity?
Projectors vary in how much electricity they consume, ranging from about 50 watts up to 800 watts—or roughly from the consumption of a light bulb to a coffee maker.
Related: Keep an eye on your home with the best home security cameras. 
The final word on shopping for the best projector
Projectors can give you a big picture that's as stunning as any high-definition TV. But finding the best projector for you comes down to knowing where you're going to use it and what you're going to use it for. Do you need a gaming model with super-fast processing or a portable pick that lets you take the show on the road? Before you've attached it to your ceiling, make sure you've truly found the right fit.