10 photographers share what PopPhoto means to them
Photographers, educators and fans share their thoughts about the venerable print magazine that enjoyed an 80-year run.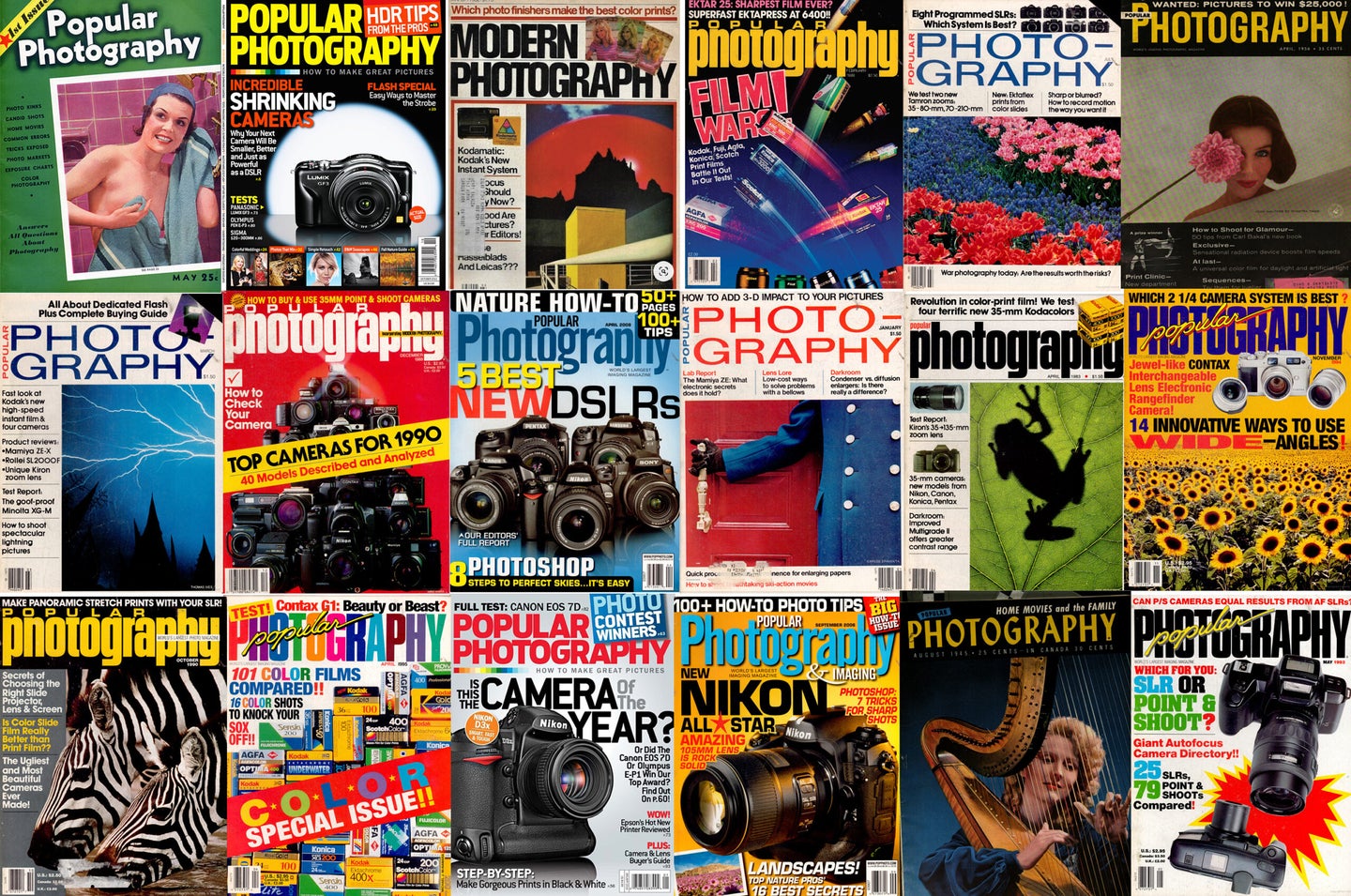 In the 84 years PopPhoto has been chronicling the evolution of photography, the ways we've tested new gear, tutored our readers and documented the culture of taking pictures have shifted in lockstep with the state of the industry. What's remained consistent: Our drive to inspire photographers and enthusiasts to experiment, explore, and enjoy the act of squeezing the shutter. 
As we spin this historic brand back up after a nearly five-year hiatus, we asked photographers, educators, and fans about the role PopPhoto played in their image-making journeys.
Art Wolfe – photographer
"When I was coming up through the ranks of photography in the 1970s and '80s, Popular Photography was ubiquitous. It was a great resource for photographic technique and gear, in particular. Through the 1990s and 2000s, I worked with knowledgeable and energetic editors, writers, and photographers at PopPhoto on various projects big and small. They afforded a very important platform for pros like me to inspire other photographers as well as publicize our work. 
The last two decades have been such a time of vast changes in the industry, and even venerable institutions have fallen by the wayside. Some of us have managed to hang on, and I am so pleased to hear that PopPhoto.com is being refreshed and revitalized."
Tim Fitzharris – photographer
"I grew up on Popular Photography. I learned the craft, reading everything from the articles to the advertising, word by word. I scoured the pages and pages of listings from B&H and Adorama every month. It was an integral part of my creative life and, it seemed, that of America, too. 
I felt crushed when I learned PopPhoto had folded and resolved to keep it going—in spirit at least, to keep the faith so to speak, in my own way, in respect for a tradition of journalism folksy and personal. So I keep shooting and pursuing the art of seeing and communicating—tomorrow I am off for the Organ Mountains fall color show in southern New Mexico, my 51st season of photographing nature. And it all started when I picked up my first copy of PopPhoto at a newsstand at my university bookstore."
Henry Horenstein – photographer & educator
"In the pre-Internet days, Popular Photography provided an invaluable connection for photo nerds and techies and just plain fans with feature stories, equipment reviews, and ads from retailers all over. Everyone skimmed it. Some of us even read it cover to cover!"
Jeff Dunas – photographer & director of Palm Springs Photo Festival
"When I was a kid, we learned about photography the hard way—mistakes and reading whatever we could find on the subject. We went to the library and checked out all the books. We hung around camera stores or later, photo labs. But there was always Popular Photography and Modern Photography. PopPhoto was the leader, the big one, but both were similar in ways—and every month I read them both cover to cover. And again.
Down the street from where I lived a kid's father had piles of Popular Photography, Modern Photography and US Camera in his garage. He saw me eyeing them one day and offered the whole shebang to me. You can't imagine how that felt—it was like a gold rush. It took me about 20 trips carrying them in the basket of my sister's bike. Over the next few months, I read every one of them. For a kid with a thirst for anything photo, this was the ticket.
The stories about the photographers were what I found most interesting: Jay Maisel, Pete Turner, Douglas Kirkland, Paul Fusco, Andreas Feininger, Ernst Haas, Art Kane and others became heroes. Later I published two photography magazines myself—Collectors Photography and Darkroom Photography (later Camera & Darkroom)—and I insisted on great portfolios of the heroes of the day as well as earlier times. Later I had the honor to know many early heroes. 
We were all better for the magazine. Internet versions of great magazines don't have the same meaning in my estimation. I love the printed page. I love having a pile of back issues in a closet."
Harry Martin – PopPhoto cotributor & longtime reader
"When I was about 12 years old, I had a quarter and I went down to the newsstand and Popular Photography was the largest photo magazine, and that was how I happened to buy it. 
PopPhoto was for students of photography and sophisticated amateurs. There were a couple of magazines directed primarily at professionals; the thing is that professionals didn't have to figure out how to take pictures, because they knew. So the pros didn't necessarily read Pop for tech tips. They read it for an update on current affairs, things like exhibitions or new products. But for the serious amateur down to the beginner, Pop was a learning tool. There were a lot of tips about how to take pictures. 
When I wrote for Pop, I was not a particularly good photographer, but I knew a lot about photography. To be a good photographer, you had to have a certain eye and certain experience. And most of the people who wrote for PopPhoto were better at writing about photography than they were doing it. For them, it was like working in a toy store. Testing the latest equipment and trying out new products and generally enjoying yourself—it was a great way of making a living.
Most of us were gear nuts. We were into cameras, lenses, developers, papers, film … and the companies would loan it to us: Here, try out this stuff. In later years I was the one who wrote about classic cameras, the icons of their time: the Rolleiflex, the Contax … the collectible jewels. Now, most of the imaging is electronic and that's not an area that I'm familiar with. I don't know how to use [electronic cameras] and I don't have any desire to use them—for me the fun of photography is using conventional cameras. I was a big Rolleiflex user, and the Rolleiflex is now obsolete, as I am. Call me obsolete, but I'm still here."
Julia Scully – former editor of Modern Photography, author, & photo historian
"The photo magazine publishing field was a small one, and competitors or not, we all knew each other and felt a sense of community. Some of us had worked together at one or other of the magazines at one time. We saw each other at press conferences, art openings, and professional events.
Pop was a well-edited publication, but I felt that Modern had a more contemporary look. During my 20-year tenure as editor of Modern Photography, it seemed to me that Pop was staffed, by and large, by interesting, sophisticated people. 
Occasionally, I would get a call from a member of Pop's staff to congratulate me on some achievement. For example, when Modern began publishing a section in each issue printed in the beautiful, expensive gravure process, one Pop editor called me to thank me for the move, as that gave him an argument for doing the same at Pop. Another editor called to tell me how much he admired my book on Mike Disfarmer—among the very best photo books he had ever seen, he said. I was touched by his call; it was typical of the collegial feeling among us.
I recall being impressed when Pop supported W. Eugene Smith in his major essay on Pittsburgh. Smith had been working on it for Life magazine but he ran way over budget and time. Smith was notoriously difficult to work with. In advance of its publication, there was a lot of brouhaha in the field about the in-the-works essay, the word being this was going to be one of Smith's major achievements. When Life gave up on Smith and the piece, Pop agreed to take it on and underwrite Smith's continued work on the project. It was finally published with many pages devoted to it—I believe in the PopPhoto Annual. I always admired their decision to support this important photographer and his work."
Greg Ceo – photographer
"As a young teenage photographer, I read Popular Photography for copious amounts of info on the photography world that I could not otherwise get, growing up in West Virginia. Then later, as a pro, I added other information sources once I entered the industry—including American Photographer, the International Center of Photography, galleries and museums, and the work of well-known critics such as A.D. Coleman, Shelly Rice, etc. But in the beginning, there was PopPhoto. I'm glad it's still around (in a new form) and evolving."
Ian Plant – photographer, educator, & workshop director
"I'm a photo educator as well as a photographer, and Popular Photography enjoyed a huge readership all around the globe. As I was a frequent contributor to the magazine, it changed the trajectory of my career. I was able to reach this vast audience of photography enthusiasts, and to this day I still receive feedback from readers.
Pop always had a lot of gear information, and there's lots of demand for that. People are thirsty for education, learning how to do photography. But I've always felt that any photo publication, whether print or online, needs to have a healthy dose of inspiration as well. Pop provided both.
In workshops, I'm focused on the artistic side of photography: I talk a lot about visual design and composition and the creative use of light. That could apply when using any kind of equipment. Students always have questions about gear and about how to technically shoot things, and I answer those questions as best I can, but I'm most interested in the artistic side. 
As for the new trends of shooting with your phone—the Instagram era—I guess I've been doing this long enough that I'm a bit old-fashioned. I'm a photo traditionalist, and what I see in the industry now is this move towards a more casual, experimental style. One that's also dominated by computer manipulation of the photos that are created—you can run it through all sorts of filters and dramatically change what the image looks like.
I think these are all tools of artistic expression. I don't have any problem with that, but at the same time, I think of traditional photography as a distinct art form, one that's getting a little bit left behind in this modern expressive age. And PopPhoto exemplified that art form."
Philip Ryan – former Technology Editor of PopPhoto
"Popular Photography has been on hand to inform photographers of all levels for longer than any other publication in America. From the time that ISO (aka ASA) 200 celluloid would've been considered fast film all the way through to now, when people typically use their phones to shoot photos more often than they use them to make voice calls. When I got my first job at PopPhoto I felt like I was walking into an institution of epic historical weight, because I was. I learned so much along the way, had the pleasure of being the first official editor of the website, and eventually became the last technical editor of the print publication. For that, I will be forever grateful. It warms my heart to know that Popular Photography will continue to help photographers enjoy what is one of the world's most important forms of communication and self-expression."
Julia Silber – former Technology Manager of PopPhoto
"I am excited to see PopPhoto return because I love to hear the enthusiasm they have in their articles about new products. A new camera or lens is looked at carefully but also with excitement about any new or updated functions.
As the former Technology Manager, I had the great pleasure of not only testing the gear but also of opening the boxes (and logging in) when new products would come in. It was always fun to share with the staff a particularly interesting new feature on a camera or lens. I particularly loved it when a lens would come in with a velvet-lined lens cap. In the future, I would like to see PopPhoto continue to do some sort of testing for new cameras and lenses. Lab tests, as we had done in the past, may now not be necessary as these products have evolved so much, they have surpassed our old test standards. But field testing would be beneficial. How does the camera balance in your hands? How quick is the lens to autofocus? Things like that. Good to see you back PopPhoto."