Tamron announces development of a 17-50mm lens for Sony cameras
Nikon and Sony users will be getting versatile zoom lenses in the coming months.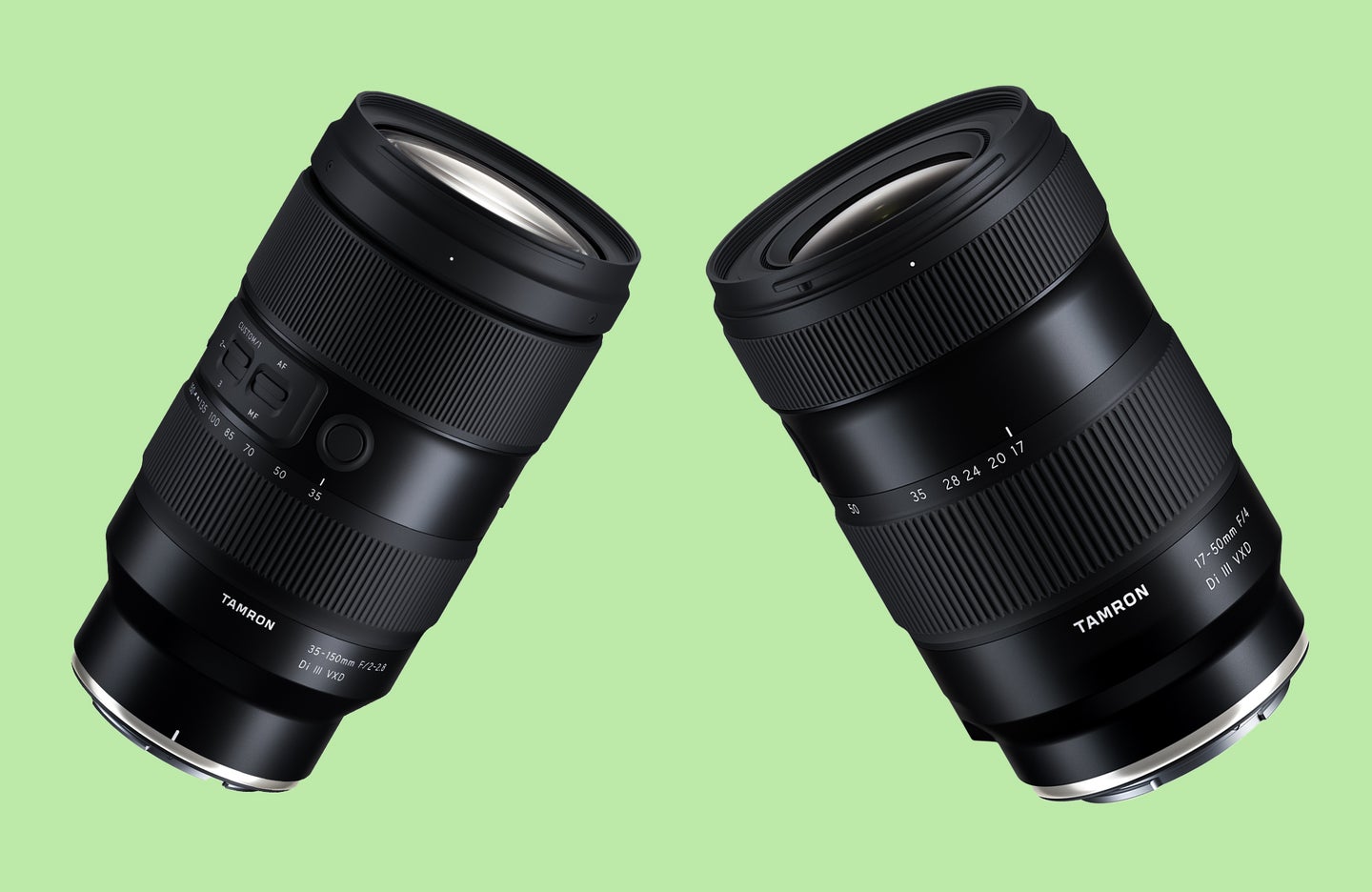 Tamron has been busy lately, with consistent lens announcements over the past few months. It's keeping the ball rolling with two separate announcements. Sony users will soon be getting an extremely versatile lens in the form of what Tamron says is the world's first 17-50mm lens for full-frame mirrorless cameras. This lens is just in the development phase, so there are still lots of unknowns, but Tamron did supply some enticing details.
For Nikon users, the wait for a new third-party lens is nearly over. Tamron has provided a purchase date and new details for the recently announced 35-150mm f/2-2.8 lens for Nikon Z mount. Keep reading to find out more.
What is the Tamron 17-50mm f/4 Di III VXD?
Options for wide-angle and ultra-wide-angle zoom lenses can be a bit limiting. Many top out at 35mm or even less, or they don't offer an ultra-wide perspective. As a result, you've traditionally had to choose from two options. You could opt for something not quite so wide in order to reach the normal focal length range. Or you could be okay with purchasing two lenses and swapping back and forth when you want both ultra-wide-angle and normal perspectives.
Tamron is aiming to offer a solution with its 17-50mm f/4 Di III VXD for Sony E-mount cameras. Having an ultra-wide perspective and normal perspective in one lens is ideal, as it prevents as many lens switches. It would be an ideal choice for travel, as you could get sweeping views and closer details or portraits, all with the same lens. Tamron explains that this is "the ideal 'walk around' lens," and as long as the performance is up to snuff, we'd have to agree.
Tamron Tamron 17-50mm f/4 Di III VXD details
The Tamron 17-50mm will offer a constant f/4 aperture. That isn't all that wide, but is reasonable for the zoom range and likely means that the price will also be reasonable. The lens will feature the company's VXD (Voice-coil eXtreme-torque Drive) linear motor focus mechanism, which should result in fast, quiet, and precise autofocus. Tamron is building the lens with internal zoom, meaning the lens won't change length at all when you zoom in or out. That's an ideal feature for videographers who use a gimbal, as you won't need to rebalance the stabilizer if you change the focal length.
Adding to the versatility of the lens is its close focusing abilities. Tamron says that it will offer a minimum object distance (MOD) of just 7.5 inches at the wide end and 11.8 inches at 50mm. That means you'll be able to get some nice detail shots with this lens. The lens will feature a moisture-resistant construction and fluorine coating and utilize a 67mm filter thread. Tamron is promising excellent image quality throughout the zoom range. We look forward to testing it out this fall when it is expected to be available.
The Tamron 35-150mm F/2-2.8 Di III VXD for Nikon Z mount is available for pre-order
Announced only a month ago, Tamron has now provided additional details and a shipping date for its second Nikon Z mount lens. This versatile lens will feature Tamron's VXD linear motor focus mechanism, a maximum aperture of f/2 to f/2.8, and a maximum magnification ratio of 1:5.7 at the wide end. It weighs 2.6 pounds and is 6.3 inches long. It also will provide access to the Tamron Lens Utility app. In the app, you can update firmware and also utilize features that support focusing operations for photo and video applications.
The Tamron 35-150mm f/2-2.8 Di III VXD for Nikon Z is available for pre-order now for $1,999. It will begin shipping on September 21.