Sony announces the 50mm f/1.4 GM lens
Sony's newest 50mm lens offers a fast aperture, compact size, and high-end optics at a relatively reasonable price.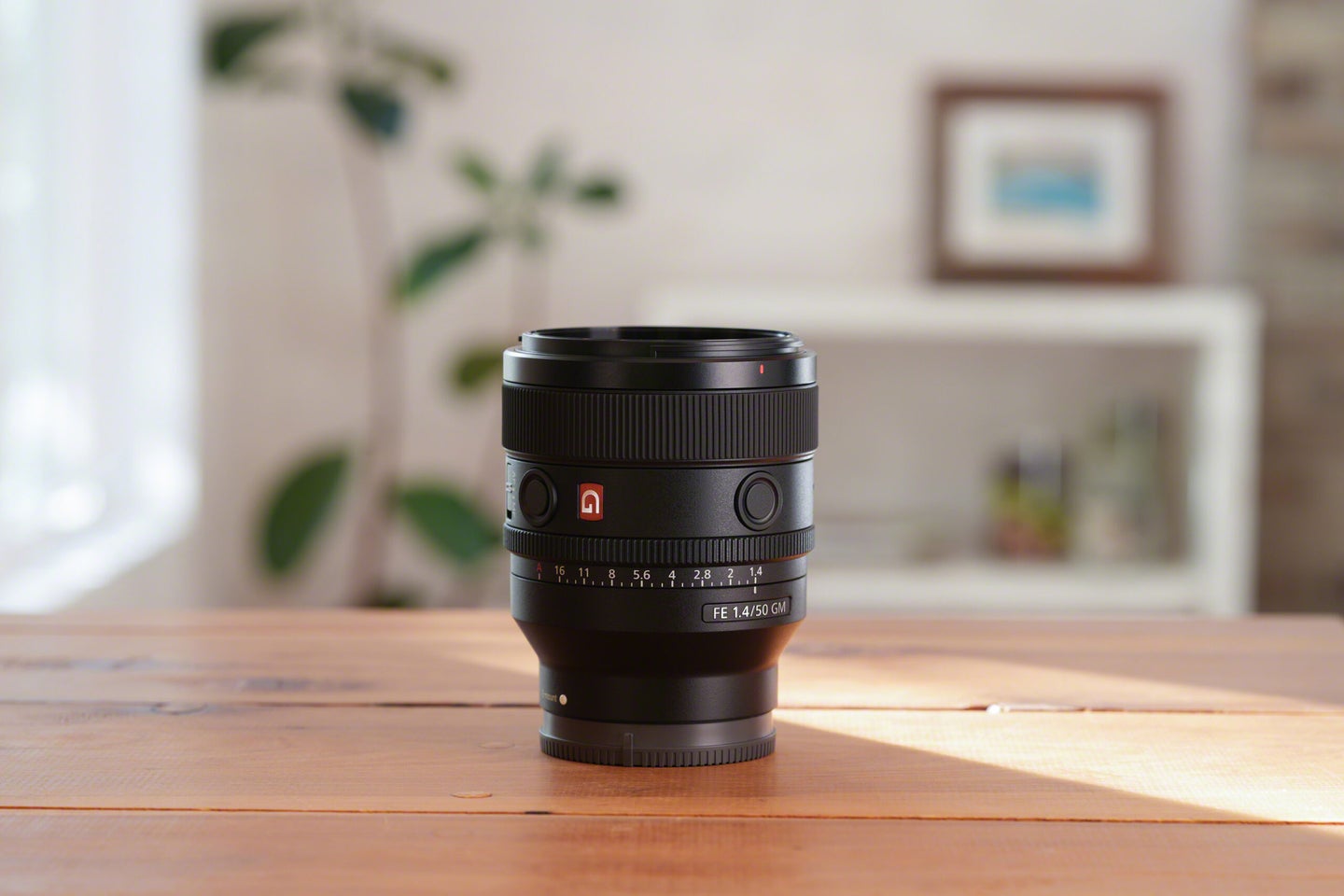 Sony has announced a new addition to its top-tier G Master lineup: the FE 50mm f/1.4 GM. This lens will be Sony's sixth 50mm lens for E-mount. It's also the second 50mm in the G Master line, joining the more expensive f/1.2 version. The newest member of the Sony 50mm family brings premium optics and a compact design to the table at a reasonable $1,299.99 price. 
What is the Sony FE 50mm f/1.4 GM?
As mentioned, the 50mm f/1.4 GM falls in Sony's G Master line, which is the company's professional-level glass. G Master lenses promise high-resolution, high-end bokeh, weather-sealing, and rugged design. And that, at least on paper, applies to this new lens.
50mm is a classic, versatile focal length. You can use it for almost everything, from portraits to still life to landscapes. Plus, the fast f/1.4 aperture makes it great in low light and a fantastic bokeh tool. As a result, this lens is suitable for just about everyone, no matter what style of photography you practice. 
How does the Sony FE 50mm f/1.4 GM fit in the 50mm category?
Sony already offers five other 50mm lenses. That's more 50mm choices than Canon and Nikon combined (excluding third-party lenses). Despite that, this lens was a really smart move for Sony. It is currently the only company making an OEM (original equipment manufacturer) 50mm with an f/1.4 aperture. That f/1.4 aperture is a sweet spot for lots of photographers. It is still fast for low-light performance and capable of a really shallow depth of field. But it allows for a smaller build than f/1.2 lenses and is more affordable than the wider aperture.
There are third-party f/1.4 options, including the new Sigma 50mm f/1.4 DG DN Art for Sony E-mount. And there are some very expensive 50mm f/1.2 lenses (including Sony's own GM version). But if you want a first-party 50mm f/1.4, you don't have any options for other camera systems besides Sony. 
Sony FE 50mm f/1.4 GM build
As expected for a G Master lens, the 50mm f/1.4 GM features a rugged build. It is dust- and moisture-resistant for protection against the elements. And it also utilizes a fluorine coating to repel contaminants from the front element. 
The 50mm f/1.4 GM is quite lightweight and compact for a lens of this class, measuring 3.17×3.8 inches and 1.1 pounds. Sony claims this is 33 percent lighter with 15 percent less volume than lenses with the same specifications, such as its Planar T* FE 50 mm F1.4 ZA, which weighs 1.7 pounds.
The lens will feature a 67mm thread mount. This is the same as the FE 24mm F1.4 G Master and FE 35mm F1.4 G Master lenses. That means that if you are building a kit of Sony GM prime lenses, you don't need to buy different filters for them all. 
Autofocus is powered by Sony's high-thrust XD (extreme dynamic) linear motors. As a result, Sony says that autofocus will be 1.9x faster than lenses like the Zeiss 50mm f/1.4 mentioned above. It also claims to have reduced focus breathing, making this lens a great hybrid choice. And this lens will support the focus breathing compensation tool found in Sony Alpha cameras.
Lens controls
The Sony FE 50mm f/1.4 GM body offers two customizable focus hold buttons and a focus mode switch. And when focusing manually, the Linear Response MF provides greater control for precise adjustments. There is also an iris lock switch, a first on a Sony prime lens. There is also a physical aperture ring. And for videographers, there is a switch to de-click the aperture ring for silent operation. 
Optical design
Inside the FE 50mm f/1.4 GM are 14 elements in 11 groups, including two XA (extreme aspherical) elements to correct field curvature and aberration. There is also one ED (extra-low dispersion) glass element that reduces chromatic aberration for clear images. Lastly, a Nano AR Coating II helps suppress reflections even in tricky lighting conditions like backlighting. All of these elements should result in high-resolution, clean images. 
Beyond the glass elements, the 11-blade circular aperture will provide beautiful bokeh, as we've come to expect from G Master lenses. And Sony says it is the "latest compact circular aperture unit," which is part of why this lens is able to pack a fast maximum aperture in a relatively compact body.
Sony FE 50mm f/1.4 GM pricing & availabilty
The best thing about the new Sony FE 50mm f/1.4 GM? The price. At $1,299.99, this is the cheapest G Master lens to date. It also balances fast aperture, high resolution, and price that other companies haven't necessarily managed yet. Sony's newest 50mm is available for pre-order now and will ship in May 2023.