Polaroid's limited edition Reclaimed Blue film was an "experimental fluke"
Polaroid's newest limited-edition film is the result of a new chemical reaction.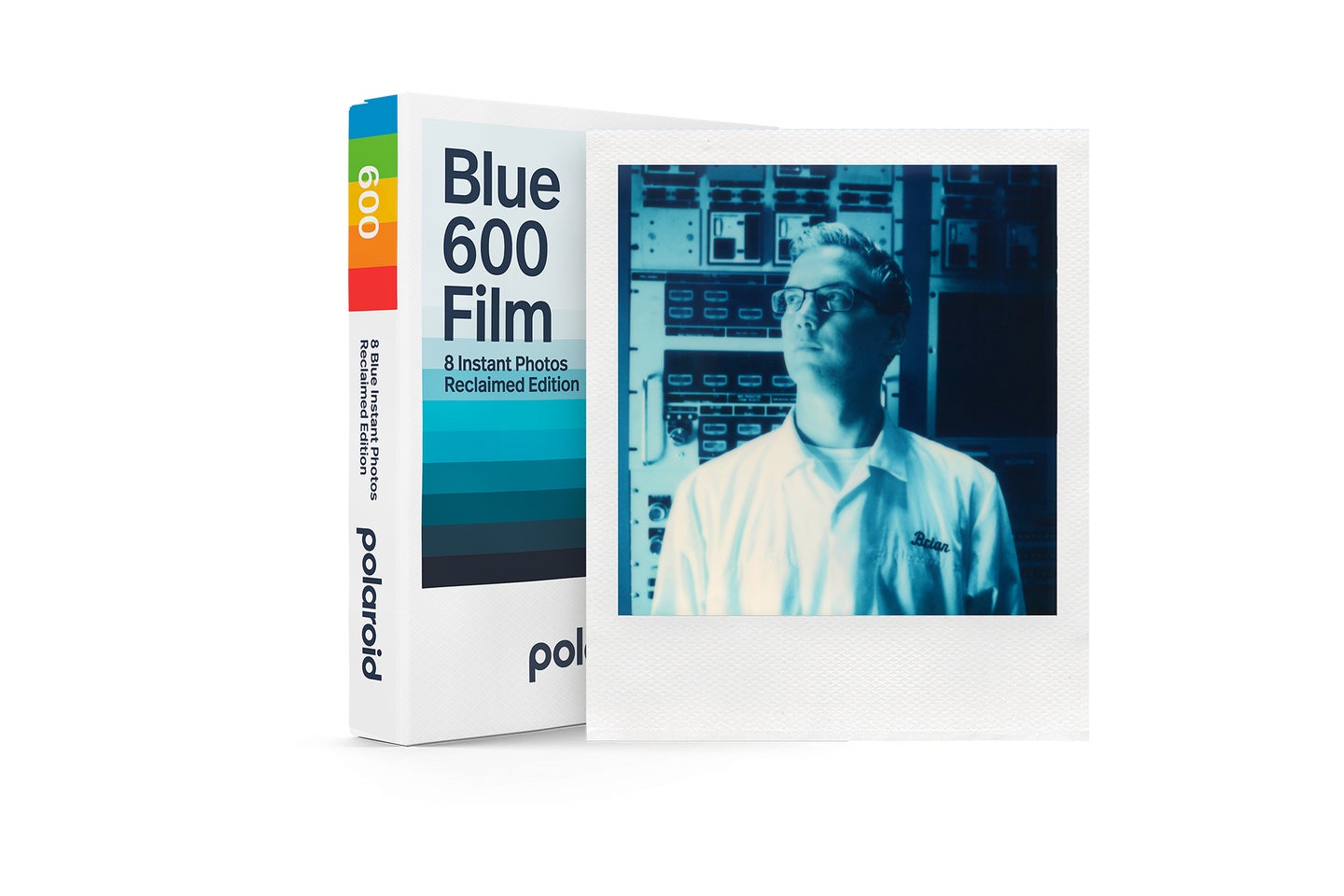 Polaroid is no stranger to creating limited-edition, bold-color films. Just last year, the company released Duochrome Black & Green 600, which, as the name suggests, created dramatic and unique green images. This time, blue is the color of choice, and it was created essentially by accident. Polaroid has announced Reclaimed Blue, which is a 600-format film, meaning it will work with retro Polaroid 600 cameras as well as the Polaroid Now, Now +, and Lab.
What is Reclaimed Blue film?
Though Reclaimed Blue has a similar look to Polaroid's Duochrome films, the company specifies that it is very different from the process used for those films. In fact, Reclaimed Blue was "an experimental fluke." Whereas Duochrome films require dye to create their unique colors, Reclaimed Blue is the result of a chemical reaction. Interestingly, no extra blue dye is used in the film at all.
The company explains that Polaroid Chemist Brian Slaghuis was working on an experiment to improve its color film. During that testing, Brian stumbled on a new chemical reaction "between our color film and the TBHQ chemical from our b&w film." The Reclaimed part of the film's name is due to the use of reclaimed waste material within the new film. It's not completely understood why this chemical reaction resulted in such blue colors, but Polaroid is embracing it.
As you can see in the example images, the film results in vibrant shades of blue with white highlights. That differs in looks from Blue Duochrome as well, which produces blues and blacks as a result of blue dye being added to black and white film. And it offers a greater range of hues than the Cyan Monochrome film from Polaroid as well.
Who's it for?
As with other limited edition films from Polaroid, Reclaimed Blue is best for those who want to unique and potentially unpredictable results. Polaroid even specifies that it wants photographers to "experiment with this blue chemistry, to embrace its accidental quality, and to see what unique images they can capture."
It's a film for adventurous, creative photographers, which is in line with Polaroid's history as well. Oskar Smolokowski—the Polaroid Chairman—explained that "Polaroid's DNA is rooted in experimentation and unlocking the unexpected. Reclaimed Blue captures that essence. It's science mixed with human perseverance and remarkable accidents." This new blue film carries on that tradition and asks photographers to do the same.
Pricing & availability
Reclaimed Blue 600 is available for purchase now for $16.99 per pack. It is a limited-edition film stock, though Polaroid hasn't specified how much exactly is available. Previous limited-edition films have sold out pretty quickly, though, so if you want to try your hand with this new blue film, you won't want to wait to order.