Nikon announces the Z f: A retro-looking full-frame mirrorless camera
The Nikon Z f looks like an old-school film camera, but offers plenty of advanced tech and features.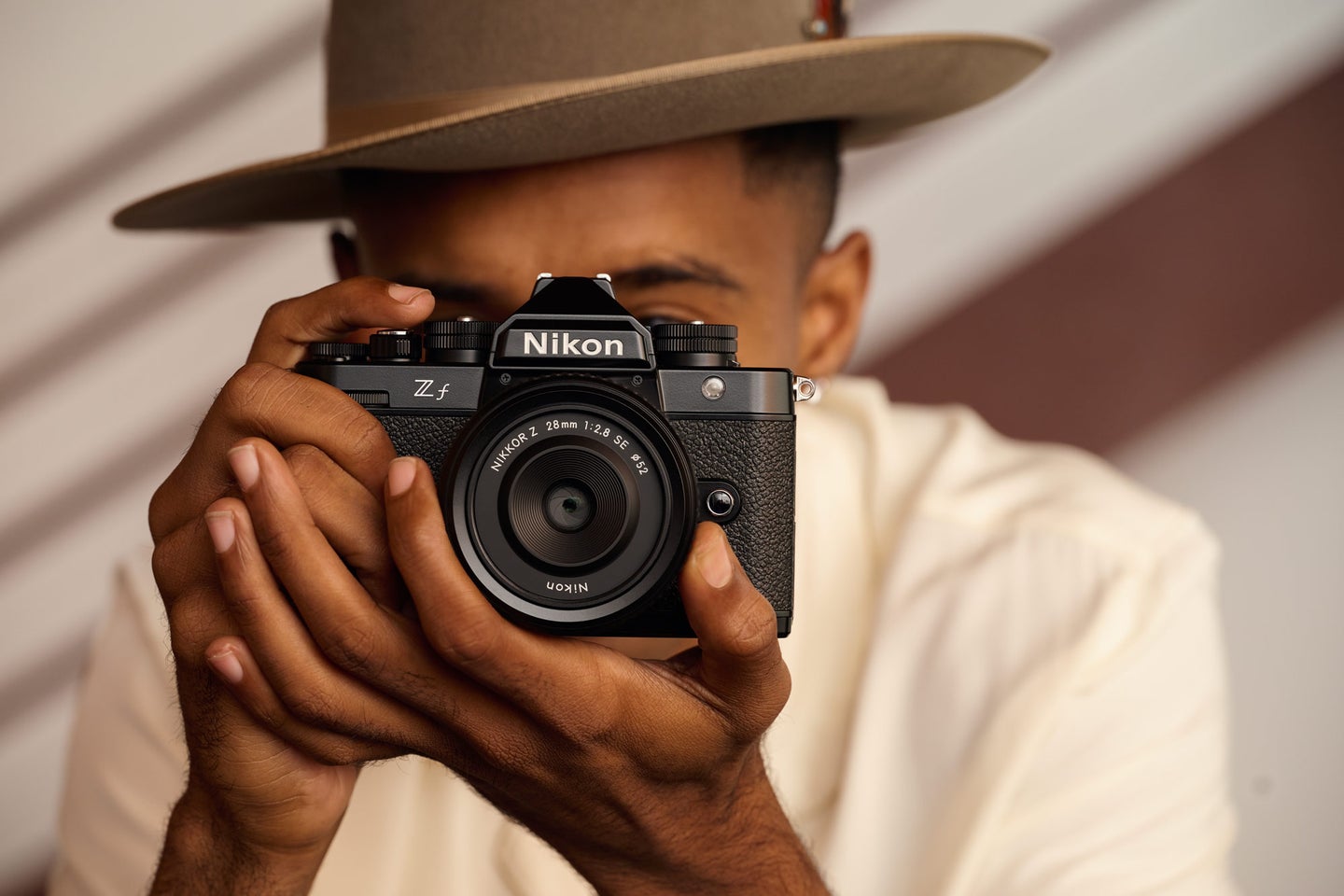 Two years ago, Nikon released the Z fc—a mirrorless camera that paid homage to the looks of the iconic FM2 film SLR. Despite the classic body, the camera was quite impressive in a modern sense, and we loved the combination. Nikon clearly had success with that camera and is building on the line with a 24.5-megapixel full-frame version called the Z f.
Once again, despite the decidedly old-school looks, Nikon packed the camera with advanced tech, much of which it borrowed from the Z8 and Z9 cameras. Among other high-end features, the camera offers advanced autofocus abilities, the option to use eye detection to assist with manual focus, 14 fps burst shooting, 4K 30p video oversampled from 6K, and more. The camera provides some unique options as well, such as a physical switch to engage a black-and-white mode. It looks like an impressive and exciting camera, and we're excited to test it out in the near future. For now, here's what we know.
Nikon Z f at a glance
24.5-megapixel full-frame BSI CMOS sensor with EXPEED 7 image-processing engine
4K 30p video oversampled from 6K, or 4K 60p with a crop
Advanced autofocus with 3-D tracking and subject detection based on Deep Learning technology
Vari-angle touchscreen display
5-axis vibration reduction with 8 stops of stabilization
14 frames per second or up to 30 fps with High-Speed Frame Capture+
ISO range of 100-64,000
Mechanical dials for shutter speed, ISO, and exposure compensation
Magnesium-allow body
One UHS II SD card slot, one micro SD slot
Available in six colors
Available in mid-October for $1996.95
Nikon Z f camera details
We loved the looks of the Nikon Z fc, so are very excited to see that the design remains very similar in the full-frame Z f. Nikon designed the magnesium-allow body with weather seals in multiple places for dust- and drip-resistance. It also used an electro-conductive coat to keep the surface clean from dust, along with a fluorine coat for easier cleaning. Nikon built the Z f with dual memory card slots, though interestingly, one is an SD slot (UHS II), and one is a micro SD slot.
The top of the camera features mechanical dials for ISO, shutter speed, and exposure compensation, much like the FM2 film SLR. Though it lacks the large display on the top of the camera that so many Nikon cameras have, it does offer a small LCD screen to show your aperture. The back of the camera sports a vari-angle touchscreen, which is a first on full-frame Z-series cameras.
The camera will be available in six color options: Indigo Blue, Sepia Brown, Bordeaux Red, Sunset Orange, Moss Green, and Stone Gray. Each will feature embossed artificial leather on the grip, wrapping around the rear of the camera.
Sensor and processor
Nikon built the camera around a 24.5-megapixel BSI CMOS sensor and an EXPEED 7 image-processing engine. The combination allows for the beautiful image quality that Nikon is so well known for, along with fast burst shooting, advanced autofocus, and excellent dynamic range. Though the 24.5-megapixel count seems rather low at first glance, Nikon may have opted for the lower resolution in order to better accommodate old lenses. Using retro lenses (with help from an adapter) on this old-school-looking body just makes sense stylistically, and you can get some fantastically unique lenses to create some really fun images.
Autofocus
Nikon has lagged behind the other brands in autofocus abilities, but at least on paper, it sounds like the Z f should be highly capable. When using Auto Area AF, the autofocus system uses 299 AF points across 96 percent of the horizontal axis of the frame. This should result in better results with locking on and tracking subjects even if they are near the edge of the viewfinder.
The Nikon Z f autofocus system utilizes 3-D Tracking for photographers and subject-tracking AF in video mode. It also supports subject detection developed with Deep Learning technology, which can detect and lock onto nine subjects, including people, dogs, cats, birds, cars, motorcycles, bicycles, trains, and planes. Nikon says that it can detect "the world's smallest size of a face in the frame—approximately three percent of the frame's longest side." We'll see how well it works in the real world, but being able to focus on subjects further away is definitely a big win.
One interesting feature of the Z f is the use of Eye/Face-Detection in manual focus mode. The camera will recognize the eye and allow you to magnify that specifically on the screen in order to dial in focus where you need it.
Video features
Any cameras coming out these days are expected to provide at least somewhat impressive video capabilities, and that is the case here. The Nikon Z f offers up to 4K 30p video that is oversampled from 6K footage. You can also opt for 4K 60p in DX mode or 1080p at 120 fps. It should provide recording times up to 125 minutes for when you need long, continuous cuts.
The Zf is the first Nikon camera to offer video recording in shutter-priority auto mode, meaning you can select the shutter speed, and the camera will adjust the rest. It offers in-camera 10-bit H.265 recording, allowing for full-scale video without an external recorder.
Photo features
Though the Z f provides good video stats, still shooting seems to be the star of the show here. It is capable of up to 14 fps plus 30 fps with High-Speed Frame Capture+ (C30). It also supports Pre-Release Capture to ensure you don't miss the shot when working with fast-moving subjects.
In case there haven't been enough firsts for you, the Nikon Z f is the first Nikon camera capable of pixel-shift shooting. This mode allows you to create images up to 96 megapixels, which is ideal for landscape, architectural, and commercial artists. It works by subtly shifting the sensor position when capturing four, eight, 16, or 32 raw files in order to gather more accurate color information and high levels of detail.
In a play on the classic film camera vibes, Nikon included a physical switch to engage a black-and-white mode for monochromatic Picture Controls. You can choose from a sharp, dynamic, and high-contrast "Monochrome" mode or a new "Flat Monochrome" mode, which "reproduces tones with a smooth gradation from shadow to light, rich in mid-tones for a warm, soft impression." There's also a new "Deep Tone Monochrome" for high-contrast images.
Nikon Z f pricing & availability
The new Nikon Z f in the basic black colorway (though we are big fans of this classic look anyway) is available for pre-order now and will ship in mid-October for a suggested retail price of $1,996.95 for the body only. If you want one of the five other colors, it will cost you $2,099.95, and you'll have to order directly through Nikon. The Z f is also available as a kit with the retro-looking NIIKOR Z 40mm f/2.0 SE for $2,239.95 or with a NIKKOR Z 24-70mm f/4 S lens for $2,599.95.
Nikon also said that it is working with SmallRig to develop a custom grip bracket, though it hasn't provided any additional information as of yet.