The Lowepro PhotoSport X camera bag is built for climbers, mountaineers
Lowepro's newest camera backpack is built for serious mountain adventures.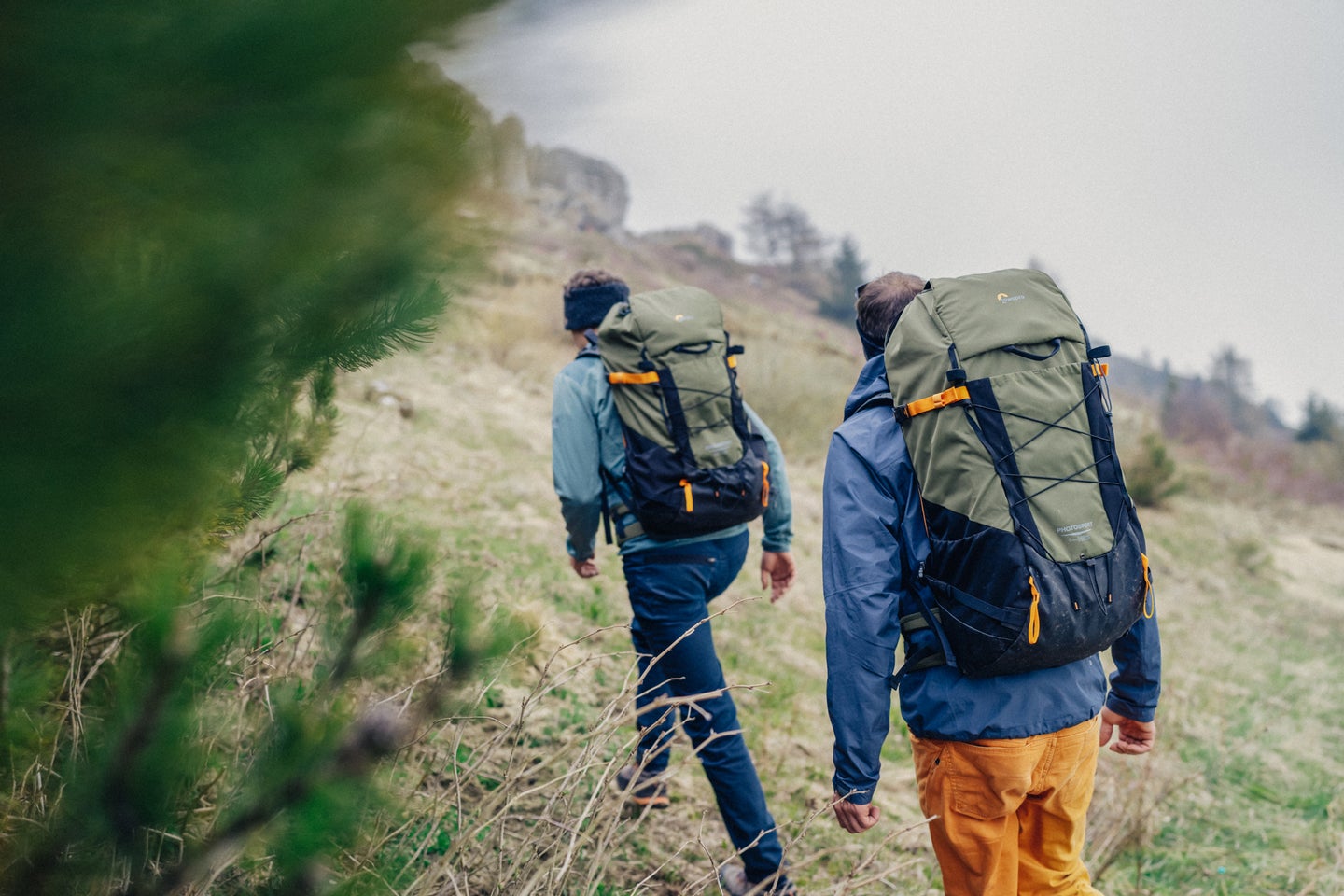 Lowepro has been around for over 50 years, and in that time, it has made some of the most rugged and trusted adventure camera bags available. I used the original Whistler AW for some gnarly ski tours and ice-climbing adventures back in the day and never had to worry about my gear. Now, the company has announced a new bag built specifically for mountain adventurers. The PhotoSport X series comes equipped with tons of features specifically designed for mountaineering, ice and rock climbing, and ski touring. And it's made of 86 percent recycled fabric, which is great to see. We have an inkling this might be one of our new favorite camera backpacks for hiking and look forward to checking it out in the near future.
What is the Lowepro PhotoSport X backpack?
Lowepro designed bags in this series for hikers, backpackers, climbers, travelers, and general adventurers. They range from small, lightweight day packs to massive adventure packs but always offer room for both camera equipment and hiking or adventure gear.
While the other bags in the PhotoSport series are more all-purpose adventure backpacks, the PhotoSport X is very much intended for serious mountain pursuits. Lowepro says that the "X" in the name stands for cross-functionality. As a result, the PhotoSport X bags provide enough versatility to cover photographers for all mountain-based activities no matter what season it is.
The adventure-focused series of bags are also more eco-friendly. All packs in the PhotoSport series are made of 86 percent recycled fabric. The PhotoSport X continues the company's Green Pledge and is also made mostly of recycled fabric.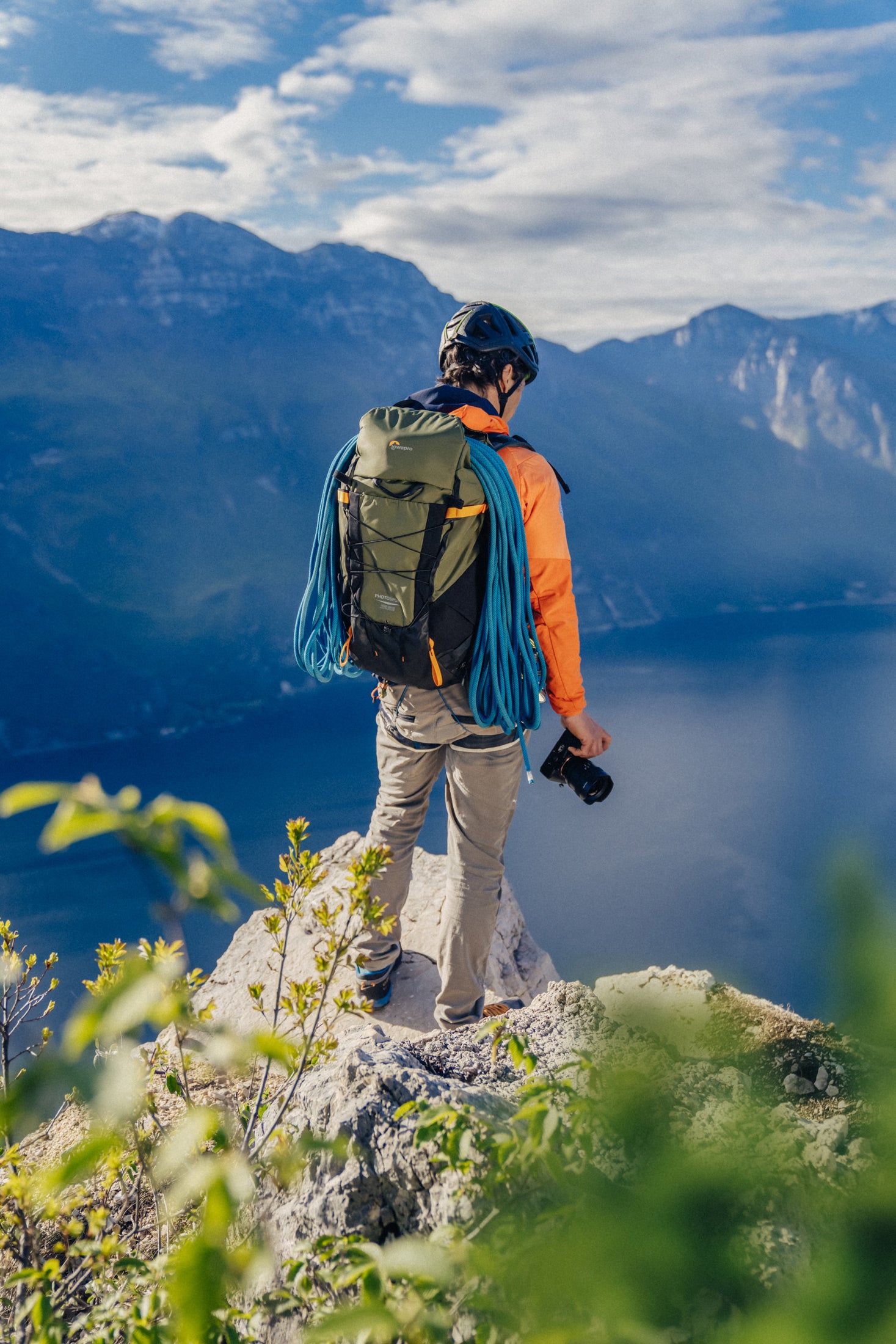 PhotoSport X details
The LowePro PhotoSport X is available in both 35L and 45L sizes. The materials include 100 percent recycled 420D recycled Nylon Oxford and 420D recycled Nylon Diamond Ripstop with carbonate coating on the bottom. It also features 200d recycled polyester lining. It also comes with an All Weather AW Cover to fully protect the pack from rain, snow, and dust.
Both sizes of the PhotoSport X weigh just 7.05 pounds, which is really lightweight for a camera backpack this burly. It features Lowepro's signature ActivLift technology, which allows you to adjust the torso length for a more comfortable fit. It offers plenty of padding on the back and the straps. The waist strap also offers padding, but it is much more lightweight and minimal than most packs. And you can fully remove it or swap it for a simple padding-free strap if you are wearing the pack with a climbing harness.
Internal storage
It seems that most camera bags in recent years have moved to separate internal camera units (ICUs) instead of integrated camera compartments. These add versatility since you can use the bag without one and have more room for non-camera gear, but it also means you have to buy more things. That is the case here, and the new packs are compatible with the GearUp PRO ICUs. The ICU clips into the bottom of the bag with four attachment points to keep it stable and is accessible from the back of the pack. You can also connect your camera to the accessory straps, which tether the camera to the shoulder straps. It essentially acts like a built-in camera strap, keeping your camera easily accessible while you hike or climb.
Besides camera storage, the PhotoSport X offers quite a few excellent pockets for adventurers. There's plenty of room inside the bag on the top for gear such as jackets, sleeping bags, or whatever else you may need. A pocket on the very bottom, accessible from the side, is designed for storing crampons. There are multiple pockets inside, one of which can hold a 3-liter water reservoir.
Exterior storage
On the outside, you'll find plenty of attachment points for technical gear. Straps on the side, along with the triangle flaps on the top of the pack, are ideal for draping and securing a climbing rope. The side straps can also secure skis for ski touring. There are loops on the top and bottom for attaching ice tools and trekking poles. And the bungee straps on the front make it easy to secure your helmet so it isn't flopping around while you hike. A front pouch holds even more gear, and two side stretch pockets allow you to pack even more water or a tripod. One stretch pocket is even angled, making it easier to pull out your water bottle without taking the pack off, which is a smart feature.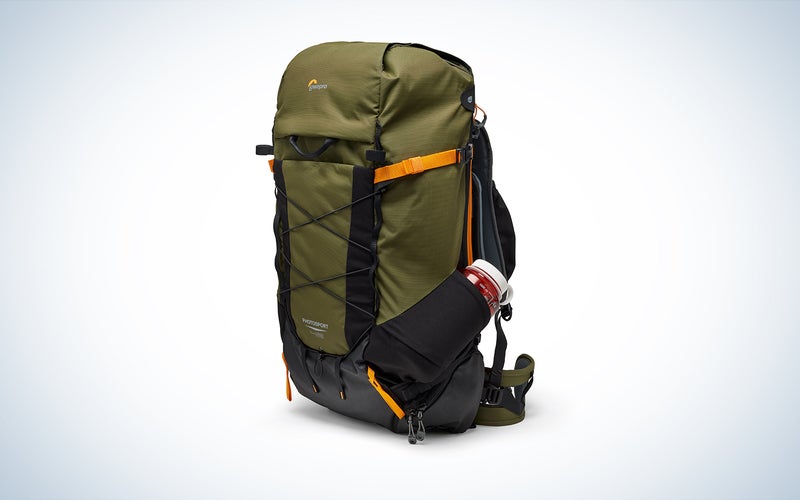 Pricing & availability
The Lowepro PhotoSport X is available for purchase now. The 35L backpack is priced at $299.99, while the larger 45L back will cost you $329.99.