The Laowa 24mm T8 2X Macro Pro2be allows for dramatic and unique angles
Laowa's latest probe lens is available in a direct view, 35-degree angle view, and 90-degree angle view configurations.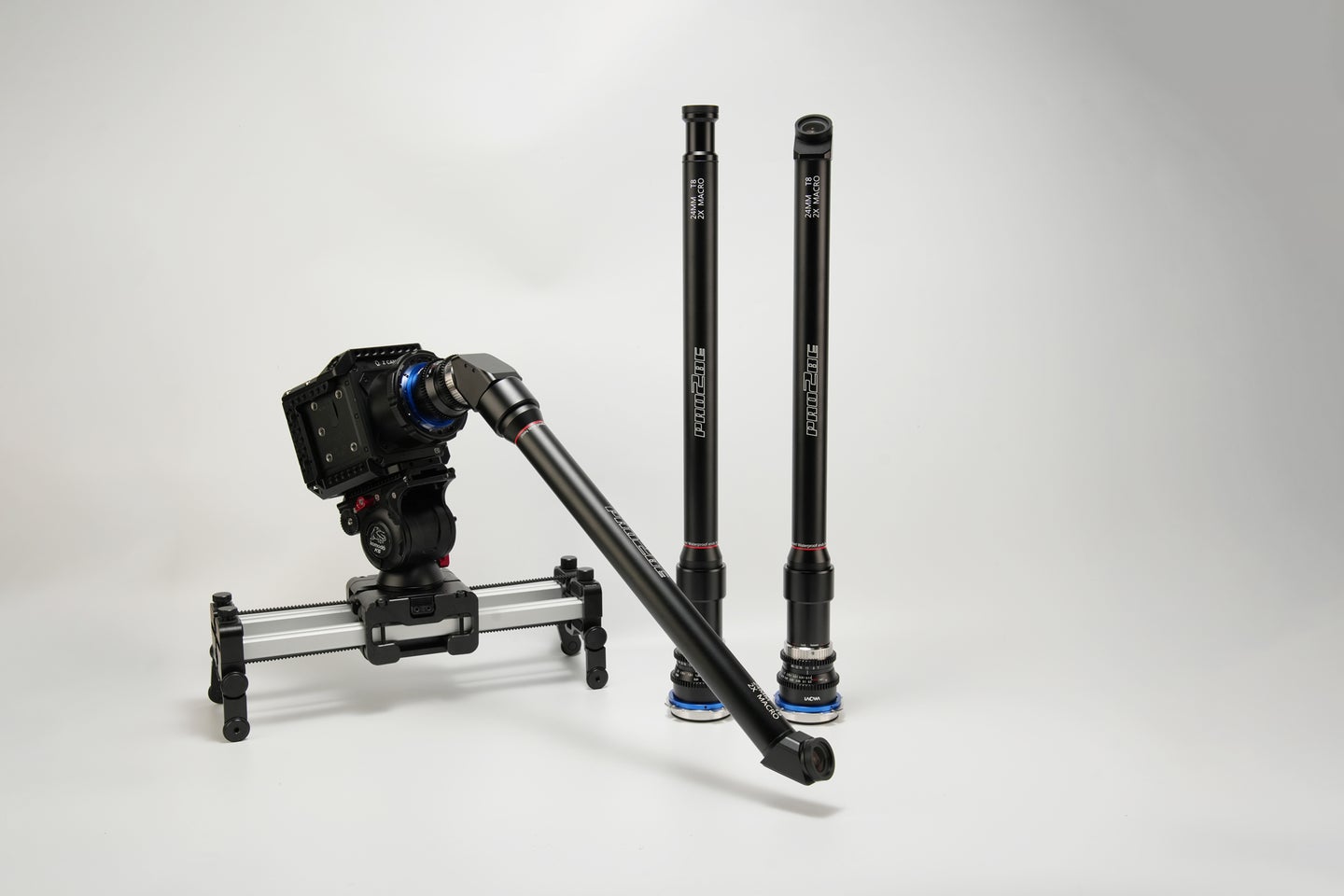 Third-party lens maker Laowa is well known for its technically impressive and creatively unique lenses. That includes its 24mm probe lenses built for dramatic macro shots or unique cinematic content. And now, the company is expanding its probe lens offering with a faster and more unique take on its 24mm probe. The Laowa 24mm T8 2X Macro Pro2be is an unusual offering as it is technically three different lenses that offer the same specs but with different shooting angles. Laowa designed the Pro2be for unique cinematic and photographic situations, opening up more possibilities than with standard lenses. These are niche lenses with a price to reflect that, but they certainly are cool.
Laowa 24mm T8 2X Macro Pro2be details
The Laowa 24mm T8 2X Macro Pro2be is quite different from anything else available. Part of what makes this lens stand out is that it is available in three configurations—Direct View, 35-Degree View, and Periscope View. The Direct View is an update on Laowa's already popular 24mm f/14 2x Macro Probe Lens, with the other following the same formula. They all offer a faster T8 maximum aperture and keep the 2x macro perspective of the original.
Three distinct lenses in one
As mentioned, the new 24mm T8 2X Macro Pro2be comes in three distinct flavors for unique shooting angles. Despite its unusual appearance, the Direct View functions like a traditional lens. The 35-degree View and Periscope View are where things get really interesting. The 35-Degree View lens makes it possible to get dramatic high-angle and low-angle shots without tilting the camera in either direction. The Periscope View lens, as the name suggests, acts like a periscope and provides a view of the subject from a different height than the camera.
As you can see in the video above, the different perspectives that these lenses provide allow for different angles and types of shots than what you can get (at least easily) with traditional lenses. It should open the door creatively for cinematographers and macro photographers.
Lens design and build quality
The Laowa 24mm T8 2X Macro Pro2be lenses are long and tubular but very slim. Most of the barrel is just 1.2 inches in diameter. Both the Direct View and 35-Degree View lenses measure 19.7 inches long, while the Periscope View version comes in at a slightly longer 20 inches. And they weigh between 2.3 and 2.4 pounds. The long, narrow design makes it possible to fit the lens into narrow, small spaces that traditional lenses wouldn't work in.
Laowa designed the skinny portion of the lens barrels—or the first 14.4 inches—to be waterproof, so you can use them for creative underwater shots, as seen above. The end of the waterproof area is marked in a red ring with warning text, so you can easily notice it when shooting.
Another unique feature of the 35-Degree View and Periscope View lenses is the ability to unlock them near the lens mount. You can then rotate the lens for an even wider range of perspectives. Beyond that, the lenses all offer traditional lens controls. They feature a manual aperture ring with an aperture range of T8 to T40 and an aperture throw of 50 degrees. There is also a focus ring with a throw of 150 degrees and hard stops at each end. The focus ring also displays magnification ratios and metric distance measurements for convenience. Each lens can focus as close as 0.004 meters (0.16 inches) or all the way to infinity.
Though the three lenses are mostly identical, there are some differences in optical design to accommodate the different angles. The Direct View and 35-Degree View feature 33 elements in 24 groups, while the Periscope View includes 34 elements in 25 groups.
What are these lenses for?
Though the Laowa 24mm T8 2X Macro Pro2be certainly looks cool, they fit a pretty niche market. The waterproofed tube makes it possible to get underwater images without dealing with a full underwater housing setup and all that goes along with that. The angled lenses make it much easier to get dramatic low or high-angled shots, such as beneath a car, of a pet on the ground, or a sweeping view of a tablescape. It's perhaps best suited for commercial photographers creating advertising content, but there are also plenty of artistic applications.
The extreme close focusing abilities of 0.16 inches and 2x macro reproduction also make these fantastic tools for showing off tiny details. They could be assets for product photography or videography of smaller items as a result.
Pricing & availability
The Laowa 24mm T8 Macro 2x Pro2be is available for purchase now on Laowa's website. The three different formats are available for Arri PL, Canon EF, Canon RF, Nikon F, Nikon Z, Sony FE, and L mount cameras.
The Direct View lens is priced at $2,849, while the 35-Degree View is $3,149. The Periscope View is the most expensive at $3,349. You can also buy the full set, which comes with a case, for $8,499.