The Insta360 Flow is an AI-enhanced smartphone gimbal
Insta360's Flow is a tiny yet powerful smartphone gimbal ideal for those on the go.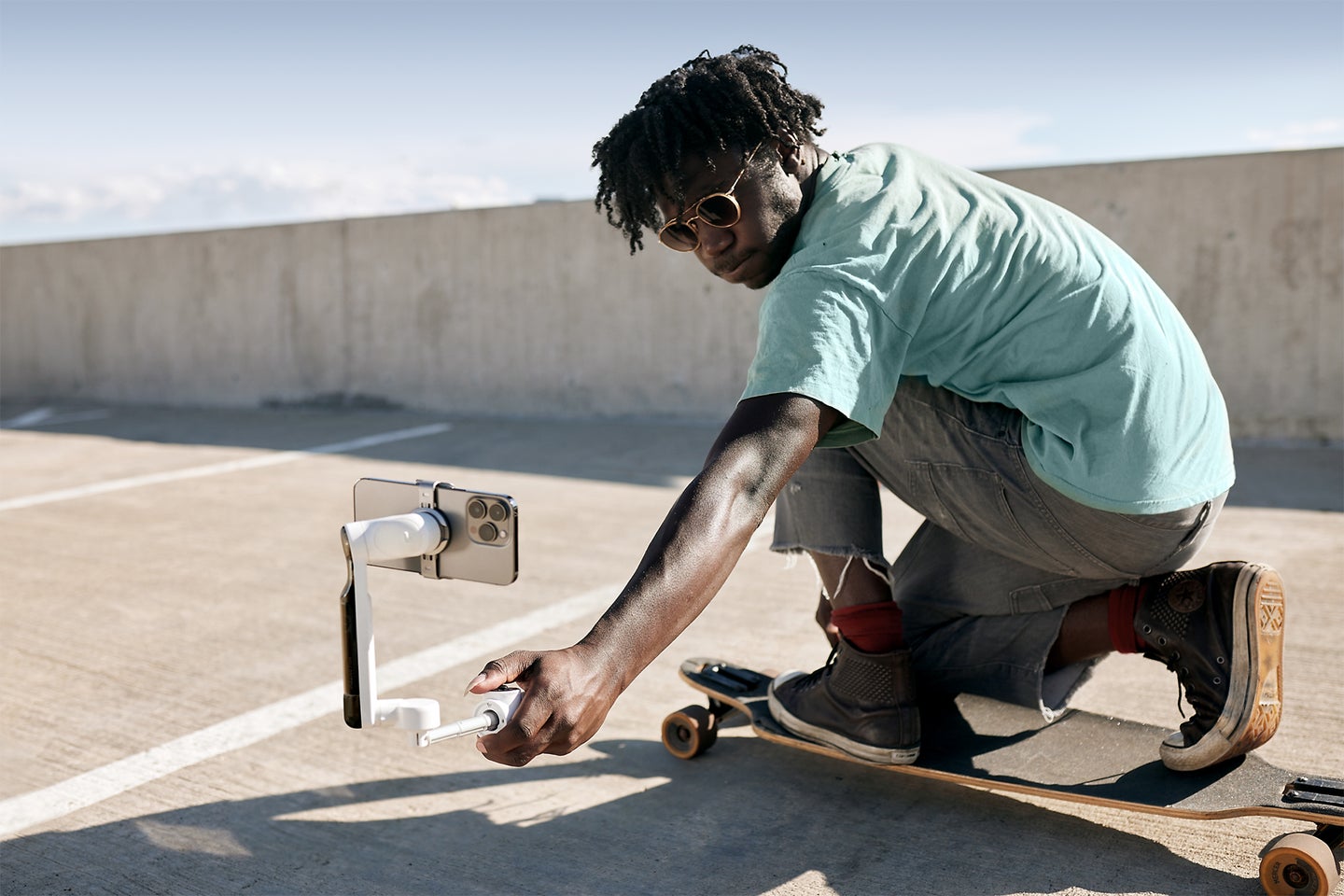 Insta360 is best known for its impressive 360-degree action cameras, but they are now entering the smartphone cinematography world with a smartphone stabilizer. The Insta360 Flow, the company's first smartphone gimbal, also serves as a selfie stick, tripod, and power bank for your phone. It is truly an all-in-one device for capturing footage with your phone. Insta360 also included plenty of AI features in the gimbal to make getting impressive content easier.
Although most phones have pretty impressive stabilization features, they can involve significant crops in videos. And phone stabilization may fall short in situations like low light or when using zoom. So for those who prefer to use their phone for video content, a gimbal is an important tool for getting smooth, professional-looking footage. The Insta360 Flow promises to be an excellent choice for those who want one device that can do it all.
Insta360 Flow details
Insta360's new smartphone gimbal utilizes 3-axis stabilization. It also can function as a selfie stick, extending up to 8.5 inches. And the base of the handle spreads out, forming a tripod for your phone. With all those features, it's a lot more versatile than dedicated gimbals, making it especially ideal for travel. If you create content while you travel, you could create a vast range of shot types with just this single device, allowing you to travel lighter.
The Insta360 Flow features an impressive 12-hour battery life. And the 2900mAh battery can act as a power bank, charging your phone even while you are recording. There's also a built-in cold shoe, allowing you to easily attach a mic to your setup.
Insta360 designed Flow to be easy and quick to use. It unfolds in one motion, so when you need to start filming, you aren't fumbling around with your gimbal. The magnetic phone clamp can stay on your phone, making it even faster to get started. And iPhones can detect the Flow gimbal, automatically sending a notification to the Insta360 app to connect. The SmartWheel provides access to settings, shooting controls, replay, and more, putting lots of control right on the gimbal itself.

Despite all these features, Insta360 flow is pretty tiny. It weighs only 14.1 ounces when the magnetic phone clamp is attached. And it measures 3.1 x 6.4 x 1.4 inches when folded down (not including the phone clamp), making it easy to keep in your bag. The smartphone gimbal is compatible with any phone that is 0.3 to 0.4 inches thick, 2.5-3.3 inches wide, and weighs 4.6 to 10.6 ounces.
AI-based features
On top of the all-in-one design, the Insta360 Flow also gets plenty of AI features to make filming or taking photos easier. The gimbal utilizes Insta360's Deep Track 3.0 to follow subjects, rotating as necessary and framing the shots automatically. It can even continue tracking the subject even if they are blocked from view. And it can track when live streaming in apps like Instagram and TikTok. There's even a specific mode for basketball (Hoop Mode), which can track the basketball and hoop, recognize when a basket is made, and save those highlight moments as individual clips for editing later on.
Auto mode on Flow automatically adjusts settings based on how you are moving to get the smoothest shots possible. Or you can use FPV mode to simulate FPV drone movements. The stabilizer also allows for gesture control, making it easier for those taking photos or videos on their own. If you need help with how you should compose a shot, a simple voice command can activate Shot Genie, which will recommend shooting techniques according to what the scene is.

Insta360 Flow pricing & availability
Instaa360 Flow is available for purchase now in either Summit White or Stone Gray for $159.00. It includes a magnetic phone clamp, charging cable, grip cover, and a protective pouch. A Pro Tripod Kit is also available for $192.98 and comes with an additional all-purpose tripod. You can also purchase accessories such as a light and custom decorative inserts to personalize your Insta360 Flow.