The Fujifilm GFX100 II is smaller, more capable, and yet cheaper
Fujifilm is expanding its medium format offerings with a more advanced camera and three new lenses.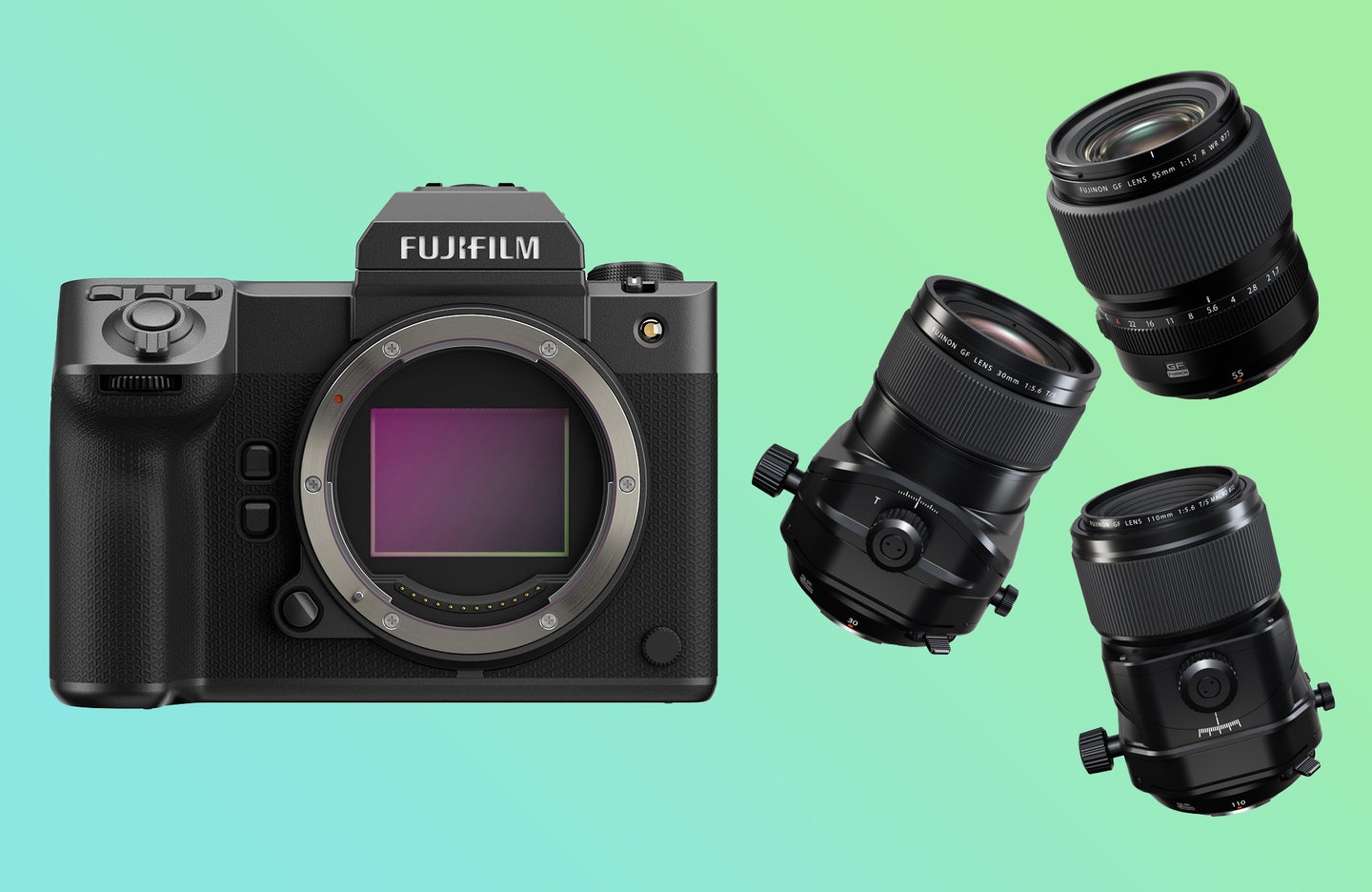 Fujifilm has revitalized its pro-level camera lineup with some exciting announcements. The star of the show was an updated version of the company's flagship medium format camera, the GFX100 II. Fujifilm maintained the same 102-megapixel resolution of the GFX100 but made significant changes to the camera across the board. That includes a newly designed sensor, a new image processing engine, faster autofocus, and a more compact design. Despite all these upgrades, the camera comes in $2,500 cheaper than the original model, which is pretty shocking. It will still cost you $7,499, but it does mean that there isn't much reason to purchase the GFX100 anymore.
Beyond the camera news, the company also announced a GF55mmF1.7 R WR lens, two tilt-shift lenses, and an updated lens development roadmap for its GFX system of mirrorless cameras. Fujifilm is clearly investing heavily into its medium format system.
Fujifilm GFX100 II at a glance
Newly designed 102-megapixel 43.8 x 32.9mm BSI CMOS sensor
X-Processor 5 Image Processor
Weighs 2.2 pounds, which is 1 pound lighter than the GFX100
5-Axis sensor-shift image stabilization
Up to 8 fps
4K 60p, 8K 30p video
AI-based subject-detection autofocus with Deep Learning technology
20 Film simulation modes
ISO range of ISO 80-12800
Fujifilm GFX100 II
The most obvious change of the GFX100 II is the slimmed-down design. The camera looks much more like the slightly more affordable GFX 100S instead of its predecessor, the GFX100. Fujifilm did away with the built-in vertical grip, though you can still buy it as an add-on if you want it. The camera also offers five-axis sensor-shift image stabilization, providing up to eight stops of compensation. Combined with the more lightweight design, it will be easier to get tack sharp images even when hand-holding the camera.
Despite the smaller size, Fujifilm bumped up the quality of the viewfinder in the GFX100 II. It offers a 9.44-million-dot OLED EVF with 1.0x magnification. The GFX100 only featured a 5.76-million-dot EVF with 0.86x magnification, so that's a significant quality increase. This viewfinder is removable, which allows you to use the EVF-TL1 tilt adapter when shooting at a lower angle. There is also a 3.2″ 2.36m-dot tilting touchscreen LCD.
The top of the camera is also significantly different. It includes a traditional mode dial and three customizable function buttons. A large display, which takes up most of the right side on the top of the camera, shows most settings that you'll need, including exposure compensation, shooting mode, exposure settings, and more.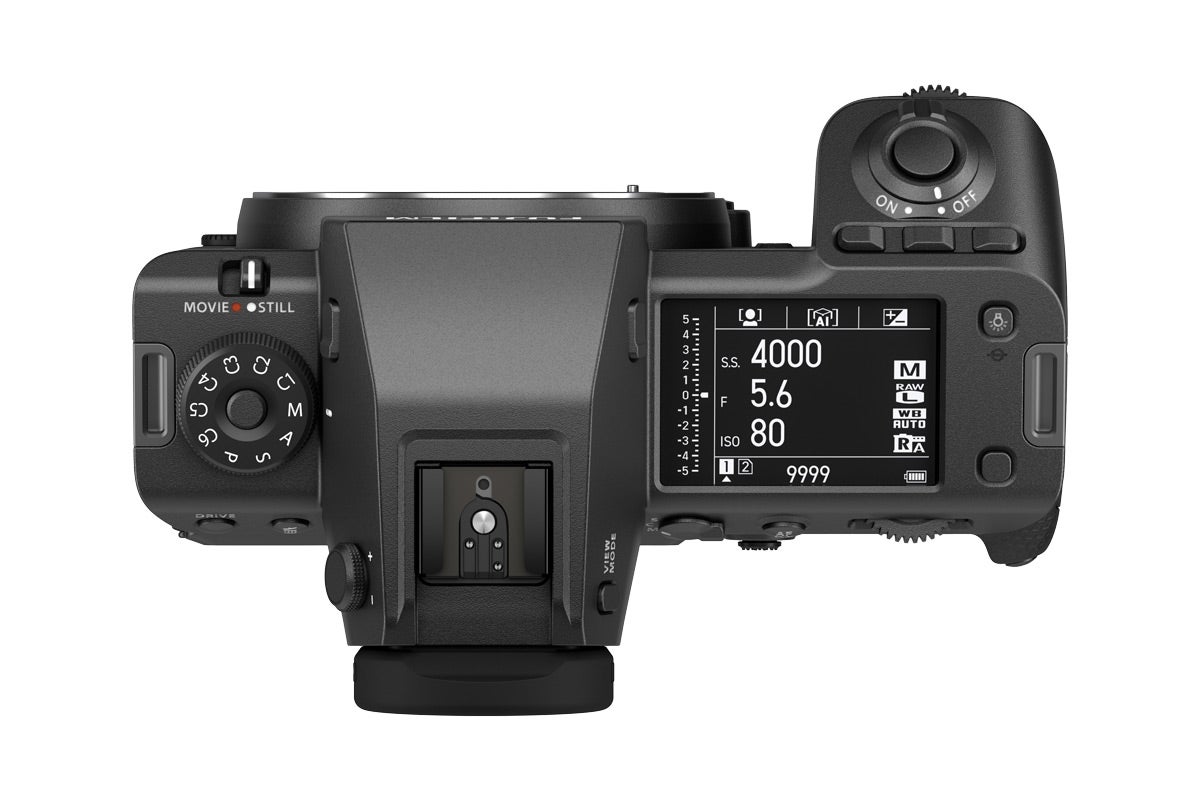 Sensor & processor upgrades
Fujifilm built the GFX100 II around a slew of upgraded tech. The 43.8 x 32.9mm BSI CMOS Sensor is 1.7 times the size of a 35mm sensor, which is ideal for those who want spectacular levels of detail. Though the sensor offers the same 102-megapixel resolution as the GFX100, it is newly designed. Joining the new sensor is Fujifilm's latest fifth-generation X-Processor 5 image-processing engine. Combined, the new sensor and image processor result in double the signal readout speed. That enables faster burst shooting( 8fps compared to the 5fps of the GFX100), faster autofocus, and higher video quality.
The sensor allows for a native ISO range of 80 to 12,800, which is slightly expanded from the GFX100's ISO 100-12,800 range. Fujifilm also explained that it optimized the photosites of the new sensor to "increase light use efficiency at the sensor's edges, thus improving both image quality at the edges of the photo, and AF accuracy over the previous, GFX100 and GFX100S models."
Autofocus
Fujifilm is promising significantly improved autofocus performance in the GFX100 II thanks to the new sensor and image processor. It offers Artificial Intelligence (AI) based subject-detection autofocus (AF), which is also featured in the Fujifilm X-H2S. Fujifilm says that it developed the autofocus system with Deep Learning technology and updated it with the latest prediction AF algorithm. As a result, it can now quickly detect and track animals, birds, vehicles, drones, and insects, keeping focus locked on as they move.
GFX100 II video upgrades
Fujifilm also improved the video capabilities of its new medium format camera. It can record Apple ProRes 4:2:2, 10-bit video internally at 4K 60p or 8K 30p, which is a first for a GFX System camera. For context, the GFX100 and GFX100S topped out at 4K 30p. It supports three different Apple ProRes codecs: Apple ProRes 422 HQ, Apple ProRes 422, and Apple ProRes 422 LT. It can also record Blackmagic raw, providing lots of flexibility.
You can record to the dual CFexpress Type B card slots or directly to an attached SSD via USB-C. There is also an SD card slot, but CFexpress Type B cards are necessary to take advantage of the enhanced video performance features. A full-size HDMI output is also available.
Pricing & availability
Somehow, even though Fujifilm made some massive improvements to the GFX100 II, it comes in at $2,500 cheaper than the GFX100. Of course, as a pro-grade camera, it's still not cheap. It will be available in early fall for $7,499 and is available for pre-order now.
Tilt-shift lenses for GFX System cameras
In case the camera wasn't enough, Fujifilm also announced two tilt-shift lenses for its GFX cameras. That includes the Fujinon GF30mmF5.6 T/S lens and Fujinon Lens GF110mmF5.6 T/S Macro lenses. They mark the first native tilt-shift lenses for GFX cameras. These tilt-shift lenses open up new creative opportunities for architectural, product, and commercial photographers.
Fujinon GF30mmF5.6 T/S lens details
The GF30mmF5.6 T/S offers a 35mm equivalent focal length of 24mm, meaning it provides an ideal wide-angle perspective for architectural and landscape work. Fujifilm built the lens with 16 lens elements in 11 groups, including three aspherical elements, two extra-low dispersion (ED) elements, and one Super ED element. It also features the use of a large aperture aspherical, front element, and three ED elements, which Fujifilm says eliminates "the need for electronically correcting distortion and lateral chromatic aberration." It should provide edge-to-edge sharpness even when shifting.
The lens offers tilting of ±8.5 degrees and shifting of up to ±15mm. And you can combine rotation adjustments within ±90 degrees with parallel or perpendicular tilt and shift adjustments. There is a built-in sensor in the lens, which allows you to monitor changes in Live View and also records the information in the file's metadata.
The lens weighs 2.95 and is 5.5 inches long.
Fujinon GF110mmF5.6 T/S Macro lens details
Fujifilm's 100mm macro tilt-shift offers a 35mm equivalent focal length of 87mm and a maximum magnification ratio of 0.5x. Fujifilm says that the lens will deliver high levels of image resolution, making it ideal for commercial and still-life photography. It allows for tilt up to ±10 degrees and to shift up to ±15mm, along with the same rotation adjustments within ±90 degrees as the 30mm lens.
The 110mm weighs 2.77 pounds and measures 5.9 inches long.
Pricing & availability
Both of the new tilt-shift lenses will be available this fall. The GF30mmF5.6 T/S is priced at $3,999, while the GF110mmF5.6 T/S Macro will cost you $3,499. Both are available for pre-order now.
Fujinon GF55mmF1.7 R WR lens
Rounding out the announcement from the X Summit is the GF55mmF1.7 R WR lens. This lens offers a 35mm equivalent focal length of 44mm and is ideal for travel, street, and documentary photography applications. It offers a fast f/1.7 aperture, which pairs well with the recently released GF80mmF1.7 R WR lens.
The lens is made up of 14 elements in 10 groups, including aspherical and extra-low dispersion (ED) elements. The 11-blade diaphragm results in rounded bokeh, even when shooting wide open. And it Fujifilm says that it effectively controls chromatic and spherical aberrations.
Fujifilm utilized a powerful direct current (DC) motor and a GMR sensor in this lens, which ensures fast and near-silent autofocus. It should offer edge-to-edge sharpness even when using a shallow depth of field. It is also built to handle the elements, with weather-resistant seals in nine places. It weighs 1.72 pounds and measures only 3.9 inches.
Pricing & availability
The GF55mmF1.7 R WR lens will be available early this fall for $2,299.95. It is available for pre-order now.