The DJI Inspire 3 is a pro-level 8K cinema drone
DJI's newest drone offers a lot of impressive features and specs at an even more impressive price.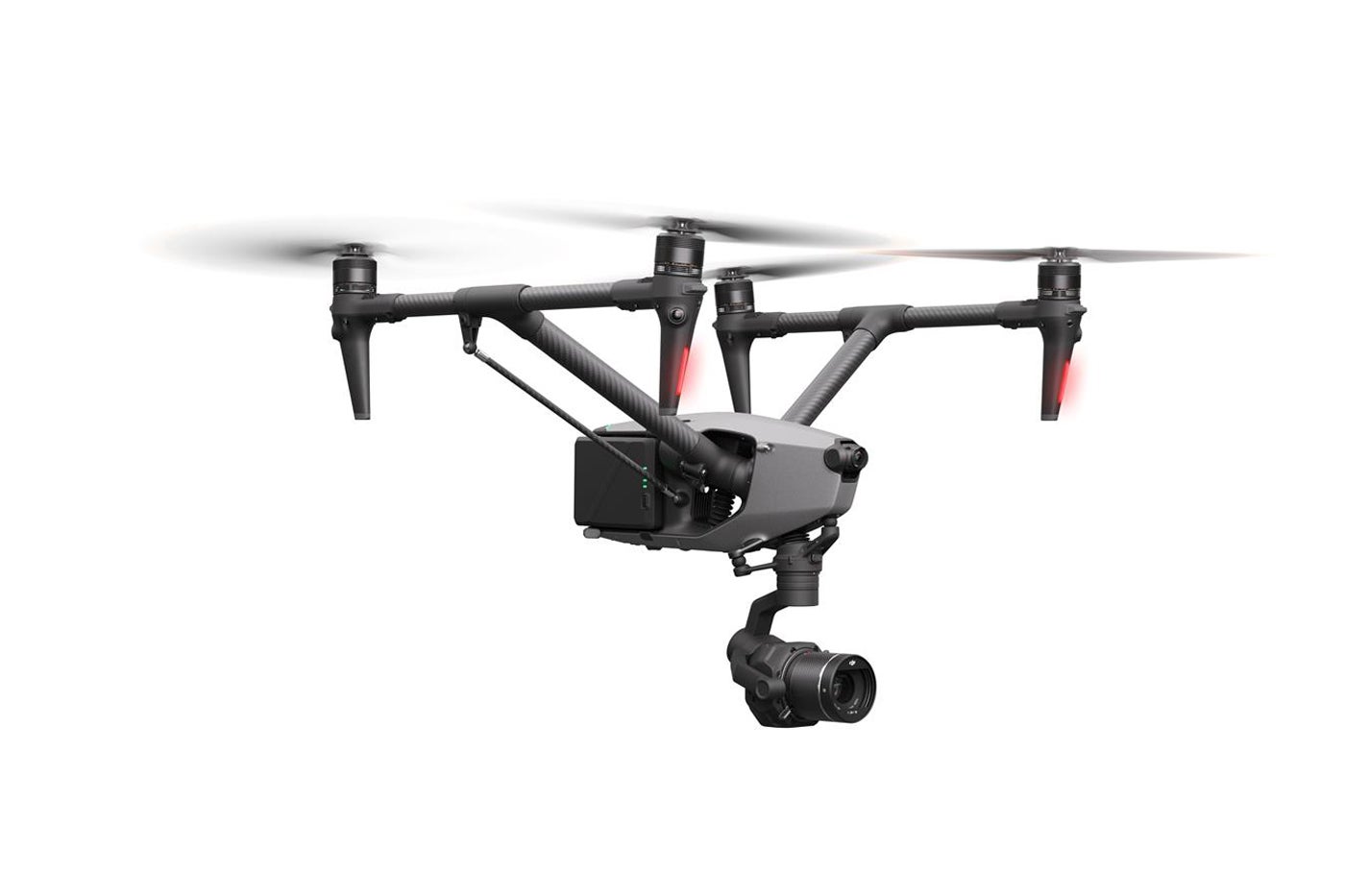 DJI is known for pushing boundaries on its drones, and that continues to be the case with its latest release. The new Inspire 3 is the company's only cinema-grade drone, putting it at the top of DJI's lineup. It's packed full of advanced features such as 8K video, FPV camera, nine visual sensors, and high-precision positioning technology. It can simulate the movements of a crane, cable cam, or dolly, while still offering epic aerial footage. For cinematographers who need the absolute best in drone footage, the Inspire 3 promises to be quite an excellent solution.
What is the DJI Inspire 3?
To be clear, this drone is not for the average consumer like the Mavic 3. It is a drone designed for top-level movie and television productions. As a result, it demands a price to match. At $16,499, it costs more than many used cars. In fact, it's $6,500 more than the 2000 Mazda Miata we recently bought. But for high-end productions and cinematographers who need exceptional aerial shots, the Inspire 3 has a lot to offer.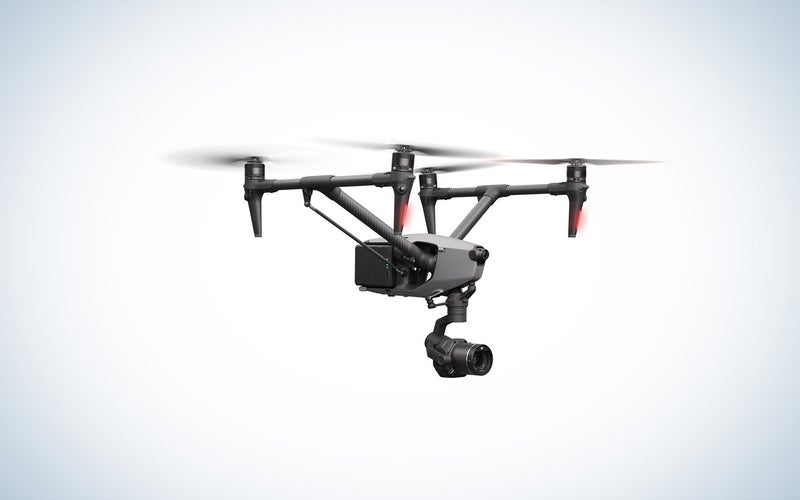 DJI Inspire 3 camera
DJI's drones typically feature impressive cameras, and that is certainly true in the Inspire 3. It is built around a full-frame Zenmuse X9-8K Air Gimbal Camera, which DJI says is the lightest version of that camera ever. It also gets DJI's CineCore 3.0, which is the company's latest image processing system. As a result, the camera is capable of up to 8K 25fps CinemaDNG video and 8K 75fps Apple ProRes RAW video. And the S&Q mode offers internal recording of up to full-frame 4K/120fps ProRes RAW video without cropping.
The X9-8K Air camera also supports dual native ISO. DJI explains that "at full-frame 30fps and below, it offers EI 800/4000, supporting the 24fps commonly seen in film productions and the 25fps used in commercial and television productions." If shooting at above 30fps, EI 320/1600 is available. In all, the X9-8K Air will cover 14 stops of dynamic range, making it easier to capture complicated, high-contrast lighting situations and opening up possibilities in post.
The camera on the Inspire 3 utilizes DJI's DL mount. As a result, it's compatible with an 18mm f/2.8 lens as well as a "new telephoto lens specially made for 8K aerial cinematography." Full-frame 24mm, 35mm, and 50mm lenses are also compatible. And the camera gets the DJI Cinema Color System (DCCS) for accurate, authentic colors. These colors will match ground-based devices from DJI, such as the Ronin 4D, to streamline editing workflows. Finally, it comes with the DJI PROSSD 1TB, which offers up to 1100 MB/s of write speed and 900 MB/s of read speed and can connect directly to a computer using a USB-C cable.

Inspire 3 drone details
On top of the impressive camera specs, the drone itself is extremely advanced. DJI says that it is completely redesigned from the Inspire 2. The Inspire 3 features nine visual sensors. That means it can detect obstacles in all directions. And obstacle detection is now customizable. Horizontal, upward, and downward obstacle sensing can operate independently of each other. You can also manually set obstacle alert ranges. And even when obstacle avoidance is turned off, you can view the distance from an obstacle in real time and receive an audio alert when the obstacle is within a predetermined range.
The Inspire 3 integrates RTK positioning technology, which is used in architectural and surveying industries and offers centimeter-level accuracy. This makes for more stable flight but also allows for more precise route planning.
Location information is powered by the integrated 3 GNSS System (GPS + Galileo + BeiDou) system and built-in dual-layered ceramic RTK antennas. There's no need to mount anything else in order to get precise positioning. And they also provide the drone with internal orientation, so there's no need to perform a compass calibration in most situations.
Inspire 3 flight modes
The new location feature enables the Waypoint Pro function, which allows for highly customizable flight-route and shot planning. There are two options associated with Waypoint Pro: Repeatable Routes and 3D Dolly. The repeatable Routes feature allows for the creation of precisely repeatable flights, maintaining parameters such as altitude, speed, gimbal angle, and camera settings. This opens up lots of possibilities, including the option of creating long-duration timelapses to show transitions from season to season, for example.
The 3D Dolly feature can simulate a crane, cable cam, or dolly. It allows drone pilots to create an aerial motion path where they can then move the drone back and forward along the path. The pilot retains full gimbal control and can adjust speed on that path as well. The 3D Dolly feature makes the drone significantly more versatile in the types of shots it can get.
The Spotlight Pro feature relies on machine-learning algorithms to provide single-object recognition and tracking. That means the pilot can focus on flying while the camera gimbal automatically stays on the subject, opening up much more complex shots.
Upgraded transmission
DJI also improved transmission in the new O3 Pro Transmission. It enables a range of 9.3 miles with one controller or 7.5 miles in dual-controller mode. The live feed offers quality up to 1080p 60fps with an ultra-low latency of 90 ms. Or, if you reduce the transmission range to three miles, you can get a 4K 30fps live feed, which is a first.

Drone design
The Inspire 3 is relatively lightweight and portable. It weighs 8.8 pounds and features a transformable frame. All sensors, cameras, and storage card slots are seamlessly integrated into the body for a more streamlined look. The new design supports Tilt Boost, which allows for an obstruction-free 80-degree upward angle view when the landing gear is lowered.
The drone also features new hot-swappable TB51 intelligent dual batteries. These provide a flight time of up to 28 minutes. And the Inspire 3 can fly at speeds up to 58 miles per hour.
Inspire 3 pricing & availability
The new DJI Inspire 3 will start shipping at the end of June but is available for pre-order now for $16,499. The combo includes the DJI Inspire 3 Aircraft, Zenmuse X9-8K Air Gimbal Camera, RC Plus remote controller, 6x TB51 Intelligent Battery, Charging Hub, PROSSD 1TB, Trolley Case, 3x Foldable Quick-Release Propellers (Pair), Lens Carrying Box, RC Plus Strap, and more. There will be no shortage of accessories available for purchase as well, including the new DJI DL 18 mm F2.8 ASPH Lens for $1,299.