Canon EOS R3 pro mirrorless camera officially announced, full specs revealed
The full-frame EOS R3 is Canon's most impressive mirrorless camera to date, offering 30 fps continuous shooting with AF, 6K Raw video capture, and a rugged twin grip design.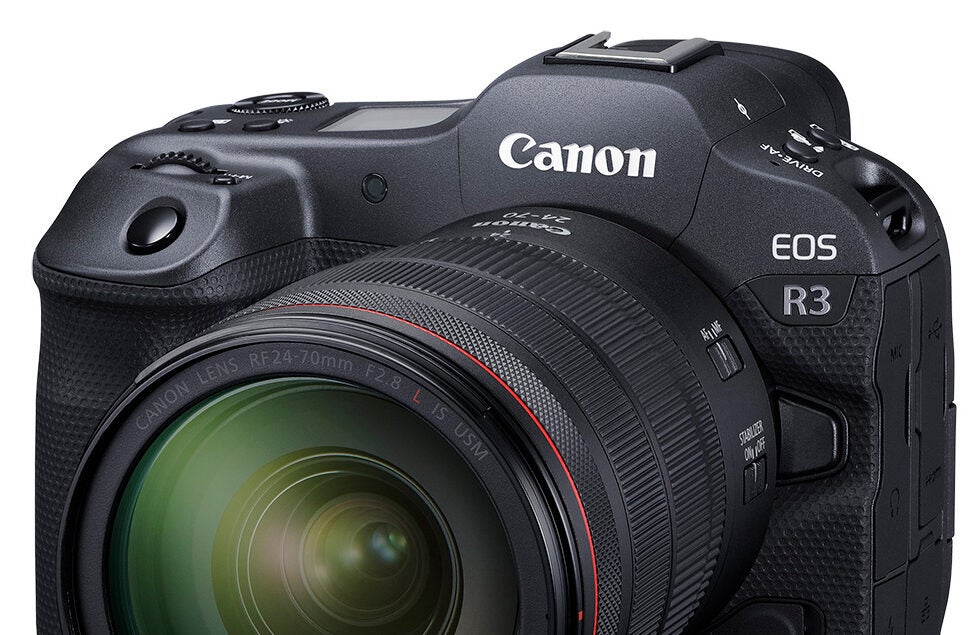 We may earn revenue from the products available on this page and participate in affiliate programs. Learn more ›
The Canon EOS R3 has officially entered the chat. For nearly 6 months, Canon has been teasing its latest full-frame camera with occasional hints about specifications. But we now have a clear picture of what this pro-level body brings to the mirrorless camera party.
Geared toward sports and wildlife shooters, as well as photojournalists, the EOS R3 emphasizes speed, durability, and easy file transfers. It uses Canon's latest stacked CMOS sensor technology and features a unibody magnesium alloy shell with an integrated vertical grip. In short, it's easily Canon's most impressive mirrorless camera to date – just don't go calling it a 'flagship.' Canon maintains the EOS 1D X Mark III DSLR is still the top dog in its lineup (but perhaps a mirrorless 1D body isn't too far away).  
Canon EOS R3 standout specs: 
New 24MP full-frame stacked CMOS sensor (developed in-house)
30 fps continuous shooting with AF (e-shutter)
12 fps continuous shooting with AF (mechanical shutter)
ISO 100-102,400 (expandable to 204,800 in stills mode)
6K/60p and 4K/120p video modes 
5.76-million dot electronic viewfinder (120 fps refresh rate)
Fully-articulating 4.12-million dot LCD 
5-axis in-body image stabilization 
Dust/weather-sealed magnesium alloy body with integrated vertical grip/controls 
Dual card slots: UHS-II SD + CFexpress 
Canon EOS R3 stacked CMOS sensor 
We see a lot of cameras sporting 24-megapixel, full-frame sensors. But what makes the EOS R3's sensor special is its backside-illuminated 'stacked CMOS' design. It's the first of its kind from Canon and developed in-house. Before we discuss what 'stacked' means, let's talk BSI. These sensors have been around for several years and by design can collect more light at the pixel level than standard sensors, leading to comparably less digital noise (giving users a potential advantage in low light conditions). 
Stacked CMOS is the next progression of sensor technology beyond BSI. By incorporating system memory directly onto the physical sensor chip, stacked sensors can process information quicker than their standard sensor counterparts. This allows for faster burst shooting and quicker AF calculations, as well as better video performance with less rolling shutter. Sony's already proven just how impressive this sensor tech is with its recent pro-level bodies, like the Sony A1. And it's exciting to see Canon leverage it as well. 
Processor, burst shooting, and storage 
To complement its fancy new stacked CMOS sensor, the EOS R3 uses Canon's latest Digic X processor. Combined, they provide exceptionally snappy performance. The R3 can capture images at up to 30 fps using the electronic shutter, with no screen/viewfinder blackout and up to 12 fps using the mechanical shutter. The former is 10 fps faster than the EOS 1D X Mark III's top e-shutter burst rate (of 20 fps). But the flagship DSLR remains faster in the mechanical shutter department with a top speed of 16 fps.
In terms of storage, the body offers both a UHS-II SD slot as well as a CFexpress slot. Regardless of which you utilize, you'll be able to fire off about 150 Raw files before the buffer kicks in when using the 30 fps mode. But in 12 fps mode, CFexpress offers an advantage: 1000+ Raw files before hitting the buffer compared to about 290 frames when writing to a UHS-II SD card. 
Canon EOS R3 Autofocus 
The EOS R3 uses Canon's latest Dual Pixel CMOS AF II system and offers a whopping 1,053 AF points. In addition to face and eye detection, it also has an animal recognition AF mode as well as a motorsport recognition mode (which is tuned to spot fast-moving cars and motorcycles). Canon says face and eye tracking performance has been improved upon compared to previous mirrorless models, like the EOS R5 and R6, thanks to a combination of user feedback and machine learning. For low light shooting, the EOS R3 can focus in conditions as dark as -7.5EV (when using an F1.2 lens). 
Eye Control AF 
Perhaps one of the coolest new features of the EOS R3 is its Eye Control AF functionality. Rather than choosing one's AF subject via the joystick, this mode monitors your eye position when held to the EVF – via infrared beams –  and repositions the AF point/area in whatever direction you're looking. How well does it work? We've yet to test it out, but initial reports suggest it's more than just a gimmick. You'll need to run through a calibration process before using Eye Control AF and the more times you run the process, the better it supposedly works. 
Surprisingly, this feature has been around for quite a while, though laid dormant for several decades: Canon originally introduced Eye Control AF in high-end film bodies during the 1990s, including the Canon EOS-3 or Elan 7e. In that iteration, the mode worked just OK. But we expect far better performance from it in its latest iteration. 
Canon EOS R3 Body design 
The EOS R3 is Canon's first mirrorless full-framer with an integrated vertical grip. Like the EOS 1D X Mark III, this allows the camera to be comfortably used in either the vertical or horizontal orientation, with twin controls for each. Button and dial placement is nearly a match with the 1D X Mark III (though the R3 is considerably smaller, as there's no viewfinder prism). And well-placed joysticks allow for quick and easy AF area/point placement (when not using Eye Control AF). 
The build quality of the camera also impresses: the EOS R3 features a unibody magnesium alloy design, which should provide excellent durability. The outside is wrapped in a grippy, textured, rubber-like material. Canon doesn't specify an IP rating, but we're told the R3 offers the same degree of dust and weather sealing as a 1D-series camera. Which is to say, you could probably use this thing in a hurricane and it'd come out unscathed. 
Fully-articulating 4.15-million dot touchscreen 
This is Canon's first twin grip camera to offer an articulating touchscreen. The 3.2-inch panel is also among the highest resolution screens we've seen on a digital camera, with 4.15-million dots. The display is touch-sensitive and can be used for a variety of functions in both record and playback mode. 
5.76-million dot electronic viewfinder
The EOS R3 sports a hearty 5.76-million dot OLED EVF with 100% coverage, 0.76x magnification, and a 23mm eyepoint. 
In-body image stabilization
One major advantage the EOS R3 has over its twin grip DSLR counterparts is the inclusion of 5-axis in-body image stabilization. Canon says it can provide up to 8-stops of added hand-hold-ability, depending on which lens you pair it with. That said, you'll get at least 6-stops of IS, regardless of which RF lens you mount. IS works during both stills and video capture. 
Video mode 
The EOS R3's stacked sensor and fast processor also provide major advantages when it comes to video capture. Users can shoot 6K Raw video using the full width of the sensor at up to 60p. Or you can choose to shoot oversampled 4K video at up to 60p. Additionally, there's a subsampled 4K/120p video mode (with no crop factor). In all these modes, rolling shutter should be very well controlled, again thanks to the stacked sensor design and quick readout. 
If you're not looking to shoot Raw video, but still want plenty of flexibility in post, the EOS R3 offers 10-bit capture using Canon's Log 3 profile. 
It's worth noting: 6K Raw and 4K/120p both require you use a CFexpress card rated at 400mb/s or higher.
Connectivity & Multi-function shoe 
A pro-level camera should offer pro-level connectivity and the EOS R3 does not disappoint. Users can transfer files via 5 GHz Wi-Fi using Canon's Mobile File Transmitter application. The camera also offers Bluetooth (for pairing with a device), and a built-in wired LAN port (for transmitting photos the old school way). 
The EOS R3's hotshoe is multi-functional and plays nice with a wide variety of Canon speedlights as well as a variety of other accessories including external microphones and Canon's Smartphone Link Adapter. 
Battery life 
The EOS R3 uses the same LP-E19 battery as the EOS 1D X Mark III, but battery life is considerably less when shooting through the finder due to the power needs of the EOS R3's EVF. According to CIPA standards, you can expect up to 860 shots per charge when using the LCD and 620 when using the EVF in power-saving mode. In the standard mode, you can expect 760 shots using the LCD and 440 using the EVF. That said, CIPA battery ratings tend to be on the conservative side. You'll likely be pleasantly surprised by battery performance in real-world use. 
The EOS R3 also can play nice with LP-E4N batteries (but not LP-E19's). However, Canon cautions against charging these batteries using the R3's charger for safety reasons. 
Canon EOS R3 price and availability 
And there you have it, a full breakdown of Canon's latest drool-worthy, pro-level mirrorless body. If all of the above sounds good to you, you can get your hands on the new EOS R3 come November 2021 for a body-only price of $5999.