The Blackmagic Cinema Camera 6K is the company's first full-frame camera
The latest camera from Blackmagic Design offers high-end cinema features in a compact, relatively affordable body.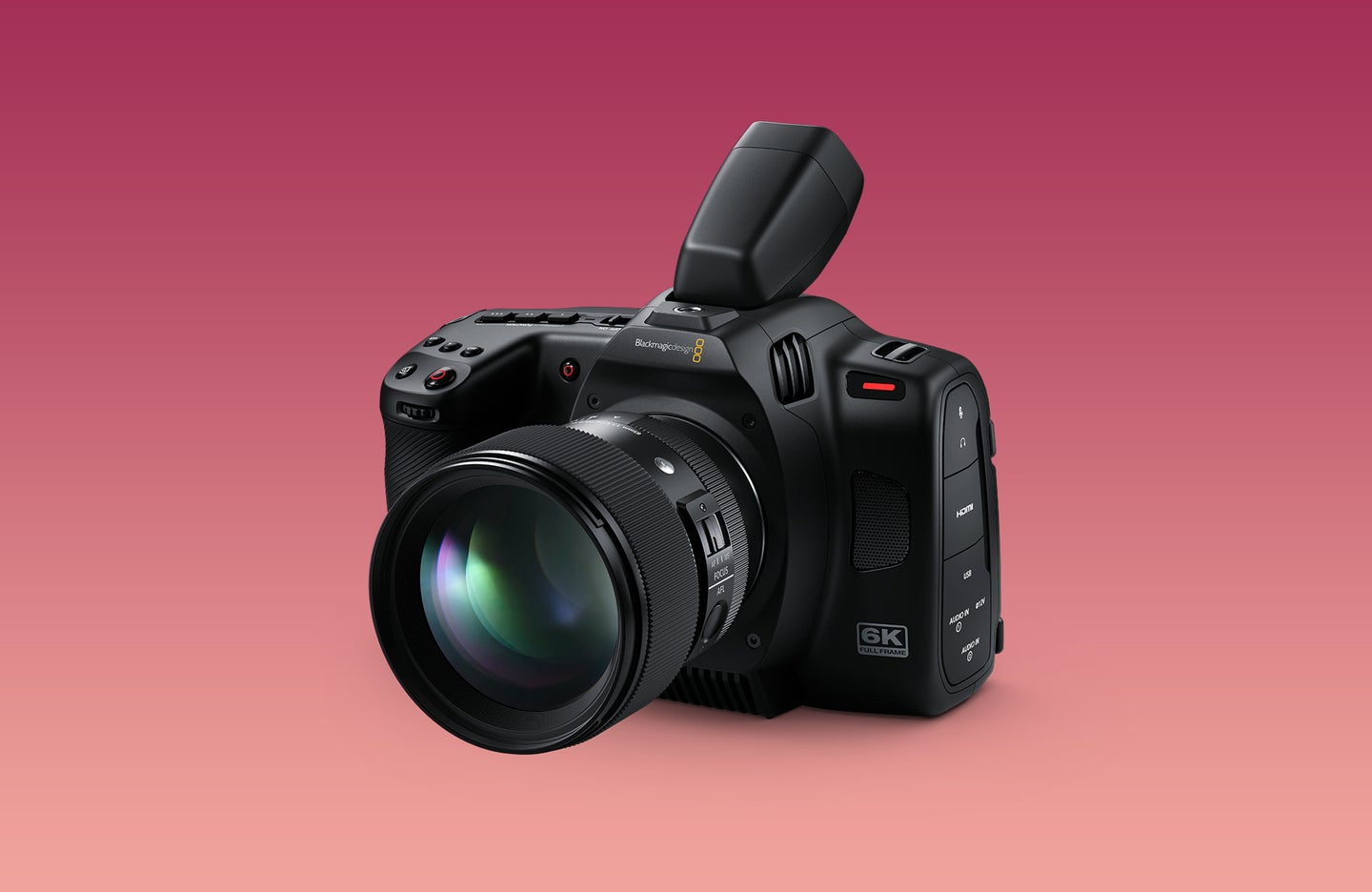 Blackmagic Design is well known for its range of cinema cameras that make high-end video more approachable than traditional cinema cameras while offering better quality than a DSLR or mirrorless camera. And now, the company has expanded its offerings with the Cinema Camera 6K. This new camera sits squarely in between the Pocket Cinema Cameras and its high-end URSA lineup, offering high-end digital film camera quality and features in a compact body.
The design of the new camera looks remarkably like the Pocket Cinema Camera, but internally, it is a totally different beast. The star of the show is the full-frame sensor, which is a first in Blackmagic cameras. It also features an L-mount bayonet, making it a highly versatile option. Despite the high-end tech, the camera comes in at $2,595, which is surprisingly affordable.
Blackmagic Design Cinema Camera 6K at a glance
36 x 24mm full-frame 6K 6048 x 4032 sensor
Open gate 3:2, full height 6:5 anamorphic, and Super 35 for creating cinematic content
L-Mount compatible
Records full resolution up to 36 fps or 120 fps windowed
Utilizes CFexpress cards
Adjustable, 5-inch HDR 1500 nit LCD screen
Compatible with the optional Blackmagic Pocket Cinema Camera Pro EVF
Uses the NP-F570 battery and optional Blackmagic Pocket Camera Battery Pro Grip
Blackmagic Design Cinema Camera 6K
The most exciting feature of the Cinema Camera 6K is the new full-frame sensor. Thus far, all of Blackmagic's cameras have utilized Super 35 sensors. The 24 by 36mm 6K sensor provides a native resolution of 6048 x 4032, which is almost three times larger than a Super 35 sensor. This opens up more opportunities to use anamorphic lenses and a shallower depth of field for even more dramatic cinematic footage.
It offers dual native ISOs up to 25,600 with 13 stops of dynamic range. And, like the more expensive URSA lineup, it features an optical low-pass filter to help manage moire and aliasing. The larger sensor means that you can use a variety of film formats and aspect ratios without sacrificing quality. That includes open gate 3:2 for reframing shots in post. And it also enables 6:5 anamorphic content without cropping for higher-resolution and more detailed widescreen videos than previously possible. And you could even use the classic Super 35 sized window on the sensor for an instant close-up look.
L-mount
Another exciting feature of the Cinema Camera 6K is the L-mount bayonet. Dan May, the president of Blackmagic Design, explained that the L-mount alliance is a big win, as it enables the use of more affordable lenses. Blackmagic Design has always had the goal of offering tools that are a balance between high-end Hollywood tools while still being something that a college student could go out and buy to get started. But an affordable camera doesn't mean much if you are limited to $10,000 cinema lenses.
With the L-mount, you, of course, have access to lenses from Leica, Panasonic, and Sigma. But there are also plenty of adapters so that you can use a wide range of lenses beyond that as well. For example, you can easily find L-mount to EF-mount adapters, allowing you to use your EF glass on the Cinema Camera 6K. That means there are plenty of affordable options as well as high-end ones, making this a versatile tool for novices and pros alike. And you can utilize both new and vintage lenses, giving you a wider range of creative opportunities.
Design & build
As mentioned, the body of the Cinema Camera 6K looks nearly identical to the Pocket Cinema Cameras. It's highly compact for a cinema camera, with handling similar to mirrorless cameras. There are a few benefits to this familiar form factor. For starters, it is easier to hold than most cinema cameras, making hand-held shooting more possible. But more importantly, most third-party or Blackmagic Design accessories that work with the Pocket Cinema Camera will also work with the Cinema Camera 6K. So, if you already own accessories such as cages or a vertical battery grip, you won't need to buy new ones to use with this new camera.
The Cinema Camera 6K features a CFexpress card recorder, but you can also record to external flash media disks or SSDs via the USB-C port. The back of the camera is dominated by a bright five-inch HDR LCD touchscreen, which makes it easy to compose and focus shots as well as keep an eye on histograms, levels, and more. The screen can be tilted up to 180 degrees flat and down to 47 degrees. And it offers 1500 nits of brightness.
If you are working in too bright of conditions, there is also an optional viewfinder with an integrated 1280 x 960 color OLED display with a built-in proximity sensor. It features a four-element glass diopter for incredible accuracy with a wide -4 to +4 focus adjustment.
Video details
The Blackmagic Design Cinema Camera 6K can shoot in all standard resolutions and frame rates up to 6K. At 6K, the camera can shoot up to 36 fps at 6048 x 4032 3:2 open gate or 60 fps at 6048 x 2520 2.4:1 and 60 fps at 4096 x 2160 4K DCI. If you want higher frame rates, you can window the sensor and shoot up to 100 fps at 2112 x 1184 Super 16 or 120 fps at 1080HD. Blackmagic Design also explained that the camera allows the use of "true anamorphic 6:5 at much higher resolutions than other cameras using anamorphic lenses in 4.8K 24 fps at 4838 x 4032."
Blackmagic Design cameras are well known for their focus on post-production workflows, and that remains with the Cinema Camera 6K. It allows simultaneous Blackmagic RAW and real-time H.264 proxy recording for cloud workflows.
Cinema Camera 6K pricing & availability
The Blackmagic Design Cinema Camera 6K is priced at $2,595, which is roughly the same as the Pocket Cinema Camera 6K Pro. It is available for pre-order now and is set to begin shipping on October 1.
iPhone camera app
Blackmagic Design also announced a handful of additional products and updates, including a new iPhone camera app. The Blackmagic Design app transforms your phone into a digital film camera. It offers the same settings that you'd see on a Blackmagic camera, as well as the same menus. That includes focus assist features with zebra pattern, false color, audio levels, focus peaking, codex settings, and more. It adds a timecode automatically, so you can easily use your phone as a second camera.
The app can shoot vertical aspect ratios, but it also offers what Blackmagic is calling Stealth Mode. Stealth Mode lets you rotate the phone vertically—which is easier to hold and record—but then crops the sensor to be horizontal. The app fully integrates with DaVinci Resolve and its cloud sharing, so you can record directly to a project and share your videos with collaborators and teammates.
The app is available today and is totally free of charge.