The Aura Walden is a 15-inch, wall-mountable digital photo frame
The Aura Walden's large size and wall-mounting option makes a versatile digital frame.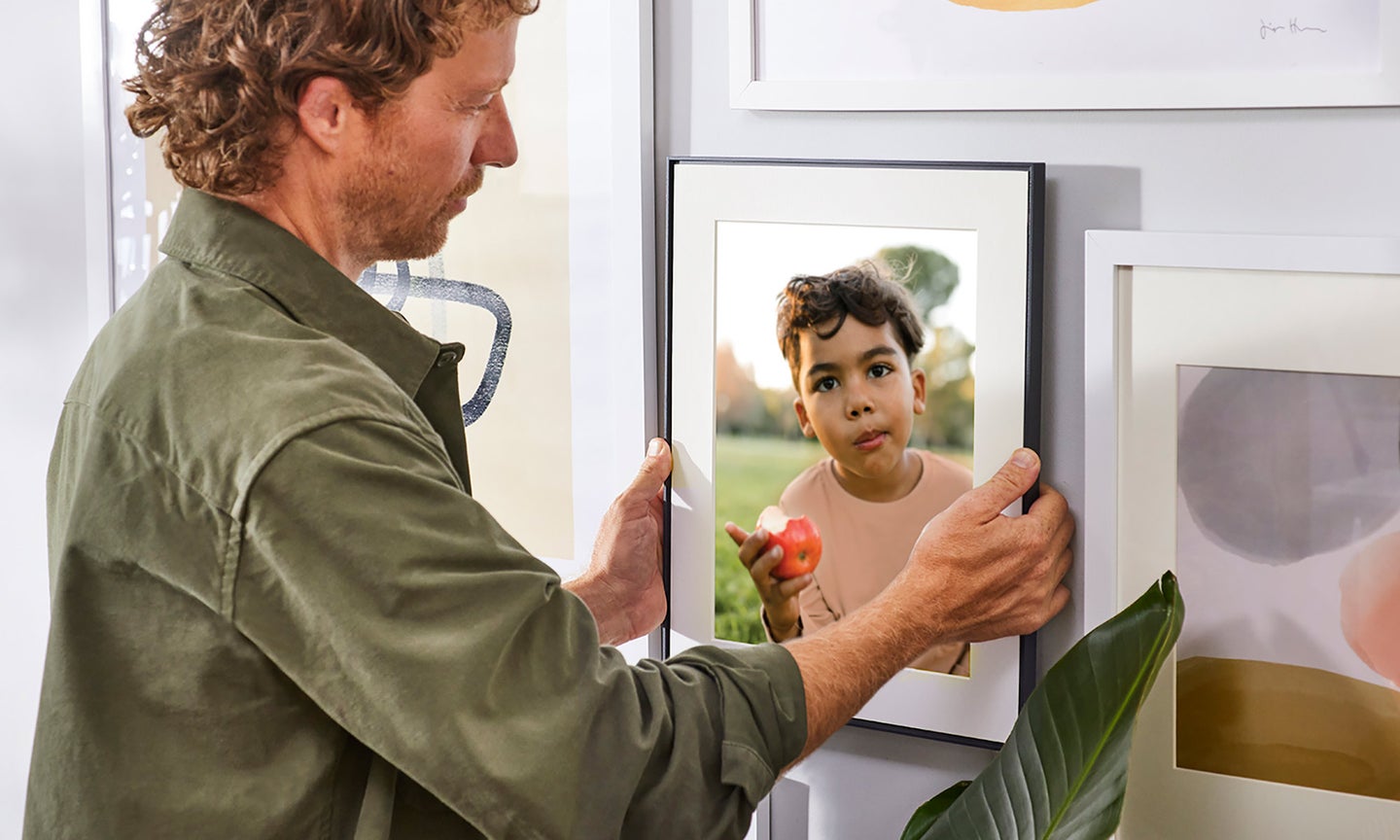 Aura is well-known for its attractive and feature-rich digital photo frames. And now, the company has released its largest frame yet. The Aura Walden features a 15-inch black frame with a white linen-textured mat, resulting in a 9- by 12-inch image area. Like all of Aura's frames, it's Wi-Fi-connected and allows you to easily share photos remotely. Digital picture frames make fantastic gifts, so this frame comes out just in time with the holiday season quickly approaching.
What is the Aura Walden digital picture frame?
Thus far, Aura's offerings have topped out at 10 inches and have exclusively utilized tabletop designs. The Walden takes things to the next level, offering a 15-inch diagonal. You can place the frame on a tabletop or mount it on a wall. You can even hang it in either a vertical or horizontal orientation, with the frame automatically adjusting accordingly. This makes the frame a lot more versatile than Aura's other options. Of course, because it's a digital picture frame, you'll still need to plug it in, but you'll have more options for where to display your photos.
Wi-Fi and AI features
All of Aura's frames are Wi-Fi-connected, and that's also true of the Aura Walden. It comes with free, unlimited photo and video storage as well. That means that you can add photos and videos from anywhere via the Aura app, website, or email. You can even invite family and friends to share images, allowing you to share memories with each other even when you aren't together. If you are gifting the frame to someone, you can even pre-load photos before it gets delivered.
Aura is constantly working on new AI features to make its frames smarter and more user-friendly. It recently released a Highlights feature, which uses facial recognition to filter and suggest relevant photos based on the people who are most often selected. It will make it faster for you to add the photos that you actually want into your Aura Walden instead of needing to go through photos one by one. A previous release—Colorizer—automatically turned black-and-white or sepia-toned photographs into full-color images. The Colorizer is a fun feature for bringing more life into your old photos that you scan in and digitize.
Aura Walden design
The Walden keeps Aura's tradition of modern, attractive frames going. It features a slim black bezel to keep the focus on the photos and to blend seamlessly into just about any decor. It also comes with a white linen-textured matted design, which will help it blend in with traditional framed photos.
The display of the Aura Walden offers a 1600×1200 full HD resolution for sharp, clear images. The anti-glare, matte-finish screen makes it easier to see your photos, even if there are windows around. Aura says it calibrates each frame individually "for brightness, contrast, and color gamut to ensure photos look more natural and like their printed counterparts." This should result in accurate and attractive photos, even for the most particular photographers.
The frame utilizes a 4:3 aspect ratio, which is the same as your smartphone camera's default aspect ratio. Should you have photos that use a different aspect ratio, the frame offers smart cropping or manual cropping in the app. Additionally, the Walden is able to automatically adjust brightness using its ambient light sensors and can turn itself off at night.
Who should buy the Aura Walden?
Digital photo frames make fantastic gifts for loved ones (hopefully my mom and dad aren't reading this to spoil the surprise), especially thanks to the ability to pre-load photos. Wi-Fi sharing means that the entire family can share photos even if they are scattered across the country or the world. It's a fun little treat for the owner of the frame to see a new photo pop up.
The frame is also a fantastic gift for photographers. Too many of us never get our photos onto the wall, and this makes it easier and faster to do so. Plus, as you create new favorite images, you can easily refresh what is displayed.
The larger size of this digital fame would also make a great display for photographers who rely on in-person sales. You can show off the work you are most proud of to attract new clients or even put up a gallery specific to clients who are in your studio at the time to show them their images. The Aura Walden is an incredibly versatile option, and it's exciting to see a larger design coming from such a trusted digital frame maker.
Pricing & availability
The Aura Walden will be available on October 3 for $299. You can sign up to be notified of availability on the Aura website.