Russian Tourist Arrested After Scaling Brooklyn Bridge for Photos
Yaroslav Kolchin gets busted while "rooftopping" a New York City landmark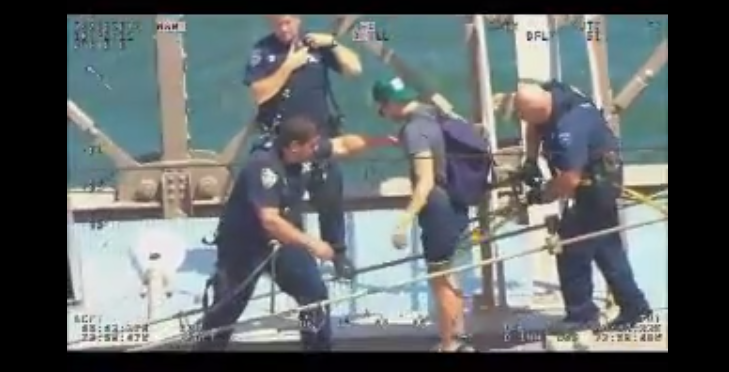 A 24-year-old Russian man was arrested Sunday afternoon after climbing a suspension cable on the Brooklyn Bridge to take a few photographs with his iPhone. Yaroslav Kolchin was charged with reckless endangerment, trespassing and disorderly conduct for his stunt, which he told an arresting officer he did "for fun."
Hopefully the shots he snagged while he was up there are worth his $5,000 bail and confiscated passport.
Kolchin was seen by a police officer on his ascent of the cable, who called in helicopters and police boats for assistance. Video footage released by the NYPD shows Kolchin being surrounded by officers as he walked down the cable.
It appears this isn't Kolchin's first foray into rooftopping—his Facebook account features a picture of him balancing near the edge of the Grand Canyon. Kolchin's Sunday stunt is a reminder that while climbing to the top of tall structures certainly leads to some epic, vertigo-inducing pictures, it is quite often illegal and dangerous.
Kolchin will be back in court on Friday.