Google Streetview Explores The World's Tallest Building
Take an interactive tour of the Burj Khalifa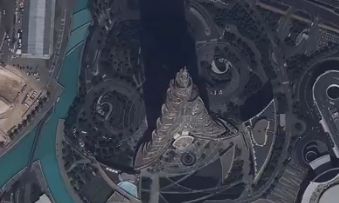 Google Street View has been some interesting places. Now, they used their army of cameras to create an interactive tour of the Burj Khalifa, the monolithic skyscraper (2,717 feet!) at the heart of Dubai.
To supplement the tour, Google put together a behind-the-scenes look at the process they used to document the Burj Khalifa, which we've posted below.
Using the Street View Interface, you can explore the grounds surrounding the tower and a number of the building's floors and observation decks. This includes a dramatic panorama from a maintenance platform hanging outside the 73rd floor. Using their backpack-based Trekker camera and rolling Trolley camera, Google personnel covered a large portion of the Burj Khalifa grounds over the course of three days to record this set of images.
This is the latest in a series of efforts to provide Street View access to interesting and unique locations, including famous art museums and local businesses.