Google Street View Takes You To the World's Mightiest Peaks
Google Maps will now show you the summit of Mounts Kilimanjaro, Elbrus, and more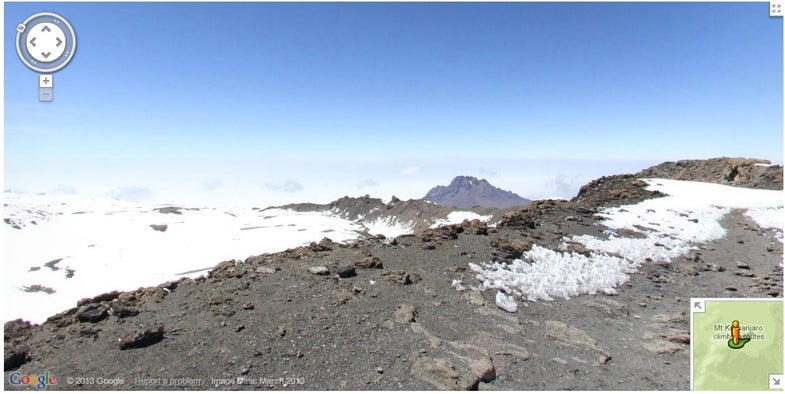 Most of us, sitting comfortably in front of our computers for a day of work, will probably never climb a mountain summit. Even fewer will manage to make it up one of the Seven Summits—the highest mountain on each of the seven continents. But Google's newest addition to Street View will give us a taste of some of the grandeur of these incredible peaks. Google Maps has sent a few hardy souls up four of the tallest mountains in the world, to take photos for Google Street View.
Now you can get a first person view of Aconcagua (South America), Kilimanjaro (Africa), Mount Elbrus (Europe) and Everest Base Camp (Asia) — though the team didn't try to climb all the way up Everest at least. And rather than send a standard Google Street View rig up on the back of a poor hiker, the photography was done with a lightweight tripod, digital camera, and a fisheye lens.
Over the course of 18 months, Googler Dan Fredinburg lead an expedition team up these mountains. A mountaineer by hobby, and technical program manager for security and privacy by day, he headed the Google Mountain Enthusiast group on these treks.
You can see more of the photos from their expeditions here. And now all that remains is for them to head to Mount McKinley in Alaska, Vinson Massif in Antarctica, and either Kosciuszko in Australia or Carstensz Pyramid in Indonesia, depending on which list of the summits you consult.
[via Wired]