NASA Creates Giant Gigapan Panorama With Mars Rover Photos
Spend your lunch break clicking around on Mars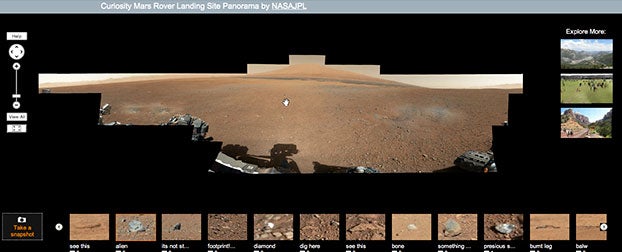 It has already been established that even relatively boring images taken out in space can be wildly interesting. But, this giant, interactive panorama of images from the Mars Rover Curiosity is genuinely cool all around.
Like with other Gigapan images, you can click around the relatively massive landscape and inspect small elements up close. By now, the Mars scenery should be starting to look pretty familiar, but the details are fascinating if you're even a little bit nerdy about this kind of thing.
The pano is a collection of 130 images taken at the landing site stitched together and measures about 29,000 x 7,000. Not bad considering the camera gear on board.
Now go drive around, Rover. Bring us more awesome pictures!