Everything we know about GoPro's new Hero8 Black and Max action cameras
The company's latest products bring even more automation.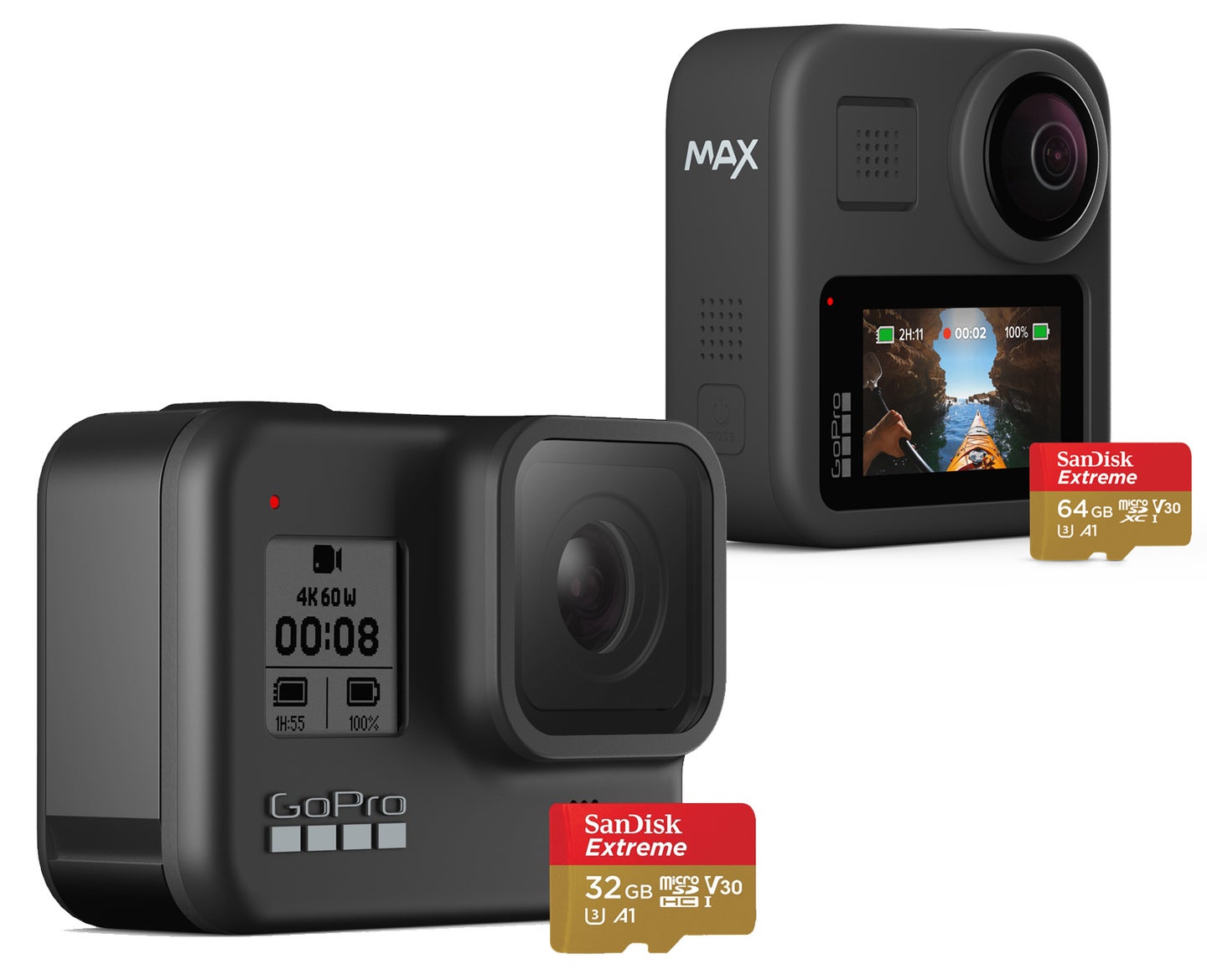 Yesterday GoPro announced two new action cameras the GoPro Hero8, which was heavily teased a few weeks ago, and the GoPro Max, a new 360-degree camera. Here is what we know about both of them.
GoPro Hero8
The GoPro Hero8 Black has Hypersmooth 2.0, an automatic mode for keeping the horizon level like you'd get with a gimbal, and compatibility for accessories like a light or a microphone. Although the camera looks very similar to the GoPro Hero7, it's 14 percent lighter, has a folding built-in mount, and an improved internal mic. The whole package is still waterproof to 33-feet without an extra case.
The TimeWarp hyperlapse mode gets a 2.0 upgrade that adjusts video playback to the speed that the shooter is traveling. The camera still has the ability to shoot 4K/60p and 1080/240p video and capture 12 MP photos. A feature called digital lenses overs different in-camera crop options, including the widest-ever on a GoPro. The Hero8 can also live stream 1080p video.
The Media Mod housing option is the big news here though. This housing adds additional ports to the GoPro Hero8 so you can access a shotgun microphone, a 3.5mm mic port, a Micro HDMI outport, a USB-C port, and cold-shoe mounts. You will be able to use third-party accessories with the Hero8, but GoPro has also released a few of their own accessories, including a 1.9in flip-up LCD screen and a waterproof LED light.
You can preorder the Hero8 now for $400 and are expected to start shipping mid-October. The Media Mod housing, GoPro LCD screen and LED light will be available in December.
GoPro Max
The GoPro Max is GoPro's second generation 360-degree camera, a successor to the GoPro Fusion camera. The camera has a flat, square body and two super-wide-angle lenses on each side to capture spherical 360 video. The GoPro Max has a dedicated touchscreen and takes a single microSD card.
Although the history of successful 360-degree cameras has been limited, this one does have some impressive specs. The camera can capture 16.6-megapixel stills, and film 360-degree video up to 5K. The GoPro Max, like the Hero8, is also capable of live streaming Full HD video. The Max carries over other features found in the Hero8 as well. The 360-camera features like Max HyperSmooth, to stabilize footage, Max TimeWarp, for easy hyperlapse video, and Digital Lenses, for in-camera cropping. The camera is waterproof down to 16ft.
The GoPro Hero Max is available to pre-order now for $500 and is expected to begin shipping on October 24.