New Gear: Panasonic Lumix DMC-G7 Camera With 4K Video
The latest from Panasonic tries to lower the barrier to 4K capture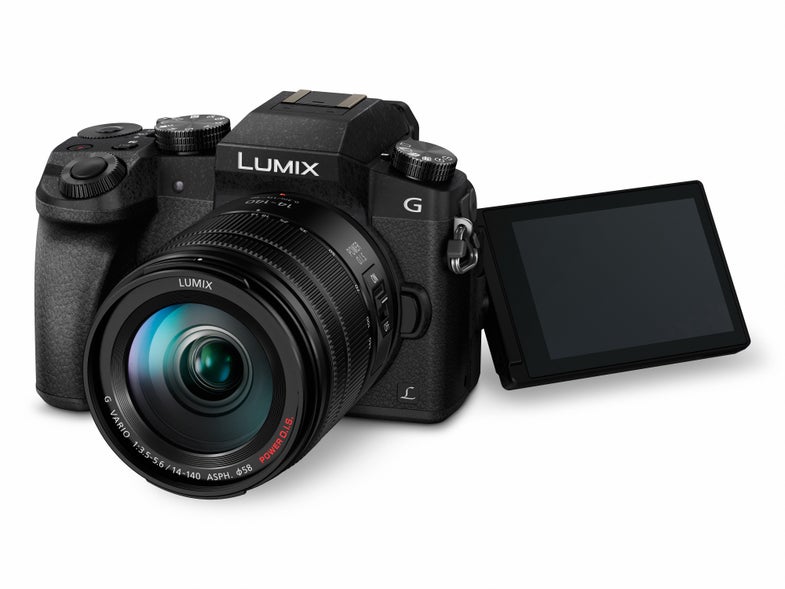 We may earn revenue from the products available on this page and participate in affiliate programs. Learn more ›
This morning Panasonic announced the arrival of their newest camera the Lumix G7. The camera has a 16 MP four thirds-sized LiveMos sensor and a Venus Engine image processor, which makes for a high speed camera powerful enough for shooting 4K video at 3840×2160 at 30p or 24p. A new setting on the camera called 4K Photo allows photographer to precisely extract individual frames from any 4K video file and save them as 8-megapixel images in aspect ratios of 4:3, 3:2, 16:9 and 1:1.
Panasonic believes that the ability to capture 4K video has changed the way people create images and because of that they've equipped the G7 with some exciting new features.
There are three new options for shooting photos in 4K on the G7: 4K Pre-Burst, 4K Burst Shooting and 4K Burst S/S (Start/Stop). 4K Pre-Burst mode automatically records a total of 60 images right before and after the shutter release. 4K Burst Shooting mode shoots continuously for 30 fps as long as the shutter button is pressed. Finally 4K Burst S/S mode shoots consecutive images with one press of the shutter and stops with a second press. All three of these modes are designed to make it easier to capture that perfect moment in a fast-moving situation. 4K mode is easily accessed through a new drive mode dial located on the top of the camera and images captured in any of the modes can be saved as 8-MP images.
The 16-MP sensor paired with the Venus Engine claims to have given the G7 an expanded dynamic range, higher sensitivity, and improved noise reduction. The G7 shoots at 8-fps, uses the same contrast AF system as the GH4 and can shoot down to -4EV. The AF Tracking has been updated to grab onto not only color, but also the size and motion of the object it is tracking, making it easier to stay locked on a quickly moving subject. A newly added feature in the G7 called Starlight AF gives shooters the ability to precisely focus on stars in the sky using the AF. The G7 has a max ISO of 25,600, a new max shutter speed of 1/16,000 sec and is compatible with UHS-11 SDXC/SDHC Memory cards.
The G7 has a silent shutter, a 3-inch articulated OLED touchscreen monitor with 1040-K dot resolution that is fifty precent brighter than its predecessor. The Wi-Fi built into the G7 is a password-less system, which makes it even faster to share your images through email or to social media.
It will be available in mid-June and come in three configurations. Black with a 14-42mm lens or pewter with a 14-42mm lens for $799.99 or in black with a 14-140mm lens for $1099.99. Look for our full test of the Lumix G7 in the coming months.