New Gear: Olympus M.Zuiko ED 7-14mm f/2.8 PRO and M.Zuiko 8mm f/1.8 PRO Fisheye
Two new lenses for Olympus' micro four thirds system coming in June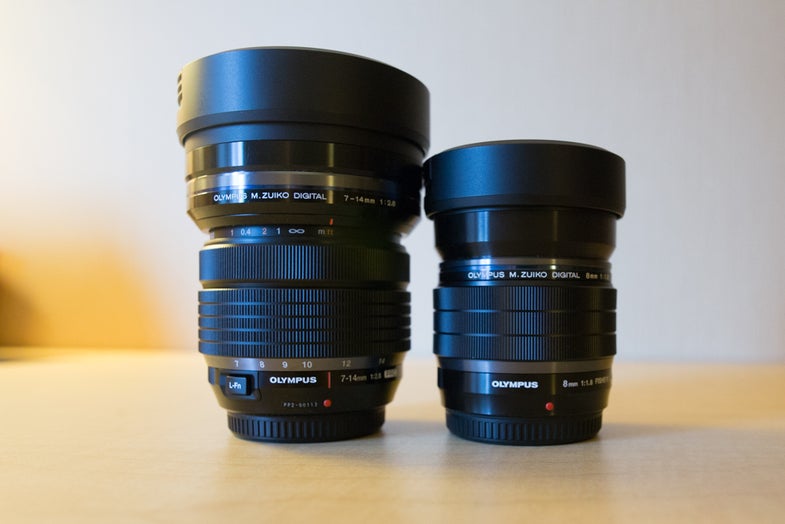 We may earn revenue from the products available on this page and participate in affiliate programs. Learn more ›
Olympus OM-D E-M5 Mark II shooters and other Micro Four Thirds users will have two new wide-angle lens options coming their way this June. Olympus has announced two M.ZUIKO lenses to their line up: the ED 7-14mm f/2.8 ultra-wide-angle zoom and the 8mm Fisheye Pro f/1.8.
The 7-14mm has a minimum working distance of 7.5cm and three super ED lenses to minimize peripheral chromatic aberration while shooting. The fisheye has a minimum working distance of 2.5cm, offers 180-degree diagonal angle of view and is the first fisheye to feature an f/1.8 aperture—which makes for some very nice bokeh. Both lenses are weather sealed and come with a fixed lens hood. We actually had a chance to play with prototype versions of both of these lenses a month ago and were very happy with the image quality each produced. You can check out some of the images that were shot with the prototypes in the gallery below.
The two lenses will be available in June. The 7-14mm f/2.8 for $1,299.99 and the 8mm f/1.8 Fisheye for $999.99.
Also coming in June is a firmware update for the OM-D E M1 and the E M5 Mark II, a dedicated water case for the E-M1 and a limited edition of 7,000 units of a Titanium colored OM-D E-M5 Mark II for $1,199.