Olympus OM-D E-M5 Mark II Camera Test
The Olympus OM-D E-M5 Mark II gets a splashy update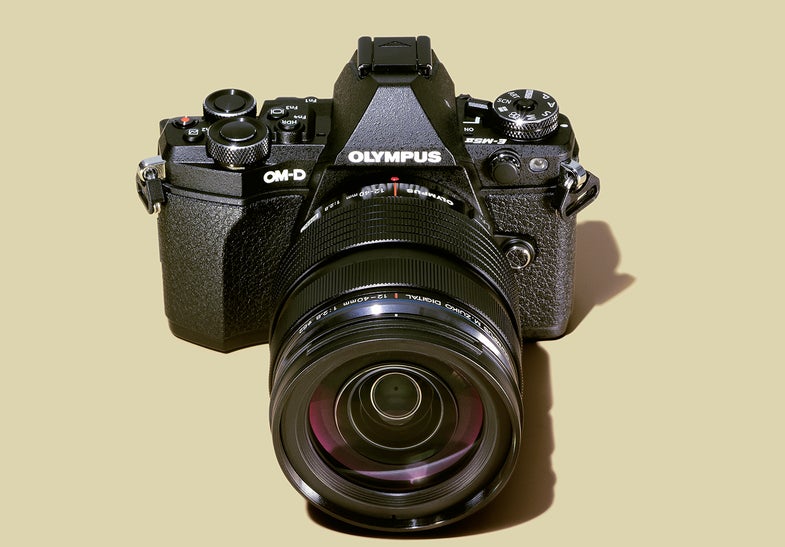 Olympus' OM-D E-M5 got a lot of love when it was announced back in 2012. At the time we called it one of the most attractive ILCs you can buy. After building out the OM-D line with the E-M10 and E-M1, the company was faced with the task of updating this relatively small, weather-sealed body.
While Olympus stayed true to the main design concepts of the original, the new Olympus OM-D E-M5 Mark II ($1,100, street, body only) includes improvements on both the inside and outside. These include an update to the five-axis sensor-based image stabilization system, the addition of a 40MP high-res shooting mode, 5-frames-per-second bursts with continuous AF and metering, and a higher-resolution electronic viewfinder. The body design is still just as pleasing to the eye, which made us all the more anxious to run it through our battery of lab tests and field shooting to see if image quality and general handling stand up to the high bar set by the original OM-D.
In the Test Lab
Showing modest improvements over its predecessor, most notably in noise reduction, the Olympus OM-D E-M5 Mark II earned an Excellent rating in overall image quality from its lowest sensitivity of ISO 100 through ISO 800.
Given that the pixel count on its Four Thirds sensor remains 16.1MP, we didn't expect much more in the way of resolving power. Indeed, the Mark II matched the original E-M5, with the new model turning in 2530 lines per picture height instead of 2520. Those scores were measured at the lowest sensitivity of each camera: ISO 100 on the Mark II and ISO 200 for the older version.
Like its predecessor, the Olympus OM-D E-M5 Mark II does a very good job of holding its resolving power through the lower half of its sensitivity range. At ISO 400 we saw no appreciable falloff, while at ISO 1600 it served up 2450 lines. From here resolution began to fall more precipitously. ISO 6400 yielded a respectable 2310 lines, but jumping to ISO 12,800 saw resolution fall to 1810, while at ISO 25,600 it hit 1650 lines.
Color accuracy remained essentially the same, coming in just below our cutoff for an Excellent rating with an average Delta E of 7.9. The original E-M5 scored a 7.8 in this test where lower numbers are better. Olympus' upgrade of its image stabilization system paid off, yielding an extra stop of compensation over its predecessor's. Using a 40–150mm f/2.8 Olympus M.Zuiko ED PRO lens at 150mm (a 300mm full-frame equivalent), our testers averaged 4 stops of handholding advantage; one tester got 5 stops, though none of the rest of our team could replicate this exemplary result.
Besides steadying your frame, Olympus is using the sensor's micro mobility to create a new shooting mode it calls High-Res Shot. This mode combines eight exposures into a single image, in either RAW or JPEG format, with the sensor shifting by a half pixel between each capture. Since the camera is essentially sub-sampling the scene, it can make an image that is substantially higher in resolution than would otherwise be possible with a 16.1MP sensor. Hasselblad's medium-format H5D-200C accomplishes a similar feat to create 200MP images from a 50MP sensor. Olympus has chosen not to quadruple the final image size but still gets great results.
When we ran our resolution test in the High-Res Shot mode, it captured 3725 lines per picture height at ISO 100. At ISO 1600, High-Res Shot mode yielded 3300 lines. Olympus limits this mode to a top sensitivity of ISO 1600. Though the company didn't give a specific reason for this, we suspect that an excess of noise might make the composite process too difficult or less effective. Since this mode combines multiple images into one, you won't want to use it for moving subjects, and you'll also want to use a tripod or some other way to ensure that your camera is motionless during capture.
To compare, Pentax's 645Z, which uses a 50MP medium-format sensor, captured 4425 lines at ISO 100 in our test. Nikon's 36.3MP full-frame D810 hit 3525 lines at its lowest sensitivity setting of ISO 32, so Olympus did manage to out-resolve the D810 by a modest amount. It's less clear, though, whether that will make a difference to you in everyday shooting, and the limitations that come with High-Res Shot mean the D810 still makes more sense to shooters who want very high resolution in every situation.
In the Field
While the Olympus OM-D E-M5 Mark II is nearly the same size as the original, Olympus improved significantly on the control layout. By shifting the dials around a bit on the top of the camera and changing their size, it fit two more assignable buttons. At default, one is assigned to toggle in and out of HDR mode. We found this useful and it ended up encouraging us to use that feature more, since we didn't have to dig through menus to activate it. Of course, if you don't ever want to use in-camera HDR, you can select another function for the button.
The command-wheel function lever found in the E-M1, which originated in the Olympus Pen E-P5 in a slightly different form, has been added to this body. It lets you assign the command wheels to two sets of functions, such as aperture and exposure compensation control when the lever is set to position one, and, later ISO and white balance when the lever is in position two. It can provide a very quick way to get to the settings you change most frequently. Plus, since the camera has an EVF to display the settings, you can easily make those changes without taking your eye away from the finder. While the original E-M5 had a tilting touchscreen, the Mark II has a 3-inch 1.037 million-dot touchscreen that flips out to the side and swivels up and down and can face fully forward, which might be helpful for selfies.
Focusing speed is about average for an ILC in this class. Tracking autofocus worked well and could keep up with most moving subjects while capturing bursts. In the 5-fps drive mode, you can capture JPEG or RAW shots up to your memory card's capacity when using a UHS-II SD card. If you sacrifice continuous metering and AF for the 10-fps mode, you'll get up to 16 RAW or 19 JPEG frames. With all of this burst action at your fingertips, we do wish that the Mark II had a second SD card slot.
Video capture tops out at 1920×1080 60p with your choice of ALL-I (77Mbps) or IPB (52Mbps, 30Mbps, or 18Mbps) compression. Video we captured looked great. Better still, you can engage the image stabilization system during video capture. Very serious videographers might still want to use an outboard stabilization rig to keep shots ultra smooth, but casual shooters will likely be impressed with how the E-M5 Mark II can keep the jitters out of your home movies.
As usual, Olympus includes an array of scene modes, fun art filters that often outshine Instagram's, and a couple of clever long exposure options called LiveTime and Live Comp. LiveTime lets you watch as a long exposure builds, while Live Comp shoots a series of images and layers in any changes that have occurred.
Thus, when used to capture a scene with a very wide dynamic range, Live Comp can keep bright areas from overexposing, since it is not continually exposing for that portion of the scene. It's a neat trick and can be very useful in light painting. We were so pleased with a few of the light painting shots we captured with it that we used the camera's built-in Wi-Fi to upload them to our smartphone and post them to Facebook immediately after the shoot.
The Bottom Line
If you're a veteran of the Micro Four Thirds world and looking for a small DSLR-style camera body, the Olympus E-M5 Mark II is a wonderful option. It serves up excellent quality images—some of the best that you'll find from this format of sensor. And its weather-sealed body, well-designed controls, and built-in Wi-Fi make it fun and simple to use. Top it all off with a High-Res Shot mode that can produce incredible detail in still-life photos, and you have yourself a winner.
Specifications:
IMAGING: 16.1MP, effective, Four Thirds-size Live MOS sensor captures images at 4608×3456 pixels with 12 bits/color in RAW mode
STORAGE: SD, SDHC, SDXC (compatible with UHS-II cards). Stores JPEG, ORF RAW, RAW + JPEG
VIDEO: Up to 1920x1080p60 MOV or AVI; built-in stereo mic, stereo minijack mic input; continuous AF; image stabilization; maximum clip length approximately 29 min
BURST RATE: Full-sized JPEGs (Fine mode): 5 fps up to card capacity; RAW (12-bit): 5 fps up to card capacity when using a UHS-II memory card
AF SYSTEM: TTL contrast detection with over 800 selectable contrast focus points. Single-shot and continuous with predictive focus tracking, face detection
SHUTTER SPEEDS: 1/8000 to 60 sec (1/3-, 1/2-, or 1-EV increments); shutter life not rated
METERING: TTL metering using 324-area sensor with Multi-pattern (evaluative), center-weighted, and spot (size of spot not specificied) metering; –2–20 EV (at ISO 100)
ISO RANGE: ISO 100–25,600 (in 1/3- or 1-EV increments)
FLASH: No built-in flash; ships with FL-LM3 accessory flash
EVF: Fixed eye-level 2.36 million-dot LCD with 15-step brightness adjustment; 100% accurate; 1.48X magnification
LCD: Articulating 3-inch LCD screen with 1.037 million-dot resolution; 15-step brightness adjustment
OUTPUT: Hi-Speed USB 2.0, micro-HDMI video
BATTERY: Rechargeable BLN-1 Li-ion, CIPA rating 310 shots (with IS on)
SIZE/WEIGHT: 4.9×3.3×1.8 in., 1.0 lb with card and battery
STREET PRICE: $1,100, body only
FOR INFO: www.getolympus.com